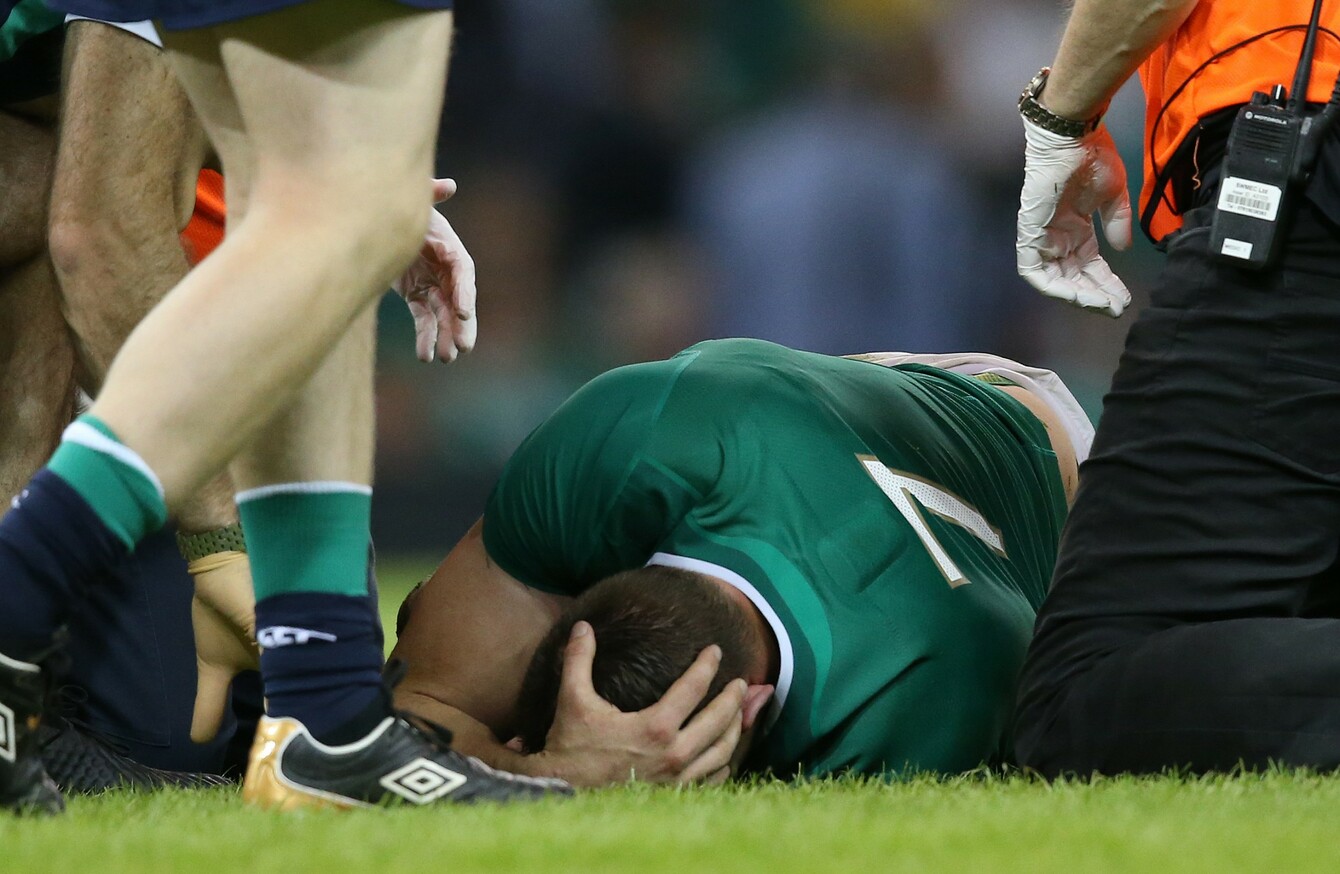 "I WAS IN there for hours and hours, from when it got light in the morning until when it got dark at night."
Tommy O'Donnell's recovery from a dislocated hip has been remarkable, but the word quick or speedy would be misplaced here. The Munster flanker has worked calmly and steadily since being hit with the unbearable pain in August.
O'Donnell has spoken recently about how he quickly put disappointment of missing the World Cup behind him. He practically wrote off the Six Nations too, all the more mental energy to channel towards his rehabilitation.
"When they first gave me a date, they were talking about the middle of March – April before I'd even be back on the pitch."
Eight months? O'Donnell pulled through in a little over four and was back in Pro12 action two days after Christmas and added five appearances in a month to his tally of Munster caps.
"Even when I came back against Leinster, the Six Nations wasn't anywhere near my mind. It was just about getting back and playing
"And that stood to me because I was able to get back playing at a good enough level to put my hand up for selection. And that's just the way the cards have fallen, now that I'm in from the start."
The hand he has been dealt is quite similar to the one he picked up this time last year. Then, he had little over five minutes to take Sean O'Brien's jersey off the hook in the dressing room and head out for the anthems after the Leinster man pulled up in the final drill of the warm-up.
This time, O'Brien's hamstring flared up five days out from kick-off, so the number seven will be O'Donnell's own shirt. And he is relishing the prospect of pulling it on.
"It does give you is a sense of how hard international caps are to come to you," the Tipperary man says of the extended spell on the sidelines.
"Some players are lucky enough to get a run of games, I obviously have been unlucky in that regard. I probably came a bit late to the table, then was stopped short after a good run in the pre-season. So it makes you savour these caps and relish them.
When I was lying on the turf in the Millennium Stadium, I didn't think this was possible.
"So it makes it even sweeter now. And when I walk into the dressing room and I see my jersey there, it will make it all the sweeter. It will really drive me on."
The 28-year-old issued a heartfelt word of gratitude to his team-mates and coaches for the aid he was offered during the latter part of last year, but particularly to the teams led by Shea McAleer and Aidan O'Connell who charted his rehabilitation in Munster.
"We basically became best friends," O'Donnell says.
"I was in there for hours and hours, from when it got light in the morning until when it got dark at night."
Physio and rehab work never feels quick or speedy, but hindsight and the return to the Test arena makes it seem swift. That is thanks to O'Donnell's relentless work ethic and diligence… not to mention a little silver lining of luck on an otherwise ominous cloud.
"Speaking to (Ireland team doctor) Eanna Falvey, a posterior dislocation like that, what it could have been and how bad it could have been – never playing rugby again…
"It was good news from the minute we went in and got the CT scan, and the X-ray. It wasn't broken, there was no damage to the acetabulum (socket), and that's just good news.
"It sat back in nicely, the blood supply was good, all the bruising went away in six weeks, it was good news on top of good news.
"And after that it was just back to strengthening. It just rolled on so quickly it seems like a short process now even though it was four and a half months.
"If I'd broken the socket, the acetabulum, or damaged the cartilage, that would have made it much, much trickier.
"You've just got to seize the chances that come your way."