IT'S BEEN OVER two hours before we finally wind things down.
But I'd gladly have kept listening for a lot longer.
Tony Cousins isn't the type to regale you with tales of those halcyon days, the high-flying jinks and the dizzying excesses. But he lures you in by the way he talks. He doesn't waste words. There's a calm, composed eloquence to what he has to say. And you can't help but be drawn in.
The chat veers in many different directions.
But before the tales of Chelsea, Liverpool's infamous Christmas parties, facing Zidane and injury hell, it begins in The Liberties, deep in Dublin's inner-city, in the 1970s.
"My mother told me a story the other day about when I went missing on her," he says.
"We grew up in Gray Square and she asked one of the neighbours to watch me. I was kicking a ball against the wall and when she came back from the shops I was gone. And my mother said, 'Where is he?' I'd gone up Meath Street, which was one of the busiest streets in the city at the time. To say she had a heart attack wouldn't have been an exaggeration and she went charging up Meath Street after me. So that's where we started off.
Football was always in my blood. I can always remember being with a ball and my father always had a great passion for the game. He managed schoolboy teams himself for 35 years and I'd be with him at games. If his team was playing, I'd be there. And that's where the love of the game started. On my Mam's side, they're all Dunnes and they were all footballers. Theo played for Shels, Dick played for Shamrock Rovers. So, it was something I was always going to get involved in."
From an early age, Cousins made the trek to Milltown and later fell under the spell of Jim McLaughlin's fabled four-in-a-row side that picked up the first of their league successes in April 1984.
"They were special," Cousins says.
"The standard they played at every week and the quality of the players right across the team…Any supporter at the time would've said they were at another level. When you see what they did in Europe against Celtic and how they competed in those games and how they didn't look out of place and the likes of Pat Byrne getting picked for Ireland at the time. It showed the quality they had. Up front, they had so many great players. Mick Byrne, Noel Larkin, Liam Buckley, Alan Campbell. They just seemed to have a conveyor belt of top quality strikers."
Billy Stickland / INPHO Pat Byrne celebrates winning the 1986 FAI Cup with his Shamrock Rovers team-mates. Billy Stickland / INPHO / INPHO
At the same time, Cousins was also impressing the right people. As he fine-tuned his game at well-known nursery Belvedere, it wasn't long before clubs from across the channel started to take an interest. And after trialling at Chelsea along with Pat Fenlon, the pair were offered terms. Something he's still amazed by.
"Both of us still have a good laugh about it," he says.
"During the trial, one of the games we played was against Tottenham and we were beaten 10-1 and I actually think Pat scored our goal. But, for some reason, the club still wanted to sign us afterwards. Neil Ruddock played that day and I think Pat went up to his knee. He was one of Spurs' big signings at the time. He was still only 17 or 18 but he seemed like an absolute giant. He was a man. It's one of the things I always remember from being on trial there: that spanking against Spurs."
In 1986, Cousins made the move from a dark, dreary and depressing Dublin. Still, he was leaving a supportive family and the strong counsel of both parents.
"It was daunting," he admits.
"Dublin was a much different place than it is now. To go to London…it was unbelievable, really. It was already the fast-pace that it is now but Dublin was bleak. There was high unemployment. Then again, there was a lot of people I'd been in school with who were heading over there to work. So, it was something people had to do at the time. I was getting the opportunity to go away and play. So, it was an opportunity I had to take but it is a bit harder when you do have a good family background.
You leave a boy but you've got to become a man very quickly. Straightaway I was travelling on the Tube to get to training. Before that, your parents would bring you to games or you'd be on a bus. But I was on my own. In the mornings you were up early. And the training ground was out near Heathrow – in Hounslow – and it took us over two hours to get there from where we lived because we needed to get two buses. Then you'd go back to Stamford Bridge in the afternoon and do the usual chores and get the Tube back home. It wasn't what it's like now. Players have it a lot easier than the apprentices back then."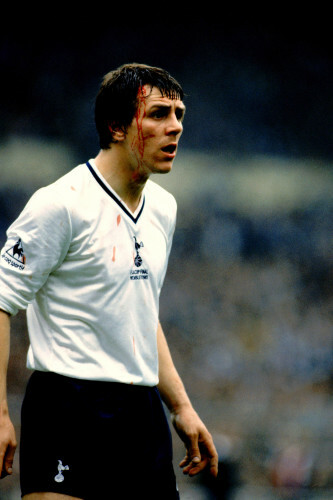 Peter Robinson Tottenham centre-back Graham Roberts was one of Cousins' early heroes. Peter Robinson
Cousins was a centre-back when he signed for Chelsea. But, that changed pretty quickly after arriving. Initially, he was moved into midfield and then finally pushed upfront where he began to plunder quite a few goals for a talented youth team that featured the likes of Graham Stuart, Jason Cundy, David Lee and Billy Dodds.
"At the time, it was Graham Roberts at Spurs who was one of my favourite players and I was a big fan of the likes of Kevin Moran too because they were tough and so committed and put themselves fully into tackles and headers," he says.
"I actually played a schoolboy international for Ireland at centre-back, and kept that up all the way to Under-16. But in my second season with Chelsea I played the entire year up front and it just went from there."
It was a curious time to be Irish in London. The scars were still fresh from the IRA bombings at Harrods in 1983 and in Hyde Park and Regent's Park the year previous. Going back further, two people were killed and lots more injured when a bomb was detonated at Chelsea Barracks in 1981.
Cousins admits to having some nervous trepidation but says the majority of abuse he received came on the pitch.
"You could be on the receiving end of something unsavoury now and again," he says.
It could be a little bit daunting if you went in somewhere. You were conscious, maybe, of going into a shop and there were people around. But I was in a different environment – I was with footballers all the time. They become your mates. The only time that you'd maybe get a little bit was when you'd play other teams. But there was always a few players around as well. Pat would be close by to throw his little bit in if somebody was giving me verbals. And likewise I'd be the same with him. You'd have each others' backs. I'd see Pat every now and then. We went through an experience with each other at that time of your life that you'll never forget and there is a closeness there because of that."
"It was the usual stuff you'd get at the time, like 'Paddy' or whatever. But you get on with it. It's like anything. It's something you had to deal with as a player. I think anything went. When you're in the heat of battle, people would say what they wanted to say to you. It just seemed more acceptable then than it is now. And that's just going back to that era that was there."
We had to deal with less than the black lads, who were getting a lot of verbals at the time. So it was mild compared to what they were getting. Keith Dublin played in the Chelsea first team and another lad called Paul Canoville and you'd hear it coming from the teams you played against. You'd hear it coming from the crowd. The abuse. It was a lot for them to have to put up with."
Cousins caught a break when he was assigned Kerry Dixon's boots to clean. It meant having some interaction with one of the best strikers in the First Division at the time and the youngster absorbed everything he was told.
"For a striker, the biggest thing is when you're straight through on a goalkeeper and you have time to think," he says.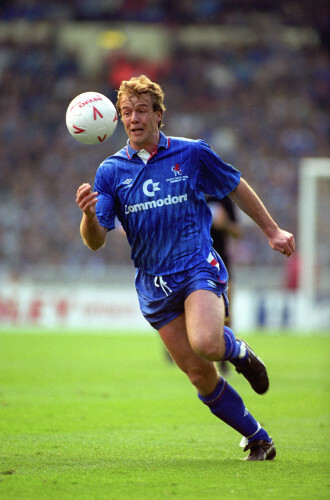 Neal Simpson Cousins cleaned Kerry Dixon's boots at Chelsea and the star striker doled out some key advice to the youngster. Neal Simpson
"When you're scoring goals and full of confidence, those moments seem easy. But when you're low on confidence, that's sometimes when you make the wrong decisions. I always remember Dixon saying to me, 'If your confidence is down and you're through, the most important thing is to hit it low and hard at the keepers' legs because it will either go through his legs or you'll get a second bite at the cherry.'"
Cousins did well at Chelsea but was a long way back from the senior side. But there was a memorable game – a testimonial against Wimbledon – where he got a few minutes under his belt.
I was on the bench that day, with another few youth players, and I think there were a couple of nappies given out because John Fashanu was playing, Vinnie Jones was playing."
"I think most of the players were thinking, 'Please don't tell me to get warmed up'. I remember Doug Rougvie was a centre-half that played for Chelsea and he was tough as nails. And you can be guaranteed that the one game he played in every season was against Wimbledon to look after Fashanu. But that game certainly wasn't a testimonial. There were absolute killings and yes, I did get on."
Cousins developed as a player and grew as a person but he's the first to admit he wasn't good enough to break through to John Hollins' first-team.
Still, that may have been a blessing. In 1988, after a disastrous top-flight run, Hollins was sacked in the spring and the club's relegation to the second tier was confirmed after a play-off defeat to Middlesbrough.
The timing was right. With his contract expired, Cousins' decided to wrap up his stint in London that summer and already had a new club waiting in the wings.
"Was I good enough to get in the Chelsea first team? No."
"I scored a lot of goals with the youth side and John Coady was actually in the first team at the time and he was fantastic for myself and Pat. It was John who spoke to Turlough O'Connor when I was out of contract and said, 'Sign him'. And Turlough went on John's recommendation. At that time there were no agents who would go and look for another club for you. I just got a phone call and came home and it was probably a step up, to be honest. Because the next minute I was involved with Dundalk with a lot of very good players who'd been around the league for a long time. It was another great learning experience for me."
It also proved an easy transition.
"I always missed home," he admits.
"The one thing I always had – and I had it later in life too – was the pang for Dublin. And I was lucky. I had a lovely family to go back to. Like, the bright lights of London and all that…I didn't really go out much. We lived outside of the city and I was only 17 or 18. The players were scattered around the place and it wasn't like it is now. The adjustment was fairly easy. Dundalk were very successful and I was in the first team straightaway."
He starts to laugh as one early game for the Lilywhites comes to the front of his mind.
"The League Cup final was at the end of October and it was like something out of a jungle," he says.
Derry fans were sitting on the roof of Oriel Park. There was about 10,000 there, some would say it was more. There were thousands of Derry fans outside the ground who couldn't get it. They came in their droves. Dundalk had beaten Derry in the FAI Cup final in the May and I was just 18 walking out and it was something I'd never experienced before. There were plenty of butterflies. Turlough played me on the right wing even though I was a centre forward but I think his thoughts were, 'He'll get at Kevin Brady'. And all I remember is that I got the ball in the first couple of minutes and Kevin put me out in the dirt-track. I went about five feet out over the touchline and that was Kevin's calling card for the rest of the game. I always didn't like Kevin after that…until I played with him years later and a nicer fella you couldn't meet. But he was well able to look after himself and he was a very good player. That night Derry were brilliant. We were beaten 4-0 and they were outstanding. They had a great team but in fairness to us, we bounced back and beat them on penalties the following year."
Cousins had a solid first campaign but Dundalk finished two points behind the Candystripes and had to make do with second. But the following season, he showed some excellent, consistent form – despite a slow start.
"We went to Bohs and I was under a bit of pressure," he says.
"But I scored twice in the first 10 minutes. Ronnie Murphy was marking me and when I went to make another run off the back of him he was like Mohammad Ali, the right-hander that he gave me! And he swung about three or four times through the rest of the game, every time I moved!"
Despite Cousins' goals – 18 in the top-flight – Dundalk finished third in 1990 – 10 points back from champions St Pat's. But he was rewarded for his individual excellence and voted the PFAI Young Player of the Year, an accolade he shared with Shamrock Rovers' Vinnie Arkins.
"I don't think there were any other 19-year-olds playing at the time," he says.
"At Dundalk, the closest to me in age was 28, I think. So it wasn't the way it is now, with lots of younger players coming through all the time. It seemed to be an older league, with some really experienced players.
"Our league is a strange one. There's great quality but the older lads are seasoned players too and they know how to get through a campaign. You need that quality in a team. It's not easy to bring two or three younger players into your side at the same time and try to be successful. Even for the lads coming home…they're over in England, they're playing youth football and then the Under-23 league. There's four overage players allowed. Some will just use those games to get 90 minutes and get the legs going. Others will have a face on them because they have to play. And then those youngsters are let go and come home and they're into a competitive environment. Some of them get a culture shock. Because if they don't have the knowledge of the quality of the league then they're thinking, 'It's going to be easy – I'll just drop down to the League of Ireland'. They go training and realise, 'This is a higher level than what I was training at in the UK.' And it can be another knock-back. The amount of work that a lot of managers have done has been great. Not from a coaching point of view but from a psychological perspective in dealing with the players that have come back, and trying to get their head right to get them going again. For some lads it can take six months or 12 months."
Cousins' form led to a call up to the Republic of Ireland Under-21s and he scored on his debut in a friendly against Malta. But, it wasn't just Maurice Setters who was keeping tabs on him.
And when he began the 1990/91 season in the same way, things developed quickly.
"There was a lot of talk in the off-season that something might happen but it wasn't on my mind all the time," he says.
"I was enjoying playing and the focus was on trying to win the league. We were hungry. But after five games, Turly spoke to me and said, 'Listen, Liverpool want you to go over for a few days and do a bit of training'. Pat Devlin was their Irish scout at the time and had recommended me to them. They wanted me for a week but I said, 'I can't take a week off work' because I was serving my time as an electrician in Trinity College. So they came back and said, 'Fine. How about three days?'"
I flew over on the Monday night and trained a little bit on Tuesday morning with the reserve side. And they played me on Tuesday night in a game against Southampton, under a different name. We won the game – I think it was 5-2 – and I scored. The likes of Steve Staunton and Jimmy Magilton were playing and afterwards, Phil Thompson – who was the reserve manager –  came over and said, 'You've got to come upstairs'. The Liverpool secretary was there and said, 'Listen, Kenny Dalglish is on the phone and wants to speak with you.' He'd been at the game so he said to me, 'Well done – we want to sign you. Just make sure you're looked after'. And that was it really. They made an offer and I flew home the next morning. Now, I was on an early flight because my thinking was that I'd go into work. But I didn't go in that day because when I got to the airport, Turlough was there and my Dad and everyone was having a chat about things. But, by lunchtime everything was agreed. Pat had obviously sent his reports in and I think they just wanted to get a feeling for what he'd sent in. Once they did, it made up their minds. And it was a lot of money at the time. I think they paid £75,000 which, in 1990, was a fair bit for a League of Ireland club."
Cousins was returning to England but the circumstances were wildly different. He wasn't an apprentice anymore, having to mop the dressing-room floors and clean the muck off senior players' boots. This time, he would be a senior player and compete for a place in Dalglish's glittering squad.
Liverpool had just won the championship for the 18th time. They had the best team in the country and Cousins was now part of it.
"Leeds was my team growing up – I blame my cousins for that and it's why I'm totally grey now," he says.
But, this was Liverpool. You couldn't say no to it. The best team in the country. Anfield has such a sense of history about the place. To go and play there…it was just a fantastic experience. Within four weeks, I was training with the first team. 10 weeks after being in the Dundalk dressing room I was stripping off to sit on the bench at Liverpool. That's how quickly things happened."
It was three days before Christmas and Cousins got an early gift. He'd impressed senior management and with the squad struggling with injuries for the upcoming home clash with Southampton – most notably to some attacking players – he got his chance.
"There was an 18-man squad but only two subs at the time," he says, launching into a precise minute-by-minute of the 22nd December 1990.
Peter Robinson Steve McMahon attempted to exert his seniority on Cousins, but the young Irishman was having none of it. Peter Robinson
"We'd meet up in the Moat House for pre-match and then we'd go by coach to the ground. But I remember pre-match because I walked into the room and some of the lads were sitting down. So, I sat down too. A few more players came in, including Steve McMahon. He came over to me and said, 'You're sitting in my seat – get up'. And I wouldn't get up. Because at Dundalk, I was the young fella so they'd be doing the little pranks and trying to test me. So, I had resilience in me after that. And I didn't know if McMahon was trying to test me. But I knew he wasn't happy and I couldn't repeat what he said to me. All I can say is that he was pretty forthright. But I never got up. Later, Ronnie Whelan said to me, 'I heard you wouldn't get out of Maccer's seat earlier on' and he started laughing. And it was only then that I thought, 'Oh, hold on – it was his seat' so that was before the game."
When you'd walk into the dressing-room, you knew by the players' boots what the starting XI was because they were laid out. But you didn't know the subs because there were two from seven who could still make the bench. So, the next minute Dalglish called out the subs and I was one of them and I couldn't believe it. Peter Beardsley was injured and Ronnie Rosenthal was playing. But, even still, there was the likes of Barry Venison, Jan Molby – loads of different players. I didn't think I had a chance. But the name is called out and then you're stripping off."
"Ronnie was injured at the time and he came over to me and said, 'Do you want me to ring your Mam and Dad?' And I said, 'Yeah' and I think he did it or got the secretary to do it. It was on back home on RTE, when they still used to have Saturday afternoon games. So they got to watch it."
"And I was nervous. Everything you do for the first time, you're nervous. But the one thing I always remember – and it stood to me for any big game after that – was running out onto the pitch for the warm-up because the nerves went completely. In my mind, it was where I was comfortable. It was where I knew what I was good at and what I wasn't good at. And it's something for any young player to remember when they're getting to that stage of playing in bigger games. The pitch never changes. It's always the same. There's two goals, two 18-yard boxes, there's a halfway line. If you stick to what you're good at, that's your security. It's the one thing you can always rely on. No matter how nervous you are beforehand, once you cross the white line, that's your security. It's your comfort zone.
The two subs that day were myself and Gary Ablett, God bless him. It was 2-2 and I started to warm up and I thought, Jaysus, I might be going on'. But it never happened because Ray Houghton got the winner with about five minutes to go."
Neal Simpson Neal Simpson
"I was in the squad for the game against Leeds on New Years' Day but didn't make the bench. But I played a reserve game the next day and I tore my hamstring and it was the start of a nightmare for me, really.
Cousins had an eye on playing for the Under-21 side in a game against England in Brentford but pulled his hamstring again just four minutes into his comeback game with the Liverpool reserves.
He put it down to bad luck and pushed hard to get back into the first-team picture. The following season he started well but felt a slight niggle in his back. It was an irritant and required Cousins to do extensive warm-ups before games, just to better in himself. One night, he played a reserve game against Barnsley and went up for a header.
"I came down and it as like my back just went on one side," he says.
"I had an X-ray and they found a stress fracture. And it was obviously something that had been there and just got worse. The season before with the two hamstrings…it was like there had always been a problem with my back and it had moved down my leg. And that was the whole season gone. I was out for another six months. I went back to Dublin for three months and spent five or six hours every day just lying on the carpet, because I had to keep my back straight. When I went over again, the closest I got was when there was a few injuries in the first-team.
I'd scored a few goals for the reserves and there was a cup game against Chesterfield and I was brought into the squad. I thought I'd play because they didn't have many strikers available. But they played a guy called Phil Charnock, an 18-year-old English lad. The three foreigner rule was there at the time and I don't know if they had that in mind. He was English, maybe it'd be better for them to play him and give him the experience. He wasn't a centre forward and actually played wide midfield, on the left. I didn't even make the bench. I felt a little bit dejected after that. My Mam, Dad and my aunt and uncle had actually come over because a few people had built me up and had been talking about me probably playing."
With hindsight, Cousins feels the first hamstring injury was the turning point and it cost him the momentum he'd built up.
"I don't think I recognised the significance of it," he says.
"After getting on the bench, if I'd managed to stay fit for the next few weeks or months, I would definitely have played. Once you get in and play at that level and show you can play at that level, I think it's very easy – even if you've been out with injury – for people to play you again. Even if a new manager comes along, you've played. And he knows you were able to play at that level. Further down the line, I did realise that maybe that was my time."
Admittedly heartbroken, Cousins went on loan to Hereford in an effort to get some game time. But his three-year stint on Merseyside was over.
"I'll be honest – I didn't even know where Hereford was," he says.
But I was so dejected. I felt I had to go and play. There's only so much reserve team football you can get. So, it was a four-and-a-half journey down there. I played a month and, y'know, you say stuff like, 'Jaysus – why did I go down there?' But someone said it to me when I finished up, 'You've played in the English league, the FA Cup, the Uefa Cup, the old European Cup'. Those are things that not a lot of people can say. It's only when you're older and in company – unless you're up in Tallaght and standing next to Damien Duff and you have to keep your mouth shut – it hits you. It's a lot more than somebody else. Sometimes you can feel sorry for yourself but there's no point. I was the lucky one. Some never get the opportunity to play at those levels."
His time with Liverpool saw him train with the finest footballers in England on a daily basis. But, Cousins is quick to point out the player that always stood out the most.
"Ronnie Whelan was unbelievable and I don't think people realised how good he was," he says.
Peter Robinson Peter Robinson
"We used to play a lot of one-touch or two-touch football and have small-sided training games. But I remember Ronnie always played the same way, regardless of whether it was one or two touches allowed. He'd still be spraying these 30 or 40 yard passes, one touch. Because that's the way he played. He never took many touches on the ball. And he was as tough as nails. My God was he able to look after himself. He was really top notch and Liverpool really struggled without him. For the period I was there, he was injured for a lot of it. And it was then that the supporters realised what they were missing. Sometimes, you get these players that are unsung heroes but they're vital cogs in keeping the machine moving. And I think Ronnie was one of those players."
There's one crucial topic that needs addressing before we park the Liverpool chat.
"The Christmas parties? I was at them all. They were great…from what I can remember of them," he says.
Phil O'Brien The infamous Liverpool Christmas party in December 1990, that Tony Cousins was at. Remarkably, David Burrows - seated bottom right - dressed as Hitler. Phil O'Brien
"There was a fancy dress place in town and we'd get our costumes in there. Then, on the day of the party, we'd train in the morning, go off, meet up in little groups and later you'd head to a hotel and then onto a nightclub. They'd have the nightclub booked out. But they'd get everyone into training the next day. The coaches knew that everyone would be hanging and that was part of the banter. It didn't matter how bad you were, you had to get into training. I remember a few of the lads would still be dressed up and they'd just put their boots on and run out in fancy dress. They were Christmas parties to remember…and to keep to yourself."
By 1993, Cousins was miserable. Fed up, he had three offers to stay in England and turned them all down. He just wanted to go home. At Dalymount Park, his old boss Turlough O'Connor had been appointed and were desperate to win a title they'd agonisingly missed out just months earlier.
"I was 24 at the time and saying to myself, 'What am I going to do?'" Cousins says.
"The money wasn't brilliant either. I'd had offers from back home and looking at what you'd earn between football and work, there wasn't much difference. Bohs were after finishing second and they looked at me as being that final ingredient to maybe get them over the line. They'd lost in the play-off to Cork and it was the first season that it had gone to a play-off and not been decided on goal difference. I think there was a sense of injustice when I went there, because Bohs felt they really should have won it. But I didn't have a great season, to be honest. I was up and down, form-wise, which didn't help. I was average enough, I think, and maybe scored about 12 goals."
It's clear that Cousins still harbours regrets about his time with the Gypsies. Brought in as the final piece of the jigsaw, he couldn't get them over the line and they were repeatedly the bridesmaids, always getting close but not close enough.
"It was like we were nearly there," he says.
It proved a solid but frustrating time for Cousins at Bohemians.
"Three semi-finals we were beaten in and I think I scored the first goal in two of those semis. We were always there or thereabouts. We finished second in the league, we played in Europe and we faced that great Bordeaux team: Lizarazu – World Cup winner, Dugarry – World Cup winner, Zidane – World Cup winner. And there was Santos, who played for Brazil – who marked me that night in Bordeaux. And I was the only player to pass the half-way line and I was centre-forward. They absolutely destroyed us. They beat us 5-0 and our goalkeeper – Dave Henderson – still had a wonder-game. But it's funny how football can be a leveller sometimes. The following season, we played them in Europe again, this time in Dalymount. It was rainy, cold and they beat us 1-0. But we should've got something out of it and I actually hit the crossbar. We gave them a right game and a few of them didn't fancy it. We got stuck into them and the crowd got behind us. Playing at home in different conditions…how football can change. They had the same players – Zidane was there again – but it was totally different.
The way the season runs now, it's almost geared towards the teams who get to Europe, just to give them more of a chance. And it's worked out that way. The one thing I regret is not being full-time here. I think it's brilliant for players and brilliant for the lads coming home. In a lot of circumstances, some of the lads are in a better environment than in the UK, depending on the club they were with. And it's given them a great platform to go over again."
In 1996, after three years at Dalymount, Cousins signed for bitter rivals Shamrock Rovers. It was an unusual transfer for a few reasons and even now, 22 years later, it's clear that Cousins is still a little irked by it.
"Alan O'Neill had become the Rovers manager with Terry Eviston, who I played with at Dundalk, so that was a major thing," he says.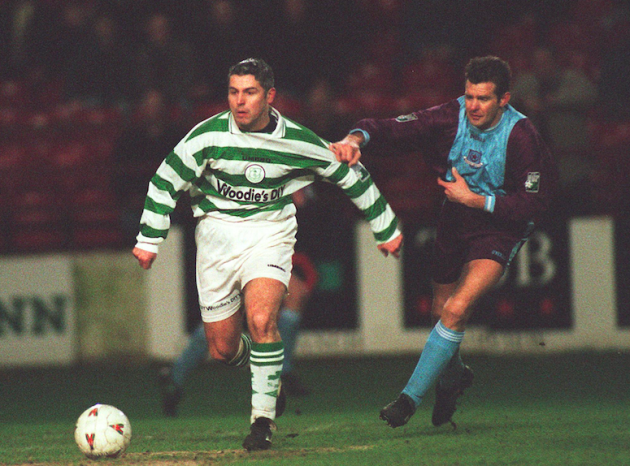 Cousins gets the better of Drogheda's John Coady, the pair having been together at Chelsea.
"But they had to pay for me at the time and there wasn't many transfer fees. They had to give Bohs some money because I had a year left on my contract. It was up to Bohs whether they wanted to accept or not and they did. The funny thing was that Rovers trained 200 yards from where Bohs were. So when I came out to train with Rovers that first night, I had to walk past all the Bohs' lads. I used to pal around with a few of them – Maurice O'Driscoll and Tony O'Connor – and they were just breaking their hearts laughing as I was going by. It just shows you – at that stage – that two League of Ireland clubs were training in the Civil Service grounds on the old Airport Road, 200 yards apart."
Did he feel he had a point to prove once he pulled on a Hoops shirt?
"I think I did," he admits.
I was surprised Bohs let me go. Angry? Yeah, probably. With a year left, I was. It was one of those things. I accepted it and it was probably easier that it was Rovers who wanted me. You were going to a big club and one you supported as a boy. But it was a funny time for them. They'd no home base. When I was there, I played at Santry, Tolka, at Dalymount for a little period. Even the training grounds…we were always on the move."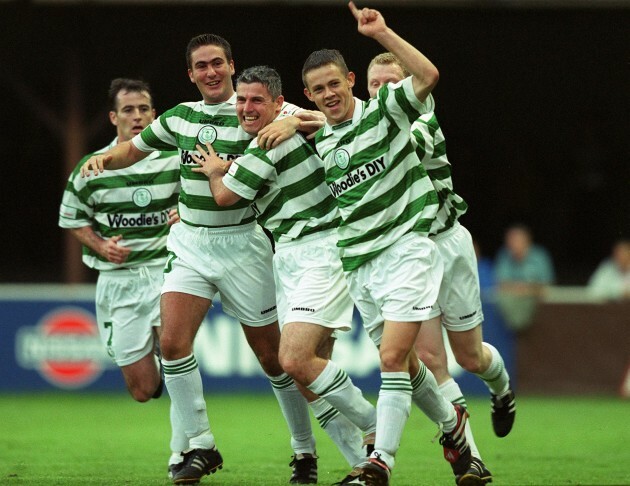 Andrew Paton / INPHO Andrew Paton / INPHO / INPHO
"I always had a great relationship with the supporters at Bohs. It was a great club and very well run at the time and it still is and I'm still made very welcome anytime I'm back to watch a game. There's some great people that have been there a long time with that club. There's always banter between Rovers and Bohs but you need a strong Bohs and a strong Rovers in the league. It's extremely important. In the last few years, it's teams from other parts of the country that have dominated. But it's important the Dublin teams get stronger now because it will make it an even better league."
In his first season with Rovers, Cousins finished as the league's joint-top scorer along with Shels' Stephen Geoghegan. But the club still finished in mid-table obscurity, a mammoth 24 points behind champions Derry. For much of it, relegation seemed a genuine possibility. Thanks to Cousins' goals, it never happened.
Still, 1997/98 was a vast improvement and Rovers finished fourth and sneaked a place in the InterToto Cup. Cousins struck 15 times in the league and was central to their impressive performances.
"Things were looking up," he says.
"The new stadium was being built and we were actually training on the pitch by that stage. The pitch was there, it was finished but there was just a shell outside. The main stand was sitting there with no seats and no roof on it. But the pitch was perfect. It shows you how long the whole thing took."
Right on cue – with Cousins in good form and his team in good shape – there was another injury problem. There was a pain in the knee, innocuous at the start but something that later required an operation. He returned with a slight niggle but still looked sharp, looked fast and was scoring goals. Then, there was a routine clean-up scheduled and everything changed.
"When I came out of the operation, I couldn't walk. I literally couldn't walk," he says.
I had small kids at the time – they were only three and two – and I couldn't even play out the back with them. My knee was gone. I was in limbo. I was 29 and I went to see the surgeon and I'll always remember that he told me to just pick up something else. That's how cold he was about it. I think, at the time, there wasn't anything professional, sports-wise, in Ireland. I don't think he realised the level I was playing at but I came out of there and I was devastated."
"Alan Byrne, a friend and who was the doctor at Rovers, contacted a Welsh orthopaedic surgeon he knew and the fella asked if I could go over on Tuesday, which was only about two days later. I remember my Dad came with me and we hopped on the ferry and got the boat to Holyhead. We went up to Aberystwyth and there was an old army airport and that's where the hospital was. In fairness to the doc, he said 'I've done a few of these before and I don't know the damage that's been done but we'll make sure to do something for you'. They operated and I woke up and he came around the next morning. He explained what the problem was. I had no ligament left so they had nothing to stitch back. So, they drilled little holes in the top of the bone and let it bleed. It formed a kind-of cartilage, not as good, but he told me it would give me another couple of seasons. And he gave me a video of the operation to bring back to the surgeon in Ireland."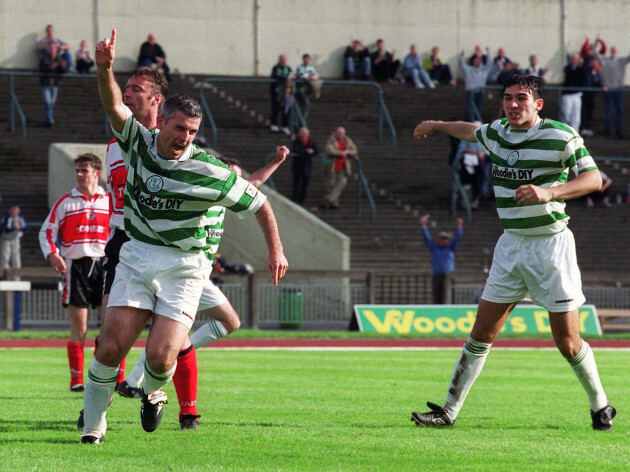 Andrew Paton / INPHO Andrew Paton / INPHO / INPHO
"But, I was never the same player. I wasn't moving like I was before and there's a real frustration in that. So, I stayed for the season at Rovers and then left. Pat Devlin rang and asked if I'd sign for Bray. I went over and did the medical and the fella passed me. I signed the contract, went for pre-season and my knee was killing me. I rang Pat and met him in the grounds of the church in Foxrock and he said, 'I know what you're going to say'. And I said, 'I've had enough – it's too bad'. And I just said that we'd tear up the contract and that it was the honourable thing to do. I went to see Steve Eustace out in Cappagh National Orthopaedic Hospital and he said, 'Listen, unless you want to end up in a wheelchair, I'd give it up now'. And it was the right decision."
In his early thirties, Cousins was done as a player. In six seasons with Rovers – the final three of them routinely punctuated by injury and recuperation – he scored 46 goals.
Facing up to premature retirement was inevitably upsetting but making some tentative steps towards coaching helped him to deal with it.
"The anger was that from 29, you're in your best years," he says.
You're mature, you know what you're good at, you know how to play the game. Football is a short career and in your younger years, you're trying to learn the game and learn about yourself: what makes you tick, what makes you better than others. And the quicker you learn that, the better player you become. It's players who keep trying to do things they can't do who never get better. Look at goalkeepers and centre backs, the latter years are their best years. Some centre-backs have their best years from 30-35 because they know the game so well at that stage. So there was a frustration with that."
"But Liam Buckley rang me one day and asked me to take the 21s at Rovers and that's where I started off. You always miss playing. I always say play as long as you can because coaching, for me, isn't a substitute. And there's a difference too between being a coach and a manager. A manager manages everyone at the club: from the board to the players to the fans' expectations. When you're beaten, it's like having blocks on your shoulders. You feel the weight of the club on you. When you win, that's not there. But that's being a manager. I've been an assistant and a coach at clubs and you don't feel that. You want the club to do well but you can go away from all of that where a manager can't because he's the one that has to deal with everything. But there's a sickening buzz to that as well."
Cousins recognised the perverse attraction of management pretty quickly. There was the initial taste at Rovers before he served as an assistant to Paul Doolin at Drogheda. In 2006, he was appointed Galway United boss and went to serve Longford for seven years. All different experiences, all learning curves for Cousins.
"At Rovers, I found it very difficult because there were still some of the players I would've played with," he says.
Morgan Treacy; ©INPHO / Morgan Treacy/INPHO Morgan Treacy; ©INPHO / Morgan Treacy/INPHO / Morgan Treacy/INPHO
"And the club were finding it very tough financially, which was backfiring on some of the players. A few of them were full-time and they had mortgages and it was a hard period. Then at Drogheda, it was run like a Championship club in England. The facilities up in Mosney…we had two pitches and the groundsman had them almost as good as United Park. You could've played bowls up there, it was in such immaculate condition. There was just a fantastic buzz. The ground was nearly full even even before you went out for the warm-up. The people behind the club were putting in huge investment but it was so disappointing for them. They put their money in and wanted a new ground with new facilities but kept getting brick walls put up in front of them. And it seems we have that a lot in soccer in Ireland, when it comes to trying to build new stadiums. Everyone needs to look at the plans that Pat's have and I'd urge every soccer person to get behind it, the whole soccer community. We need grounds like it, if we want our clubs to get better."
Tallaght is a fantastic place to watch a game now. We need Pat's to build that stadium. It's important now that Dalymount happens as quickly as possible and that it's not put on the long finger. We don't need people putting in objections. We live in an era where people won't stand on banks or terracing with poles in their way. We need to make it was pleasant as we can when people come and watch a game. In Tallaght, with the two main stands, it's a pleasure to watch a game there. We need the right facilities because the product is good at the moment."
At Longford, Cousins had a decent setup. It was a good time for him and the club and they won the First Division title in 2014. Getting to the top-flight was a success, staying there and ensuring an impressive 6th place finish was rightfully lauded too.
The following campaign, with Cousins trying to build on the steady foundation, proved difficult and it proved his final season with the club.
"I thought that after finishing how we did that I'd be able to attract more players," he says.
But I found it very difficult and that was a real frustration. You're saying to yourself, 'How do you move things on?' And the only way of moving it on is financially. But the one thing I was conscious of – and maybe I was wrong – was what the club was spending. When you go to a club that's been in difficulty, it's word of mouth. Players are talking to other players and to the PFAI and it wasn't very complimentary after Longford came out of their financial situation. So I found that we had to build up that confidence again and that only happens over a few seasons but it is difficult. All supporters want success. 'He's there three years and hasn't won anything'. But the fourth season we started to move the team on. We probably should've gone up but we didn't and finally went up in the fifth season. I didn't want to leave the club in the condition that I got it in. And when we went down, we hadn't got a massive budget, the club was in a healthy position, the ground was good and the club wasn't in that financial difficulty they were in before. And there was a healthy budget for the next man in. And that was important to me."
"We went to Wexford and got beaten. And I remembering walking down the line that day and said, 'That's it – I've had enough'. I was hoping that if I left then the team would get a bounce with a new manager coming in. But, unfortunately that didn't happen."
That was August 2016 and he's not returned to the game since. Still, he misses it. He's been linked with a number of different clubs and turned down offers to serve as an assistant too. But he's waiting for the right opportunity. With 10 years management experience, he's got a lot to contribute.
"I didn't miss it when I stopped because I realised that I needed a rest," he says.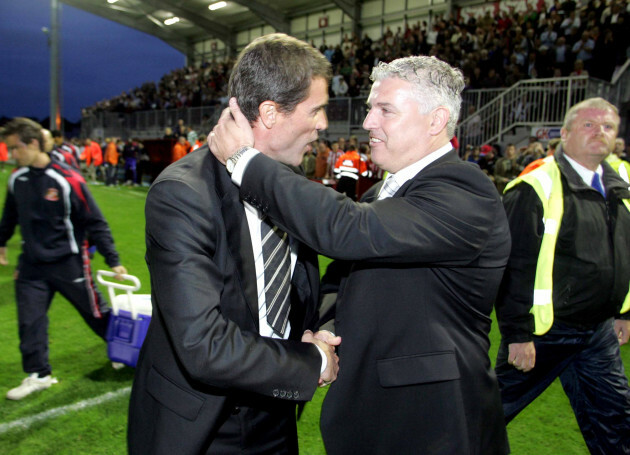 Morgan Treacy / INPHO Cousins with then-Sunderland boss Roy Keane in 2007. Morgan Treacy / INPHO / INPHO
"From the time I retired, I was lucky. I think the longest I was out of the game was a year. That's a lot for my own family – my wife and my kids – in relation to holidays and maybe leaving them after the first week to come back and they're still away. So it's a big commitment from them as well. So it was healthy when I stopped. Now, I'd have a little bee in my bonnet to go again. I'd like to give management another go and there's one thing you learn about management all the time: you'll do good things and make bad decisions but the longer you stay in it the better you'll get. Going away for a while has helped me. I've watched training at different clubs in England and picked up different things that will help you, different contacts too – in England and Scotland. A full-time setup is what appeals to me in terms of having a go again, because of the contacts I've picked up. I feel I'd have a chance of bringing in some players from outside."
Regrets? He's had a few. But not many. He never won a League of Ireland title or the FAI Cup. But he's not one for looking back.
"The year I left for Liverpool, Dundalk went on to win the league," he says.
"So that was probably my best opportunity. There was real frustration at Bohs – we weren't far away. At Rovers, we were so close to getting into the new stadium…if we got into it within a year on a smaller-scale and they built from there…but in football it's all ifs and buts.
My wife could be cleaning somewhere and find a medal. Even as a manager, I never went up to get the league medal with Longford because I enjoyed staying on the pitch and just watching the players. That was my memento and something I'll always remember. I wouldn't be a hoarder. I have a couple of special things. Like a training top from the centenary year at Liverpool that's signed by all the players. So that's in a drawer somewhere. If you came into my house, you wouldn't even know I played."
I always like looking forward in life. When you talk to people, there is a sense of satisfaction that maybe somebody enjoyed watching you play. But there are things outside of football that are important too, like my kids are getting older now and it's college and it's appreciating what they're achieving."
And you're a little bit more rounded in life."
The42 is on Instagram! Tap the button below on your phone to follow us!