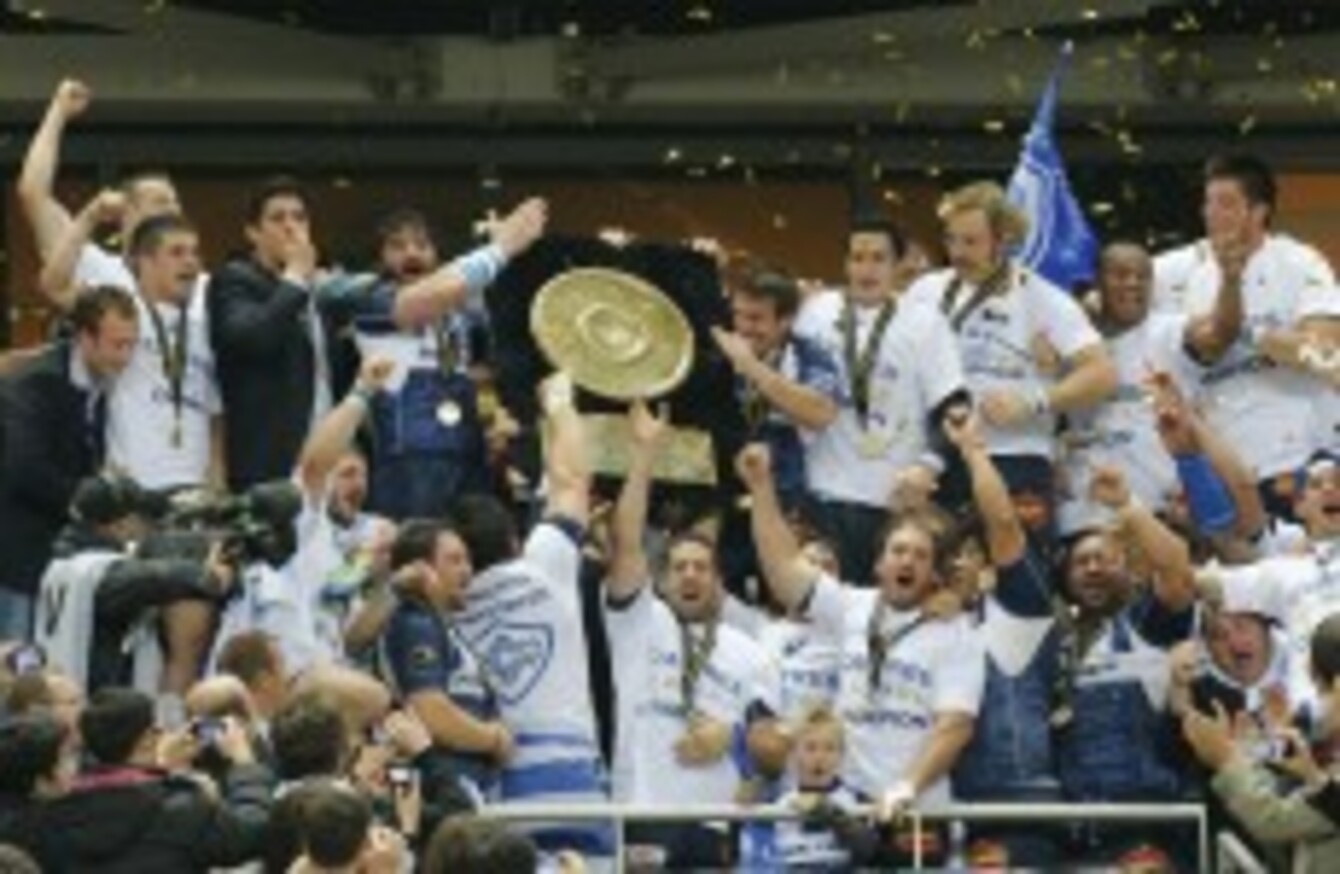 Castres are the current Top 14 champions.
Image: Jacques Brinon/AP/Press Association Images
Castres are the current Top 14 champions.
Image: Jacques Brinon/AP/Press Association Images
THE LIGUE NATIONALE de Rugby [LNR] has announced that it has agreed a new five-year deal with Canal+ for the TV rights to screen the Top 14 exclusively live.
The contract is worth €71 million per season on average.
This deal will run from the 2014/15 season until 2018/19, greatly increasing the current value of the rights for France's top tier [it stands at €31.7 million for this season]. As a result, the already wealthy French clubs will enjoy increased spending power in the coming seasons, a worrying sign for the rest of the rugby world.
The LNR is confident that this deal will allow them to "strengthen the status of the Top 14 as the most attractive league in the world", a sentiment that is difficult to argue with. With rich owners and sponsors continuing to pump their own fortunes into the French clubs, this TV money is a further boost to operating budgets across the country.
Last month, the LNR called on other broadcasters to make offers for the Top 14 TV rights, despite their 20-year relationship with Canal+. That move came in the wake of a reported €65 million per season offer from Canal+ to hang onto the exclusive rights, and with the Qatari-owned BeIn Sport hovering in the background intent on muscling their way in, a bidding war had been anticipated.
The fact that Canal+ had threatened legal action over the LNR's call for offers also meant a change of broadcaster was unlikely.
That situation has been avoided, and previously suggested figures of up to €100 million per season have failed to materialise. Not that the €71 million average over the five seasons should be underestimated. For the IRFU, WRU and other unions who are worried about losing their marquee players to the lure of the Top 14′s money, this new deal will provide further concern.
The contract is worth a total of €335 million to the Top 14 clubs over the five years in question, split in the following format:
Season 2014/15: €70 million
Season 2015/16: €70 million
Season 2016/17: €71 million
Season 2017/18: €72 million
Season 2018/19: €72 million
The LNR, alongside Canal+, have also reiterated that they are focused on their "shared ambition for the Top 14 to take the next step in international exposure." A concerning prospect for the rest of us.
Like rugby? Follow TheScore.ie's dedicated Twitter account @rugby_ie >