Good afternoon and welcome to our live coverage of the Premier League weekend's final two fixtures. We're following all the action from White Hart Lane and Anfield, with both games kicking-off at 4pm.
We'll have all the build-up to Tottenham's clash with Man United and Stoke's trip to Liverpool over the course of the next hour.
Before we bring you the team news from both grounds, kick-off at White Hart Lane has been delayed by 15 minutes.
Let's start in North London, where Tottenham have made two changes from the team which drew with Liverpool last time out.
Jan Vertonghen is involved again for the first time since January while Erik Lamela also comes in.
Man United, meanwhile, have made just the one change to their XI with Timothy Fosu-Mensah comes in for Matteo Darmian.
And now to Anfield, where Jurgen Klopp's side welcome Stoke to Merseyside. The Reds boss has made seven changes from Thursday's draw in Dortmund with Daniel Sturridge and Roberto Firmino starting.
And Stoke will line-up as follows:
It's full-time at the Stadium of Light where Leicester have just beaten Sunderland thanks to a Jamie Vardy double. The Foxes now lead Tottenham by 10 points at the summit and all the pressure is on Spurs.
The atmosphere is building in North London and news of that result will filter through. It leaves Mauricio Pochettino's side with no margin for error.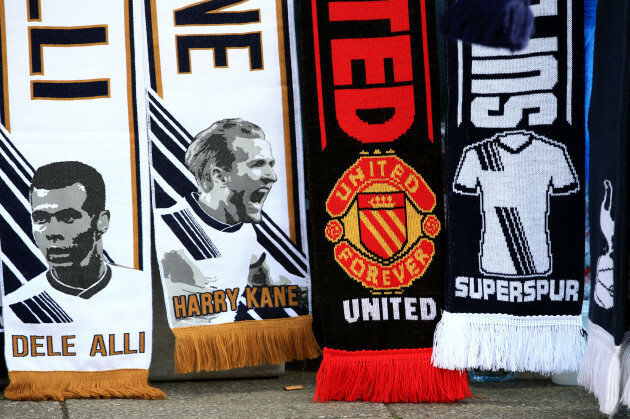 EMPICS Sport EMPICS Sport
Not long until kick-off at Anfield, and we're still waiting for confirmation on when we're going to get going at the Lane. At the moment it's 4.15pm but that could be pushed back further as United have yet to arrive.
While we're waiting, lets have your predictions. E-mail ryan@the42.ie, tweet @the42_ie, post a message to our Facebook wall, or leave a comment below.
Here's how the Premier League table looks ahead of kick-off. Leicester, incredibly, are 10 points clear with five games remaining.
BREAKING: Kick-off at White Hart Lane has now been delayed until 4.30pm. Man United have yet to arrive at the ground.
We'll bring you news as and when we have it but for now let's focus on the game at Anfield, which does kick-off at 4pm.
Klopp has shuffled his pack for this game after Thursday's 1-1 draw in Germany.
As mentioned earlier, Sturridge and Firmino start up front while teenager Sheyi Ojo makes his first start for the club.
In midfield, Joe Allen and Kevin Stewart come in for the injured Jordan Henderson and suspended Emre Can with James Milner captaining the side.
At the heart of defence, Kolo Toure and Martin Skrtel replace Mamadou Sakho and Dejan Lovren.
The teams are out at Anfield and we're nearly set for kick-off. Meanwhile, Man United have finally arrived at White Hart Lane after a two-hour bus journey.
Kick-off! The visitors get us underway. Good atmosphere at Anfield before this one as Liverpool look to leapfrog their opponents into 8th position today.
Bojan tries his luck from range but his effort was never troubling Simon Mignolet. Crouch then links up with the former Barcelona forward and Liverpool just about deal with it. Bright start from Stoke.
Liverpool on the front foot for the first time. Milner does well to win the corner but his delivery is poor and Stoke clear.
GOAL! Liverpool 1-0 Stoke (Moreno)
The hosts take a free-kick quickly and Stoke are caught off guard. Milner plays it in-field to Moreno and his stinging shot is past Jakob Haugaard in a flash.
Liverpool are really in the mood this afternoon. They look very dangerous every time they go forward and Stoke have been unable to deal with the pace and movement of the home side.
Stoke look for an instant response and win a corner. The delivery is poor, however, and Liverpool break in numbers – but the final pass sees the move break down with Stoke stretched.
GOAL! Liverpool 1-1 Stoke (Bojan)
Out of nothing, Stoke are level. Liverpool, once again, get undone by a set-piece and the visitors are back in the game. Bojan is given the freedom of the Kop end to volley home from close range.
Close! First sign of life from Sturridge. He picks up possession 30 yards from goal and unleashes a fierce drive which skims just wide.
Peter Crouch thought he had given Stoke the lead with a thumping header but a late flag cut the celebrations short. Meanwhile, the teams are out at White Hart Lane.
Apr 10th 2016, 4:31 PM
1'0
Kick-off! After a delay of half an hour, we're underway in North London.
Apr 10th 2016, 4:35 PM
0'0
GOAL! Liverpool 2-1 Stoke (Sturridge)
Brilliant from Liverpool. Sheyi Ojo drifts over to the left hand side and skips past the defender and chips in a beautiful cross for Sturridge to head home.
Apr 10th 2016, 4:37 PM
7'0
Apr 10th 2016, 4:38 PM
7'0
Man United have started brightly and have a free-kick in a dangerous position. Carrick whips in the set-piece and Martial knocks it back across at the back-post. Tottenham just about deal with it and clear the danger.
Apr 10th 2016, 4:42 PM
10'0
Chance! Stoke are causing Liverpool all sorts of problems from the set-piece and Ryan Shawcross comes within inches of restoring parity. His header sails just wide of the post.
Apr 10th 2016, 4:42 PM
12'0
Timothy Fosu-Mensah embarks on a mazy run down the right hand side. The youngster does well and wins a corner for his side. The set-piece is initially cleared but United continue to apply the pressure. Really bright start from the visitors.
Apr 10th 2016, 4:44 PM
13'0
Home fans a little frustrated in these opening exchanges. United have dominated the early proceedings and are looking to be really positive in possession.
Apr 10th 2016, 4:46 PM
16'0
They have yet to really test Hugo Lloris but Man United will be delighted with their start. The visitors have Spurs penned inside their own half and they're finding acres of space.
Apr 10th 2016, 4:47 PM
16'0
But Tottenham are dangerous on the break. Rose bombs forward and whips in a delightful ball which Smalling needs to be at full stretch to turn behind.
Apr 10th 2016, 4:49 PM
17'0
Chance! Rose again with the delivery and Kane is completely unmarked in the middle – but he's flagged offside after forcing De Gea into a brilliant save.
Apr 10th 2016, 4:49 PM
19'0
Sturridge has put Liverpool in control at the break.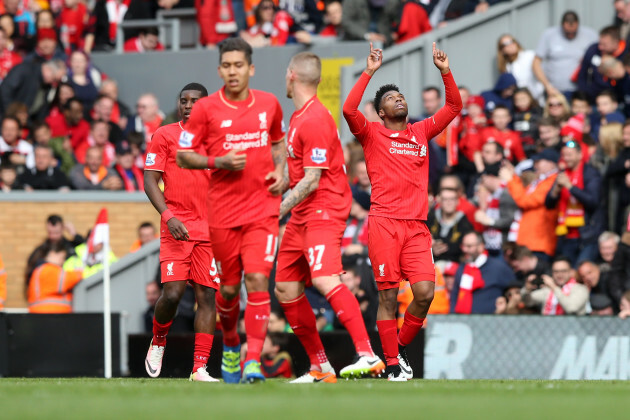 Martin Rickett Martin Rickett
Apr 10th 2016, 4:53 PM
20'0
Apr 10th 2016, 4:54 PM
23'0
Tottenham look vulnerable defensively as United knock on the door. Martial can't quite get the ball out from under his feet and the chance is gone. An air of frustration and anxiety around the ground at the moment.
Apr 10th 2016, 4:54 PM
22'0
United inject some pace into their attack and they win another corner. Louis van Gaal's side have been very impressive in the opening quarter of this game, but it's still goalless.
Apr 10th 2016, 4:57 PM
27'0
Christian Eriksen looks to get Tottenham going. The midfielder comes in off the left flank and tries to curl one around Fosu-Mensah but his radar is a little off with De Gea scrambling.
Apr 10th 2016, 4:57 PM
25'0
That was awful from Marcos Rojo. He finds himself in a great position to deliver a decent cross with three team-mates waiting but it's woefully over-hit and the chance is gone.
Apr 10th 2016, 4:59 PM
29'0
What a miss! Incredible passage of play and somehow Lamela heads wide with the goal at his mercy.
Firstly, De Gea and Fosu-Mensah does brilliantly to deny Kane but United lose possession again and Eriksen's ball picks out the unmarked Lamela.
But, with just De Gea to beat from yards out, he manages to head wide.
Apr 10th 2016, 5:02 PM
30'0
Spurs are turning the screw now. Walker goes on a rampaging run down the right and Rojo is all at sea. The United right-back looks like he's running the wrong way on a treadmill but fortunately for him Walker can't pick out a white shirt.
Apr 10th 2016, 5:05 PM
34'0
Still all-square at White Hart Lane.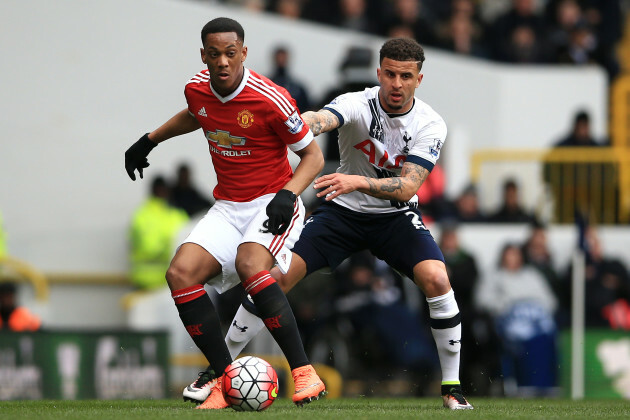 EMPICS Sport EMPICS Sport
Apr 10th 2016, 5:05 PM
33'0
The complexion of this game has completely changed. Tottenham are firmly in the ascendancy now and suddenly the home fans have found their voices.
Apr 10th 2016, 5:05 PM
33'0
Over at Anfield, the teams are back out and the second-half has started. One change for Liverpool as Divock Origi comes on for Sheyi Ojo.
Apr 10th 2016, 5:07 PM
37'0
GOAL! Liverpool 3-1 Stoke (Origi)
And the substitute makes an instant impact. Milner's cross is exquisite and Origi has the simple task of heading home from two yards out.
Apr 10th 2016, 5:10 PM
40'0
Stoke are all over the place. Pieters hits his clearance off Firmino and it loops up and inches over the bar with Haugaard off his line.
Apr 10th 2016, 5:10 PM
38'0
That was really slack defending from Mark Hughes' side. Milner's cross was a beauty but it was floated enough for one of the Stoke defenders to make it their own while the goalkeeper hesitated and failed to deal with it.
Liverpool operating in cruise control now.
Apr 10th 2016, 5:12 PM
41'0
Save! But they nearly find a route back into the game. Jeff Cameron's looping header has Mignolet back-pedaling and the Liverpool goalkeeper does brilliantly to get back and tip it over the bar.
Apr 10th 2016, 5:15 PM
44'0
Stoke have suddenly woken up at Anfield. They look very dangerous all of a sudden and Liverpool will have to be careful.
Nothing much to report from White Hart Lane, where Tottenham have finally settled into the contest and look most likely at this stage.
Apr 10th 2016, 5:17 PM
45'0
Save! Firmino looks to extend Liverpool's lead. The move works its way out to the Brazilian and he shifts it onto his right and forces the goalkeeper into a smart stop.
Apr 10th 2016, 5:17 PM
45'1
United dominated the opening 20 minutes but Spurs grew into the game and should really be ahead with Lamela squandering a gilt-edge chance.
Apr 10th 2016, 5:18 PM
45'0
One minute of added time at White Hart Lane.
Apr 10th 2016, 5:18 PM
45'0
And that's half-time, where it's goalless at the break.
Apr 10th 2016, 5:19 PM
45'2
Miss! Plenty of action at Anfield. Sturridge will a silky flick and Moreno whips in an inviting cross for Origi to head home but he fluffs his lines.
Apr 10th 2016, 5:24 PM
45'5
GOAL! Liverpool 4-1 Stoke (Origi)
The substitute gets his second. Origi collects the ball on the left and he skips past Phil Bardsley before whipping in a cross, which goes all the way in.
Apr 10th 2016, 5:26 PM
45'4
It has been an impressive cameo.
Apr 10th 2016, 5:28 PM
45'2
Story of United's season. Will we see something different in the second-half?
Apr 10th 2016, 5:31 PM
45'4
Teams back out at the Lane. Ashley Young is coming on for the visitors with Rashford making way.
Apr 10th 2016, 5:33 PM
45'1
17 minutes remaining at Anfield. Liverpool just going through the motions now, as attention no doubt turns to the visit of Dortmund. Klopp has brought Adam Lallana on for Roberto Firmino.
Apr 10th 2016, 5:33 PM
46'
Back underway at White Hart Lane. Ashley Young looks to have gone up top as the lone striker!
Apr 10th 2016, 5:36 PM
47'0
Under Louis van Gaal, Young must have played in nearly every position at this stage. He's now operating as United's only striker with Martial coming to the left.
Apr 10th 2016, 5:37 PM
48'0
Apr 10th 2016, 5:38 PM
50'0
De Gea forced into action twice in quick succession. Eric Dier lets fly from range and his effort takes a deflection, which makes it slightly easier for the goalkeeper.
Apr 10th 2016, 5:39 PM
49'0
Tottenham have come out of the blocks quickly as they search for the breakthrough. If you missed it earlier, Leicester's win at Sunderland means the gap at the top is now 10 points.
Apr 10th 2016, 5:39 PM
51'0
Apr 10th 2016, 5:42 PM
54'0
Kane the latest to test De Gea. He receives the ball with his back to goal but swivels and creates the opening, but the goalkeeper is equal to the task.
Apr 10th 2016, 5:44 PM
56'0
Absolutely nothing happening at Anfield, where both teams have treated the last 20 minutes like a training match. Into the latter stages of that one with the contest well and truly over.
Over at the Lane, it's still goalless.
Apr 10th 2016, 5:48 PM
60'0
Stoke have been taken apart in the second-half and the visitors are just praying for the whistle at this stage. Into injury time on Merseyside.
Apr 10th 2016, 5:50 PM
62'0
Save! Martial comes alive as he cuts through the Spurs defence and creates the opening for himself but he shoots straight at the goalkeeper. Lloris parries and Tottenham just about get it clear.
Apr 10th 2016, 5:52 PM
63'0
Full-time at Anfield, where Liverpool have beaten Stoke 4-1. An excellent performance all-round from Klopp's men.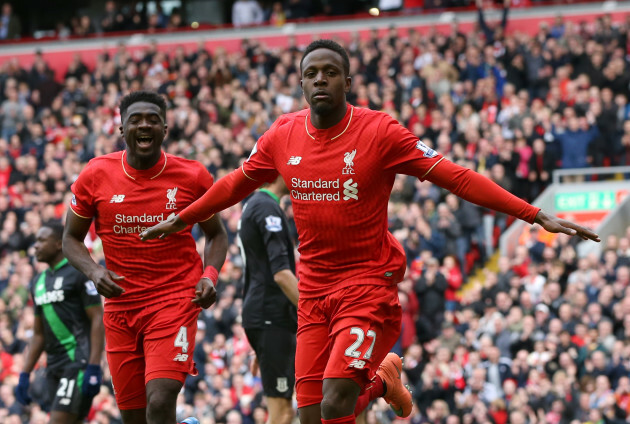 Martin Rickett Martin Rickett
Apr 10th 2016, 5:54 PM
67'0
Rose has been excellent going forward and he ghosts in behind again and United are really stretched. De Gea gets down low to use his legs to thwart Rose and then Eriksen's effort is weak.
Apr 10th 2016, 5:56 PM
68'0
Second change for United as Fosu-Mensah, who has been excellent, is forced off.
Apr 10th 2016, 5:57 PM
68'0
A decent afternoon's work for the Liverpool youngster.
Apr 10th 2016, 5:59 PM
70'0
GOAL! Tottenham 1-0 Man United (Dele Alli)
United lose a 50/50 battle in midfield and suddenly the ball squirts through to Eriksen. His ball into the on-rushing Dele Alli is superb and the teenager fires home first time.
Apr 10th 2016, 6:02 PM
71'0
That was coming and Tottenham are fully deserving of their lead. Eriksen's vision and execution was superb and Alli kept his composure to finish.
Apr 10th 2016, 6:02 PM
75'0
GOAL! Tottenham 2-0 Man United (Alderweireld)
Lamela's free-kick picks out the defender to head home and double Spurs' advantage. Rojo didn't even get off the ground to contest it.
Apr 10th 2016, 6:03 PM
75'0
GOAL! Tottenham 3-0 Man United (Lamela)
Incredible! United are all over the place as Rose cuts it across for Lamela to sweep it home.
Apr 10th 2016, 6:04 PM
76'0
Depay is on for Mata and United are a shambles. Blind, Rojo and Darmian are all off the pace and horribly exposed.
Apr 10th 2016, 6:05 PM
77'0
Apr 10th 2016, 6:07 PM
78'0
Save! Kane very nearly gets in on the act as his header is tipped over by De Gea.
Apr 10th 2016, 6:10 PM
81'0
Says it all really. An 18-year-old limping off and United crumble.
Apr 10th 2016, 6:10 PM
82'0
Memphis and Kyle Walker square off in the corner and they're both booked for sparking a bit of a melee.
Apr 10th 2016, 6:12 PM
84'0
Apr 10th 2016, 6:16 PM
86'0
Nacer Chadli comes on for Erik Lamela as we head towards the final stages of this game.
Apr 10th 2016, 6:19 PM
90'0
Four minutes of added time.
Apr 10th 2016, 6:19 PM
91'0
Dembele looks to make it four but is stopped by De Gea after forcing his way through the media. Dele Alli then looks for a penalty but the referee books the teenager for diving.
Apr 10th 2016, 6:22 PM
90'3
The 15 year wait for a home win over Man United is over.
Full-time! Tottenham 3-0 Man United
The42 is on Snapchat! Tap the button below on your phone to add!
Exclusive Six
Nations Analysis
Get Murray Kinsella's exclusive analysis of Ireland's Six Nations campaign this spring
Become a Member