Hello! And welcome to our minute-by-minute coverage of tonight's Carabao Cup semi-final first leg between Tottenham and Chelsea at Wembley.
Mauricio Pochettino is one of the best managers in the Premier League but the absence of silverware has always been a stick to beat him with. Tonight he could potentially take a big step towards his first ever trophy.
He made it to the final of this competition five years ago, losing to tonight's opponents Chelsea 2-0 at Wembley in 2015, and the sides meet again at the same venue here tonight.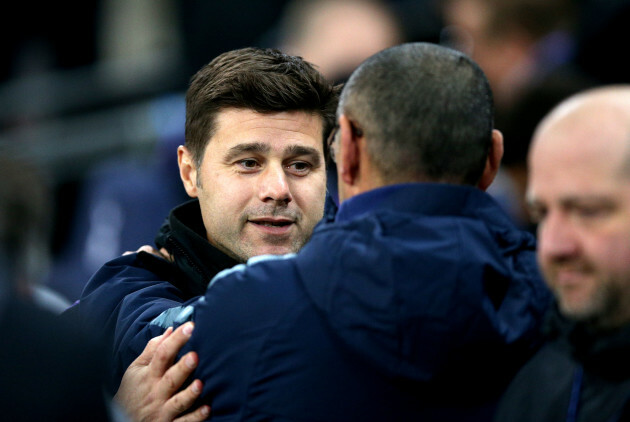 Nigel French Nigel French
Maurizio Sarri has also not won a trophy in his managerial career as of yet. His side are currently four points adrift of Spurs in the Premier League after 21 games this season, but are still in command of a top four place as things stand.
Deride the League Cup as you wish, but you cannot deny both managers would fancy getting their first taste of silverware, even if securing Champions League football for next season is the number one priority for both men.
These sides have met once already this season, Spurs coming out 3-1 victors at Wembley with Harry Kane, Dele Alli and Heung-Min Son getting on the scoresheet during an impressive win.
Kick-off is coming up in just over an hour's time at 8pm.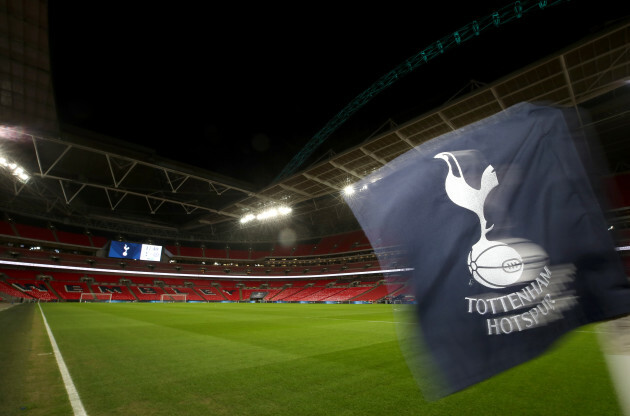 PA Wire / PA Images PA Wire / PA Images / PA Images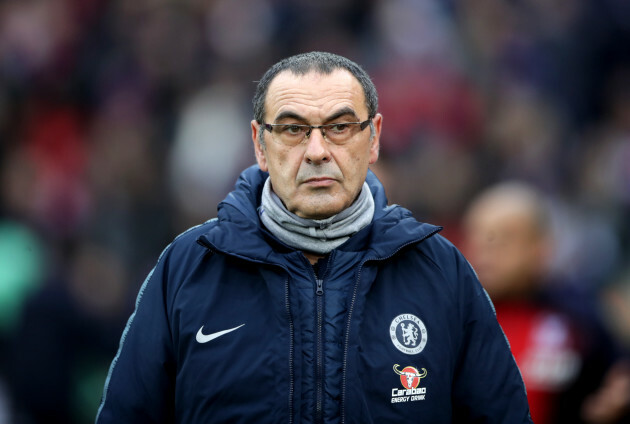 Let's get started with the team news…
#THFC: Gazzaniga, Trippier, Alderweireld, Sanchez, Rose, Winks, Sissoko, Eriksen, Dele, Son, Kane (C).

Latest @WilliamHill odds - https://t.co/6E2h07OwBh (18+) #COYS pic.twitter.com/z3XfL4ZQKs

— Tottenham Hotspur (@SpursOfficial) January 8, 2019
Tonight's team to play Tottenham...#TOTCHE pic.twitter.com/ELtyi1Zgfq

— Chelsea FC (@ChelseaFC) January 8, 2019
So, today's teams will line out as:
Tottenham: Gazzaniga, Trippier, Alderweireld, Sanchez, Rose, Winks, Sissoko, Eriksen, Alli, Son, Kane.

Chelsea: Arrizabalaga, Azpilicueta, Christensen, Rudiger, Alonso, Jorginho, Kante, Barkley, Willian, Hazard, Hudson-Odoi.
Tottenham were in fine form the last time these sides met with that one-sided win in November, and Chelsea boss Maurizio Sarri knows his side will have to do a lot better tonight if they are to avoid a repeat of that 3-1 defeat.
"We need to approach this match in another way, because we lost the [last] match in the first 16 minutes," he said. "They were really more aggressive than us, more determined than us.
"Now we know very well if we approach the same there's no solution for us. I want to speak before about this, otherwise it's useless to speak about tactics."
On the other hand, Spurs boss Mauricio Pochettino said he was fairly satisfied with his side's start to 2019, and that he still had the utmost respect for Chelsea as a top team ahead of tonight's game.
"We've started the new year very well, with victories at Cardiff and Tranmere. We know very well that it's going to be again 180 minutes, two legs," he said speaking earlier this week.
"Chelsea are a great team, a team that will be tough to beat. The tie is 50/50. It will be a very exciting game. We hope to have the possibility to win and go to Stamford Bridge in a very good position."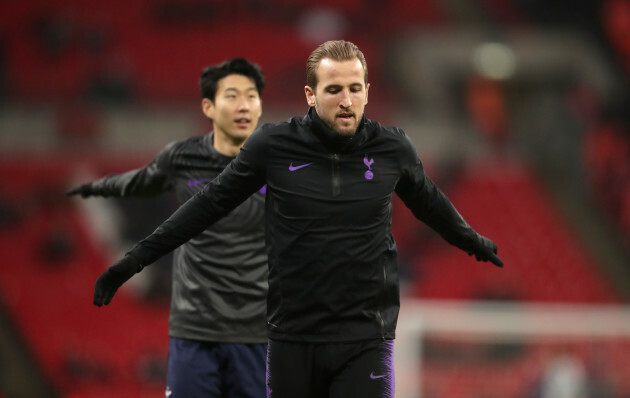 John Walton John Walton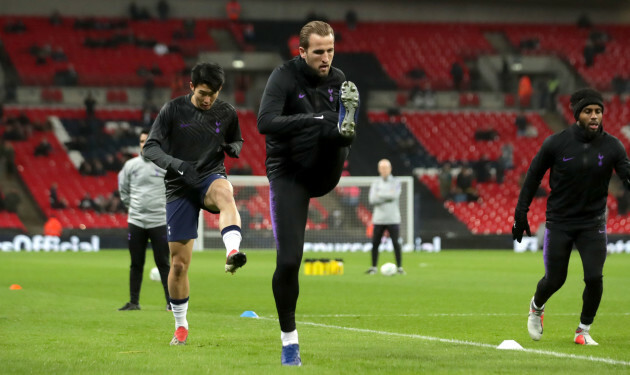 KICK-OFF: We're underway at Wembley for the first half!
Callum Hudson Odoi immediately gives us a glimpse of his talent. The 18-year-old really caught the eye during a friendly against Arsenal at the Aviva Stadium back in August, but has found first-team minutes hard to come by this season, hence being heavily linked with a £30 million move to Bayern Munich. He dribbles around Davinson Sanchez before exchanging a neat one-two right outside the box.
Son Heung-min goes down inside the box under the challenge of Andreas Christensen as the home fans shout for an early penalty here. The South Korean international was racing onto a long ball hoofed up the length of the pitch and went shoulder-to-shoulder with the Chelsea centre back, but referee Michael Oliver deemed it a fair challenge.
PA Wire / PA Images PA Wire / PA Images / PA Images
Close! Harry Kane provides a spectacular moment of individual skill with an overhead kick, but his shot is right at Kepa. Very end-to-end start to this game, very entertaining indeed.
Right before that Ross Barkley had a chance of his own, sending a low effort into the side-netting of Spurs goalkeeper Paulo Gazzaniga, who has played every round of the League Cup so far this season ahead of Hugo Lloris.
Eden Hazard gets his first proper involvement in the game. His picks up the ball 25 yards out from goal and looks like having a go at goal, before picking out Hudson Odoi on that right wing with a quick pass. The young winger crosses, but it's right into the welcoming arms of goalkeeper Gazzaniga.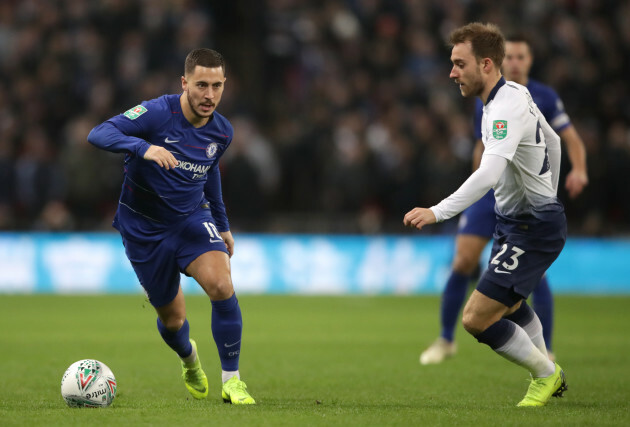 John Walton John Walton
Jan 8th 2019, 8:13 PM
13'
Chelsea enjoying the upper hand at the moment. Kane's overhead and Son's penalty shout have been the only two times when Spurs have really managed to get out of their own half, with that front three of Willian, Hazard and Hudson Odoi enjoying a large spell of possession in the final third early on here.
Jan 8th 2019, 8:19 PM
15'
A calm reassurance has swept over Wembley now as Toby Alderweireld and Davinson Sanchez begin to gather their bearings, get the ball down on the deck at the back and lift their heads to get the ball forward. Chelsea's initial early pressure has started to ease.
Jan 8th 2019, 8:21 PM
20'
Hudson Odoi cuts inside and finds Eden Hazard with a pass. The Belgian is on his weaker left foot, but that doesn't retract him from firing a powerful shot on target. It had plenty of drive and whip behind it, but the effort was right at Gazzaniga.
Frank Augstein Frank Augstein
Jan 8th 2019, 8:23 PM
22'
Spurs respond at the other end with a snappy counter down the lefthand side. Christian Eriksen floats through with grace and ease and crosses towards the back post, but Harry Kane is man-marked by Andreas Christensen, who gets his head to the ball first to clear.
Jan 8th 2019, 8:25 PM
25'
Jan 8th 2019, 8:26 PM
25'
After a lengthy consultation with his VAR officials, referee Michael Oliver points to the spot after Harry Kane was brought down inside the box by Kepa. Spurs have the chance to go ahead here and you can guess who's going to take it…
Jan 8th 2019, 8:26 PM
26'
GOAL! TOTTENHAM 1-0 CHELSEA (KANE 26)
Jan 8th 2019, 8:27 PM
26'
GOOOOOOOOAL! Tottenham take the lead just shy of the half hour mark. Harry Kane was fouled for the penalty and the Spurs captain is the man to stick it away. He picked his spot in Kepa's bottom right-hand corner and fired a powerful low effort right past the Chelsea goalkeeper.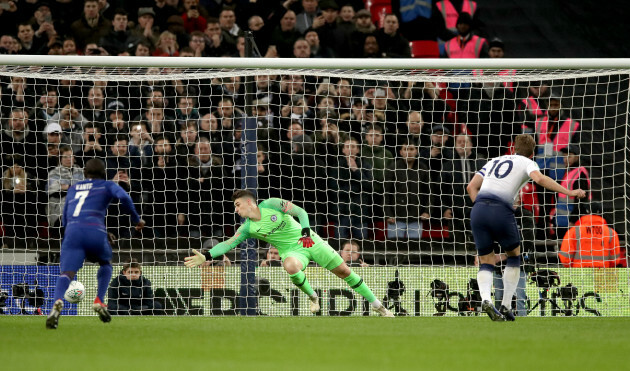 John Walton John Walton
Jan 8th 2019, 8:30 PM
29'
The need for VAR was in the run-up to the penalty, with Chelsea players and supporters believing Kane to be offside following a through ball which saw him one-on-one with Kepa, before the goalkeeper brought him down. It was very tight, and both sets of supporters will make their case that Kane was/wasn't/was clearly/was clearly never offside.
Jan 8th 2019, 8:33 PM
32'
That goal has really electrified the atmosphere inside Wembley. Chelsea really were enjoying the upper hand early on in this game, but look a little unsure now after going a goal down. Spurs are buoyed and confident, sensing blood and possibly another goal before the break.
Jan 8th 2019, 8:35 PM
34'
N'Golo Kante tees up a shot from a considerable distance, but it's right at the goalkeeper. The French international has three goals already this season, a more than respectable number for a footballer who's game is so dominated by breaking up play at the other end of the field. He's earned the right to have a pop every now and then.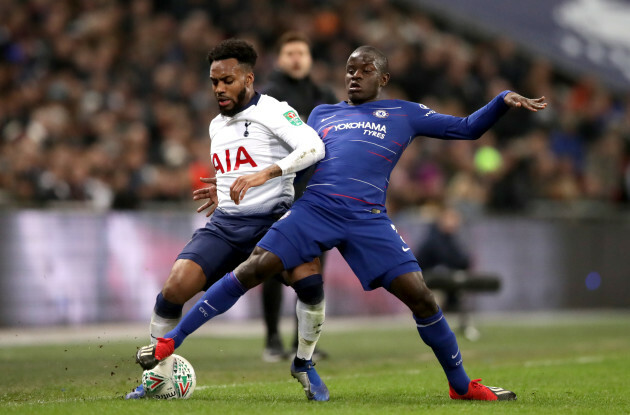 John Walton John Walton
Jan 8th 2019, 8:40 PM
38'
Off the post! Kante is making a serious contribution in the final third for Chelsea in this game. He peels away from his marker at the front post and hammers a brilliant effort off the bottom of the post from Marcos Alonso's cross.
Jan 8th 2019, 8:42 PM
41'
Just a few minutes left in the first half now. An even half, you'd say, with Chelsea enjoying the lion's share of possession but Spurs being much more effective with their limited chances in front of goal so far.
Jan 8th 2019, 8:46 PM
45'
Tottenham patiently playing the ball around at the back to try and whittle away what's left in this half. Danny Rose is fouled by Hudson Odoi and the hosts have a free out.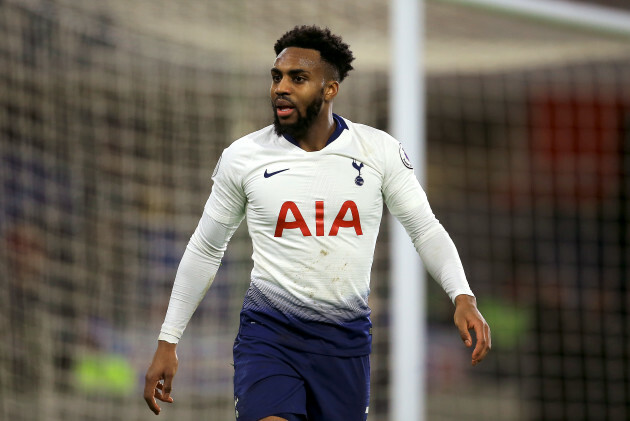 PA Wire / PA Images PA Wire / PA Images / PA Images
Jan 8th 2019, 8:47 PM
45'
There will be two minutes of stoppage time to come at the end of the first half.
Jan 8th 2019, 8:48 PM
45'+2
Off the post! Callum Hudson Odoi is inches away from levelling deep into stoppage time. He curls a brilliant strike which looks curtain to nestle into the top corner, but it dramatically bounces down onto the line before being hooked away.
Jan 8th 2019, 8:48 PM
45'+2
HALF-TIME: TOTTENHAM 1-0 CHELSEA
Jan 8th 2019, 8:51 PM
45'+2
Jan 8th 2019, 8:54 PM
45'+2
There we are then, half-time already. By all means a really entertaining first half of this first leg. Just like at the World Cup during the summer, VAR will hit the headlines for its involvement in awarding Tottenham's penalty which Harry Kane stuck away to take the lead. Chelsea have had a bundle of chances, hitting the post twice, but alas they trail at the break. More action to come shortly.
Jan 8th 2019, 9:03 PM
46'
SECOND-HALF: We're back underway at Wembley!
Jan 8th 2019, 9:04 PM
47'
A chance right from tip-off for Tottenham to try and double their lead. Dele Alli sprints away behind enemy lines but was denied a chance to shoot thanks to a perfectly-timed sliding challenge from Antonio Rudiger. Really excellent defending.
Jan 8th 2019, 9:09 PM
49'
Eden Hazard is causing all sorts of problems now. He clips a clever cross towards the back post in the direction of Ross Barkley, but Toby Alderweireld reads the flight of the ball and heads clear for a corner.
Jan 8th 2019, 9:10 PM
52'
Save! Harry Kane almost nabs a brace, but Kepa produces an excellent save with his right hand to claw the ball away. A swift passing move from Tottenham saw Kane take possession just outside the box before swinging a decent effort on goal. The Chelsea goalkeeper was equal to it, however. Good shot, good stop.
Jan 8th 2019, 9:12 PM
53'
Hazard looks at Kane and says 'anything you can do I can do better'. Well, not better, but pretty much the exact same. The Chelsea forward clamps the ball down on the edge of the box and fashions his own powerful strike from distance. Gazzaniga catches it.
Jan 8th 2019, 9:15 PM
56'
Two shots in as many minutes from Gazzaniga. N'Golo Kante lines up a strike from outside the box, and the Tottenham goalkeeper bats it away with confidence. He has been excellent so far tonight and seems hell-bent on maintaining his clean sheet.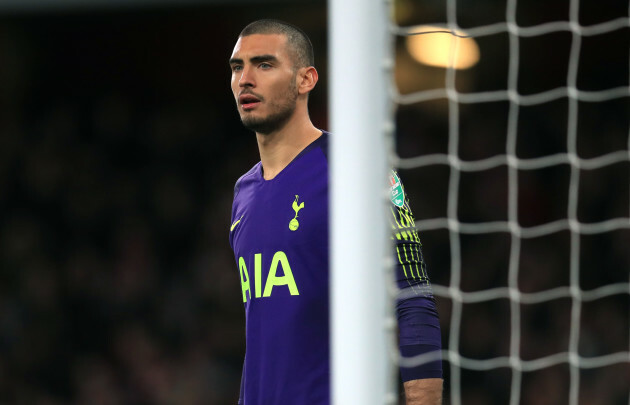 EMPICS Sport EMPICS Sport
Jan 8th 2019, 9:17 PM
59'
Oh goodness me, how close can you get? Andreas Christensen is completely unmarked at the back post put cannot steer the ball home. Everyone missed the ball as a corner was delivered into the box, but instead of hitting it on his left, the Chelsea defender made it awkward for himself — trying to curl the ball in off his small toe on his right. He missed.
Jan 8th 2019, 9:20 PM
63'
Jan 8th 2019, 9:25 PM
66'
Close opportunity for Spurs to double their lead after a brilliant individual run from Moussa Sissoko all the way from midfield. He battled and battled, but eventually the ball just got away from him when he made it into the box. Rudiger and Christensen a bit all over the place there.
Jan 8th 2019, 9:27 PM
69'
Stop everything.
#WhereAreTheyNow Rafael Van Der Vaart

The Dutch attacking midfielder was capped 109 times for his country and played for teams like Real Madrid and Spurs during his prime.

He's now one of the most feared darts players worldwide after most recently playing for Esbjerg. pic.twitter.com/hIcZXx6xcm

— Matteo Bonetti (@TheCalcioGuy) January 8, 2019
Jan 8th 2019, 9:30 PM
71'
Twenty minutes left on the clock. Tottenham have never really enjoyed any sort of upper-hand in this game, but are doing a great job of shutting Chelsea out. The introduction of Pedro off the bench has had very little impact so far for Sarri's men, with Callum Hudson Odoi a lot quieter than he was during a lively opening half for the talented young forward.
Jan 8th 2019, 9:34 PM
75'
Out of pure desperation Jorginho has a pop from all of 30 yards. It flies high into the sky and into the Wembley crowd. A sarcastic cheer arises from the home crowd, as frustration is clearly building for Chelsea at the moment. They appear to be running out of ideas here.
Jan 8th 2019, 9:35 PM
75'
Jan 8th 2019, 9:37 PM
78'
Jan 8th 2019, 9:38 PM
80'
Jan 8th 2019, 9:39 PM
81'
Plenty of switches from both sides now as the game slowly peters towards its conclusion. The atmosphere has grown quite low over the last while inside Wembley, perhaps an apt reflection of the lack of action on the field of play.
Jan 8th 2019, 9:42 PM
83'
Olivier Giroud has been hauled off the bench as Sarri searches for some attacking inspiration late on here. Chelsea's lack of a confident, world-class striker has been to their detriment this season. Alvaro Morata is that player on his best days, but the Spaniard looks a shell of the man who lit up Serie A just a handful of seasons ago.
Jan 8th 2019, 9:43 PM
85'
Only on the pitch a matter of moments, Erik Lamela is in the referee's book. The Argentine picks up a yellow card for a rash challenge on Eden Hazard, who has been the victim of a host of cynical fouls this evening to try and keep his impact to a minimum.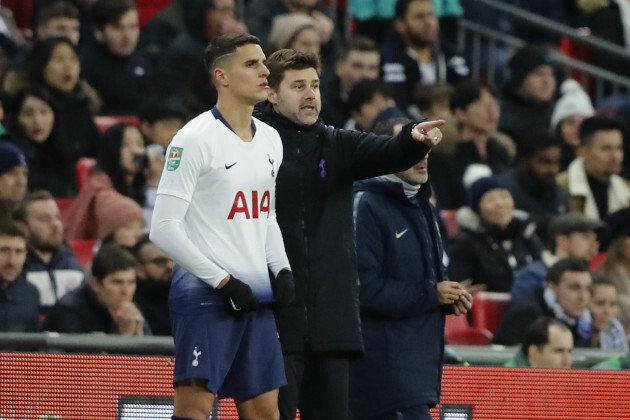 Frank Augstein Frank Augstein
Jan 8th 2019, 9:45 PM
86'
Their first chance in a while, Chelsea come close to levelling with five minutes to go. Dribbling into the box on the right, Hazard fizzes a low cross into the box which Gazzaniga spills before it's hooked away by the right boot of Danny Rose.
Jan 8th 2019, 9:48 PM
89'
Spurs almost put the nail the coffin on the counter up the other end. Harry Kane peels away down the left before curling a low ball into the penalty area for Lamela. He tries his best to take possession up against Andreas Christensen, but in the process fouls the defender and concedes a free-kick.
Jan 8th 2019, 9:50 PM
89'
Jan 8th 2019, 9:51 PM
90'
There will be three minutes of stoppage time to come at the end of the second half.
Jan 8th 2019, 9:51 PM
90'+3
FULL-TIME: TOTTENHAM 1-0 CHELSEA
There we have it. It's advantage Spurs in this Carabao Cup semi-final as Harry Kane's penalty sees off Chelsea at Wembley. A thoroughly entertaining affair which sets up the second leg nicely in 16 days' time. Chelsea enjoyed the lion's share of possession and chances at goal, but were very poor in the final third during a frustration game for Maurizio Sarri's men — they have it all to do in the second leg. Thanks a million for joining us tonight. You can read our full match report from tonight's game here. Bye!
Subscribe to our new podcast, Heineken Rugby Weekly on The42, here: