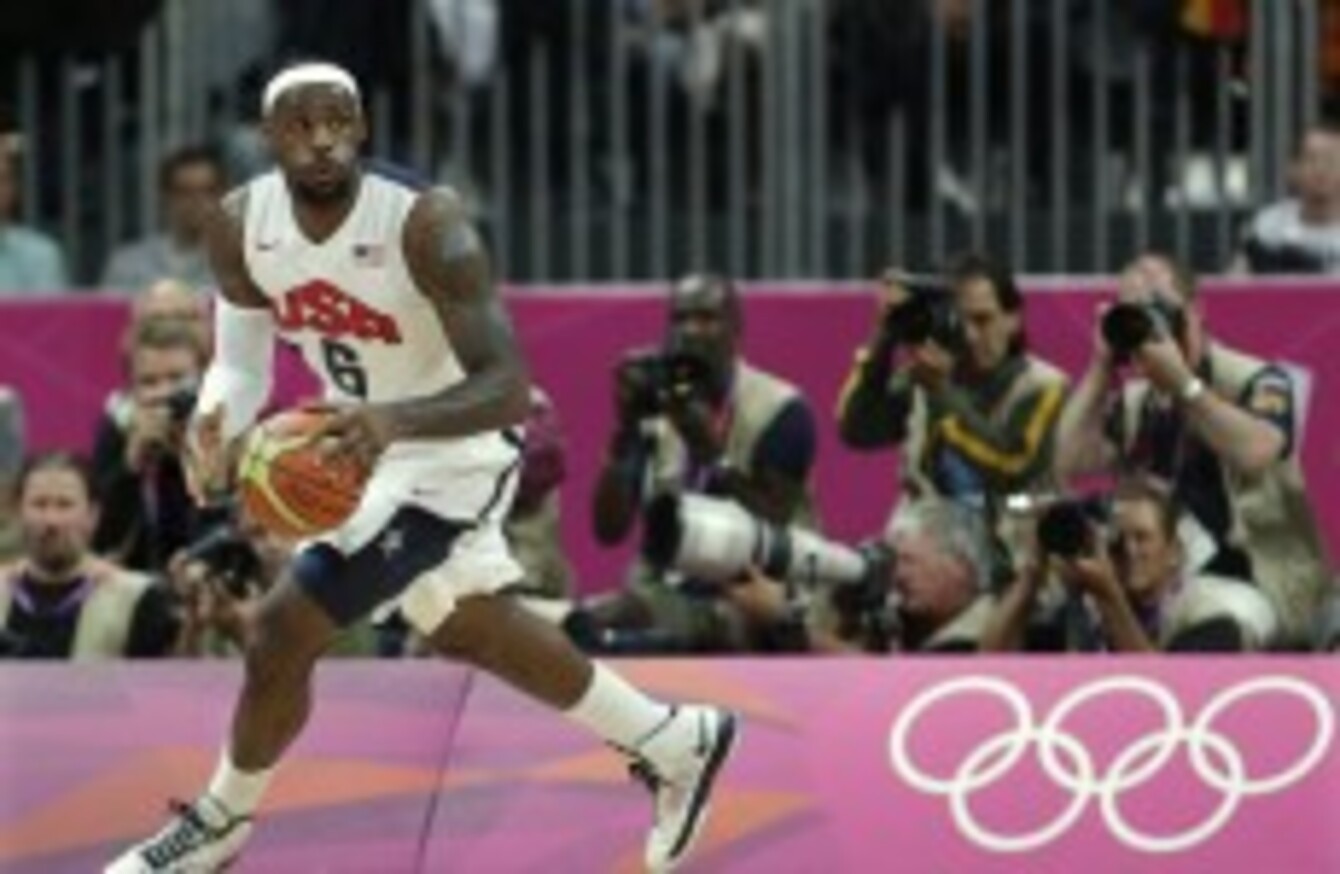 LeBron.
Image: Charles Krupa/AP/Press Association Images
LeBron.
Image: Charles Krupa/AP/Press Association Images
WITH US FIRST Lady Michelle Obama and a host of top US Olympic athletes watching them, the American collection of NBA stars sent a message to Olympic rivals — 'we're ready for you.'
Kevin Durant scored 22 points and grabbed nine rebounds to lead the United States over France 98-71 on Sunday in their opening game of Group A round-robin play at the Olympic men's basketball tournament.
"It was important for us to come out and make a statement for ourselves," US guard Chris Paul said. "We are the most talented team on paper. You don't win a game on paper."
After the victory, US players traded hugs with Obama, who had also watched them in a pre-Olympic exhibition game in Washington. Also in the stands were some US Olympians who were not competing on Sunday.
"We're representing all the country," US playmaker LeBron James said. "We understand that every time we step on the floor, it's about the name on the front of the jersey (USA) not the one on the back (of a player)."
Kevin Love added 14 points for the NBA multi-millionaire squad while Kobe Bryant had 10 points. James and Carmelo Anthony each had nine as the Americans rose to 55-1 since revamping the team after taking bronze at the 2004 Olympics.
"It's a huge responsibility," Paul said of defending 2008 Olympic gold. "We don't take that lightly. We know about what we're here for. That's what makes this special."
For spectators, what made the game special were some spectacular slam dunks and fast breaks by the US stars, especially from Durant, the reigning NBA scoring champion.
"We just played with attitude, fighting for each ball, defending hard and getting every rebound," Durant said. "That's how we beat teams that are hard to beat. We just have to play hard and we'll be fine. "
Durant produced two electrifying back-to-back slam dunks in the early minutes — one off a half-court-length pass from James in a game that became a romp after the opening quarter.
Tony Parker leaps as Kevin Durant watches on. Eric Gay/AP/Press Association Images.
"I threw it because I could get it to him," James said. "He got it with one hand, dribbled it and finished it off.
"KD is on this team for a reason. We don't need him to be reserved."
The US NBA stars led only 22-21 after the first quarter, but began the second quarter with an 11-0 run, stretching the margin to 12 points and keeping the French fighting an uphill battle.
"Defence is our strength. I'm glad we could take advantage of it," James said. "We've still got room for improvement. We had too many turnovers (14). We can cut down on the fouls (26). We can get more rebounds (56)."
The Americans pulled ahead 52-36 by half-time and from there it was simply a dominant US side flexing its muscles to the finish.
"The first half they were able to slow the game down," Anthony said. "The second half we were able to shut them down."
In their first Olympic meeting since the US squad outlasted France 85-75 in the 2000 Sydney final, the Americans served notice by half-time that this matchup would not have such drama in the final minutes.
"It seems like we get better as the game progresses. We have to get better at the start," Paul said. "We learned a lot of different things about how the game will be officiated. You have to adjust every game."
Ali Traore led France with 12 points while San Antonio Spurs playmaker Tony Parker added 10 in a losing cause.
"USA played a great game, especially defensively," Parker said.