THE MEMORIES COME flooding back as Tracey Leonard is reminded of the year 2016.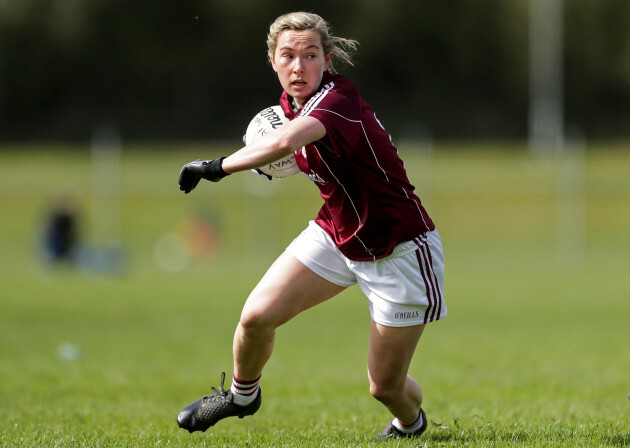 Laszlo Geczo / INPHO Laszlo Geczo / INPHO / INPHO
The Galway captain was in flying form, causing serious problems for defences week in, week out with her pin-point accuracy and impeccable free-taking. She was playing some of the best football of her life, and had well and truly established her name as one of the most notable on the inter-county scene.
But that all came crashing down out of nowhere.
She was skipper at the time back then too. The venue was Tuam Stadium, and the event a fierce battle against Mayo in the league that May. She led her side out and was inspiring from the front, as per. And then it happened. The dreaded cruciate injury.
"That was the end of me," she concedes, casting her mind back to those dark days.
"I didn't return until the following March. Initially, if someone had told me it was going to be 11 months I'd have lost the plot. But I had the time to give it so I gave it. My motto going through it was that I wanted to build it in the best way possible that it would give me every opportunity to come back that bit stronger.
"It's definitely an injury at the time that broke me, it was a tough place to be. But looking back on it now, it was probably the best thing that ever happened to me because it has mentally made me a lot tougher."
Likewise with any serious injury, Leonard ventured a long, and often lonely, road back to the top of her game. She had her surgery in Santry Sports Clinic and from there, the ball was in her court.
Watching on from the sidelines when she was always the one right in the thick of the action was a real challenge, especially at the start when targets felt like an age away.
"It was tough," she continues. "You'd go training but there's only so much training you can watch. I find it very hard.
"I suppose you do learn a lot from the sideline. You learn a lot about yourself and a lot about the team looking on. There were learning aspects but enough is enough.
"You're there chomping at the bit and I suppose what drives you on is you're kind of meeting goals every so often. You push yourself further.
"Then you can see a bit of light coming in the return-to-play. That was just massive and it gives you great hunger to get back again."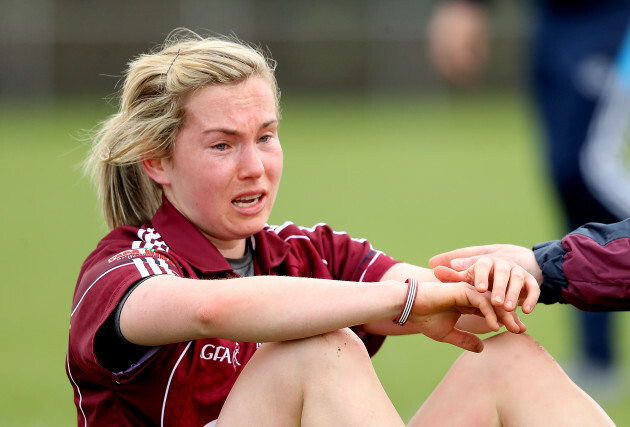 Oisin Keniry / INPHO Oisin Keniry / INPHO / INPHO
That long-awaited return, as many who have battled cruciate injuries would agree, was a weird one. After spending so long rehabbing alone and away from close contact, being around players once again is a scary thought.
It's very gradual. But even in the early days, as she found herself back in just doing the warm-up, let alone anything else, Leonard was on edge to an extent.
"I found it strange for a while having people very close to me," she explains. "You'd kind of afraid of it happening again which is probably a bit stupid to think.
"You have to believe in yourself that you have put in the work. Some days you can have a meltdown and lose the plot but you just have to believe in your own ability and that the knee is as strong as it was before. It is something through exposure and being back in the thick of it is the only way of getting that fear out of your body.
"You're building it up for a few weeks before you go in on a big contact. It's amazing how quick it goes and how quick it comes back again.
"You kind of don't realise what you're at, you're kind of just thrown in there. It probably is no harm to get a belt or two the first few sessions. It helps to get back in."
And while, as she says in her own words, the injury nearly broke her, it did put a lot of things into perspective and change her outlook in many ways.
"I think it does someone good to do an injury, not that I'd wish it on anyone but you appreciate being able to play as a team member.
"Being on your own is quite hard so it's great being back in with a team. You push yourself as far as you can but you don't know, in comparison to other people, how far you are or how good you are."
She's back to her best, calling the shots as the Tribeswomen face Connacht rivals Mayo in the senior provincial decider tomorrow.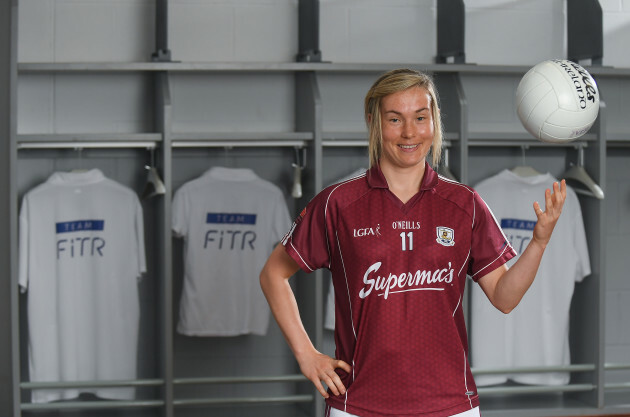 Piaras Ó Mídheach / SPORTSFILE Piaras Ó Mídheach / SPORTSFILE / SPORTSFILE
They'll draw inspiration from close to home after the men defeated Roscommon in their respective final last weekend, while the vibes are still good around the county following the hurlers' All-Ireland glory last September.
That winning mentality in the county was boosted as Leonard's club Corofin beat Nemo Rangers to lift the All-Ireland club title in Croke Park on St Patrick's Day.
Her younger brother Jason was part of the team that day, and watching them — especially through her injury — is something that spurs Leonard on more and more.
"They enjoyed it anyway, I've never seen an All-Ireland celebrated as much," she grins as that memorable day comes up in conversation.
"Ah no, they've a fabulous team and they kept the best to last in Croke Park. They've a great set-up and you would envy them, they're just such a tight group. You look at our group then and try to bring in similar structures.
"I would have been at the majority of games. When I was out injured as well, I learned a huge amount from their games. They're very much of my mindset and a kicking team. Our coach Frank Morris would have been a big believer in the kick-pass so all our game would have revolved around kick-passing.
"I love going to their games because it's very free-flowing football as opposed to what's kind of going nowadays. They're a great team to learn a lot from and there's some great leaders in that group."
All roads lead to MacHale Park now as they gear up for the challenge of last year's TG4 All-Ireland senior runners-up. Off the back of a positive league campaign, Galway should go in full of confidence.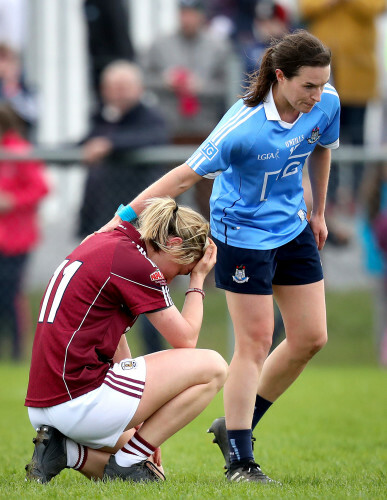 Oisin Keniry / INPHO Oisin Keniry / INPHO / INPHO
They're the only team to have beaten reigning All-Ireland champions Dublin in 2018, and lost out at the death as they met the same opposition at the league semi-final stage.
"I suppose it was frustrating," Leonard reflects. "We were quite happy with the league game and beating them.
"We needed to win but I suppose the consistent performance is something we haven't got in Galway. We were disappointed initially with the semi-final and losing to Dublin, [we] could have been in a league final and to hear that it could have been against Mayo would have been a great opportunity to get a crack at Mayo.
"But look we didn't and I suppose we have to look at what it was. We took the positives from it and took a lot from it. I suppose we've learnt a lot and bottled that hurt for later on in the year hopefully.
Exclusive Six
Nations Analysis
Get Murray Kinsella's exclusive analysis of Ireland's Six Nations campaign this spring
Become a Member
"Dublin are up there now, they're the team to beat and we'll take great confidence. While it was unfortunate on the day, you have to kind of take what it is and move on."
With exciting youth in the form of Áine McDonagh, Ailbhe Davoren and Leanne Coen to name but three — Leonard shares her joy to play alongside such talent — in their wings, and settled management spearheaded by Stephen Glennon, Galway look promising.
"Stephen is great," the nurse, who shares glowing accounts of her work in University Hospital Galway, adds.
"It's great that he stayed on for a second year because in Galway we've had maybe 10 different managers in the last 12 years. If you're looking to go some place you need a bit of continuity.
"He's a great guy, very professional and organised. He kind of takes no kind of crap and really stands up for players which is great.
"It's up to us from here on in, they can only drive it so much and we've to drive it on from there."
And the first step in driving on more comes tomorrow. It's time for the reigning Connacht champions to push on and go further this year, she says.
That starts now.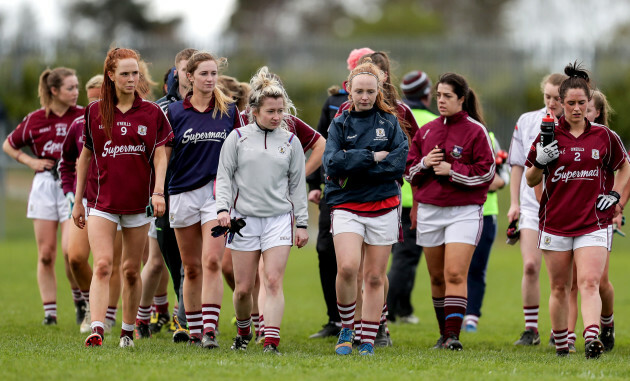 Laszlo Geczo / INPHO Laszlo Geczo / INPHO / INPHO
"I suppose Galway and Mayo has always been a big rivalry. Look we won Connacht last year but I know it's not going to stand for anything come Sunday because they have proved a lot more than we have, they have been up at the league final this year and the All-Ireland final last year.
"I suppose in Galway, all we've done in the last number of years is win a Conncht title and while you're around for whatever length you're going to be, it's probably time to push on and hopefully get something more this year.
"All you can do is do your best, we're training away and doing what we hope is the right thing. Hopefully whatever happens on Sunday either way, hopefully the new championship structure this year is going to suit us.
"It'll mean more games for us and we're really looking forward to Sunday first off and see where we go from there."
She concludes, her excitement shining through: "We'd be under no illusions going into Sunday's game that a big performance will be needed to get over the line.
"It's a great challenge to get to be in a provincial decider with Mayo because they're one of top two teams in Ireland, so it's great to get a crack at them."
The42 is on Instagram! Tap the button below on your phone to follow us!