Updated at 18.45
IT WAS JUST over five years ago that Maciej Tarnogrodzki was left in a state of shock after receiving news of the death of one of his star youngsters.
A promising player with Shelbourne U15s, Toyosi Shittabey's passing deeply shook Tarnogrodzki and the youngster's teammates.
The Nigerian-born Dublin-based 15-year-old died after being stabbed on Good Friday, 2 April 2010, leaving his community reeling.
His death led to a rally in Dublin city centre, while the club also held a memorial in Shittabey's honour.
It was a very difficult time for Tarnogrodzki and his team. Having looked set to win the league before tragedy struck, they struggled to cope on the field thereafter, with several players leaving to join different teams and others moving away from football entirely.
For Tarnogrodzki, the death was especially difficult. He had been close to Shittabey, frequently picking him up near his home at the Tyrellstown roundabout and giving him lifts to training, watching him develop both as a player and person during this time.
"That was my third year as a coach," Tarnogrodzki tells The42. "I'd been coaching the U15s in Shelbourne. It was unbelievable. It was a shock that it would happen.
"It was a terrible experience and time has flown by so quickly that it's five years now."
abby2kaii8 / YouTube
However, through this turmoil, Tarnogrodzki says he emerged stronger as a result.
"I believe, in life, what doesn't kill you makes you stronger. It was a tough time for myself and for the team. They were just 14 or 15 and dealing with such a tragedy.
"After a while, we had to get on with life, and we only had good memories of him."
Tarnogrodzki gradually recovered from the shock and within 12 months, he had been promoted to coach of the Shelbourne U17 and U20 sides. A year later, he became Shels' reserve team manager, before departing to become a coach at Bray the following season.
In a strange coincidence, another potentially big event then occurred in the Polish coach's life, on the five-year anniversary of Shittabey's death — Alan Mathews and his backroom team announced their resignation and Tarnogrodzki, the U19s coach until then, was handed the caretaker manager's job.
"It was a surprise," he admits. "There were changes in the club, and I was asked to help. But it was no problem for me."
In his resignation letter, Mathews and his colleagues gave the impression that the club was in disarray. Part of it read:
"While acknowledging that results have been disappointing both staff and players have been working tirelessly to improve on this and were prepared to keep working to achieve a solution. Unfortunately circumstances beyond our control have now prevailed and the position of the entire management team (who remain unpaid) has become untenable.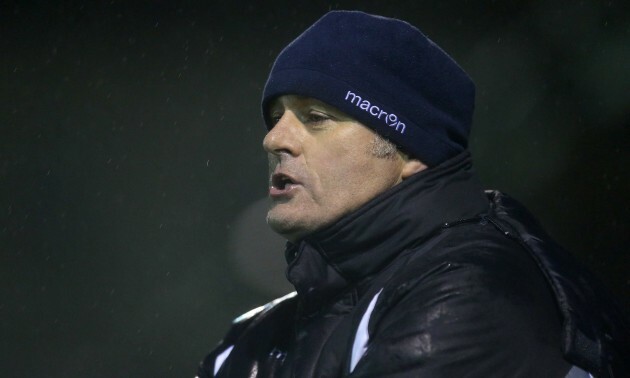 Ryan Byrne / INPHO Ryan Byrne / INPHO / INPHO
(Alan Mathews recently resigned as manager of Bray in acrimonious circumstances)
Bray chairman Denis O'Connor, however, has since played down concerns surrounding the club, insisting all players will be paid.
But did Tarnogrodzki sense tension or problems in the weeks leading up to the departure of Mathews and his backroom staff?
"I didn't sense it to be honest," he says. "I was involved with the U19s and they were my responsibility. I didn't see any problems."
The 39-year-old coach says he has no idea how long he'll be in charge of the senior team, suggesting it could just be "the next few weeks, or the next week or two".
He adds: "I don't know what the club is going to decide… But hopefully we can have some success this season."
Would Tarnogrodzki be interested if the club ever offered him the job permanently?
"My position at the moment is that I've been coaching for a while, so I have a bit of experience, even if I haven't been visible in the Premier Division. I usually take it one game and one day at a time.
"I have been asked to take charge at the club because I was with the U19s and that's what I'm doing. But I have not been thinking of the future. Of course, in the next few years, I want to be a top coach here or somewhere else — that's my goal, and I've been working for it for many years.
"But at the moment, I'm happy what I'm doing, and I'm doing my best, but I don't know if the club is going to ask me [to stay on permanently]."
Regardless of what happens from hereon in, Tarnogrodzki certainly appears to have made a positive initial impression.
Having lost their first five matches of the season, Bray defeated Sligo 3-1 at the Showgrounds in Tarnogrodzki's first game in charge last Friday.
However, the Polish coach is keen to downplay his own influence on the result ahead of his second game in charge at home to Limerick on Saturday evening.
"It was a real team performance. The players performed very well. They had belief on the pitch. They had the self-belief to change things around and get the result.
"I wouldn't associate myself with this result, but it's been good to get the three points and it's been good for the players — it's not easy to win in Sligo.
"Players want to play and win games. That's what they did last Friday and I hope they want to step on now going forward, to do well for the result and for themselves."
Moreover, as the team have been invariably hovering in and around the relegation zone in recent times, does Tarnogrodzki believe Bray should be doing better, or are recent results an almost inevitable outcome of their patently limited resources?
"I can't answer this question because I wasn't involved with the first team last year. Of course I watched a couple of games, but it's difficult to answer. Hopefully they will do better.
"I really hope that the players are going to perform well and do even better than last year — I think that's the ambition of the whole team."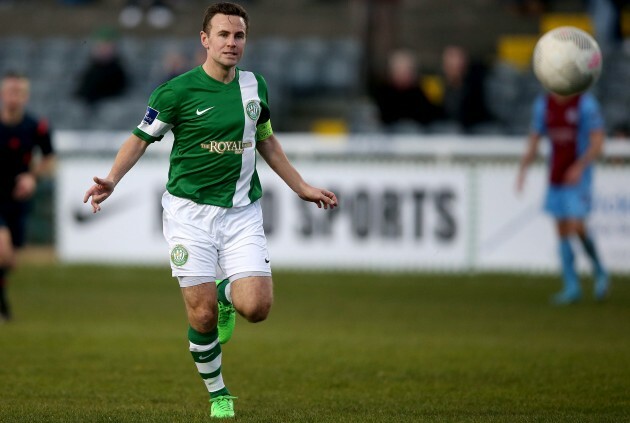 Donall Farmer / INPHO Donall Farmer / INPHO / INPHO
(Tarnogrodzki cites David Cassidy as a key player for Bray)
One player in particular who impressed during Tarnogrodzki's first game in charge was hat-trick hero David Cassidy.
Despite spending four years at Shelbourne, a tally of seven clubs in 11 years suggests Cassidy often struggles to settle in teams. Nonetheless, he appears to have found a home at Bray, and Tarnogrodzki unsurprisingly regards the 29-year-old former Derby trainee as a key player.
"David Cassidy is one of the few players in the League of Ireland who sees passes that not many players can. He's an excellent midfielder and a very intelligent player.
"It's good to have players like David in the team, but in general, it's a very good team. So they can perform well and they can be successful."
While Cassidy is one obvious talent, the standard of the League of Ireland and Irish football in general has often been criticised, with many citing politics and a lack of structure at underage level as reasons for the current dearth of top-quality Premier League players in the national side.
As someone who has spent many years coaching young up-and-coming Irish footballers, Tarnogrodzki is better placed than most to comment on this topic.
"I think youth in general is an area we have to focus on. I think there should be a youth development programme or structure for the next five to seven years.
"It's important for the League of Ireland and also, Irish football, to produce better players in five or ten years' time.
"In my opinion, the U19s league has been a very competitive league. There are a couple of good coaches in the league and a couple of good teams who play good football. The quality of the pitches we play on could be improved, not only for the U19s, but also in the Premier Division. You want to train a certain way and want to produce technical players, but then suddenly you have to change the plan [because of the pitches], you can't play that way.
"We also need to change it at schoolboy level, because it's difficult to progress on a regular basis [in those conditions]."
Tarnogrodzki himself knows how difficult life can be as a young player. A promising early career in Polish football was hampered by a series of injuries.
"Between 18 and 22, I had more or less four years out. I had surgery six times. I had a quite bad accident. I had a string removed. So that hampered my career in football for a number of years."
However, he wisely opted to use these disappointments as an opportunity to complete his studies while recuperating. But despite ultimately earning a degree in law, the lure of football still proved too strong to resist.
"I'm still involved in football, because I love football so much. I played in the lower leagues — third division, second division. Then, 15 years ago, I emigrated to Ireland, just to change something in my life.
"Six years ago, I became a coach. I started my badges here in Ireland, and then I travelled to England to do my UEFA B license. I travelled around Europe, just to educate myself, to watch other teams like Ajax and to improve myself as a coach.
"In life, sometimes it's difficult to plan. I didn't plan to stay so long. But I've been involved with a couple of clubs, I've been working in the business for 10 or 12 years now. And I've always wanted to do the best for Irish players here and to coach them to become better players."
And does he dream of a future career as a manager in the Premier League, or as coach of one of Europe's top clubs?
"I have a plan in general for the next few years. I would like to be at a certain level. But I don't necessarily want to be in this or that country. I just want to enjoy it.
"What I enjoy is going on the pitch and training the players and giving 100% for them. I've dedicated a lot of my time to it, and hopefully, it's going to pay off."