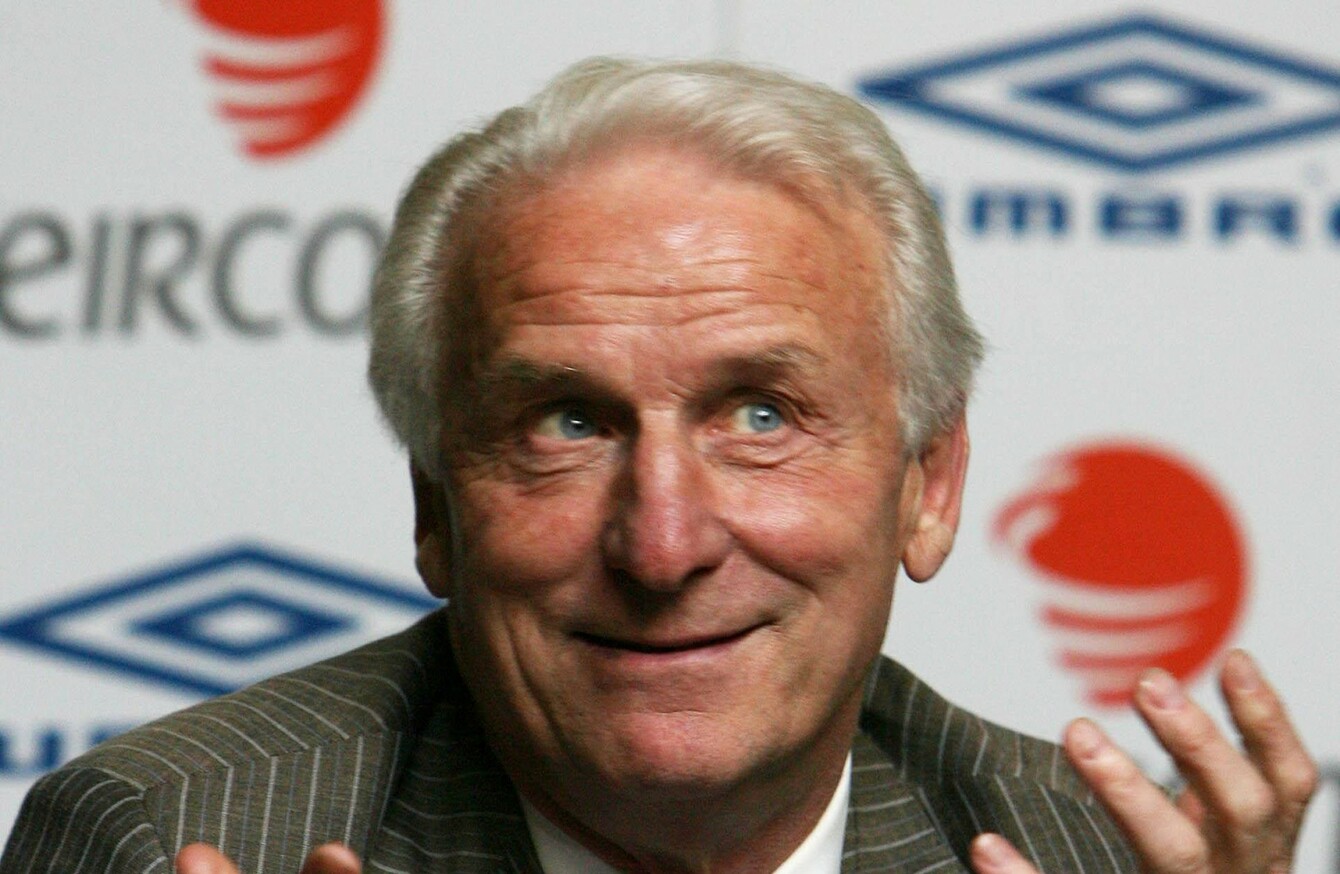 Trapattoni was Ireland manager between 2008 and 2013.
Image: PA Archive/Press Association Images
Trapattoni was Ireland manager between 2008 and 2013.
Image: PA Archive/Press Association Images
WIDELY CONSIDERED THE most successful club manager in Italian football history, Giovanni Trapattoni is a legend of the game.
The 76-year-old is one of just four coaches to have won league titles in four different countries.
Unlike many managers, Trapattoni also enjoyed a successful career as a player, making over 200 appearances for Milan and earning 17 caps for Italy.
So needless to say, there was widespread enthusiasm and delight amid the announcement of his appointment as Ireland manager back on 11 February 2008.
After vowing to install a "world class" management team prior to Steve Staunton's arrival, the FAI had seemingly belatedly delivered on their promise two years on. They had gone from a coach who was out of his depth to one that seemed too good to be true. Yet as is almost always the case in football, the honeymoon period didn't last too long.
Looking back on the Trap regime, Ireland fans don't always offer a generous assessment of the veteran coach. There's no doubt Trap had his flaws and his deeply negative style of football jarred with many fans, as did his tendency to fall out with certain players and talk down the footballers at his disposal.
Yet Irish football needed a pragmatist like Trap after the shambles of the Staunton era. Morale had been badly affected in a campaign where the Irish team took just one point out of a possible six from Cyprus, while needing a last-minute winner against San Marino.
Following his appointment, Trap set about ensuring there would be no more embarrassing 5-2 losses to footballing minnows. The 4-4-2 system that Staunton often adopted was emulated, but instead of Kevin Kilbane and Stephen Ireland, Glenn Whelan and Keith Andrews were favoured in midfield.
Full backs were generally discouraged from entering into the opposition half, while the attacking prowess of even relatively modest opponents such as Macedonia was fixated upon.
And for quite some time, this system implemented by the decorated coach worked quite well considering what went before it. In Trap's first two years in charge, Ireland lost just one competitive match – the first-leg World Cup 2010 playoff with France.
The Italian had taken a team whose morale had been sapped and brought them desperately close to qualification at his first attempt — had it not been for Thierry Henry's infamous handball in the build-up to William Gallas' pivotal goal, Ireland may well have gotten the better of a French team that looked the far superior side on paper.
The football invariably wasn't pretty, but initially at least, you couldn't argue with the results. And Trap's critics grew less vocal two years later, as Ireland secured their first qualification for the European Championships in 24 years, following the team's uncharacteristic goal-fest away in Estonia coupled with a more typical 1-1 draw in the second leg at the Aviva.
Be part
of the team
Access exclusive podcasts, interviews and analysis with a monthly or annual membership.
Become a Member
Trap's grasp of the English language was unconvincing, his ignorance of talented individuals such as Wes Hoolahan and Seamus Coleman was controversial, but for a while, there was no doubt that Ireland's modest group of workmanlike players wholeheartedly bought into the idiosyncratic Italian's methods.
Source: RTÉ - IRELAND'S NATIONAL PUBLIC SERVICE MEDIA/YouTube
Yet the spirit and belief Trap instilled in his side promptly disappeared amid a disastrous European Championships in 2012. Having been drawn in as tough a group as was possible, Ireland barely put up a fight as they were comfortably outplayed by Croatia, Spain and Italy, swiftly exiting the tournament in ignominious fashion as a result.
From thereon in, the players' belief in Trap, and perhaps Trap's belief in the players, was never the same. The hangover was exquisitely emphasised the following October by a German side, who came to Dublin en route to winning the World Cup, and prevailed 6-1 in a performance where the visitors showed all the hallmarks of future world champions.
We leave this country with emotion because we understand the Irish supporters who have a well-deserved international reputation and they have our utmost respect," Trap said, amid the news that his contract had been ended by 'mutual consent'."
But despite all his praise for Irish football fans, some never fully took to him, while others will argue that he was in fact bad for the game in Ireland despite the obvious levels of invigoration he brought to a team badly in need of a boost.
Trap certainly hasn't helped improve the public's perception of him, making some ill-advised comments, particularly since leaving the job — talking dismissively about the League of Ireland and lamenting fans' supposed lack of enthusiasm for soccer in comparison to rugby.
An important question, though, is whether an alternative would have fared any better or worse in his place? At the very least, it could have been considerably different in style. Would an attack-minded Irish team led by an idealist and built around Wes Hoolahan have performed any better than Trap's side? It's certainly possible but far from probable.
Source: RTÉ - IRELAND'S NATIONAL PUBLIC SERVICE MEDIA/YouTube
Yet one underrated element of Trap's reign was his qualification for the Euros, which was a magnificent achievement no matter how you look at it. Martin O'Neill, for all the praise he rightly has received, would not have emulated this feat if Uefa hadn't moved the goalposts and increased the number of teams allowed into the main tournament. Moreover, other managers more fondly remembered, Jack Charlton and Mick McCarthy, reached the Euros once in four attempts. By contrast, Trap needed only one chance to succeed in this regard.
That's not to say Trap was Ireland's best-ever manager, or even an entirely successful one. His flawed brand of football was patently limited and easily exposed by world-class opposition, but for an Irish side that some considered to be in terminal decline prior to his takeover, the eccentric Italian — up until the watershed of the Euros at least — was just what the doctor ordered.