TREVOR MORTIMER HAD no desire to linger about in Croke Park after the 2004 All-Ireland final.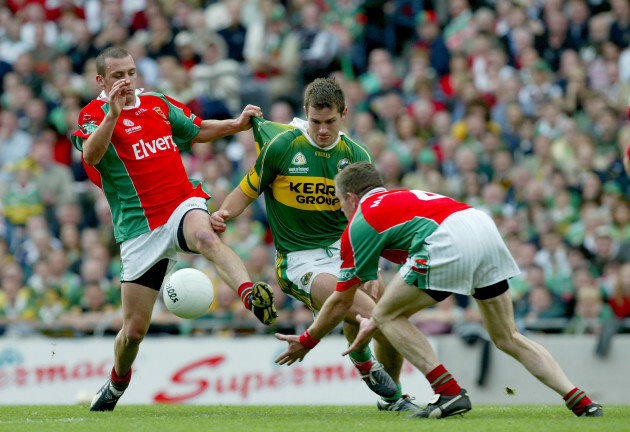 INPHO INPHO
Or at least, that's his best educated guess of what his mindset was in that moment. Most of his memories of what followed after the game have faded away over time, and considering the events that materialised on that day, perhaps he's all the better for it.
The final scoreline read 1-20 to 2-09. It wasn't exactly an annihilation but a big enough margin to reinforce the truth that there was one undisputed winner on the day.
Mayo, who were under John Maughan at the time, made an encouraging start to the game.
Ciarán McDonald eased them into the contest by slicing over one of his typical long-range points. And moments later, Alan Dillon cracked home a goal from close range.
Mortimer provided the assist for that score with a perfectly angled cross-field pass to send Dillon through unopposed with only keeper Diarmuid Murphy to beat.
Mayo looked poised to build on that start and make a strong bid for Sam Maguire throughout the rest of the afternoon. But things took a savage turn as Kerry moved through the gears to reclaim control of proceedings.
Mayo started to gas, and could only watch on breathlessly as the game slipped out of their grasp.
Trevor's brother Conor was presented with a goal opportunity shortly after the start of the second half when Mayo were nine points adrift of Kerry, but he put too much air behind the kick and sent the ball sailing over the bar.
PJ's Classic GAA Channel / YouTube
That was the last reprieve for Mayo as Kerry continued to persecute them with points.
Mortimer looks back at that miserable day as one where Mayo simply came up against a team that were just a different gravy.
We have a very good Dublin team now," he told The42, "but I would still put that Kerry team ahead of them. They had talent all over the pitch. From the outside looking in, they had a super half-back line, super half-forward line and the Gooch inside.
"It was an ultimate regret that I didn't see an All-Ireland medal at the end of my career but, hats off, we came across a couple of good teams. And you have to beat the best to win it, they're not on the back of Corn Flakes boxes."
Two years later, the pair were reunited in an All-Ireland final again.
Under the new management of Mickey Moran, Mayo booked their place in that final following a narrow victory over Dublin. It was an entertaining semi-final clash that was made even more famous on account of the events that preceded the game.
Some remember it as 'Hillgate,' while others refer to it as 'The Mill On The Hill.' In any case, it was an incident-packed few minutes, and Mayo were the instigators.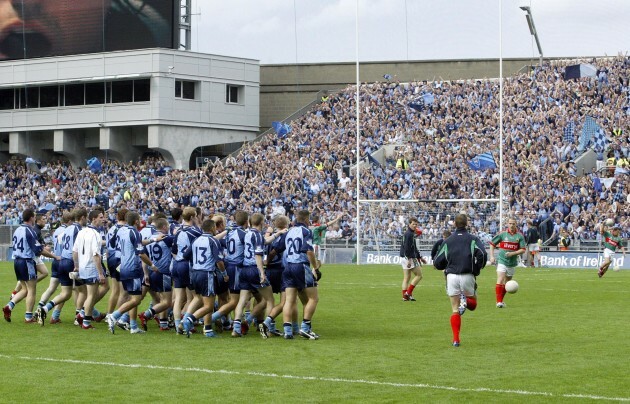 Cathal Noonan / INPHO The Dublin squad march down towards Hill 16 ahead of their All-Ireland semi-final clash against Mayo in 2006. Cathal Noonan / INPHO / INPHO
The ranked outsiders from Connacht were first to come out from the dressing rooms for their team photo, and as in all cases of Croke Park games involving Dublin, the expectation was that Mayo would trot down to the Canal End side of the pitch for their warm-up.
But after the cameras were lowered, the players veered the other way and jogged towards the Hill 16 end.
This was Dublin's unofficial turf, and their bold move was not well received on the Hill. More importantly, it sparked a messy power struggle for territory when Dublin later emerged onto the pitch.
Mayo however, were in no humour to concede an inch to the opposition.
"It was just one of those things that sort of happened," Mortimer explains. "I think Mickey Moran at the time wanted us to move back down to the other end and we were like, 'no, we're here now and we're not moving.'"
He added:
To be honest, I don't think Dublin should have that every game (Hill 16). If you want to go to the Hill, then go there. I don't see why the Dubs should have the privilege to go there all the time.
"We were just trying to win a match to get to an All-Ireland final. We knew we were playing a good Dublin team and as it turned out, it kind of galvanised everybody.
"I don't know if it had a big bearing, but it was good viewing."
Mayo followed up those pre-match clashes by storming into an early lead, and although Dublin rallied back to steal the advantage later in the game, the Connacht side survived to take the win.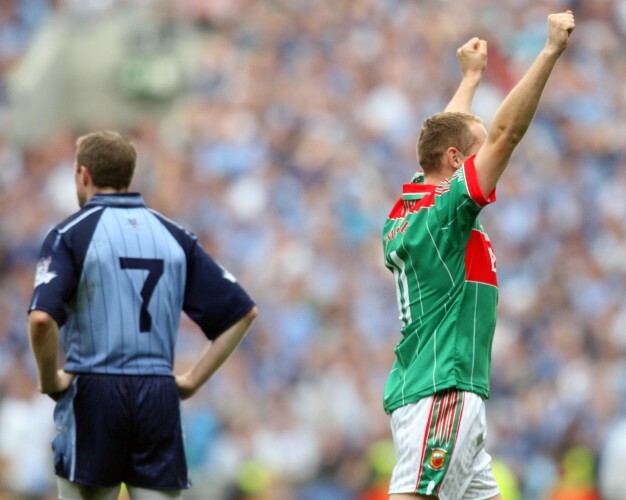 Cathal Noonan / INPHO Mayo's Ger Brady in celebration mode while Coman Goggins of Dublin walks on. Cathal Noonan / INPHO / INPHO
The prize for their resilient performance was a rematch against Kerry in the final, a shot at redemption, and a chance to clinch that elusive All-Ireland title.
They had been burned by that defeat to Kerry in the '04 final, but their preparations were not overburdened by any horrific memories of the day.
Even after Kerry charged into a 2-04 0-00 lead in the opening stages of the game, Mayo managed to claw their way back into the tie with two Kevin O'Neil goals to leave them just six behind at the end of the first half.
That left them with some hope of a comeback, but Mortimer laments that the early setback ultimately left them with too much to recover from.
"If you're giving these top teams like Dublin or Kerry those sort of leads, you're going to struggle no matter what. In fairness, we did pull them back but we probably played as good as we could in that period to get them back.
"Realistically, what we needed, was to play that good that from the start and be four or five ahead. With the players Kerry had, they were always going to chip in with a few scores.
Kieran Donaghy did very well in that final and we'll have to be on to him again the next day because he's going well again."
Just as they did two years previously, Kerry turned on the afterburners and scorched a path through the Mayo cover to win the final by 13 points.
Mortimer came on as a substitute that day, but could do nothing to rescue his team who failed to produce a score from play in the second half.
And naturally, the sting of defeat left a deeper wound this time around.
Morgan Treacy / INPHO Kerry players celebrate after winning the 2006 All-Ireland final. Morgan Treacy / INPHO / INPHO
After a defeat like that, you don't want to be showing your face in Mayo too often, it's very demoralising. For ourselves personally, you kind of feel a bit ashamed that you didn't perform the way you should.
"It's very hard to stay out of the public in Mayo because when you play county senior football, everybody knows you. If we got a chance, we did like the beer, there was no doubt about that.
And after losing an All-Ireland there's little else that you want to do apart from drown your sorrows for a few days and have a bit of craic and forget about it, forget about the outside world.
"It's a huge let down because you put so much effort into it and I suppose, to not perform to your ability, that's the most painful aspect of it.
"As an athlete, all you want to do is go out and perform to your ability. And if you lose at that point, you take it on the chin. That's the most frustrating part about those All-Irelands that we didn't do it collectively, or personally."
Mayo are back in pursuit of the Sam Maguire again this season, and are facing into their seventh consecutive All-Ireland semi-final today.
Awaiting them are the old rivals from the Kingdom, a side that is in exceptional form at the moment.
Mayo's path to this point has been tumultuous at times this year, needing extra-time to get past Derry and Cork while Roscommon took them to a replay.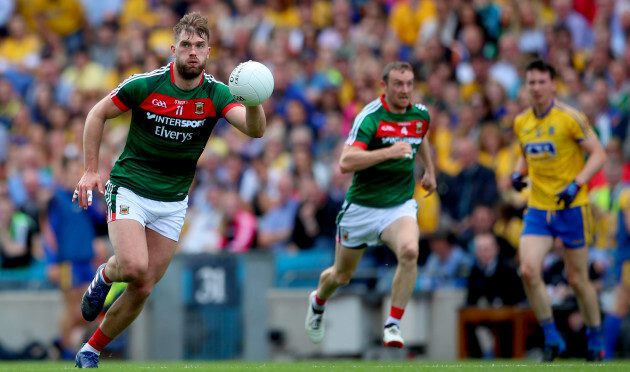 James Crombie / INPHO Mayo's Aidan O'Shea in possession during their All-Ireland quarter-final replay against Roscommon. James Crombie / INPHO / INPHO
Their 22-point rout against the Rossies in the quarter-final indicates that Stephen Rochford's charges have finally hit their stride, but today's encounter with Kerry will undoubtedly be the litmus test.
Mortimer has faith that this Mayo team can edge the tie, but as the people of this county have come to learn on many occasions down through the years, it will not be won without a fight.
"We're more aware than anyone that All-Irelands aren't given out easily, you have to earn them.
There used to be a feeling nationally that Mayo were serial losers who fail at the last hurdle, and there was accusations that we couldn't get over the line.
"Thanks to the team over the last couple of years, people are appreciating that Mayo are in the top three or four teams in the country for the last 15 years. In order to do that, you have to be a good team and you have to be producing good footballers.
"I'd be reasonably confident that they'll give Kerry a good run. We might sneak a victory but I don't think either team is going to be over-confident."
Subscribe to The42 podcasts here: