THE ORGANISERS OF the inaugural Limerick World Club 7s are looking for amateur Irish-based rugby players to take part in a trial day, which will in turn provide a 'Combine Team' for the Thomond Park-based event.
An identical venture last year eventually saw one of the English Combine Team play for the victorious Brumbies in the final of the 2013 World Club 7s at Twickenham. The Australian franchise subsequently insisted on an extra medal being forged for their English injury replacement.
On the 4th of August, up to 100 Irish-based players are expected to turn up for the trial in Limerick. On offer is the chance to play in a competition that includes Munster, Saracens, Stade Français, the Blue Bulls, Waratahs and Stade Français.
So far, the list of applicants includes players with experience for Ireland Schools, Ireland U18s, Ireland U20s, Ireland Clubs, Leinster U18s, Munster U18s, Connacht U20s, Ulster U18s, Leinster 'A', Ireland Exiles and the Ireland Students rugby league side.
However, Tom Burwell – part of the selection panel and CEO of Ultimate Rugby Sevens – explains that the organisers are welcoming players of all experience levels to apply.
"Last year in London, we had four or five guys who came out of nowhere. They were just university students, not playing in the club game. In England, there are lots of guys who are incredibly good at student level who are just not known, including an 18-year-old who ended up playing in the World Club 7s.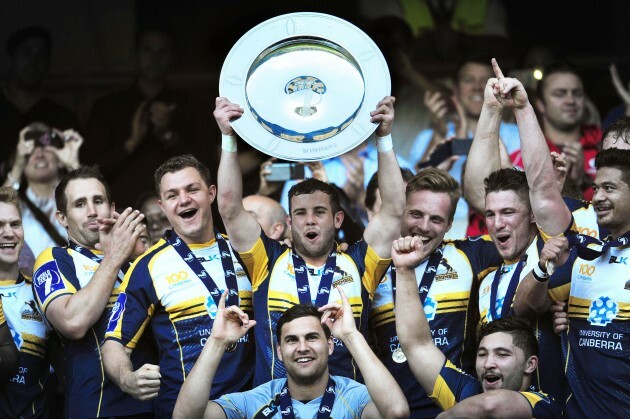 Tim Ireland A member of the English Combine Team played for the Brumbies in the Twickenham final last year. Tim Ireland
"We've got no problem if some 18-year-old turns up in Limerick and turns out to be better than the lad who played for Leinster 'A'," says Burwell.
"We'll whack that 18-year-old kid in, because we want the combine to give opportunities to players that don't necessarily get to play a lot of sevens at the highest levels."
The four-hour trial will involve 40-metre sprints and other physical tests to gather data on the players' athletic prowess, before sevens-based training sessions allow the selectors to asses the skill levels of those involved and a round-robin series of games provides a final chance to stand out.
Burwell will be joined by former England 7s international Will Matthews – now a coach with Lansdowne in Dublin – and there is hope that the organisers can also secure a member of Ireland's 2009 World Cup Sevens squad as a selector.
The 12 Irish-based players who make the final cut will then provide injury cover for the professional teams' squads during the Limerick World Club 7s on the 9th and 10th of August.
In London last year, 11 of the 12 players on the English Combine Team appeared in the World Club 7s event, gaining invaluable high-level experience.
The quality of CVs sent in so far gives Burwell encouragement with regards to the possible further growth of sevens in Ireland. He has previously organised sevens tournaments and academies in New York, Stockholm, Nancy, Hong Kong and Dubai, and sees Ireland as a potential sevens hotbed.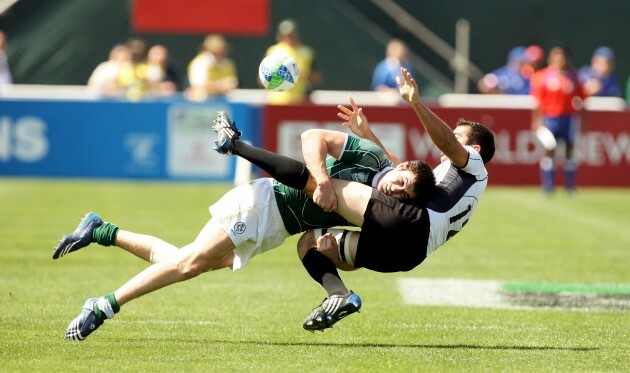 Paul Seiser / INPHO Felix Jones tackles Taif Al Delamie of Arab Gulf while playing for Ireland Sevens in 2009. Paul Seiser / INPHO / INPHO
"It's exceptionally frustrating from a global point of view that we continually get asked, all around the world, 'why haven't Ireland got a team in the World series?' That question has never been particularly easy to answer because of all the politics that goes with it.
I think it's absolutely fantastic that there is now a competition in Ireland. I hope it means that there is a flag in the ground and that discussions around the 2020 Olympics and going to Japan come to the fore.
With a five-year plan in place for the Limerick World Club 7s, and the series set to add new international venues in the near future, Burwell believes it is "fantastic that Ireland will have some global relevance to the game."
He is confident Ireland has the players to impress if given a chance at next month's tournament in Limerick, but hopes rugby fans on these shores show similar interest levels.
"I really, really hope that the city of Limerick buys into the World Club 7s in terms of turning up on the day. It's really important for Irish rugby fans to vote with their feet and put some pressure on the IRFU. Otherwise, it has the possibility of drifting again."
Register for the World Club 7s Combine in Limerick on the 4th of August by following this link.