MUNSTER WERE FORCED to wait to get their man, and then wait again, but Tyler Bleyendaal's life with the province is finally underway.
The New Zealander made his first appearance for Munster's A side in last week's 41-27 victory over Ulster Ravens at Naas RFC, looking sharp with his distribution from the out-half position.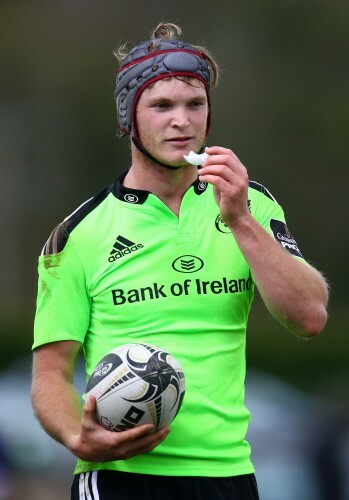 Cathal Noonan / INPHO Bleyendaal was at 10 for Munster A last week. Cathal Noonan / INPHO / INPHO
Bleyendaal arrived late in Ireland from Canterbury in January, and his debut was delayed considerably as he rehabilitated from the neck surgery he underwent last September. The original plan had been for Bleyendaal to move to Munster in November of this season.
Head coach Anthony Foley and his management team have had to be patient, and so were relieved to see the 24-year-old come through last week's test unscathed.
Whether or not the talented Kiwi will taste Guinness Pro12 action before the end of the season remains to be seen.
"Tyler did a great job, he fronted up well," says Foley.
He got a lot of physical testing from the Ulster boys and stepped up to do a very good job. It's great to have him added to the number of fit bodies we have at the moment. It's important that we try and get him through."
Foley first identified Bleyendaal's ability during the 2010 Junior World Championship in Argentina, when the out-half captained New Zealand to trophy success. Indeed, Munster previously made a move to get Bleyendaal over to Ireland.
"The first time I saw him play was for New Zealand U20s in Argentina, he was very impressive in that tournament," says Foley. "He would have gotten rave reviews in that tournament and since then we've kept a close eye on him.
"We thought we had him a couple of years ago on loan, but it didn't materialise as he got injured in the ITM Cup final and didn't manage to come over. It was disappointing at that time, but we have him now."
Munster Rugby / YouTube
It will be intriguing to see how Munster use Bleyendaal in the long-term, with the former Crusaders out-half also possessing the ability to play at inside centre, or second-five-eighth as the Kiwi himself might term the position.
Impressing his new teammates has naturally been an important part of Bleyendaal's settling-in period in Ireland, and in that regard he couldn't have done much better.
Munster and Ireland scrum-half Conor Murray says Bleyendaal has looked totally at home from the very beginning.
Tyler has really impressed since he's come in," says Murray. "Immediately he started talking in meetings and you realised he had a rugby brain on him. He really understands rugby and how we want to play."
Munster have had to wait for Bleyendaal's impact on the pitch on match-day, and there's still lots more to come in that sense, but Murray and the rest of the squad have already seen how much Bleyendaal has to offer during training sessions.
"He's been running in the opposition 15 in the last couple of weeks when we haven't been able to use him because of his neck injury and returning from that," says Murray. "He's been running those teams really well, he's really controlling things.
"He's come in and is doing it straight away, whereas you've seen before how other players have come into the group and they take a little bit of time to settle in and understand things. He's really just taken to it like a duck to water."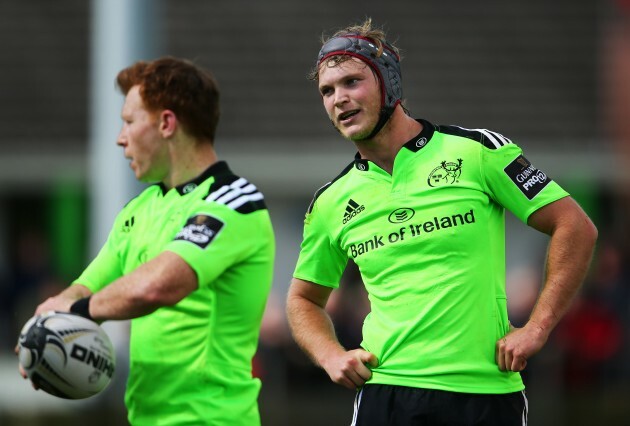 Cathal Noonan / INPHO Bleyendaal confers with scrum-half Cathal Sheridan. Cathal Noonan / INPHO / INPHO
In terms of the physical aspect, Murray says that himself and Bleyendaal "had a little bit of scuffle off the ball last week in training where I kind of yanked at his neck," and that the Kiwi playmaker reported no ill effects. All good in that department.
Now Murray, Foley and the rest of Munster are looking forward to seeing Bleyendaal in their famous red shirt. As Murray points out, Bleyendaal has learned from the very best.
"He's been understudy to Dan Carter for a couple of years," says Murray. "He's obviously learned a lot about the game from him and there's no better person in world rugby to learn your trade off.
"You can see he's just a rugby nut and has a rugby brain on him, he lives and breathes it, so it's a great asset and person to have within our ranks."
– Audio courtesy of Limerick's Live 95 FM.