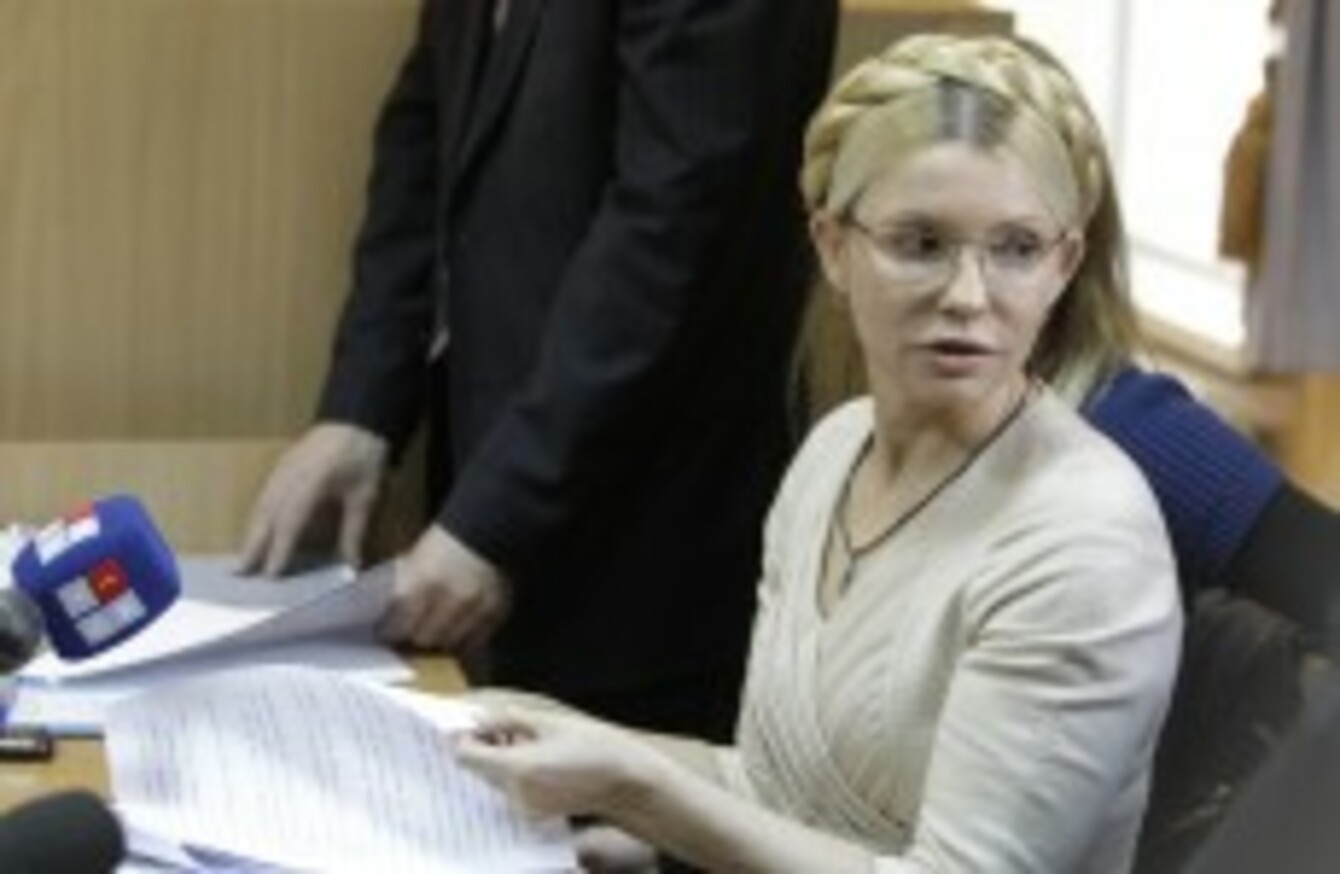 Image: Efrem Lukatsky/AP/Press Association Images
Image: Efrem Lukatsky/AP/Press Association Images
UKRAINE ON MONDAY defied Western pressure to end the prosecution of the imprisoned former Prime Minister Yulia Tymoshenko, with a top prosecutor saying she will be charged in connection with a murder from 16 years ago.
The statement was likely to draw further anger from the United States and the European Union, who have condemned Tymoshenko's seven-year jail sentence as politically motivated. Top EU officials are already boycotting the European soccer championship matches hosted by Ukraine this month because of the Tymoshenko case.
Tymoshenko, 51, was sentenced to prison in October on charges of abuse of office while conducting natural gas negotiations with Russia. The ex-premier, a charismatic heroine of Ukraine's 2004 Orange Revolution, alleges President Viktor Yanukovych, a longtime foe, threw her in jail to bar her from parliamentary elections this fall.
Deputy Prosecutor General Renat Kuzmin said in an interview with the Kommersant newspaper published Monday that there is enough evidence to charge Tymoshenko in connection with the murder 16 years ago of Yevhen Shcherban, an influential lawmaker and businessman.
Shcherban was shot to death at an airport along with his wife and an aide in a contract-style killing. Kuzmin charged that he has evidence that companies controlled by Tymoshenko wired money to pay for the killing and that he has witnesses who say she organized and financed Shcherban's murder.
"We have enough evidence that prove Tymoshenko's involvement in that murder and we intend to file charges against her," Kuzmin was quoted as saying.
He did not specify what the charge would be and his office declined to comment. But Kuzmin said Tymoshenko will not be charged in the near future because she is now in hospital receiving treatment for a spinal condition, though he indicated that charges could be filed when she recovers. Tymoshenko is also the subject of a slew of other criminal investigations.
Tymoshenko vehemently denies the allegations. Her party said Kuzmin's accusations are part of Yanukovych's project of getting rid of political opponents. "Ukraine is ruled by a dictator who sets his servants loose against all those who have the courage to speak out against the country's sliding toward a criminal abyss," a party statement said.
Tymoshenko's jailing has brought Ukraine's relations with the West to a low point.
The EU has put on hold a key cooperation agreement with Kiev, which would have been an important step toward eventual integration with the EU. In May, scores of EU heads of state refused to attend a regional summit hosted by Ukraine and that was followed by top EU officials who declined to attend Euro 2012 matches in Ukraine.
Kiev-based political analyst Volodymyr Fesenko said the promise of murder charges against Tymoshenko indicates Yanukovych's disappointment with the West's boycott of the Euro 2012 soccer matches.
"He is probably vexed that EU leaders ignored the Euro, and his answer to them is now "Dream on!" Fesenko said, referring to the prospect of Tymoshenko's release. "It appears that hawks in Yanukovych's circle have gotten the upper hand over doves in the Tymoshenko case."
– AP