KNOWING THE ANALYSIS work that would have gone into Derry's preparation, Tyrone's game plan wouldn't have surprised them.
But after Tyrone's first counter-attack in the seventh minute it seemed clear Derry were going to find it hard to live with their 'defend and counter' game plan.
Knowing how a team is going to play and being able to stop them are two very different things.
Despite the usual respect from both sides about how tough a task this game would be, the form guide said otherwise. Tyrone were promoted from Division 2 with one of the best defensive records in the National League, and while Derry survived in the same division, they did so with one of the worst defensive records across all four divisions.
Tyrone's First Counter
Tyrone's first counter-attack was a thing of beauty.
While most replays of this will concentrate just on the fast break, this move is made in the ability to defend properly. Derry take a sideline ball at 6:08 having dominated possession and the game to that point. They hold possession for almost a full minute, just about penetrating the Tyrone 45. For the full minute Tyrone hold their structure — yes, getting men back — but their defending is a lot more nuanced and advanced than a sheer numbers game.
By the time Derry do get into the Tyrone 45 ,they are faced with a wall of 10 white jerseys.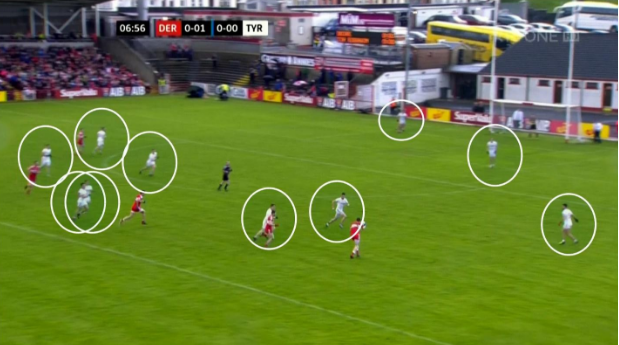 It's a slow meandering attack from Derry. Tyrone's discipline and patience has meant there are 12 Derry players in the Tyrone half when the play breaks down.
Tyrone win the ball back at exactly 7:00 and score the goal 15 seconds later. When coaches or pundits talk about transition speed, this is the standard. However, this style of counter is only possible because they have sucked Derry in and have the players that can break.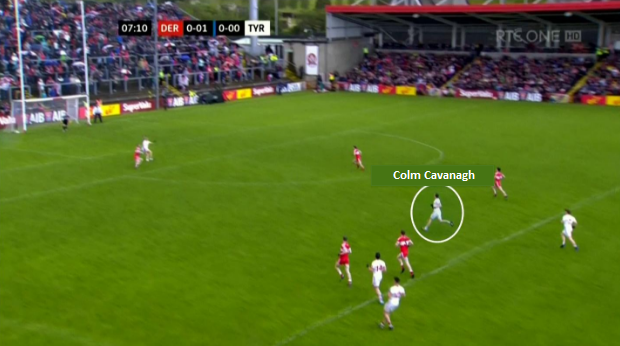 As an example of this, take a look again at the first image. Colm Cavanagh is the sweeper on the Tyrone 13; a few seconds after the turnover, he has passed 11 Derry players (and quite a few of his own men) to take part in the counter.
This happened time and again from all the Tyrone players — a dedication to defending AND attacking.
Individual Defending
After the second goal, Derry seemed to lose their defensive shape altogether but there were still some instances that would make you doubt their decision-making under pressure.
Take this example from a Derry kickout. Tyrone win the breaking ball, but the ball is landing in an area that clearly favours Tyrone.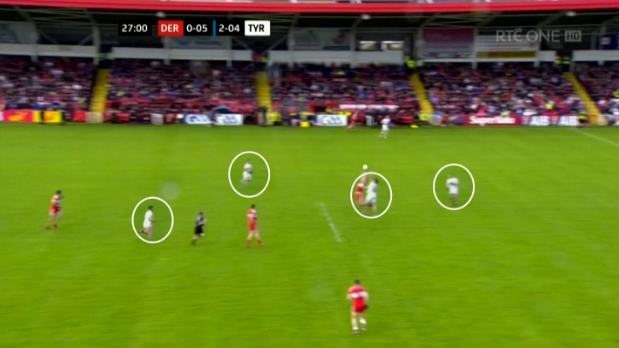 Tyrone now have a pod of five runners and Derry seem slow to sense the danger. The three Derry players closest to the camera get back and defend but never attempt to affect the ball. Chrissy McKaigue gets a little pre-occupied with 'his man' and runs out of Mattie Donnelly's way.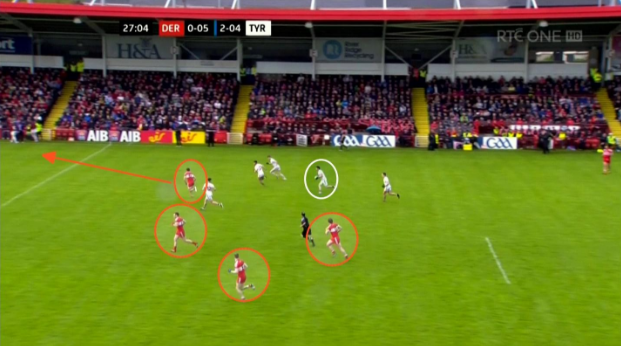 Better communication from the Derry defenders behind McKaigue would have helped him and the team.
Tyrone's system is a much more zonal defence. Sure they have individual responsibilities but they understand that once an opponent is in shooting range, the most important thing is the ball.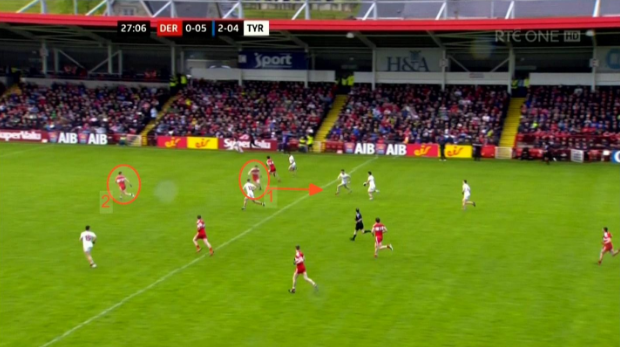 Player 2 marked above could have pushed McKaigue onto the ball and taken his man. I would also expect Player 1 here to push up on the ball.
Instead, Tyrone are now on the 45 and the ball is in the hands of one of their danger men.
Player 1 follows his man and it allows Mattie Donnelly travel well inside the Derry 45 before McKaigue takes responsibility and pushes up to the ball.
Exclusive Six
Nations Analysis
Get Murray Kinsella's exclusive analysis of Ireland's Six Nations campaign this spring
Become a Member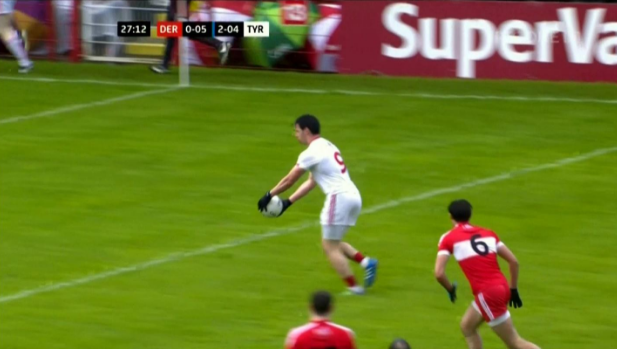 Unfortunately, it's all a bit late and Donnelly has acres of space to point and push Tyrone's lead out to six.
Pagan's Paddock
GAA teams have never been shy in borrowing ideas from other sports and perhaps Aussie Rules has can be thanked for this move.
Pagan's Paddock (or clearing the paddock) as it's commonly known is a coaching strategy in Australian Rules that involves moving all forwards out of the 50-metre arc and midfielders bombing the ball into empty space.
While we are unlikely to see this in the age of sweepers, it could be a useful kickout strategy. Players come towards their own goalkeeper before he kicks it, and as the defending team push up to prevent the short kickout, it leaves acres of space behind.
This happened in the second half. With no short options available, O'Neill looks to go long. Yes Derry are chasing the game — but that could be the case for a lot teams playing Tyrone this year.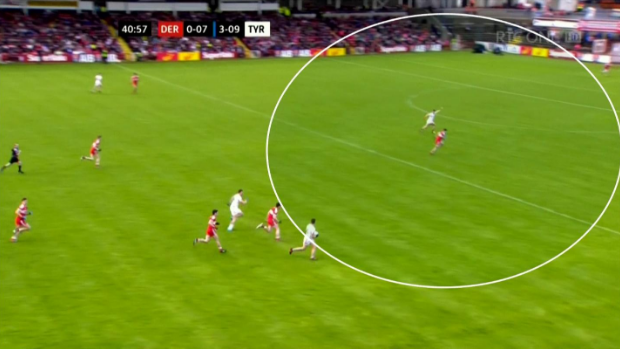 Although we only saw it once on Sunday, in the league Tyrone employed it successfully on a number of occasions. This kickout took out 11 Derry players, and although Tyrone ultimately fluffed the shot, you can't see that happening if the game was in the balance.
Onwards for Tyrone
Derry were not great and it's early to be getting too carried away, but any attempt to downplay Tyrone's All-Ireland credentials is going to be difficult from here.
Still, their game plan won't be a surprise to anyone they face. Mickey Harte talked about transition speed in his post-match interviews, spelling out they are a counter-attacking team.
Clips of disciplined defending in numbers and a true desire to attack at pace and in numbers will be played by opposition teams up and down the country this year. The big questions will come when the players are on the pitch and have to deal with the pace and power Tyrone now have.
The42 is on Snapchat! Tap the button below on your phone to add!