Liveblog
Afternoon all and welcome to today's live coverage of the All-Ireland football semi-final between Tyrone and Monaghan.
Mickey Harte's side are bidding to reach their first final in a decade, while Monaghan haven't appeared in one since 1930. The Farney have beaten Tyrone once already this summer and in Rory Beggan, Karl O'Connell and Conor McManus they've got three nailed on All-Stars.
But Tyrone are the more experienced side with phenomenal physical conditioning and a very strong bench. Their strong players are all located around the middle third – Tiernan McCann, Frank Burns, Peter Harte, Colm Cavanagh, Mattie Donnelly and Niall Sludden.
Here's how the sides are named to start. It throws-in at 3.30pm.
Tyrone
1. Niall Morgan (Clonoe)
2. Michael McKernan (Coalisland)
3. Ronan McNamee (Aghyaran)
4. Rory Brennan (Trillick)
5. Tiernan McCann (Killyclogher)
6. Frank Burns (Pomeroy)
7. Peter Harte (Errigal Ciaran)
8. Colm Cavanagh (Moy)
9. Padraig Hampsey (Coalisland)
10. Mattie Donnelly (Trillick)
11. Niall Sludden (Dromore)
12. Cathal McShane (Eoghan Ruadh)
13. Mark Bradley (Killyclogher)
14. Richard Donnelly (Trillick)
15. Connor McAliskey (Clonoe)
Monaghan
1. Rory Beggan (Scotstown)
2. Kieran Duffy (Latton)
3. Drew Wylie (Ballybay)
4. Ryan Wylie (Ballybay)
5. Colin Walshe (Doohamlet)
6. Vinny Corey (Clontibret)
7. Karl O'Connell (Tyholland)
8. Niall Kearns (Sean McDermott's)
9. Darren Hughes (Scotstown)
10. Ryan McAnespie (Emyvale)
11. Shane Carey (Scotstown)
12. Dessie Mone (Clontibret)
13. Dermot Malone (Castleblaney)
14. Fintan Kelly (Clones)
15. Conor McManus (Clontibret)
****************
It's prediction time. Who do you fancy to win and by how much? Let us know in the comments section below.
****************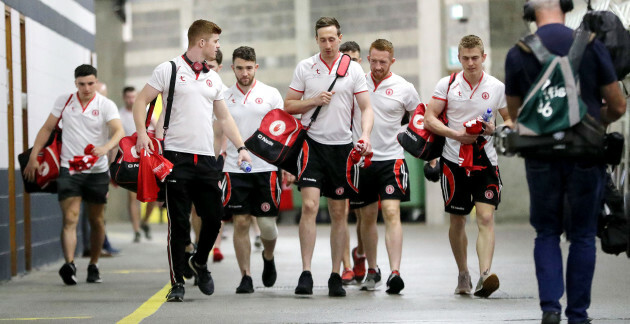 Source: James Crombie/INPHO
'We've been written off coming into most of the games we weren't expected to win. It's the same again today," Malachy O'Rourke offers his thoughts before their showdown with Tyrone. Watch full highlights on The Sunday Game tonight, @RTE2 from 9.30pm. pic.twitter.com/AbTvYfHINK

— The Sunday Game (@TheSundayGame) August 12, 2018
Team news
Tyrone have made two late changes. Kieran McGeary and Lee Brennan come in for Rory Brennan and Mark Bradley. Very brave call by Mickey Harte.
Tyrone 0-1 Monaghan 0-0
Colm Cavanagh gives Tyrone an early lead.
Tyrone 0-2 Monaghan 0-1
Wonderful effort from the outside of the right boot by Niall Sludden. Conor McManus sends over a beauty immediately in response. He's being tracked by Padraig Hampsey, who'll have his hands full today.
Tyrone 0-3 Monaghan 0-1
Fine ball inside by Connor McAliskey and Richard Donnelly sends it over off the left.
Tyrone 0-4 Monaghan 0-1
Monaghan are all over the shop defensively. Tyrone open the Farney with a swift counter-attack and Frank Burns slots over from close-range. There was a big goal chance there but Burns drilled over. Malachy O'Rourke's side need to get into this game.
Tyrone 0-4 Monaghan 0-2
Conor McCarthy plays a free short and slots over the return pass.
Tyrone 0-5 Monaghan 0-2
Cathal McShane dummies to the right and pings one over off his left.
Tyrone 0-5 Monaghan 0-3
Conor McManus got his body in front of Hampsey and was fouled. The Clontibret sharpshooter slots over the free.
Tyrone 0-5 Monaghan 0-3
Monaghan almost work a goal after a stunning Beggan kick-out into the path of Ryan McAnespie which he fed into McManus. Eventually, Tyrone intercept and McCann is fouled.
YELLOW! Ryan McAnespie is booked for a late hit on Colm Cavanagh.
Tyrone 0-5 Monaghan 0-4
Karl O'Connell tries to break the line and is fouled by McCann. McManus slots over the free.
YELLOW! McCann is booked for that foul.
Tyrone haven't scored in 10 minutes.
Tyrone 0-6 Monaghan 0-4
Sludden pops over a beauty from 50 yards to move the Tyrone scoreboard.
Tyrone have three wides to Monaghan's one. Lee Brennan with the latest for Harte's men.
CHANCE! A Colin Walshe shot at the posts drops to Vinny Corey who was double-blocked by Tyrone.
Tyrone 0-6 Monaghan 0-5
Fintan Kelly drills a superb point from outside the boot. There have been some fine scores taken so far in this game.
Tyrone 0-7 Monaghan 0-5
Massive free slotted over by McAliskey after a foul on Peter Harte.
Tyrone 0-7 Monaghan 0-6
O'Connell is fouled again and McManus applies the finish.
Tyrone 0-8 Monaghan 0-6
Monaghan had the ball for a long spell when McManus was overturned. Tyrone broke away and McCann raced up field and slotted over.
Tyrone 0-8 Monaghan 0-8
A good Monaghan move concludes with a well-taken score from McCarthy. Moments later Tyrone are punished for a Niall Morgan kick-out that went too short. Monaghan win the throw-up and McCarthy levels the game up.
YELLOW! Dermot Malone is booked for a high challenge on Kieran McGeary.
HT – Tyrone 0-8 Monaghan 0-8
The equaliser! Monaghan's Conor McCarthy levels the All-Ireland semi-final against Tyrone before half-time with a nice point. Watch full highlights on The Sunday Game tonight, @RTE2 from 9.30pm. pic.twitter.com/tso4IhNJEf

— The Sunday Game (@TheSundayGame) August 12, 2018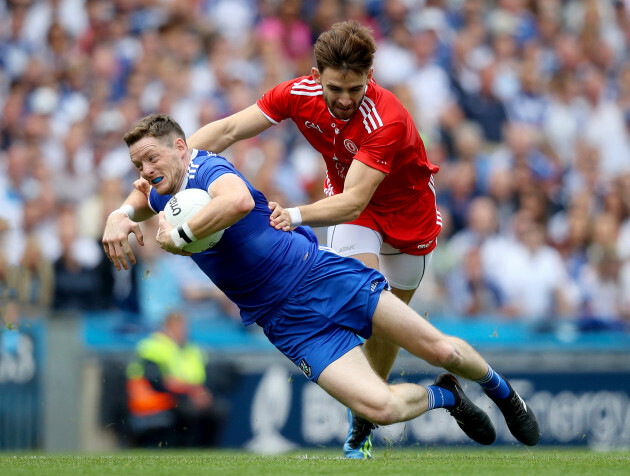 Source: Oisin Keniry/INPHO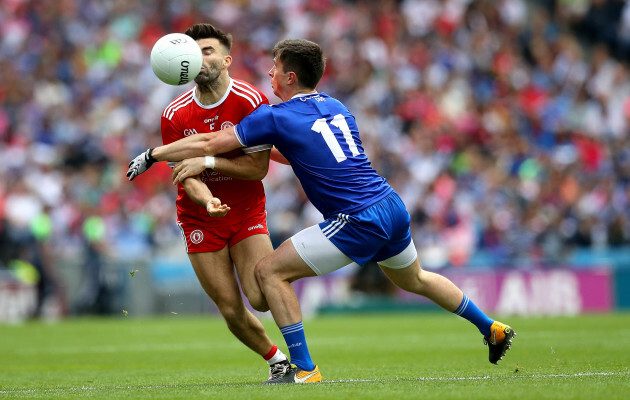 Source: Ryan Byrne/INPHO
The attendance in Croke Park is 49,696.
Joe Brolly thinks Tyrone are playing with the right shape to challenge Dublin in the All-Ireland final if they can come through this semi-final against Monaghan. Watch full highlights on The Sunday Game tonight, @RTE2 from 9.30pm. pic.twitter.com/ChLFf3ec68

— The Sunday Game (@TheSundayGame) August 12, 2018
Here are the highlights from the first period:
All Sides level here at the break! Watch the Half-Time Highlights of Monaghan v Tyrone here on GAANOW! pic.twitter.com/F5UV1t5ecy

— The GAA (@officialgaa) August 12, 2018
Both sides are unchanged at the interval.
Scratch that, there has been a change on the Tyrone team. Harry Loughran is on for Frank Burns. Monaghan are unchanged.
Rory Beggan sends an opportunity to send Monaghan in front wide from a free.
Eight wides and six shots short now from Tyrone after Richie Donnelly's latest missed shot.
Tyrone 0-9 Monaghan 0-8
McAliskey is left unmarked on the right wing and he curls over a lovely point to leave Tyrone in front.
Tyrone 0-10 Monaghan 0-8
Mattie Donnelly wins a free off Vinny Corey and McAliskey swings over his fourth of the game. Monaghan have yet to score in this half.
Tyrone 0-10 Monaghan 0-9.
Rory Beggan's long-range free leaves Monaghan one behind Tyrone after 44 minutes.
Dessie Malone replaces Dermot Malone on the Farney team.
Tyrone 0-11 Monaghan 0-9
Lee Brennan curls over a fine free from the right hand side.
YELLOW! McNamee is booked on the Tyrone team.
Tyrone 0-11 Monaghan 0-9
McManus kicks Monaghan's seventh wide, this one from a free after McCarthy was fouled by McNamee.
Mark Bradley is on for Lee Brennan.
Tyrone 0-11 Monaghan 0-9
Donnelly is fouled by Walshe, who is booked. McAliskey's difficult free from 45m doesn't have the accuracy.
McNamee is replaced by Rory Brennan for the Red Hand. On the Monaghan side, Kieran Hughes comes in for Shane Carey.
Tyrone 0-11 Monaghan 0-10
Monaghan work hard to win a free and McManus puts it over from about 35m. The gap is one.
Some brilliant defending by Mattie Donnelly denies Corry a run at goal. At the far end Bradley hits a shot narrowly wide. Conall McCann has replaced Richard Donnelly for Tyrone.
Tyrone 0-11 Monaghan 0-11
Kieran Hughes bombs inside Brennan and kicks an acrobatic effort over the bar. The sides are level for a second time.
Tyrone 0-11 Monaghan 0-12
Kieran Hughes has made a big impact and he wins a free in front of the posts for McManus to kick over. Monaghan lead for the first time in the game.
Ronan O'Neill is in for Tyrone, replacing McAliskey.
GOAL! Niall Sludden hits the net for Tyrone after 63 mins!
Tyrone 1-11 Monaghan 0-13
Harte and McCann were heavily involved in that move for Sludden's goal. McManus slots over a free to reduce the gap to one.
Tyrone 1-12 Monaghan 0-13
Peter Harte was quiet today but has been involved in the two huge moves for Tyrone in the last couple of minutes that drew 1-1. Colm Cavanagh is fouled and Harte pops over the free.
Tyrone 1-13 Monaghan 0-13
Harte slots over his second score in as many minutes.
Hughes hits a wide for Monaghan.
Monaghan have brought in Jack McCarron as McCarthy sends a poor effort wide.
Tyrone 1-13 Monaghan 0-14
Hughes reduces the gap to two. We're into the first of three minutes of added time.
Tyrone 1-13 Monaghan 0-15
Drew Wylie finishes off a good Monaghan move after Harte wasted a good chance to put Tyrone three ahead. One minute left.
FT – Tyrone 1-13 Monaghan 0-15
Tyrone are back in the All-Ireland final for the first time in 10 years!
That's all from us, thanks for following.
Contribute to this story: