"FEIGNING OF INJURIES, exaggerated diving, trying to get players sent off, management on the sideline getting involved with players."
Former Meath All-Ireland winner Colm O'Rourke accused Tyrone of the above offences on The Sunday Game last night as he and fellow panellist Ciaran Whelan went to town on the Red Hands.
O'Rourke and Whelan didn't hold back in their criticism, in a filleting that is sure to increase pre-existing tensions between RTÉ and Tyrone boss Mickey Harte.
"I have sort of always thought that maybe there was too much made of this from Tyrone but it's beginning to follow them around like a bad smell now, this cynical play," said O'Rourke.
"They brought it to new lows (on Saturday). We have Conor Meyler being sent off for dragging a fella down, trying to get a person sent off," added O'Rourke, as a number of clips were shown.
"And then we have the (Sean) Cavanagh show in terms of diving, Justin McMahon getting involved, Colm Cavanagh coming up…it wasn't all on the one side, here we have young (Connor) McAliskey lying down, feigning injury.
"Then as soon as the ball is transferred over to Tyrone he's (McAliskey) back up and running into a position. Mattie Donnelly taking Darren Hughes out of it…
"I have always felt that Tyrone may have been over criticised…but here we see Ronan McNamee punching a player (Conor McManus) clearly there.
"Then we see Sean Cavanagh getting a slight dig from Conor McManus and falling like a sack of spuds."
The infamous Tiernan McCann episode that led to Darren Hughes being sent off provoked a fierce response from O'Rourke and ex-Dublin star Whelan.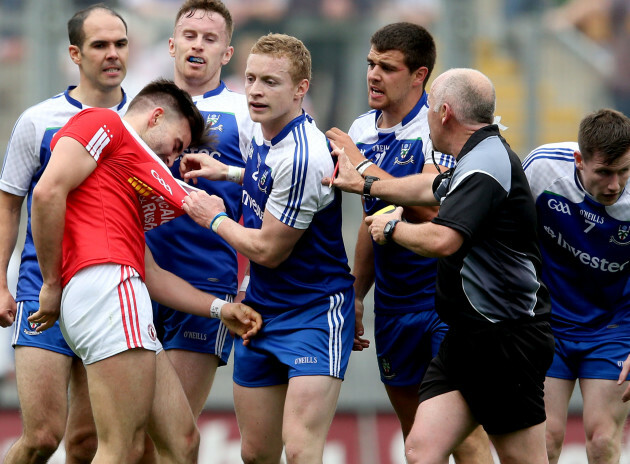 James Crombie / INPHO Tyrone's Tiernan McCann was in the thick of the action on Saturday. James Crombie / INPHO / INPHO
"This is dreadful stuff from Tiernan McCann he should be ashamed of himself," said O'Rourke.
"It's appalling stuff, there's no doubt about it, it's appalling stuff," Whelan agreed.
"We've all done stuff maybe we haven't been proud of but there has to be a bit of honesty and integrity on behalf of Tyrone because I don't think they're doing themselves proud as a county, I think they're letting themselves down.
"It's not just us picking on them, this is a fairly widespread view that they're dragging games down to a level.
"I would think there are people in Tyrone that are sitting back and saying they're not proud of that.
"They showed in the noughties that they can play football and can play football very well.
"But this is a trend that started against Meath a couple of years ago. Particularly in the last ten or 15 minutes, they're very cynical."
O'Rourke continued: "Feigning of injuries, exaggerated diving, trying to get players sent off, management on the sideline getting involved with players.
"The CCC could call in some of these players and charge them with bringing the game into disrepute because they do it if a player says something about a referee.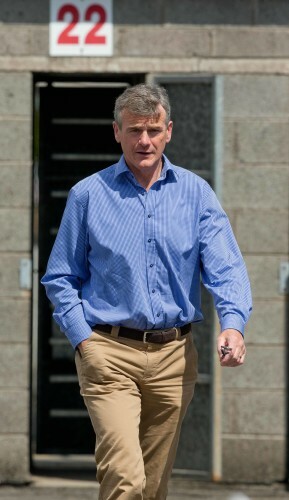 Morgan Treacy / INPHO Colm O'Rourke ripped into Tyrone last night. Morgan Treacy / INPHO / INPHO
"If Tiernan McCann was suspended for the All-Ireland semi-final, he would soon learn the error of his ways, or any of the other players that got involved in any of the incidents.
"It will come back to bite Tyrone. Some day Sean Cavanagh will be tackled and he should get a free and a ref will say 'to hell with that, he's always diving.' This is what's going to happen…they have cried wolf too often, it's not on what they're doing.
"The management of the Tyrone team should sort it out or the CCC should sort it out. It's a blight on the game, it's sullying the good football that Tyrone are playing."
Whelan urged McCann to issue an apology for Saturday's incident.
"If I was sitting in his shoes I'd come out, sweep it under the carpet and apologise. Listen, yes, bad sportsmanship, I shouldn't have done it, somebody got sent off as a result of it.
"Hold your hand up, show a bit of honesty and integrity and say 'I was wrong.' It will be interesting to see if it happens.
"Tyrone knew they could press Monaghan's buttons and suck Monaghan into a dogfight."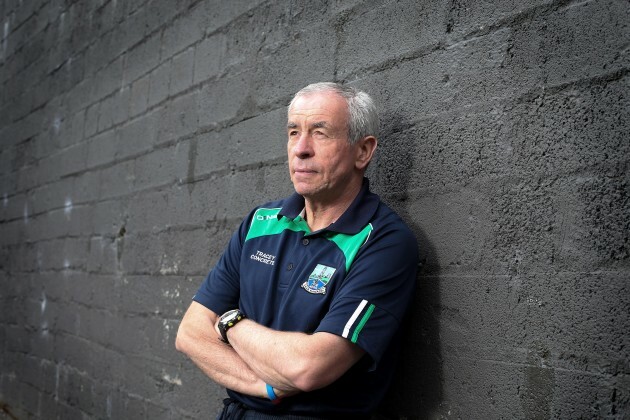 Presseye / Andrew Paton/INPHO Pete McGrath admits that a number of unsavoury elements are now prevalent in Gaelic Football. Presseye / Andrew Paton/INPHO / Andrew Paton/INPHO
Fermanagh boss Pete McGrath agreed that a number of 'dark arts' are now prevalent in Gaelic Football.
"Diving, simulating injury, trying to get players black carded, yellow carded, red carded.
"Intercounty senior players have to accept that they've got a responsibility, every time they take to the field.
"They have to play to win honesty and fairly but they've got a bigger mandate in terms of the image they project of the game, particularly to younger players watching that."