ULSTER BANK LEAGUE: Saturday, December 2, Kick-off 2.30pm unless stated.
DIVISION 1A:
CLONTARF (5th) v DUBLIN UNIVERSITY (8th), Castle Avenue
You could forgive Dublin University for approaching this game with caution given they were hammered 62-0 over the course of last season's two meetings.
However, Clontarf are yet to peak this term and were fortunate to come away with the spoils from Young Munster last week, with last-minute penalty hero Conor Kelly, who is just 18, coming up trumps.
Cathal Noonan / INPHO Abdaladze, on duty here for Ireland clubs against England Counties, is in Leinster's squad this weekend. Cathal Noonan / INPHO / INPHO
Two notable achievements for both clubs saw Trinity centre Seb Fromm make his 15s international debut for Germany against Chile last week, while Clontarf's front row regular Vakh Abdaladze is on the Leinster bench against Benetton in Italy tomorrow.
Ulster Bank League Season's Form: Clontarf: LWLWWWLW; Dublin University: LLLWWLWL
Ulster Bank League Top Scorers – Clontarf: Points: David Joyce 31; Tries: Matt D'Arcy 6; Dublin University: Points: Michael Silvester 25; Tries: Michael Silvester 5
Recent League Meetings – Saturday, December 3, 2016: Clontarf 33 Dublin University 0, Castle Avenue; Saturday, January 28, 2017: Dublin University 0 Clontarf 29, College Park
GARRYOWEN (2nd) v CORK CONSTITUTION (3rd), Dooradoyle
This should be a belter of a Munster derby with second-placed Garryowen and defending champions Cork Constitution both coming into form, earning five wins between them in the last three rounds.
Liam Coombes, Neil Cronin and David Johnston were three key cogs in the Light Blues' bonus point win at Trinity last week, with Lisheen youngster Coombes scoring a hat-trick of tries.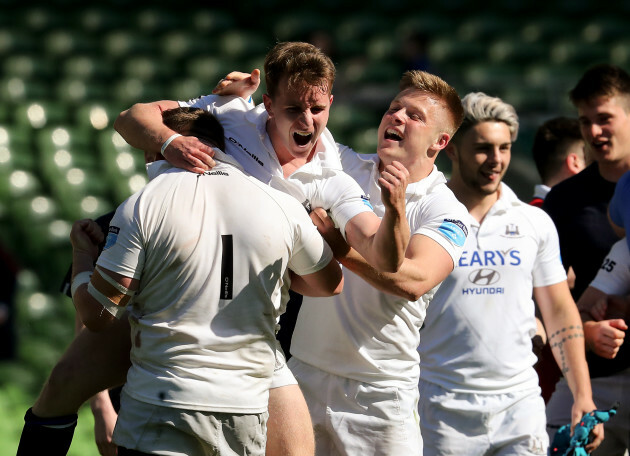 Bryan Keane / INPHO Quinlan celebrates Con's title win in May. Bryan Keane / INPHO / INPHO
Cork Con are grinding out wins – Tomas Quinlan's boot rescued them in round 8 – and they could gain crucial ground in these back-to-back clashes, as Garryowen are among their main rivals for a home semi-final berth.
Ulster Bank League Season's Form: Garryowen: LWWLWLWW; Cork Constitution: WLWLLWWW
Ulster Bank League Top Scorers – Garryowen: Points: Neil Cronin 72; Tries: Liam Coombes 5; Cork Constitution: Points: Tomas Quinlan 65; Tries: Kevin O'Byrne, Conor Kindregan, JJ O'Neill, Ned Hodson, Graeme Lawler 2 each
Recent League Meetings – Saturday, October 1, 2016: Garryowen 16 Cork Constitution 13, Dooradoyle; Saturday, March 25, 2017: Cork Constitution 26 Garryowen 20, Temple Hill
ST. MARY'S COLLEGE (9th) v BUCCANEERS (10th), Templeville Road
There was huge pride in the St. Mary's performance at the home of the champions last Saturday, which would have been a winning one with a bit more luck for Ciaran Ruddock and his team-mates.
Denied by Tomas Quinlan's last-minute penalty, Mary's return home with young out-half Conor Dean really growing in stature. Buccaneers too have renewed confidence after breaking their duck at home to UCD, aided by the efforts of influential locks Peter Claffey and Cian Romaine.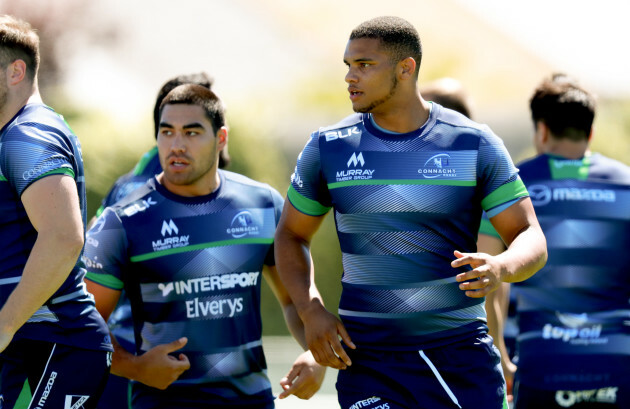 James Crombie / INPHO Romaine training alongside Nepia Fox Matamua (left) in Connacht's pre-season James Crombie / INPHO / INPHO
Two of the best finishers in the top flight at present will feature this afternoon, with St. Mary's American winger Tim Maupin currently on four tries and Buccs flyer Rory O'Connor topping the Division 1A charts with seven scores.
Ulster Bank League Season's Form: St. Mary's College: WLLWLLLL; Buccaneers: LLLLLLLW
Ulster Bank League Top Scorers – St. Mary's College: Points: Sean Kearns 36; Tries: Tim Maupin 4; Buccaneers: Points: Luke Carty 49; Tries: Rory O'Connor 7
Recent League Meetings – Saturday, October 17, 2015: Buccaneers 20 St. Mary's College 24, Dubarry Park; Saturday, February 2016, St. Mary's College 19 Buccaneers 16, Templeville Road
TERENURE COLLEGE (4th) v YOUNG MUNSTER (7th), Lakelands Park
No wins for either side in the last two rounds, but Terenure did run leaders Lansdowne close in a Friday Night Lights battle and a Ger Slattery-inspired Young Munster were a whisker away from beating Clontarf.
The pressure is very much on Munsters given they have fallen to seventh overall and are eight points adrift of fourth-placed Terenure, for whom number 8 Eoin Joyce has chipped in with four tries to date.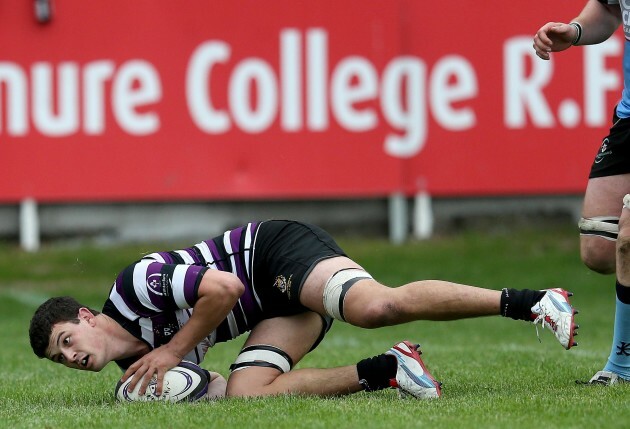 Ryan Byrne / INPHO Ryan Byrne / INPHO / INPHO
Building momentum before the Christmas break is vital for both of these sides, with the Cookies aiming to repeat last season's 31-23 victory at Lakelands Park. Hooker Slattery was one of their four try scorers that day.
Ulster Bank League Season's Form: Terenure College: WWWWLWLL; Young Munster: LLWLWWLL
Ulster Bank League Top Scorers – Terenure College: Points: Mark O'Neill 59; Tries: Eoin Joyce 4; Young Munster: Points: Shane Airey 22; Tries: Ben Kilkenny 4
Recent League Meetings – Saturday, November 12, 2016: Terenure College 23 Young Munster 31, Lakelands Park; Saturday, February 11, 2017: Young Munster 17 Terenure College 28, Tom Clifford Park
UCD (6th) v LANSDOWNE (1st), Belfield Bowl
Lansdowne had a slice of luck against Terenure with a controversial try awarded in their favour, but they continue to find a way to win – even when losing two props to the sin-bin.
It is the depth of their squad which has them 10 points clear at the summit, evidence of this being the impact last week of Adam Leavy, a late inclusion on the left wing, and replacement scrum half Charlie Rock who teed up that disputed Daniel McEvoy score.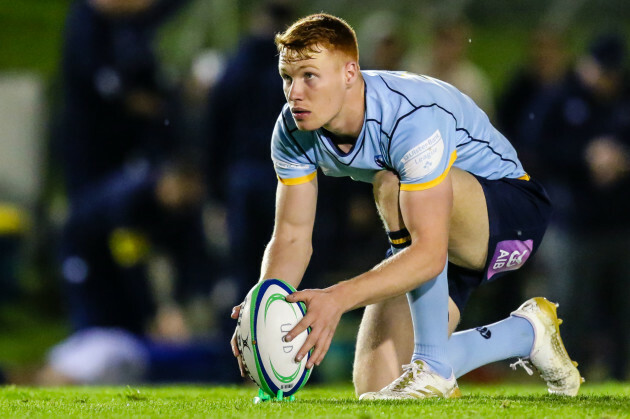 Laszlo Geczo / INPHO Ciaran Frawley lines up a conversion against St Mary's this season. Laszlo Geczo / INPHO / INPHO
UCD emerged scoreless from a late onslaught on the Buccaneers' line last Saturday, and they have fallen off the play-off pace despite the best efforts of skipper Jamie Glynn, Emmet MacMahon and Ciaran Frawley, who has started at out-half and full-back in recent rounds.
Ulster Bank League Season's Form: UCD: WWLLLLWL; Lansdowne: WWWWWWWW
Ulster Bank League Top Scorers – UCD: Points: Ciaran Frawley 40; Tries: Jamie Glynn 3; Lansdowne: Points: Scott Deasy 93; Tries: Mark O'Keefe 4
Recent League Meetings – Friday, November 11, 2016: Lansdowne 45 UCD 10, Aviva Stadium back pitch; Friday, February 10, 2017: UCD 8 Lansdowne 45, Belfield Bowl
DIVISION 1B:
BALLYMENA (9th) v OLD BELVEDERE (3rd), Eaton Park
Old Belvedere put in their best performance of the season so far in seeing off Naas' challenge 28-10. Last week's four tries were shared out by a back-line marshalled by streetwise full-back Daniel Riordan.
Ballymena have lost all four of their home games and have been guilty of playing rugby in the wrong areas of the pitch. Marcus Rea and Bryan Young picked up injuries against Shannon, while Callum Patterson, Glenn Baillie and Mark Foster face late fitness tests.
This is Old Belvedere's first trip to Eaton Park since January 2010 when they emerged as 26-10 winners. Andy Dunne, who is now assistant coach to O'Sullivan, kicked three conversions that day.
Ulster Bank League Season's Form: Ballymena: WLLLWLLL; Old Belvedere: LLWDWWLW
Ulster Bank League Top Scorers - Ballymena: Points: Brett Herron 60; Tries: Rodger McBurney 3; Old Belvedere: Points: Tim Foley 76; Tries: Shane McDonald 3
BALLYNAHINCH (2nd) v SHANNON (1st), Ballymacarn Park
 This top of the table clash has all the ingredients to be a classic contest. Shannon should have young scrum half Jack Stafford back from his Munster debut against Zebre.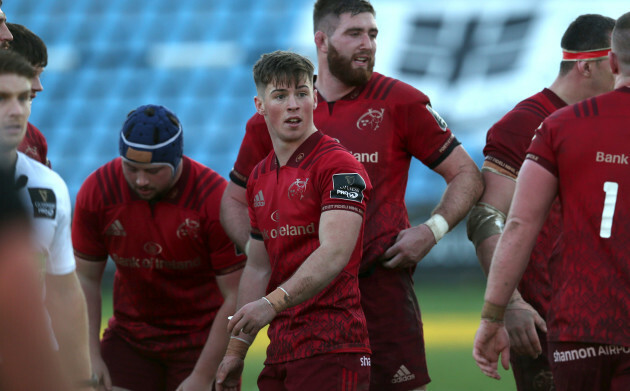 Giuseppe Fama / INPHO Giuseppe Fama / INPHO / INPHO
Stafford's half-back partnership with Conor Fitzgerald, the division's leading scorer with 93 points, has been a driving force for Tom Hayes' in-form side. Ulster duo Johnny McPhillips and Aaron Cairns have been doing just as good a job in directing Ballynahinch.
The Co. Down outfit are without the injured Jonny Simpson, Jack Regan and Aaron Hall. Shannon won a losing bonus point on their last visit to Ballymacarn Park but Hayes' men look capable of more on their return.
Ulster Bank League Season's Form: Ballynahinch: LWWWLWWW; Shannon: WWWWWWLW
Ulster Bank League Top Scorers - Ballynahinch: Points: Johnny McPhillips 66; Tries: Richard Reaney, Conor Kelly, David Busby, Johnny McPhillips 3 each; Shannon: Points: Conor Fitzgerald 93; Tries: Conor Fitzgerald 5
Recent League Meetings - Saturday, October 1, 2016: Ballynahinch 18 Shannon 12, Ballymacarn Park; Saturday, March 25, 2017: Shannon 30 Ballynahinch 14, Thomond Park back pitch
BANBRIDGE (4th) v DOLPHIN (10th), Rifle Park
Having been a kick of a ball away from winning at Old Wesley in round 8, fourth-placed Banbridge will be determined to right the wrongs of that performance when bottom side Dolphin come to town.
Exclusive Six
Nations Analysis
Get Murray Kinsella's exclusive analysis of Ireland's Six Nations campaign this spring
Become a Member
Ian Porter's narrowly-missed conversion was the difference at Donnybrook in a 21-20 verdict. A losing bonus point was also Dolphin's only reward against UL Bohemians. The Corkmen have relied on assistant coach Barry Keeshan for 48 of their 86 points so far.
There are obvious areas for improvement according to Bann boss Daniel Soper who said: "We had a lot of unforced handling errors against Wesley. That's something that's been very, very good this season. We were also getting a bit flat so that's something we'll have to keep working at."
Ulster Bank League Season's Form: Banbridge: WDWWWLWL; Dolphin: LWLLLLLL
Ulster Bank League Top Scorers - Banbridge: Points: Ian Porter 76; Tries: Andrew Morrison 4; Dolphin: Points: Barry Keeshan 48; Tries: Brian Scott 2
NAAS (7th) v OLD WESLEY (6th), Forenaughts
Presseye / Freddie Parkinson/INPHO File photo of Naas in action. Presseye / Freddie Parkinson/INPHO / Freddie Parkinson/INPHO
This looks an intriguing encounter as Naas are always tough to beat at home, and Old Wesley are brimming with confidence after three wins on the bounce.
The sides are level in mid-table on 17 points apiece, with Naas player-coach Johne Murphy freshening up his line-up as Stephen Lackey, Andrew Kearney and Warren Larkin all come into the pack, while Niall Delahunt and Shane Thompstone slot in on the wings.
Try-scoring prop Cronan Gleeson and lineout-stealing number 8 Matthew Bursey were two of Wesley's leading lights in that dramatic win over Bann. More of the same will be required at the home of the Cobras.
Ulster Bank League Season's Form: Naas: WWLLLLWL; Old Wesley: LLLDLWWW
Ulster Bank League Top Scorers - Naas: Points: Peter Osborne 32; Tries: Fionn Higgins 5; Old Wesley: Points: Jack Maybury 73; Tries: Jack Maybury 4
Recent League Meetings – Friday, December 2, 2016: Old Wesley 19 Naas 16, Donnybrook; Friday, January 27, 2017: Naas 27 Old Wesley 8, Forenaughts
UL BOHEMIANS (8th) v UCC (5th), University of Limerick 4G pitch
 UL Bohemians had the measure of UCC twice last season, but the tables have turned this term, with the fifth-placed Cork students a full 10 points clear of inconsistent UL.
However, a one-off fixture such as tomorrow's Colours clash on the 4G pitch in Limerick is exactly the sort of game that could get Christy Neilan's Bohs back firing on all cylinders.
A Harry Fleming try saw them return to winning ways against Dolphin, while UCC's four-match winning streak was ended by Ballynahinch last week. The visitors' young out-half James Taylor is the division's second top scorer with 85 points.
Ulster Bank League Season's Form: UL Bohemians: LLWLLLLW; UCC: LDLWWWWL
Ulster Bank League Top Scorers - UL Bohemians: Points: Robbie Bourke 38; Tries: James Ryan 4; UCC: Points: James Taylor 85; Tries: Cian Bohane, Murray Linn, Richard Walsh 3 each
Recent League Meetings – Saturday, December 3, 2016: UL Bohemians 18 UCC 17, University of Limerick 4G pitch; Saturday, January 28, 2017: UCC 9 UL Bohemians 18, the Mardyke.
Division 2A
Blackrock College v Nenagh Ormond, Stradbrook
Cashel v City of Armagh, Spafield
Galwegians v Highfield, Crowley Park
Malone v Galway Corinthians, Gibson Park
Queen's University v Greystones, Dub Lane
Division 2B
City of Derry v Dungannon, Judge's Road
Old Crescent v Navan, Rosbrien
Skerries v MU Barnhall, Holmpatrick
Wanderers v Belfast Harlequins, Aviva Stadium
Division 2C
Sligo v Bangor, Hamilton Park
Bective Rangers, v Thomond, Donnybrook
Bruff v Midleton, Killballyowen Park
Omagh v Malahide, Thomas Mellon fields
Tullamore v Seapoint, Spollanstown
The42 has just published its first book, Behind The Lines, a collection of some of the year's best sports stories. Pick up your copy in Eason's, or order it here today (€10):