ULSTER BANK LEAGUE: kick-off 2.30pm, Saturday unless stated
DIVISION 1A:
CLONTARF (5th) v CORK CONSTITUTION (2nd), Castle Avenue
Even a bonus point win over the defending champions may not be enough for Clontarf to qualify for the semi-finals. Garryowen are one point ahead of them in fourth place and have a healthier scoring difference.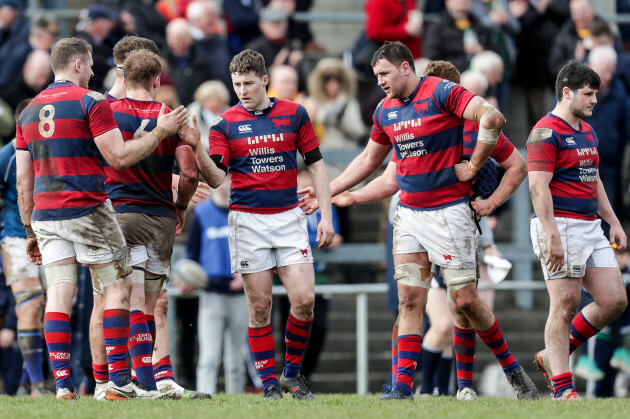 Laszlo Geczo / INPHO Laszlo Geczo / INPHO / INPHO
Second-placed Cork Constitution, who have edged ahead of Terenure College in the battle for the second home semi-final, are hoping to end the regular season with a fourth successive win.
Brian Hickey's men were 30-18 winners over Clontarf in September's opening round. Second rows Brian Hayes and Conor Kindregan continue to impress, scoring three tries between them in the last three rounds. Out-half Tomas Quinlan, last year's final hero, is also hitting form, averaging 16 points per game since early March.
Recent League Meetings - Sunday, May 7, 2017: Final – Clontarf 21 Cork Constitution 25, Aviva Stadium; Saturday, September 16, 2017: Cork Constitution 30 Clontarf 18, Temple Hill
Ulster Bank League Season's Form: Clontarf: LWLWWWLWWWLLWLWLW; Cork Constitution: WLWLLWWWLWWLWLWWW
Ulster Bank League Top Scorers – Clontarf: Points: David Joyce 96; Tries: Matt D'Arcy 8; Cork Constitution: Points: Tomas Quinlan 147; Tries: Rob Jermyn 6
GARRYOWEN (4th) v ST. MARY'S COLLEGE (9th), Dooradoyle
If things stay as they are, Garryowen will be travelling to table toppers Lansdowne in two weeks' time for their first league semi-final appearance since 2009.
Easier said than done, but the Light Blues will fancy their chances of defeating second-from-bottom St. Mary's College tomorrow, confirming a fourth-place finish and lifting the Shay Deering trophy in the process. That would neatly cap off a week in which Garryowen captain Neil Cronin has earned a Munster contract for next season.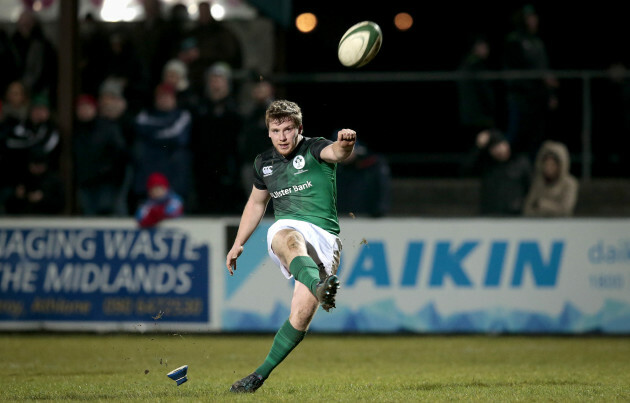 Ryan Byrne / INPHO Garryowen man Neil Cronin has earned a contract with Munster. Ryan Byrne / INPHO / INPHO
Mary's top-flight status will hinge on the upcoming play-offs against Division 1B opposition. Injuries have hampered them of late, but players like David Aspil, Cathal O'Flaherty and David O'Connor, who continue to set the standard up front, ensure that the Dubliners bring a competitive edge every time they take to the field.
Recent League Meetings – Saturday, February 11, 2017: St. Mary's College 27 Garryowen 7, Templeville Road; Saturday, September 16, 2017: St. Mary's College
Ulster Bank League Season's Form: Garryowen: LWWLWLWWWLLWWWLWW; St. Mary's College: WLLWLLLLLWLWLLLLL
Ulster Bank League Top Scorers – Garryowen: Points: Neil Cronin 160; Tries: Liam Coombes 8; St. Mary's College: Points: Sean Kearns 92; Tries: Tim Maupin, Dave Fanagan 4 each
LANSDOWNE (1st) v BUCCANEERS (10th), Aviva Stadium main pitch
Buccaneers' brave fight against relegation is over, but they will want to sign off in Division 1A with a performance to be proud of at the national stadium.
In fit-again winger Jordan Conroy, they have the ideal player to take advantage of the pitch's open expanses.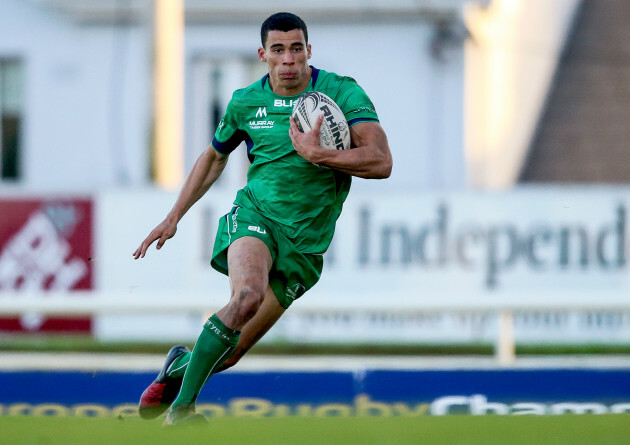 Tommy Dickson / INPHO Tommy Dickson / INPHO / INPHO
Lansdowne have done the hard work in securing top spot and a home semi-final in two weeks' time. They will aim to use this top-versus-bottom clash as a springboard into next Saturday's Ulster Bateman Cup final trip to Cork Constitution and then the league play-offs.
Mike Ruddock's men are 11 points away from breaking the 500-point mark for the 18-match campaign, while ever-influential out-half Scott Deasy, who is the division's top scorer with 196 points, could go close to breaking Craig Ronaldson's Division 1A regular season record of 211 points.
Recent League Meeting – Saturday, September 16, 2017: Buccaneers 10 Lansdowne 19, Dubarry Park
Ulster Bank League Season's Form: Lansdowne: WWWWWWWWWWWWLWLWW; Buccaneers: LLLLLLLWWLLLLLLLL
Ulster Bank League Top Scorers – Lansdowne: Points: Scott Deasy 196; Tries: Mark O'Keefe 9; Buccaneers: Points: Luke Carty 77; Tries: Rory O'Connor 7
TERENURE COLLEGE (3rd) v DUBLIN UNIVERSITY (8th), Lakelands Park
Terenure College were disappointed to lose at Cork Constitution last week but two hard-earned bonus points – sparked by a three-try second half performance – have guaranteed their semi-final place.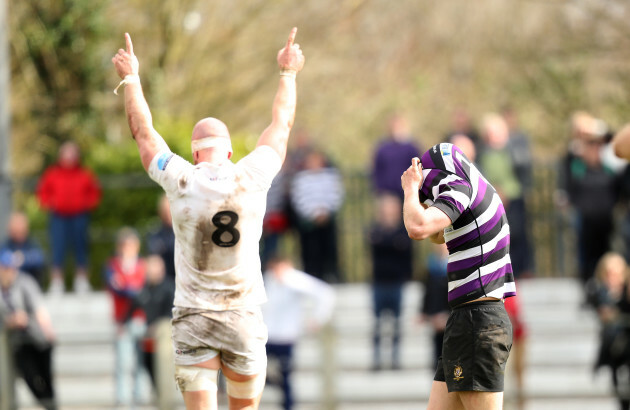 Oisin Keniry / INPHO Sam Coughlan-Murray reacts after a last-gasp drop-goal attempt to defeat Cork Con. Oisin Keniry / INPHO / INPHO
They could yet host that semi at Lakelands Park as victory here over Dublin University, coupled with a Cork Con defeat at Clontarf, would slot James Blaney's charges back into second spot. 'Nure's eight-try winger Jake Swaine is now joint-second in the try scoring charts, behind Lansdowne's Mark O'Keefe (9).
Despite the euphoria of regaining the Colours trophy and ensuring their Division 1A safety, it is very much business as usual for Trinity this week, with their Under-20s also taking on Lansdowne for a place in the Fraser McMullen Cup final.
Recent League Meetings – Saturday, April 15, 2017: Dublin University 27 Terenure College 25, College Park; Saturday, September 16, 2017: Dublin University 0 Terenure College 24, College Park
Ulster Bank League Season's Form: Terenure College: WWWWLWLLWLWLWWWWL; Dublin University: LLLWWLWWLLWLLWWLW
Ulster Bank League Top Scorers – Terenure College: Points: Mark O'Neill 108; Tries: Jake Swaine 8; Dublin University: Points: Jack McDermott 57; Tries: Michael Silvester 7
UCD (7th) v YOUNG MUNSTER (6th), Belfield Bowl
Like Trinity, UCD also have a busy Saturday on the cards as their Under-20 side head across the river Liffey for a Fraser McMullen Cup semi-final against Clontarf.
Tommy Dickson / INPHO Tommy Dickson / INPHO / INPHO
College are out of relegation trouble but will be frustrated with their tally of just five victories, the first which was away to Young Munster (39-20) on the opening day. UCD's Ireland Under-20 scrum half Patrick Patterson is gunning for his third try in as many games.
Sixth-placed Munsters still have a slim chance of making the play-offs, hoping for maximum points at Belfield and that Garryowen and Clontarf falter elsewhere. If they don't, the Cookies can still look back on a very encouraging campaign, during which a number of young players found their feet at senior level.
Recent League Meetings - Saturday, March 4, 2017: UCD 20 Young Munster 13, Belfield Bowl; Saturday, September 16, 2017: Young Munster 20 UCD 39, Tom Clifford Park
Ulster Bank League Season's Form: UCD: WWLLLLWLLLLWLLWLL; Young Munster: LLWLWWLLLWWWWWLWL
Ulster Bank League Top Scorers – UCD: Points: Harry Byrne 49; Tries: Jamie Glynn, Stephen McVeigh 4 each; Young Munster: Points: Alan Tynan 58; Tries: Ger Slattery 6
DIVISION 1B:
BALLYMENA (7th) v OLD WESLEY (8th), Eaton Park
Ballymena displayed their battling qualities to defeat UL Bohemians and Dolphin most recently, scoring 74 points in the process with Ulster out-half Brett Herron accumulating 29 of those. But they are still not out of relegation trouble.
Three points separate four clubs scrapping to avoid finishing second-from-bottom and having to contest the relegation play-offs. Two of those sides meet tomorrow – Ballymena and Old Wesley.
Eighth-placed Wesley would have been safe already if some of their four draws had been wins, with winger Paul Harte denied a late match-winning try against Ballynahinch last Saturday. The Braidmen welcome back talented teenagers Angus Kernohan and Azur Allison from Ireland Under-19 duty.
Recent League Meetings – Saturday, February 18, 2017: Old Wesley 49 Ballymena 19, Donnybrook; Saturday, September 16, 2017: Old Wesley 18 Ballymena 21, Donnybrook
Ulster Bank League Season's Form: Ballymena: WLLLWLLLWLLWLWLWW; Old Wesley: LLLDLWWWLDLLDLWLD
Ulster Bank League Top Scorers – Ballymena: Points: Brett Herron 107; Tries: Roger McBurney 6; Old Wesley: Points: Jack Maybury 135; Tries: Tommy O'Callaghan 7
BALLYNAHINCH (2nd) v OLD BELVEDERE (5th), Ballymacarn Park
Ballynahinch are unbeaten in three games, but last week's 14-all draw with Old Wesley could scupper their title chances. Shannon are now a point ahead, and even a bonus point victory over Old Belvedere may not be enough for 'Hinch.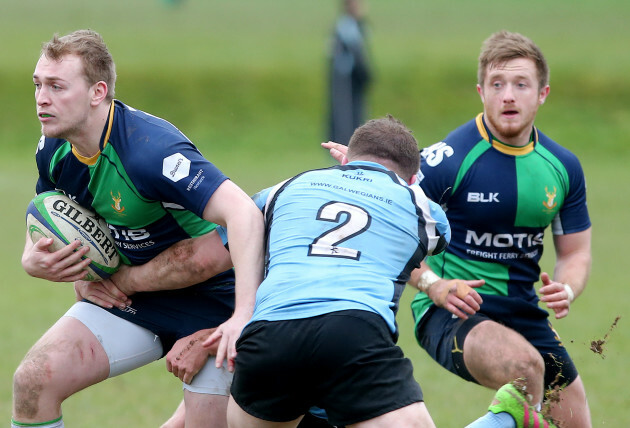 Presseye / Jonathan Porter/INPHO File photo: Stuart Morrow carries into contact against Galwegians last year. Presseye / Jonathan Porter/INPHO / Jonathan Porter/INPHO
Ulster's Peter Browne, Aaron Cairns and Peter Nelson are available for Ballynahinch's final home game of the regular season, while injuries rule out Zack McCall, Aaron Hall and Rory Butler.
Belvedere, who have nothing but pride to play for in mid-table, won 13-6 when the sides met in Dublin in mid-September. However, they have lost their last three matches, including two at home, so will be doubly determined to finish the season on a high.
Recent League Meetings – Saturday, February 27, 2016: Old Belvedere 19 Ballynahinch 14, Anglesea Road; Saturday, September 16, 2017: Old Belvedere 13 Ballynahinch 6, Anglesea Road
Ulster Bank League Season's Form: Ballynahinch: LWWWLWWWWLWWWLWWD; Old Belvedere: LLWDWWLWLWWLLWLLL
Ulster Bank League Top Scorers – Ballynahinch: Points: Richard Reaney 108; Tries: Conor Kelly 8; Old Belvedere: Points: Tim Foley 109; Tries: Shane McDonald 6
Exclusive Six
Nations Analysis
Get Murray Kinsella's exclusive analysis of Ireland's Six Nations campaign this spring
Become a Member
BANBRIDGE (3rd) v UL BOHEMIANS (9th), Rifle Park
Third-placed Banbridge failed to capitalise on the results of other title challengers last weekend as they paid for a poor first half display in a 32-31 defeat to UCC in Cork.
That match was also costly in that Bann full-back Adam Doherty broke his hand and will miss the rest of the season. Head coach Daniel Soper said: "I think it would take a miracle of Shannon and Ballynahinch both to drop points this weekend. We have a very difficult game against Bohs and what we don't want is to go into a play-off on the back of two defeats."
UL raised their hopes of avoiding a ninth-place finish with a 29-20 defeat of Naas, aided by out-half Robbie Bourke's 19-point kicking haul. Bohs have not won outside of Limerick since early January, but they certainly have the players to test Bann and potentially pull off a big result.
Recent League Meeting – Saturday, September 16, 2017: UL Bohemians 13 Banbridge 20, University of Limerick 4G pitch
Ulster Bank League Season's Form: Banbridge: WDWWWLWLWWLWDWWWL; UL Bohemians: LLWLLLLWLLWWWWLLW
Ulster Bank League Top Scorers – Banbridge: Points: Ian Porter 103; Tries: Andrew Morrison 11; UL Bohemians: Points: Robbie Bourke 95; Tries: James Ryan 5
NAAS (6th) v DOLPHIN (10th), Forenaughts
Naas need one final push to ensure their Division 1B status for another year. Dolphin's relegation is confirmed, but the rebuilding mission would certainly start on a sweeter note with a win here.
Replacing a legendary club figure like Barry Keeshan, who bowed out last Saturday with a 12-point haul after 16 years at out-half, will be extremely tough. His Ulster Bank League points record stands at 1733 points.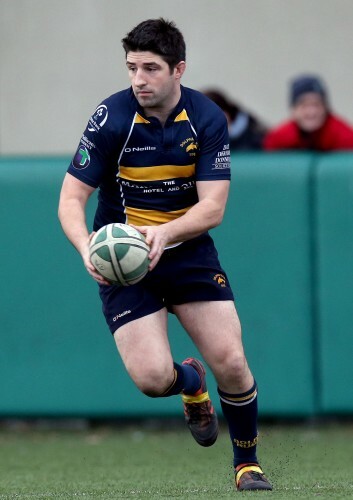 Ryan Byrne / INPHO Ryan Byrne / INPHO / INPHO
Naas player-coach Johne Murphy kicked 10 points in their 30-20 September win away to Dolphin. For tomorrow's rematch, there are four changes to the side that lost 29-20 at UL – Henry Bryce, Ross Bailey-Kearney, Graham Reynolds and Andrew Kearney all come in to the starting XV.
Recent League Meetings – Saturday, February 11, 2017: Naas 30 Dolphin 8, Forenaughts; Saturday, September 16, 2017: Dolphin 20 Naas 30, Irish Independent Park
Ulster Bank League Season's Form: Naas: WWLLLLWLWDLWLLLWL; Dolphin: LWLLLLLLLLWLDLLLL
Ulster Bank League Top Scorers – Naas: Points: Peter Osborne 120; Tries: Fionn Higgins 12; Dolphin: Points: Barry Keeshan 113; Tries: Daryl Foley 4
SHANNON (1st) v UCC (4th), Thomond Park back pitch
Relegated by UCD in 2013, Shannon face student opposition again tomorrow as they bid to end their absence from the top flight. They take a one-point lead over Ballynahinch into the final round, looking to end Tom Hayes' first full season in charge with promotion.
This Munster derby brings together two of the most promising young out-halves in the province – Shannon's Conor Fitzgerald, who is coming towards the end of his first year in the Munster Academy, and Ireland Students number 10 James Taylor who has struck up an exciting half-back pairing with John Poland, a UCC Sports Star award recipient earlier this week.
UCC have sealed fourth place and, as things stand, they will travel to St. Mary's College in the promotion/relegation play-offs next Saturday. First things first, they will want to avenge September's 20-16 home defeat to Shannon.
Recent League Meetings – Saturday, March 4, 2017: Shannon 20 UCC 14, Thomond Park back pitch; Saturday, September 16, 2017: UCC 16 Shannon 20, the Mardyke
Ulster Bank League Season's Form: Shannon: WWWWWWLWLWWLDLWWW; UCC: LDLWWWWLWWLLWWWLW
Ulster Bank League Top Scorers – Shannon: Points: Conor Fitzgerald 177; Tries: Conor Fitzgerald 8; UCC: Points: James Taylor 161; Tries: Paul Kiernan 8
DIVISION 2A:
Blackrock College v Highfield, Stradbrook
Galwegians v Cashel, Crowley Park
Greystones v City of Armagh, Dr. Hickey Park
Malone v Nenagh Ormond, Gibson Park
Queen's University v Corinthians, Dub Lane
DIVISION 2B:
City of Derry v Wanderers, Craig Thompson Stadium, Judge's Road
Navan v Belfast Harlequins, Balreask Old
Old Crescent v Rainey Old Boys, Rosbrien
Skerries v Dungannon, Holmpatrick
Sunday's Well v MU Barnhall, Irish Independent Park
DIVISION 2C:
Bective Rangers v Malahide, Energia Park, Donnybrook
Omagh v Bruff, Thomas Mellon Playing Fields
Seapoint v Midleton, Kilbogget Park
Sligo v Thomond, Hamilton Park
Tullamore v Bangor, Spollanstown