ULSTER BANK LEAGUE: Kick-off 2.30pm Saturday 30 September unless stated.
DIVISION 1A:
BUCCANEERS (8th) v YOUNG MUNSTER (9th), Dubarry Park
Buccaneers could do with an upturn in fortunes after emerging without a point from two very competitive performances against Lansdowne and Garryowen. Cruelly, prop Conor Kenny, who was making his comeback after a year out, sustained another injury last week, while a shoulder injury has sidelined experienced centre Danie Poolman.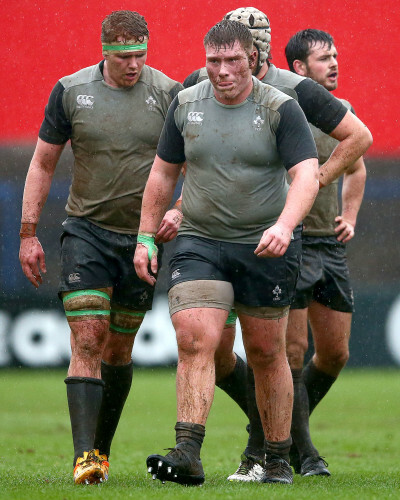 James Crombie / INPHO Conor Kenny in action for an Ireland U20 side against Munster in 2015. James Crombie / INPHO / INPHO
Young Munster make the trip to the midlands after they were shut down by Lansdowne, the 20-point reversal leaving them second-from-bottom. Early season injuries have hampered them, although their scrum and maul are still big weapons and Ben Swindlehurst and Craig O'Hanlon have impressed in the backs.
Munsters have looked vulnerable out wide in the first two rounds, and despite the continued absence of Jordan Conroy, Buccs have a potential match-winner in the fleet-footed Rory O'Connor whose brace of tries against Garryowen showed how dangerous he can be.
Ulster Bank League Season's Form: Buccaneers: LL; Young Munster: LL
Ulster Bank League Top Scorers – Buccaneers: Points: Rory O'Connor 10; Tries: Rory O'Connor 2; Young Munster: Points: Peter Meyer, Ger Slattery, Mark O'Mara, Paul Downes, Craig O'Hanlon 5 each; Tries: Peter Meyer, Ger Slattery, Mark O'Mara, Craig O'Hanlon 1 each.
CORK CONSTITUTION (4th) v UCD (1st), Temple Hill
Reigning champions Cork Constitution are involved in another clash with a table-topping side – it was Terenure College last week and now UCD, who have climbed to the summit, in round 3. There will have been plenty of defensive drills at Temple Hill after leaking 39 points to 'Nure.
Con did pick up two bonus points at Lakelands thanks to a strong finish, the pack providing four tries. The Leesiders and UCD are both missing a number of players during to Ireland's involvement in the DHL Oktoberfest 7s tournament this weekend.
UCD, who venture south on the back of two bonus point wins, will want to banish memories of last December's 50-25 defeat at Temple Hill. This should be a much closer affair, especially if the students can get the best out of returning Ireland Under-20 star Tommy O'Brien in attack.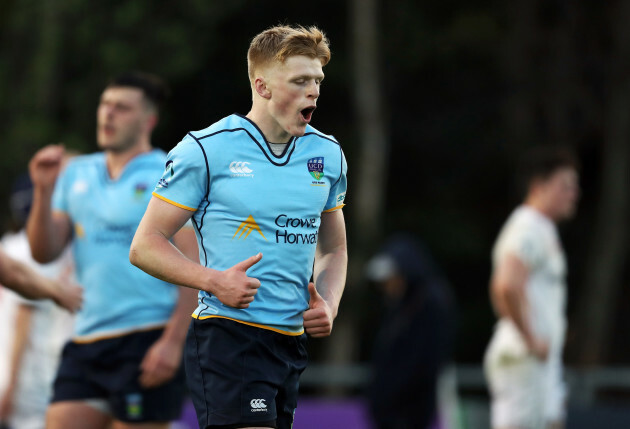 Tommy Dickson / INPHO Tommy Dickson / INPHO / INPHO
Ulster Bank League Season's Form: Cork Constitution: WL; UCD: WW
Ulster Bank League Top Scorers – Cork Constitution: Points: Tomas Quinlan 21; Tries: Shane Daly, Rob Jermyn, Brendan Quinlan, Tomas Quinlan, Kevin O'Byrne, Conor Kindregan, Brian Hayes, Greg Higgins, Luke Cahill 1 each; UCD: Points: Ciaran Frawley 23; Tries: Jamie Glynn 2.
DUBLIN UNIVERSITY (10th) v LANSDOWNE (3rd), College Park
There were visible improvements in Trinity's all-round game last week at UCD, with director of rugby Tony Smeeth feeling that the 36-8 scoreline did not reflect what was an end-to-end tussle. Unless Smeeth's youngsters cut down their errors, Lansdowne are another side who will ruthlessly punish them.
Mike Ruddock's men scored 22 unanswered points in the second half against Young Munster, their pacy back-three all scoring tries and young centre Harry Brennan marking his debut with a man-of-the-match performance. Not to be outdone, Scott Deasy also passed the 600-point mark for the club.
James Crombie / INPHO Angus Lloyd donned Munster colours on loan last season. James Crombie / INPHO / INPHO
Given their recent outings, there looks to be only one winner here unless Trinity can spring a surprise. The scrum half battle between the Ulster and Munster-capped Angus Lloyd and Lansdowne's Charlie Rock or Alan Bennie is one to relish.
Ulster Bank League Season's Form: Dublin University: LL; Lansdowne: WW.
Ulster Bank League Top Scorers – Dublin University: Points: Michael Courtney 5; Tries: Michael Courtney 1; Lansdowne: Points: Scott Deasy 24; Tries: Charlie Rock, Mark O'Keefe, Eamonn Mills, Daniel McEvoy 1 each
GARRYOWEN (5th) v CLONTARF (6th), Dooradoyle
A very interesting match-up here and a chance for Garryowen to avenge last March's 39-10 loss to Clontarf. Closing tries from Darren Ryan and James McInerney guided the Light Blues to a late bonus point win at Buccaneers, the impact of front rowers JP Cooney and Mike Sherry off the bench proving vital.
'Tarf also got back to winning ways in round 2, centre Matt D'Arcy taking his season's haul to three tries as they got the better of St. Mary's (33-16). Mention must also go to number 8 Tony Ryan who finished off a superb team score on the night.
Donall Farmer / INPHO D'Arcy playing in last season's final. Donall Farmer / INPHO / INPHO
There could be fireworks in two key areas tomorrow. The midfield match-ups could see D'Arcy come up against Munster centre Sam Arnold who, like Sherry, is coming back from injury, while Clontarf loosehead Ivan Soroka is sure to get a tough afternoon's scrummaging from Garryowen's in-form tighthead Andy Keating.
Ulster Bank League Season's Form: Garryowen: LW; Clontarf: LW
Ulster Bank League Top Scorers – Garryowen: Points: Dean Moore, Darren Ryan, James McInerney, Mike Sherry, Bill Johnston 5 each; Tries: Dean Moore, Darren Ryan, James McInerney, Mike Sherry 1 each; Clontarf: Points: Conor Jennings 19; Tries: Matt D'Arcy 3
ST. MARY'S COLLEGE (7th) v TERENURE COLLEGE (2nd), Templeville Road, 3.15pm
Undoubtedly the match of the day in the top flight as St. Mary's host second-placed Terenure in part one of the 'Battle of the Parishes'. If 'Nure reach the same intensity and tempo they showed against Cork Con, they will be warm favourites to make it three wins from three.
However, anything can happen in a local derby and St. Mary's enjoyed a fine double over Terenure last season, winning by four and seven points respectively. They have an ultra-competitive pack under Ciaran Ruddock's direction and a terrific backs-inspired try by full-back Tim Maupin last week showed how potent they can be.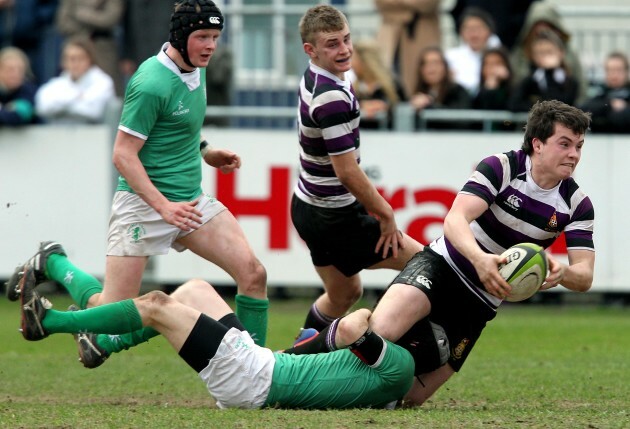 Lorraine O'Sullivan / INPHO File photo: Niall Lalor in Schools Cup action in 2012. Lorraine O'Sullivan / INPHO / INPHO
'Nure's loose forward trio of Cathal Deans, Niall Lalor and Eoin Joyce have stood out for their effectiveness around the pitch in the past fortnight, Lalor (2) and Joyce scoring three tries between them in that action-packed victory over Con.
Ulster Bank League Season's Form: St. Mary's College: WL; Terenure College: WW
Ulster Bank League Top Scorers – St. Mary's College: Points: Sean Kearns 17; Tries: David O'Connor, Tim Maupin 1 each; Terenure College: Points: Mark O'Neill 13; Tries: Niall Lalor 2
DIVISION 1B:
BANBRIDGE (3rd) v NAAS (1st), Rifle Park
Fionn Carr, Peter Osborne and Will O'Brien all return to the Naas starting XV as they look to continue their perfect start to the new season. The fit-again Osborne comes in at full-back with Michael Skelton moving to the out-half position vacated by player-coach Johne Murphy this week.
The division's pacesetters travel north to third-placed Banbridge who are without the Ulster-tied Nick Timoney and Robert Lyttle and the injured Tom O'Toole and Greg Jones. On the positive side, Bann are unbeaten after the first two rounds, with captain Ian Porter top-scoring with 21 points so far.
Their head coach Daniel Soper said: "Naas are carrying a lot of momentum into this game, having finished second in this league last season and kicking off this campaign with two bonus point wins. In the history of the clubs there's been nothing between us and them, so we'll just get on and do our job."
Ulster Bank League Season's Form: Banbridge: WD; Naas: WW.
Ulster Bank League Top Scorers – Banbridge: Points: Ian Porter 21; Tries: Ian Porter, Tom Caesar, Adam Doherty, Eric O'Sullivan, Peter Cromie, Michael Lowry, Andrew Morrison 1 each; Naas: Points: Johne Murphy 23; Tries: Fionn Higgins 3
DOLPHIN (7th) v BALLYNANHINCH (4th), Irish Independent Park
Dolphin and Ballynahinch both opened their win accounts last week and approach round 3 with renewed confidence. Half-backs Daryl Foley (try) and Barry Keeshan (five points) did the damage for the tough-tackling Corkmen in Ballymena, with workhorse flanker Kevin Allen in man-of-the-match form.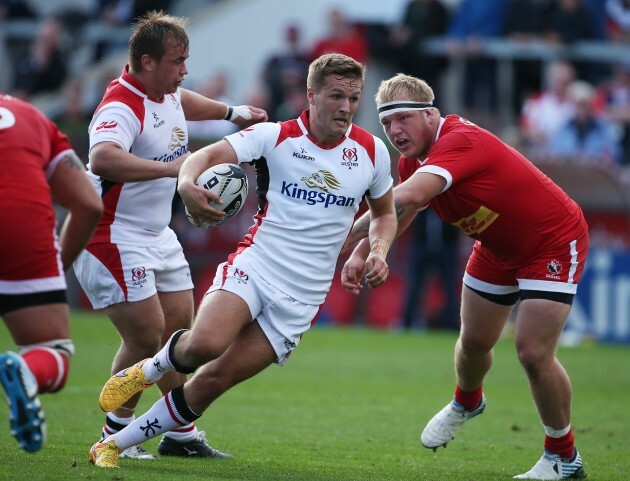 Presseye / Brian Little/INPHO Ulster's Johnny McPhillips. Presseye / Brian Little/INPHO / Brian Little/INPHO
Fit-again number 10 Johnny McPhillips was 'Hinch's leading light in their 27-6 dismissal of Old Wesley, racking up 12 points on his return. For the trip to Cork, they will have the same Ulster contingent on board bar Peter Browne who is on PRO14 duty.
Centre Stuart Morrow is 'Hinch's main injury concern, while full-back Conor Kelly and prop Campbell Classon are also nursing knocks. Look out for Zac Ward, the 18-year-old son of former Ulster captain Andy Ward, who has already made two league starts in the Co. Down club's back row.
Ulster Bank League Season's Form: Dolphin: LW; Ballynahinch: LW.
Ulster Bank League Top Scorers – Dolphin: Points: Barry Keeshan 15; Tries: Brian Scott 2; Ballynahinch: Points: Johnny McPhillips 12; Tries: Johnny McPhillips, Conor Kelly, Richard Reaney, Aaron Cairns 1 each.
OLD WESLEY (10th) v SHANNON (2nd), Donnybrook
Old Wesley are playing catch-up already after a narrow home defeat to Ballymena and a tryless outing in Ballynahinch. Despite the best efforts of lock Mark Robinson, a malfunctioning line-out is one area Morgan Lennon's side really need to get to grips with.
Shannon are at the opposite end of the table thanks to two well-judged opening wins, the latter one seeing second row Sean McCarthy play a starring role against Old Belvedere. The 24-year-old Kerry native has earned a call-up to the Munster bench for today's clash with Cardiff.
Tom Hayes' charges seem to be on a roll with the Fitzgerald brothers, backs Stephen and Conor, both enjoying strong starts to the campaign. But, if Wesley can make the necessary tweaks and improvements, they are more than capable of halting their losing run.
Ulster Bank League Season's Form: Old Wesley: LL; Shannon: WW.
Ulster Bank League Top Scorers – Old Wesley: Points: Adam Kennedy 6; Tries: Josh Pim, Eoghan O'Reilly 1 each; Shannon: Points: Conor Fitzgerald 16; Tries: Tony Cusack, Sean McCarthy, Stephen Fitzgerald 1 each.
UCC (6th) v OLD BELVEDERE (8th), the Mardyke
A second successive away fixture in Munster for Old Belvedere who must raise their game after a lacklustre 18-3 loss to Shannon at Thomond Park. 'Belvo have lacked a clinical edge so far, too often coming away with little or no reward from visits to the opposition 22.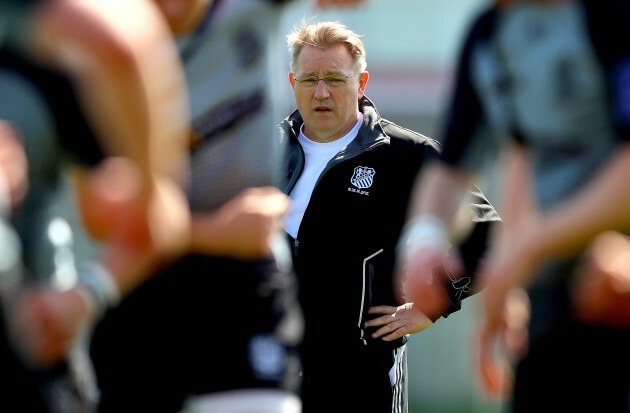 James Crombie / INPHO James Crombie / INPHO / INPHO
Eddie O'Sullivan will no doubt have been working hard on finding the fixes that will lead to better results. Behind a relatively unchanged pack, 'Belvo will want new Kiwi out-half Ben Brooking to have more of an influence in the coming rounds.
Cian Bohane's hat-trick of tries helped UCC pick up three hard-earned points in Banbridge. The students, who are now under Brian Walsh's tutelage, are always a tough nut to crack on home turf and will relish the prospect of taking down a former Division 1A club.
Ulster Bank League Season's Form: UCC: LD; Old Belvedere: LL
Ulster Bank League Top Scorers – UCC: Points: James Taylor 22; Tries: Cian Bohane 3; Old Belvedere: Points: Tim Foley 11; Tries: Pat Hughes 1
UL BOHEMIANS (9th) v BALLYMENA (5th), University of Limerick 4G pitch
Neither UL Bohemians or Ballymena can afford to linger over last week's missed opportunities with matches coming thick and fast. There was no happy ending in JJ Hanrahan's comeback game for Bohs against Naas. Locks Ed Kelly and Daragh Frawley have contributed two of UL's three tries so far.
Dolphin's resilient defence got the better of Ballymena in a 10-6 reversal for Andy Graham's men. They really need to get their approach right tomorrow after Graham noted: "(Last week) the players weren't trying to go to the depths needed to win a rugby match. That mindset has to change this week."
Bohs won both of the sides' meetings last season, 25-15 in Limerick and 30-23 at Eaton Park. Hooker Adam McBurney, who has made the Ulster bench, is a notable absentee for the Braidmen's revenge mission, while out-half Brett Herron is doubtful after picking up an injury training with Ulster.
Ulster Bank League Season's Form: UL Bohemians: LL; Ballymena: WL
Ulster Bank League Top Scorers – UL Bohemians: Points: Robbie Bourke 8; Tries: Ed Kelly, Daragh Frawley, James Ryan 1 each; Ballymena: Points: Brett Herron 11; Tries: Callum Patterson, Rodger McBurney 1 each.
DIVISION 2A
Cashel v Malone, Spafield
City of Armagh v Galway Corinthians, Palace Grounds
Galwegians v Blackrock, Crowley Park
HIghfield v Queens University, Woodleigh Park
Nenagh Ormond v Greystones, New Ormond Park
DIVISION 2B
Belfast Harlequins v Rainey, Deramore Park
City of Derry v Skerries, Judges Road
Dungannon v Old Crescent, Stevenson Park
MU Barnhall v Navan, Parsonstown
Wanderers v Sundays Well, Aviva Stadium
DIVISION 2C
Bruff v Sligo, Bilballyowen Park
Malahide v Tullamore, Estuary Road
Midleton v Bangor, Towns Park
Omagh v Bective Rangers, Thomas Mellon playing fields
Thomond v Seapoint, Liam Fitzgerald Park.
Subscribe to The42 podcasts here: