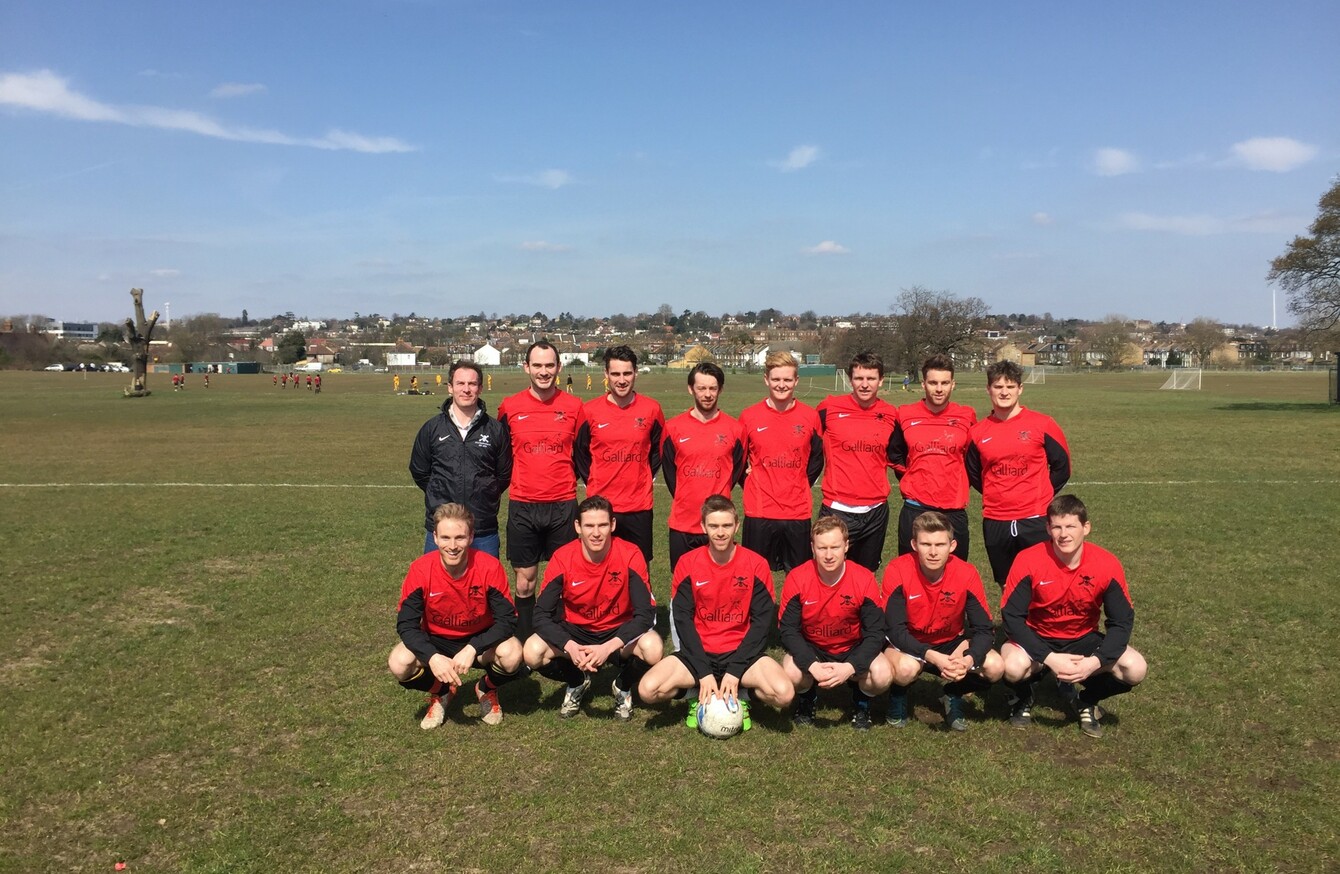 UCC Diaspora will be in the final of the London FA Junior Cup this afternoon.
UCC Diaspora will be in the final of the London FA Junior Cup this afternoon.
A CLUB SET up by a group of UCC graduates are one game away from lifting one of the most prestigious amateur competitions in England, the London FA Junior Cup.
UCC Diaspora FC will take on FC Hamlets in the final of the competition on Saturday afternoon.
Club chairman and one of the founders of the side, Paul Williamson says not all the players have an affiliation with UCC, and that all players are welcome with the team made up of members from Dublin, Westmeath, Limerick and of course, Leeside as well as some locals.
The club was established in 2010 when a group of us who played together in UCC thought there would be enough of us to start a casual team. There wasn't really a plan to start a serious club at the beginning but through word of mouth, we had our first training session and over 35 guys turned up. It soon became apparent that we had tapped into a large network of young Irish professionals and that we could really start a proper club.
The FA Junior Cup has been running since 1886 and is made up of the Junior Premier teams from all boroughs of London and Senior second division teams. A possible omen for the side is that the first winners of the competition 130 years ago was a team called Connaught.
UCC Diaspora have gone through five rounds to reach the final including defeating last year's winners Sloane FC on penalties after UCC conceded a two goal advantage.
Stephen O'Connell is the club manager and he would compare the level of football to the Munster Senior and Junior leagues.
"I have no doubt this current group of players would hold their own in the Munster Senior League Premier or First Division. We have a fantastic group of players with a brilliant attitude."
Despite the vast majority of the squad coming from Ireland, O'Connell says that they have never been on the end of any discriminatory comments from their opponents.
"We are very well known and respected by opposing teams, league officials and referees. We approach the game in the right way and while the majority of players are from Ireland, we have players from England in our squad and on the club committee. We all just want to play football and do our best for this club."
Players and members of the club work in a wide range of industries from dentistry to investment banking and fine wine brokerage to the construction industry.
As Ireland's economy slowly recovers, Williamson believes that some of the young people who emigrated to London may never come back.
"Some previous members have moved back to Ireland, some have remained. Some of our members have set up businesses here and some have started young families.  Most are happy to stay in London. We have strong social networks throughout South West London and life is good here. I think most guys are happy they made the choice to move here."
"We still have younger guys who have just moved over joining the club all the time, but it's more of a drip feed now, it was a torrent before. I feel like when we started the club in 2010 it was perfect timing as there were so many young Irish guys who had just moved over and needed a sporting and social outlet which we were able to provide. It does in a way feel like the tide is less now but it also could be that a lot of us are now older, have put down roots and are not as in touch with the new graduate networks."
See Sport
Differently
Get closer to the stories that matter with exclusive analysis, insight and debate in The42 Membership
Become a Member
The final was originally scheduled for last Saturday but a waterlogged pitch resulted in the match being called off on the morning of the game, to the disappointment of the players and O'Connell.
"It was frustrating on Saturday as fellas had family & friends who either flew over from Ireland or had made plans to go to the game so for it to be cancelled that morning was very frustrating. It was one of those things, nothing we could do about it and thankfully we don't have to wait too long to get out on the pitch. We trained hard on Wednesday and we'll be ready again for Saturday. There are people coming back over this weekend and it's incredible, to be honest. The support we're getting is fantastic and I want to thank everyone for that."
No matter what the outcome of tomorrow's final O'Connell says the team will celebrate what has been an achievement that has surpassed all expectation.
"No doubt we'll have a great night afterwards and it's something the players will look back on for years, all going well we'll have the trophy with us."