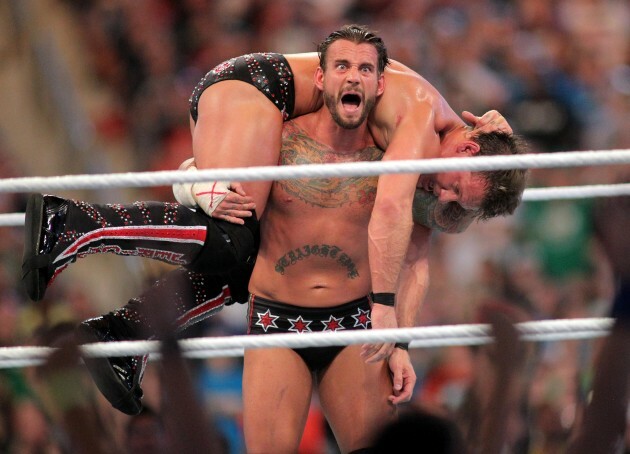 AP Photo / AP Images CM Punk in action during his time with the WWE. AP Photo / AP Images / AP Images
IT USUALLY DOESN'T take much to provoke the ire of MMA's more sensitive followers, and comparing the sport to professional wrestling is a tactic that seldom fails.
The drawing of such parallels is generally motivated by mischief. Unlike the WWE, mixed martial arts bouts aren't pre-determined by a script. However, with the UFC — MMA's leading organisation — never hesitant to embrace the crossover appeal, fans can hardly complain about those comparisons.
Brock Lesnar successfully swapped WWE for MMA by becoming the UFC's heavyweight champion in 2008, but he did so with the benefit of a legitimate martial arts background. Lesnar was an NCAA Division One champion wrestler in college. The latest man to make a similar move has no such foundation.
When the UFC announced the signing of Phil 'CM Punk' Brooks in December 2014, many dismissed it as a publicity stunt. With no martial arts experience to speak of, the prospect of Brooks making his MMA debut on the biggest stage of them all seemed outlandish.
Nevertheless, over 18 months since he officially became a member of the UFC roster, the 37-year-old Chicago native will fight tomorrow night at UFC 203 in Cleveland, where he'll face Mickey Gall in a welterweight bout.
In truth, neither man deserves a place in the UFC based on their achievements. Gall is certainly a promising young fighter but he's been catapulted on to this stage as a novice in order to make the playing field as level as it can possibly be for the former WWE star.
UFC - Ultimate Fighting Championship / YouTube
Having made his professional debut back in November, Gall was brought into the UFC to take on fellow debutant Mike Jackson in February. The prize for the winner would be the high-profile opportunity to stand across from CM Punk in his UFC bow. Gall won by submission after 45 seconds and Jackson was subsequently released.
Gall may be in the early stages of his own career as a professional, but the 24-year-old is vastly more experienced in contrast to his opponent. It's difficult to see this transpiring as anything other than a one-sided affair, and questions must be raised about how such a lopsided match-up has been sanctioned by the Ohio State Athletic Commission, who described it as "a competitive fight" earlier this week.
Brooks has given a good account of himself in his UFC media appearances to date, but the training footage that has emerged from Roufusport in Milwaukee — where he has been working alongside the likes of current welterweight champion Tyron Woodley and former lightweight champion Anthony Pettis — has done little to alter the expectation that he'll be resoundingly defeated.
Challenging himself to this degree is certainly admirable, and although his presence in the UFC hasn't been widely welcomed by other fighters, he deserves respect for stepping out of his comfort zone to such an extent.
Despite being headlined by a heavyweight title fight, UFC 203 wouldn't have performed spectacularly in terms of viewership, but CM Punk will ensure that it's a lucrative night for the organisation when it comes pay-per-view purchases.
With the debutant placed on the main card above veterans like Urijah Faber, it's definitive proof — if it were needed — that recognition as a legitimate sporting organisation will always play second fiddle to generating revenue on the UFC's list of priorities.
UFC 203 (Saturday, 10 September)
Main card (3am, BT Sport 2)
Stipe Miocic vs. Alistair Overeem
Fabricio Werdum vs. Travis Browne
CM Punk vs. Mickey Gall
Urijah Faber vs. Jimmie Rivera
Jessica Andrade vs. Joanne Calderwood
TV prelims (1am, BT Sport 2 & UFC Fight Pass)
Jessica Eye vs. Bethe Correia
Nik Lentz vs. Michael McBride
Caio Magalhaes vs. Brad Tavares
CB Dollaway vs. Francimar Barroso
Early prelims (12am, UFC Fight Pass)
Yancy Medeiros vs. Sean Spencer
Drew Dober vs. Jason Gonzalez