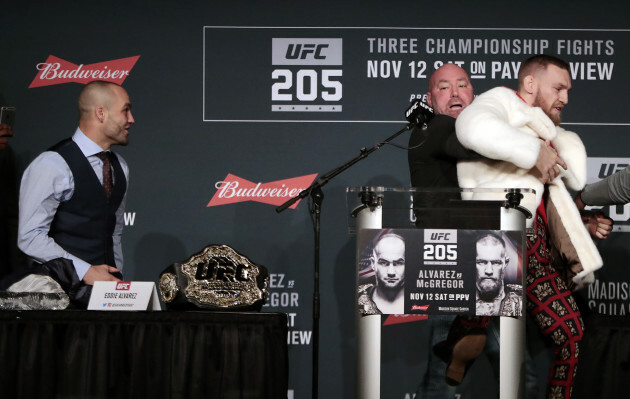 Julio Cortez Conor McGregor is restrained by UFC president Dana White as Eddie Alvarez looks on. Julio Cortez
– Paul Dollery reports from New York
AHEAD OF THE biggest fight of his life, the press conference for Conor McGregor's clash with Eddie Alvarez was never likely to pass off without a flashpoint or two.
On the stage at The Theatre at Madison Square Garden here in New York this evening, McGregor and Alvarez had to be kept apart by UFC president Dana White.
McGregor will fight Alvarez, the defending UFC lightweight champion, in Saturday night's main event at UFC 205. A win for the Dubliner will see him crowned the UFC's first ever simultaneous dual-weight champion. McGregor clinched the featherweight belt last December with a 13-second knockout of Jose Aldo.
As is normally the case, McGregor arrived late for this evening's press conference. His tardiness last August for the press conference for UFC 202 sparked a fracas between the Irish star and his opponent, Nate Diaz. McGregor was later fined $150,000 by the Nevada State Athletic Commission for throwing water bottles and energy drink cans.
By the time McGregor showed up this evening, Alvarez had already exited stage left. Having spoken for five minutes or so in front of the media and a raucous crowd of a couple of thousand fans, Alvarez decided to depart: "I don't even have an opponent. I'll see you guys tomorrow. When he comes, you give me a call."
Shortly afterwards, McGregor appeared on stage in a mink coat. He snatched up Alvarez's belt, the defending champion returned and from there things spiralled out of control.
Submission Radio / YouTube
When the situation calmed down, the pair proceeded to exchange insults in response to questions from the media. Those in attendance lapped it up, and the juvenile theatrics are sure to do no harm to Saturday night's pay-per-view figures.