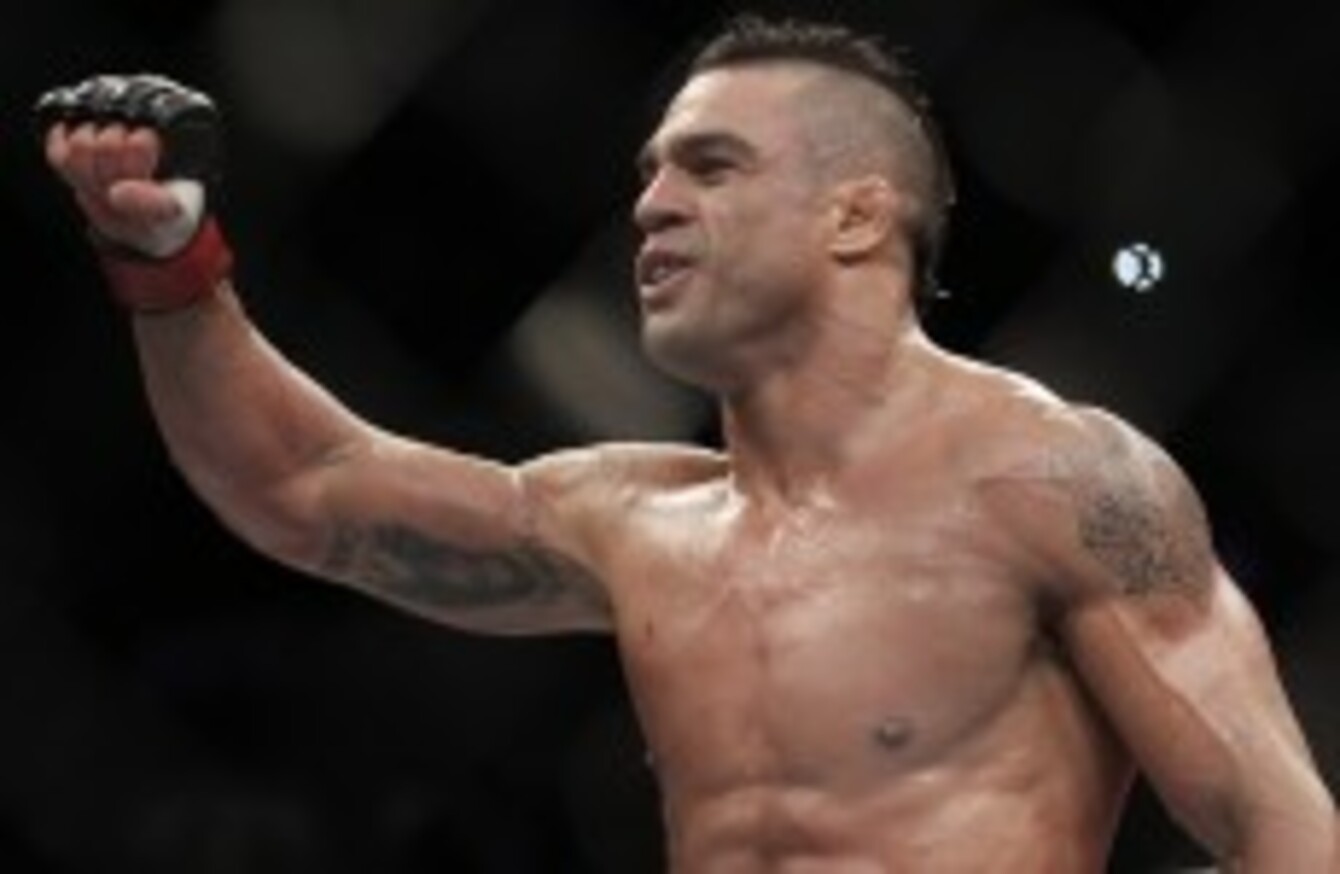 Vitor Belfort will hope for a win this weekend.
Image: Andre Penner/AP/Press Association Images
Vitor Belfort will hope for a win this weekend.
Image: Andre Penner/AP/Press Association Images
TWO OF THE UFC'S elder statesmen will try and roll back the years this Saturday in Brazil as 43-year old Dan Henderson takes on the relatively spritely 36-year old Vitor Belfort in an explosive main event.
Belfort is still harbouring title aspirations while Henderson seems to be slowly on the wind down but Belfort has a score to settle since "Hendo" beat him in the Pride organisation when the pair first met back in 2006.
Every fight on the prelims and the main card has a Brazilian representative involved representing the level of talent in the country so expect a mix of devastating KO's and slick submissions from the likes of Cezar Ferreira, Paulo Thiago and Rony Jason in what is a solid event.
Can Henderson still cut it?
While Vitor Belfort has rediscovered his knack for spectacular KO's in his last couple of fights, Dan Henderson has visibly slowed down but can still count himself a little unlucky to suffer back-to-back split decision defeats.
Despite his apparent downturn, Henderson still poses a legitimate threat as long as he can cock his right hand but over the years, although he is still a strong wrestler, his overhand right has become his last remaining tool to try and win fights quickly.
His days of outwrestling opponents and wearing them down over the course of a fight, just like he did in their first meeting, have seemingly come to an end and inevitably his age has finally caught up with him.
Belfort on the other hand seems like a man reborn emphatically KO-ing Luke Rockhold and Michael Bisping in his last 2 fights and his only 2 defeats in his last 11 have come at the hands of Anderson Silva and Jon Jones.
While "Hendo's" game has dwindled, Belfort's has expanded as he has added an air of unpredictability as well as a dangerous submission offense to his already deadly stand-up skillset. He could be in line to become the first man to stop Henderson via strikes here and is strong favourite to inflict a third defeat in a row to the American for the first time in his career.

YouTube credit: Goku Peladeiro
Best of the rest
Cezar Ferreira has impressed in the UFC since winning TUF Brazil last year, winning his last bout against Thiago Santos in under a minute. His opponent, Daniel Sarafian, is something of a submission specialist as seven of his eight professional wins have come via this method.
He will have his work cut out here though as Ferreira has stuffed every takedown attempt on him so far and his superior reach and stronger stand-up means that "Mutante" is fancied to take this one.

YouTube credit:
UFC
Neither Rafael Cavalcante nor Igor Pokrajac have recent records to write home about but the Brazilian does have some pedigree as he was once the Strikeforce light heavyweight champion. His effort in his last matchup against Thiago Silva earned him a "fight of the night" bonus so we can only hope that he comes out with the same intentions in this bout.
Brandon Thatch has the most realistic chance of upsetting a Brazilian on the main card as he looks to follow up on his "KO of the night" win over Justin Edwards with a repeat performance over Paulo Thiago. The Brazilian Special Forces man won last time out but has lost four of his last six and could taste defeat here again.
Jeremy Stephens snapped a three fight losing streak against Estevan Payan last time out but faces a much tougher opponent, Rony Jason, this time round. Jason has seven wins in a row under his belt and his lethal finishing instincts should be enough to see off "Lil' Heathen" here.