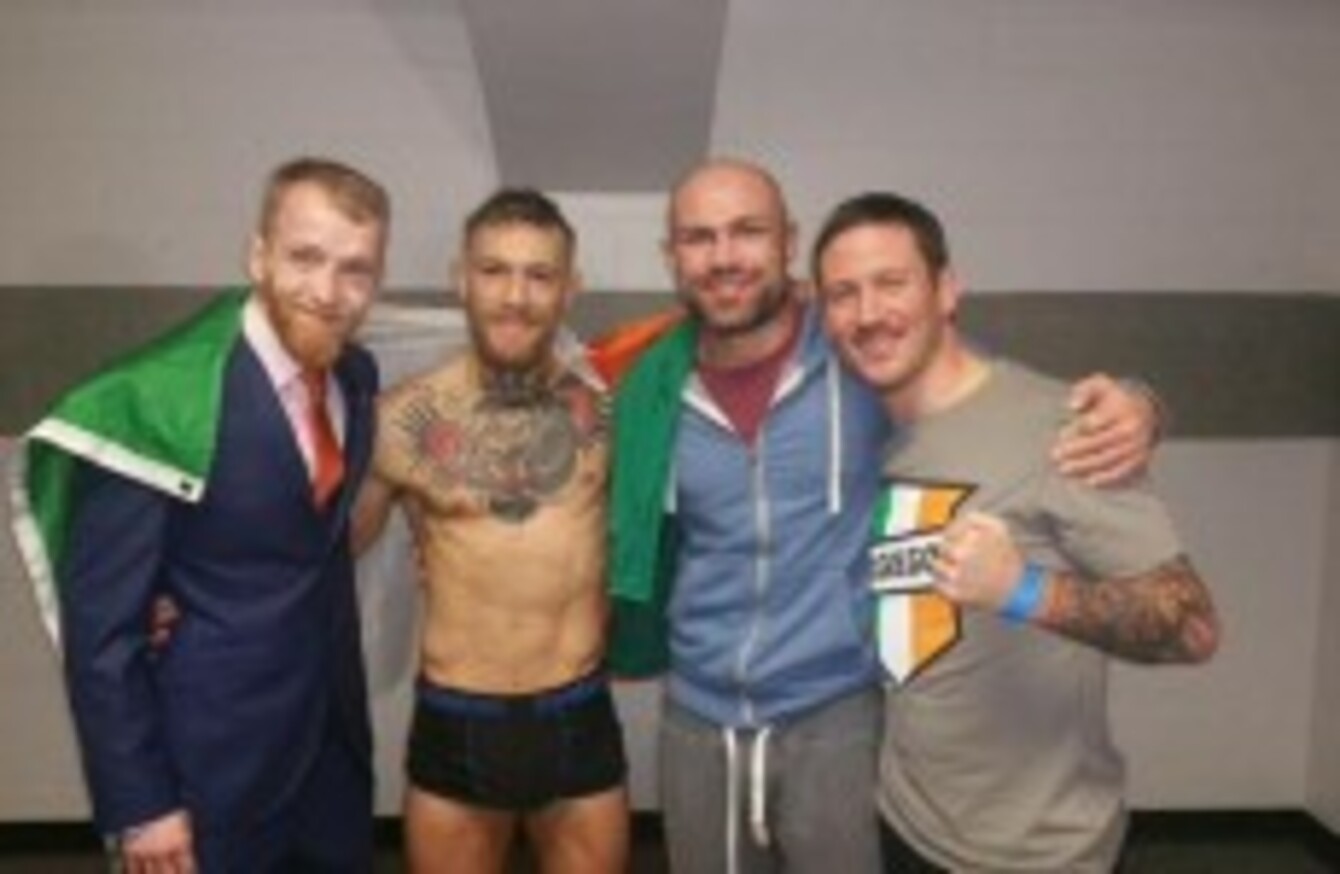 Paddy Holohan, Conor McGregor, Cathal Pendred and coach John Kavanagh.
Paddy Holohan, Conor McGregor, Cathal Pendred and coach John Kavanagh.
- Niall Kelly, reporting from TD Garden in Boston
ONE MAN CAN inspire an invasion but for it to be a success, he needs an army behind him.
The green troops were out in force in Boston's TD Garden on Sunday night as "The Notorious" Conor McGregor cemented his position as the number one contender for the UFC featherweight title.
This was an exhibition, as ruthless as it was measured, and wrapped up inside the first two minutes of the second round. Dennis Siver was willing to stand and fight but in the end, the gulf in class was all too apparent.
When referee Herb Dean stepped in to wave off the fight — McGregor in control astride his opponent and picking clean shots — it must have felt like sweet relief.
Siver, ranked five places below McGregor in 10th, was collateral damage. This performance was intended to send a message and on the off-chance that it had been lost in translation, he hand-delivered it.
While the celebrations raged around him, he vaulted the Octagon and into the crowd to stand face-to-face with the champion Jose Aldo in the second row.
Earlier, Aldo had unfurled a poster for the media which read: "Go Joker, go … make me laugh." McGregor had shown that this was no laughing matter.
"What did you say?" Joe Rogan asked, and got the response of a cheeky kid from Crumlin.
"I dunno. Fuck him."
Before a single shot was thrown in the main event, a McGregor title shot against the Brazilian superstar was already top of most UFC fans' wishlist for 2015. The hype didn't need to be stoked, but it's quickly becoming evident that he is playing by his own rules.
Earlier, he had thumbed his nose — or to be more accurate, raised a single-digit salute — when he felt Siver wasn't engaging in the pre-fight niceties.
But that's to take nothing away from another historic night for Irish MMA. It ended with three wins — two less than in Dublin in July — but there was a special significance to this American tale.
Not that the TD Garden felt like foreign soil. On most evenings there's an Irish feel to this hallowed hall where the Boston Celtics' 17 championship banners hang from the ceiling.
It was estimated that 2,000 Irish fans had travelled over for this event but to judge by the volume of tricolours dotted throughout, not to mention the volume of noise, it could well have been more.
As Cathal Pendred walked to the Octagon to the anthemic beat of Horslips' classic Dearg Doom, you could be forgiven for thinking that you'd been transported back to Italia 90.
But instead of Jackie's Army, this was Johnny's Army. SBG Ireland head coach John Kavanagh celebrated his birthday in Boston on Sunday; the undisputed Godfather of Irish MMA got a present that he will never forgot.
While the New England Patriots were starting to make mincemeat of the Indianapolis Colts in the AFC Championship game across town, Paddy Holohan was every bit as dominant in victory against Shane Howell.
The Tallaght flyweight suffered the first defeat of his career when he lost a split decision to Chris Kelades last October.
But he proved that night in Nova Scotia was long forgotten with a dominant 30-27 win on all three judges' cards.
As he took control in the opening round, the crowd caught a glimpse of McGregor watching intently on the screens in his dressing room, savouring the performance of his SBG Ireland team-mate.
Another first-round submission looked to be on the cards when Holohan took Howell's back early in the first but somehow, the American managed to fend off the rear naked choke and escape.
Bleeding from his nose, Howell tried to come forward in the second and third rounds but he was outfoxed and outfought to the final horn.
That's an charge you could never level at Cathal Pendred who once again proved that he just doesn't know when he is beaten.
His unanimous decision win over Sean Spencer was by far the most controversial call of the night — particularly the decision of two of the ringside judges to score it 30-27 in his favour.
In the first round in particular, "The Punisher" became the punished, shipping two big right hands, one of which sent him to the canvas.
To Pendred's credit he recovered well, and did so again in the second when Spencer connected with another overhand right.
There was a niggling sense that Spencer had landed the more telling blows but the stats count showed that not only had Pendred won the takedown battle four to nil, he also landed more strikes and had a higher accuracy rate.
None of that lessened the surprise when the scores were delivered. "Robbery" was Joe Rogan's verdict but speaking to the media afterwards, Pendred insisted that he had done more than enough over the 15 minutes to take the verdict.
The only blip on the night came when Antrim's Norman Parke lost a narrow split decision to Gleison Tibau, ending a five-year unbeaten streak.
Elsewhere there was a big win for fan favourite Donald "Cowboy" Cerrone against Benson Henderson while Uriah Hall's middleweight scrap with Ron Stallings was waved off in the first with Stallings sporting a serious cut on his left eye and cheek.
Those fights are in the books but they will forever be a footnote to another historic chapter of the Irish invasion.