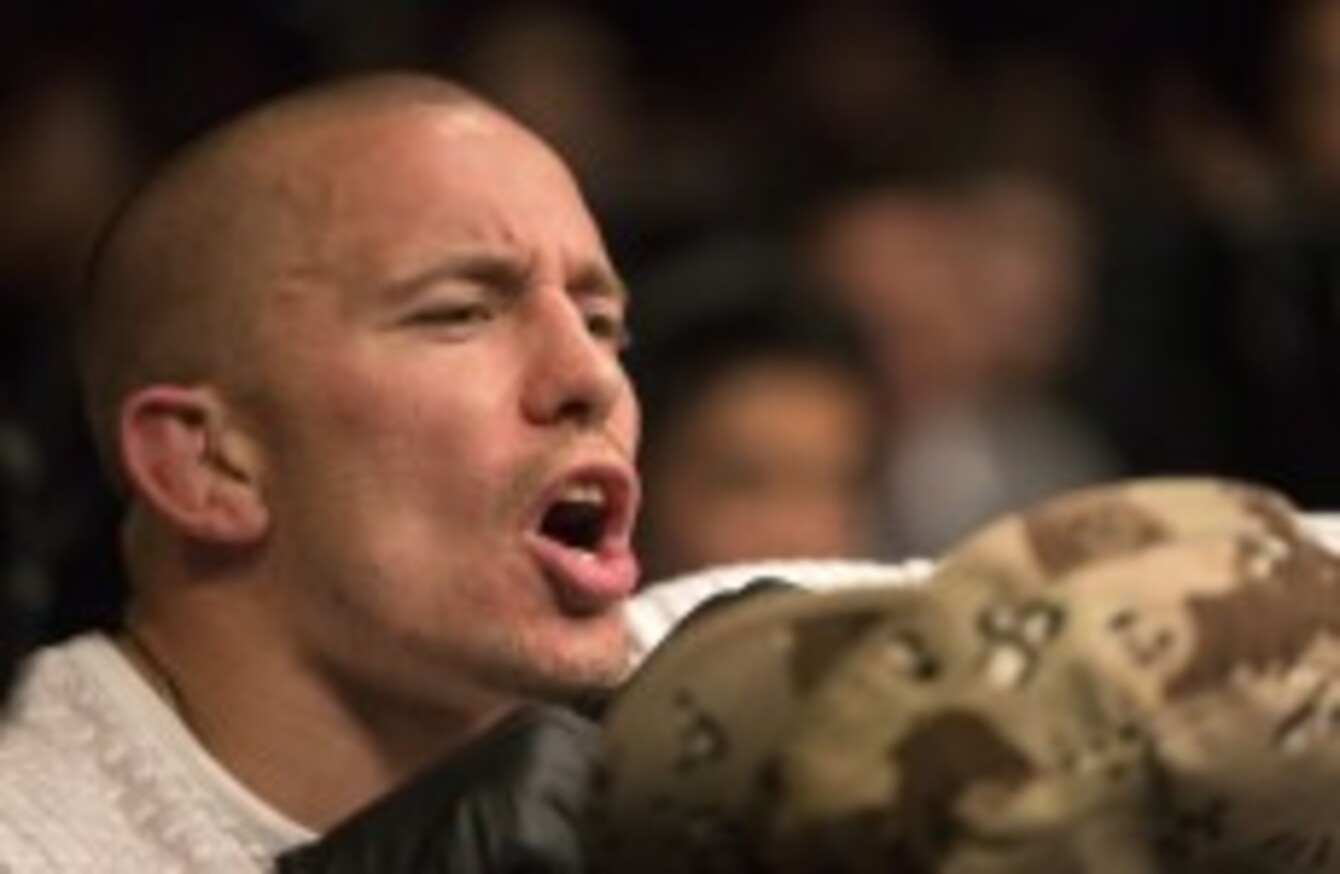 Image: Chris Young/The Canadian Press/Press Association Images
Image: Chris Young/The Canadian Press/Press Association Images
TRADITIONALLY ON A 20th anniversary couples would exchange gifts of China or something equally outdated and unwanted.
But as fans, Dana White is celebrating 20 years in business and as a gift the UFC is presenting us with arguably the fight of the year in Georges St Pierre against Jonny Hendricks.
The main event serves only to be the icing on the cake on a strongly stacked card as the likes of Donald Cerrone, Brian Ebersole and Erik Perez provide the hors d'oeuvres before Chael Sonnen, Rory MacDonald and Josh Koscheck tickle our palate on a night of some tasty battles.
GSP looking to derail "Bigg Rigg"
It is quite fitting that one of the UFC's biggest stars should be used as a main focal point in their 20th anniversary celebrations and Georges St Pierre has long since been one of their most bankable men and largest draws.
His relatively clean-cut attitude, respectfulness and will to win have made him one of the beacons of the organisation and he is currently astride an 11 fight win-streak with his loss to Matt Serra the only real blemish on an already outstanding career.
St Pierre has fought and beat the best of the UFC's welterweight division and has faced similar fighters to Johny Hendricks before but there seems to an air of change approaching and many feel that Hendricks may be the man to dethrone the Canadian. Maybe it's because Chris Weidman's victory over Anderson Silva is still fresh in people's memory but the feeling that an upset could be on the cards is growing.
Hendricks is a huge welterweight whose power was evident in his KO wins over Martin Kampmann and Jon Fitch. Couple this with his very strong wrestling game does indeed make him a formidable opponent for St Pierre.
While GSP certainly hasn't been lauded recently for his exciting fighting style, he always finds a way to win and on paper, if he manages to avoid Hendricks' power shots he should be en route to another decision victory.
But the nagging thought, one that surfaced after his last win over Nick Diaz, is the Georges could be ready to call it quits having lost some motivation and if he has lost some of his fight, Johny Hendricks won't be giving him any sympathy and will happily snatch that belt come Saturday night. Either way, it promises to be an intriguing main event.
YouTube credit: SandmanMMA
From friends to foes
Chael Sonnen and Rashad Evans have sat beside each other on numerous Fox TV broadcasts offering their expert opinions on previous events but on Saturday night they meet each other across the Octagon in an entirely different professional capacity.
Sonnen looked to have missed to boat on his goal of obtaining UFC gold before he retired when he was beaten comprehensively by Anderson Silva and Jon Jones but his huge draw means he is still somewhat in the mix albeit quite far away from another title tilt.
He is already booked in as a coach against his latest fierce rival Wanderlei Silva in the next series of TUF Brazil regardless of the outcome of this fight but his bout against Rashad Evans should provide maximum entertainment nevertheless.
Evans bounced back from a hugely disappointing defeat at the hands of Antonio Rogerio Nogueira with a solid victory over Dan Henderson and a win over Sonnen here would elevate him to contender status in the light heavyweight division once more.
Both men are strong wrestlers but Evans possesses the more fluid stand-up game which could provide the key to victory here but if Sonnen smothers him with his aggressive and relentless pace then a clean hit could prove difficult to come by for "Suga".
While a stoppage for Evans isn't entirely out of the question here he is more likely to win by sticking and moving but Sonnen cannot be ruled out due to his sheer desire to win. If Evans can avoid being worn down he should get his hand raised come the end of this fight.
YouTube credit: Octagon SportTV
Best of the rest
One-time top welterweight contender Josh Koscheck has had his fair share of injury problems over the past two years with his KO at the hands of Robbie Lawler in February last time out highlighting his prolonged fall from grace.
His opponent, Tyron Woodley, is 1-1 since his move from Strikeforce with a spectacular KO of Jay Hieron followed by a close split decision loss at the hands of a somewhat resurgent Jake Shields. Woodley's superior speed and heavier hands means he should overcome a diminishing Koscheck.
Rory MacDonald has been heralded as the natural successor to GSP once he decides to call it a day but he would need to improve on his performance against Jake Ellenberger if his dream is to come to fruition.
This bout against Robbie Lawler is very much a case of brains versus brawn as the notoriously cerebral MacDonald will have to deal with the overzealous style of Lawler. If he can avoid being drawn into a brawl, MacDonald is favourite to bounce back here and issue a statement of intent to the rest of the welterweight division. Tim Elliot versus Ali Bagautinov completes the main card.