FRIDAY NIGHT WAS a good one for the Ulster academy and for the northern province as a whole, with seven of their young players starting for the Ireland U20s in a Six Nations win over Scotland.
With a further two Ulstermen on the bench for Ireland, the province will be hopeful that this was a sign of things to come in the next few years at senior professional level.
With Ulster in the doldrums at present, with director of rugby Les Kiss having left by mutual agreement and head coach Jono Gibbes on his way out at the end of the season, questions are understandably being asked of the province in all departments.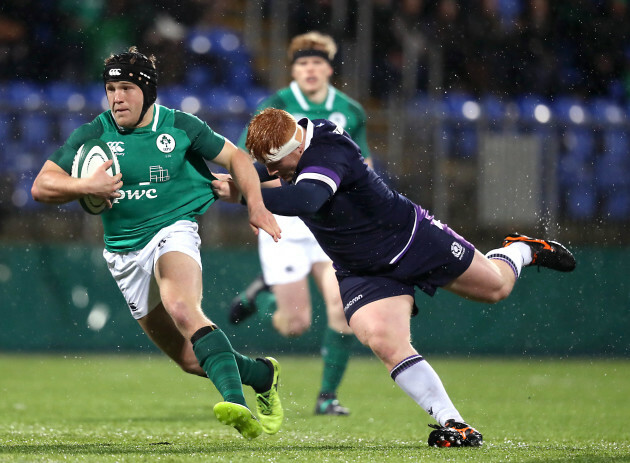 Tommy Dickson / INPHO Angus Curtis was one of nine Ulster players to feature for the Ireland U20s on Friday. Tommy Dickson / INPHO / INPHO
The academy hasn't escaped the critical attention, with many supporters wondering whether there is a sufficient number of homegrown players coming through – particularly up front – and whether they are of the required quality.
Former Ireland and Ulster scrum-half Kieran Campbell is the head of the province's academy and, as such, is the man tasked with ensuring that those questions are answered on the pitch.
"There's been a huge concentration on the academy in the last two to three seasons and that's been incredibly important," says Campbell, who took up his position full-time in March 2015, when asked to assess how the Ulster academy is performing.
"We're trying to develop a cycle of players continually coming through. If we're being honest, that hasn't been there before but it's something we feel we're on top of at the moment.
"We will see a growth in not only the number of players coming through but the quality of them coming through. That's important because they have to perform for Ulster but also perform for Ireland. That's our driving goal."
Throughout the conversation, Campbell is keen to underline his points with figures and facts.
He says that Ulster had 17 underage internationals in 2015/16, rising to 26 last season and that they are on track to increase that again in the current campaign.
"Is it perfect yet? I'm not trying to tell you it is," continues Campbell. "It's going to take another bit of time to really bring it to fruition in the first-team squad, but I think this year we've got decent representation in the U20s and that's often a benchmark of guys that will move on to the next level.
"When you look at it in that context, we're building and that's a signpost that we're building effectively. We've got to make sure that transition comes through."
Indeed, this is the very real challenge for Ulster. They have had many promising U20 internationals in recent years who haven't progressed into their senior squad in an impactful way.
But Campbell says Ulster have become far more diligent with their planning around ensuring that the latest crop of promising players gets exposure, and he is keen to stress that one size does not fit all.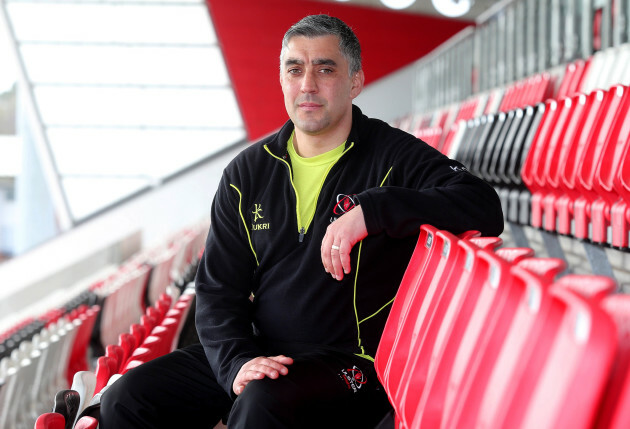 Presseye / Jonathan Porter/INPHO Kieran Campbell is head of the Ulster academy. Presseye / Jonathan Porter/INPHO / Jonathan Porter/INPHO
He uses number eight Nick Timoney as an example. Now in his third and final year with the academy, Timoney has started 12 games for Ulster this season, having played three times off the bench in the 2016/17 campaign.
"The outside perception is that everything isn't as it should be but we have a succession plan with [operations director] Bryn Cunningham here and it's hugely strong," says Campbell.
"Dwayne Peel, Aaron Dundon [both senior team coaches] and I work daily on looking at how these academy players are going to integrate into the senior team – when are they ready to integrate, what's the plan for them for the next four, five, six months?
"It's not by chance that Nick is getting games, that's planning to make sure he gets up there and stays up there.
"If you look at the opportunities that guys like Matthew Dalton, Aaron Hall, Jonny Stewart, Johnny McPhillips, Robert Lyttle are getting – people think they're being picked off the shelf and put in, but that's months of planning.
"'Is this kid ready now? Is he going to stay at that level when he gets up there?' – that's all part of the planning.
"Conversely, for the likes of Matthew Dalton and Johnny McPhillips, it might be giving them a little taste here and there to see how they're getting on. They might drop back now and probably get more senior game time before the end of the season.
"It's as scientific as we can make it. You can never truly be sure how a guy is going to react until he's out there but we're trying to do it in a way where we've been planned, as in Nick's case – where we just release him and he's going to get 10, 12 caps in a row."
While the Ulster academy has undoubtedly produced excellent backs like Jacob Stockdale and Rob Lyttle in recent years, one of the big question marks is around its ability to get homegrown Ulster forwards into the senior squad.
Again, Campbell admits that the province has fallen short here in the past but he is confident that the issue is in the process of being remedied.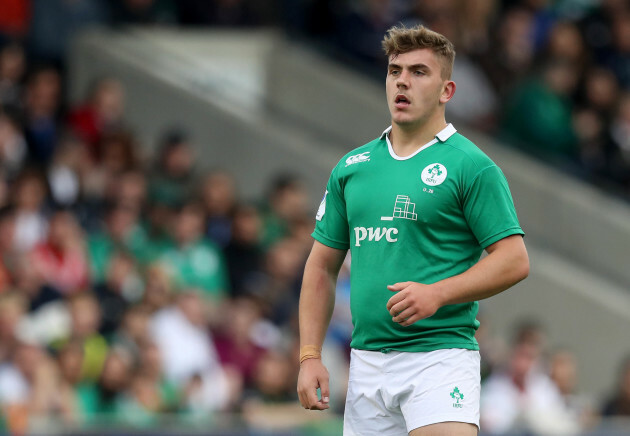 Ryan Byrne / INPHO Adam McBurney, who was part of the 2016 World Rugby U20 Championship dream team, has featured at senior level this season. Ryan Byrne / INPHO / INPHO
"That is a challenge and it's something we've really been pushing hard on lately," says Campbell, who has visited Premiership academies in England to study their methods. "We've put in a real succession plan and push to get more forwards into the academy.
"Last year in the academy, we had an intake of 12 players into Year 1 and eight of them were forwards.
"Overall, if you look at the academy, there's 20 in the academy and 14 of them are forwards. There is a real push on to make it happen, to grow the forwards who are coming through."
Campbell believes the positive signs are already there for those willing to look, highlighting the likes of Matthew Dalton, Adam McBurney, Ross Kane, Aaron Hall, Matthew Rea, Nick Timoney and Greg Jones as forwards who have already been capped at senior level.
The final two players in that list are Leinster players by birth, while Birr man Jack Regan and Dubliner Eric O'Sullivan are two more underage Leinster players to have joined Ulster's academy in recent times.
Senior lock Alan O'Connor came through Skerries RFC before missing out on a spot in Leinster's academy, but Ulster offered him a shot at professional rugby and he has since racked up games with the province at senior level. Scrum-half Dave Shanahan, formerly of Belvedere College, has done something similar.
While some critics argue that Ulster taking Leinster-born players into their academy system shows a weakness in the northern province's pathway, Campbell sees it as a strength.
"I'm not scared to take someone from Leinster," says the 38-year-old. "In 2016/17, of the players in our academy, 88% were from Ulster.
"Last year we had 75% from Ulster and next year the projection is that 86% will be from Ulster. We're always going to have guys like Angus Curtis, who came from outside Ulster originally, or a Nick Timoney or a Greg Jones or a Jack Regan.
"For me, that is a strength of the Irish system. The connectivity between the academies is huge. The other thing is that I've coached all those boys with underage national teams so I know them very well.
"If I have 86% of Ulster players, it makes sense to get guys who can go to the next level from somewhere else, rather than bringing in someone who's not the requisite quality.
"That could change. The way our programme and pathway are building, we might have 100% from Ulster in the future, but right now with the building of the pathway, I have to accept that we have a small percentage of guys who are Irish-qualified from outside the province.
"Alan O'Connor and Nick Timoney have been good examples of doing it the right way, and they've come through our structures. Peter Smyth [academy manager] in Leinster would have no problem saying that they've come through our pathway, our academy.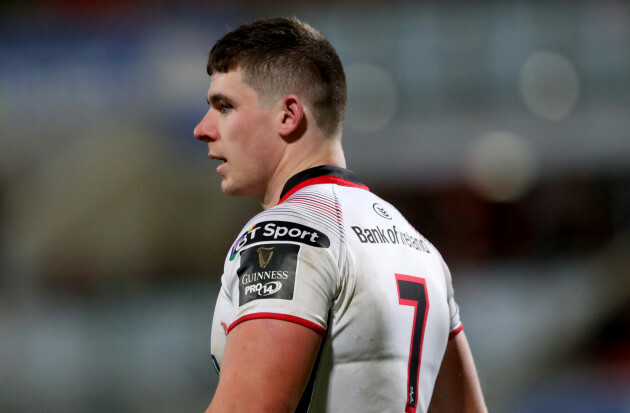 James Crombie / INPHO Nick Timoney has impressed for Ulster. James Crombie / INPHO / INPHO
"We say to Nick and Greg that they might not be from Ulster but they're made in Ulster. Those guys are hugely important, they're quality rugby players."
While Ulster have turned to Leinster for a handful of academy players, Campbell is also quick to underline that they have been broadening their net within their own province too.
Donegal native and back row Joe Dunleavy, who made his U20s debut on Friday night, joined the academy at the start of the season after rising through the ranks of his home club Letterkenny RFC and then City of Derry.
"We're not going down the traditional route," is how Campbell puts it when he explains that the youths system – i.e. underage club rugby – has become a greater focus for Ulster's academy.
"In the last two or three years, we've had a massive push in our youths game in terms of getting players. Guys like Aaron Hall and Adam McBurney and Joe Dunleavy from Donegal – which is a big difference for us to start getting players from Donegal and Cavan, where we haven't before.
"Four players from the youths game came into the academy this year.
"If you look at Sean O'Brien in Leinster or even here in Ulster if you take Stephen Ferris, who came out of the youths game, they're the type of forwards – whatever it is – that provide a harder edge.
"Maybe that's objective but when you look at Sean or Stephen, there's no doubt there's an edge there. They have that kind of mentality and there's something more aggressive about their game. If you look at our forwards push, that's been part of it, that investment in the youths game. We're trying to produce guys who have a little bit more edge.
"We've got that with some of the names I've mentioned and we've got another couple of kids from Donegal who are coming through at the moment, and most importantly they are in the second row. The players are there, but it's just about pushing the boundaries to go and get them. We have to look at the wider region.
"My indigenous family are from Donegal so I would know there's not a huge following for rugby traditionally and when I speak to my Dad, who's from Ardara, he follows rugby but he's amazed when I tell him that we have kids from Donegal on the pathway."
The schools games will continue to be a prime source of young talent for Ulster's academy, but Campbell says that even in that tried-and-trusted area, the province is looking to ensure they are not as blinkered as they have been in the past.
"If you take our U18 Schools team that won the inter-pros last year, there were 17 different schools represented and players from 15 different schools played.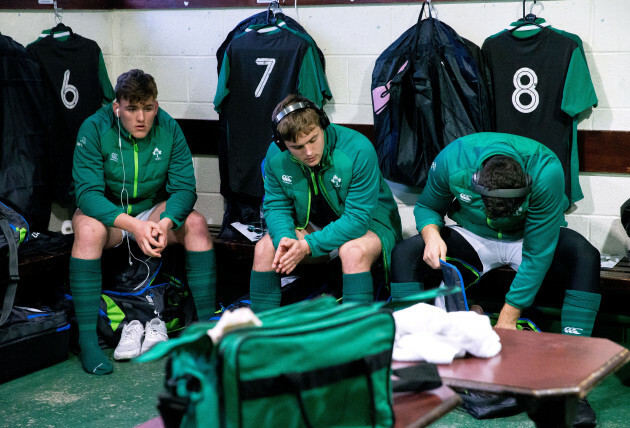 Gary Carr / INPHO Joe Dunleavy [left] came through the ranks of Letterkenny RFC. Gary Carr / INPHO / INPHO
"If you look at our academy, we have four of the 20 who are not coming from those big schools. So it's not based on that anymore, the pathway and the programme has extended beyond that."
When the players actually get into the academy, it's obviously vital that they are playing rugby of a high enough quality to continue their development.
Campbell says Ulster's British & Irish Cup team has improved in recent years with a strong input from academy players, reaching the quarter-final stage for the past two seasons -  a first for the province.
A trip to Bedford Blues on 31 March for this season's quarter-final will be important in continuing that improvement, but Campbell also says that playing Ulster Bank League club rugby is crucial for his academy prospects.
"We've been doing studies to make sure that we get the context of the appropriate number of games to bring a guy through," says Campbell.
"The boys are playing somewhere between 20 and 25 games a season. On average with our boys, even with injuries, you're talking somewhere around 13 or 14 club games a year.
"So around 60% of their rugby is coming playing for their club, not an insignificant amount."
One of the issues for Ulster is that the province currently doesn't have any Ulster Bank League clubs in Division 1A – perhaps indicating that they haven't done enough to support them.
Ballymena and Dungannon, who have both previously won the All-Ireland League, are now in Divisions 1B and 2B, respectively, and not in contention for promotion.
But Campbell says that with Banbridge currently top of Division 1B and Ballynahinch just three points behind them with a game in hand, as well as Malone strongly leading the way in Division 2A, progress is being made.
"It's hugely important that we help and support them, and the other clubs, as far up the leagues as we can. We need teams playing higher up.
"If the boys are going to be playing 13 or 14 games for their club, they need to be at the right level. 1A is the right level and it's going to impede their development if they're not playing at the highest level possible.
Morgan Treacy / INPHO Matty Rea made his way into professional rugby through performances with club side Ballymena, eventually joining Ulster's sub-academy. Morgan Treacy / INPHO / INPHO
"They are getting a considerable amount of club games and that is supporting the clubs. Hopefully, that's going to have an impact and, fortunately, Ballynahinch and Banbridge are going well in 1B, Malone are going well in 2A."
So while there may be doom and gloom around Ulster for many reasons at the moment, Campbell is confident that the academy is beginning to show signs of its hard work in recent years.
His expectation is that the best is yet to come.
"I am not saying this is perfect, but it's a building process. We've gone really heavily at it in the last three years. This year, in particular, I think we're starting to see the fruit of that.
"Where the pressure is on us is that this group needs to start coming through now. That is going to be the reflection of that labour. We've got to get it right, not only on the academy end but as a province.
"There's no point in denying that we'd all like to have the success that Leinster have had but that's been built on the back of quality homegrown players and that's something we've got to make sure happens in the next few years."
The42 is on Instagram! Tap the button below on your phone to follow us!