Former Ulster full-back Adam D'Arcy gives us his take on this evening's crucial RaboDirect Pro12 encounter.
THE LOCAL DERBY. Province versus Province; mate against mate. It is more than just another match in the season.
At the start of each year, the marketing department get together, run their fingers down the fixture list, and highlight these matches. It is because they are always the most attended matches of the season, and are sold out months in advance.
Those that can't make it to the game, fill pubs and homes across the country, glued to the television. Particularly in Ireland, it is the history and tradition of these games that provoke such interest, where generations come together to reminisce of past battles, sharing stories and friendly banter over a few (or more) beers.
For the players on the pitch, it is just as important. It gives them a chance to go head to head with with a guy who may be in possession of that green jersey that they want, or are in battle with it for.
Often these matches don't live up to the hype, the familiarity of each others game plan and the knowledge of the way individual players operate, causes a slow, defence orientated 80 minutes that is about as enjoyable to watch as it is to play in. This evening's Ulster versus Leinster clash is set to be anything but a boring affair for those reasons already mentioned, plus the several important factors that a loss would bring at this stage of the season.
Both Ulster and Leinster are out of Europe, losing in each of their respective quarter finals. The Heineken Cup is the one trophy that every club player wants to win, given its history, and the right to be crowned the best club in Europe. To win it, you have to leap a number of hurdles, embarking on tough international away trips, negotiate the group stages, then fight your way through sudden death matches before reaching the final.
Leinster have tasted Heineken Cup victory on three occasions, and Ulster have recently shown their intent to do the same, after years of under-performing. Winning a Heineken Cup is top of the goal-list, but having any sort of trophy in the cabinet at the end of the season is equally important. Teams are judged by the titles that they win, not by how close they got and how many semi finals they appeared in.
The RaboDirect Pro12 is one of these titles that Leinster and Ulster want, and you could argue it would mean more to them than a Heineken Cup. This is due to the fact that the competition lasts the whole season and  that every member of the squad has contributed. To win it, you have to be a complete team and have been extremely consistent, enduring Six Nations campaigns and autumn internationals along the way. It is a marathon.
Both teams currently sit in a play-off position. Leinster have already secured their spot and Ulster need only one point from their remaining two games to be assured of theirs after the Ospreys shock defeat to Zebre in Italy last night.
However, it is the carrot of a home semi final dangling in front of both sides that will set this game alight. A win for Leinster would ensure a semi at the RDS, and a loss for Ulster would see this game as being the last to be played at the revamped Ravenhill this season.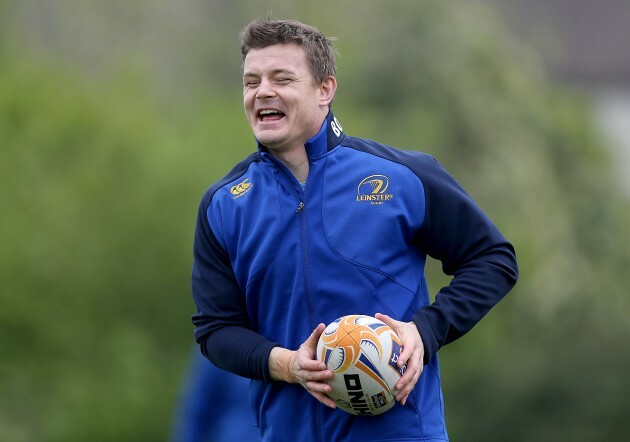 Donall Farmer / INPHO Brian O'Driscoll is set for what should be his final match at Ravenhill. Donall Farmer / INPHO / INPHO
The game also sees the return of Jared Payne after suspension ruled him out of Ulster's previous two games, in which he was severely missed. He lines up against Brian O'Driscoll in the centre, in one of those clashes, mentioned earlier, that could spell a changing of the guard at international level. If Payne can limit the influence of O'Driscoll as well as making his own personal impact on the game, it will send a strong message to Joe Schmidt, who will be a keen observer in the stands. It may also be the last time the people of Belfast get to see the most capped international of all time too, which is worth the price of entry alone.
Given their respective spots on the table, and the greater provincial and European success that Leinster have, you could argue that Ulster has a lot more to lose going into this contest. Try telling that to the Leinster players. These are the games you remember.
– @adamdarcy played 54 times for Ulster from 2010 to 2013. He is currently with English Championship side Bristol.