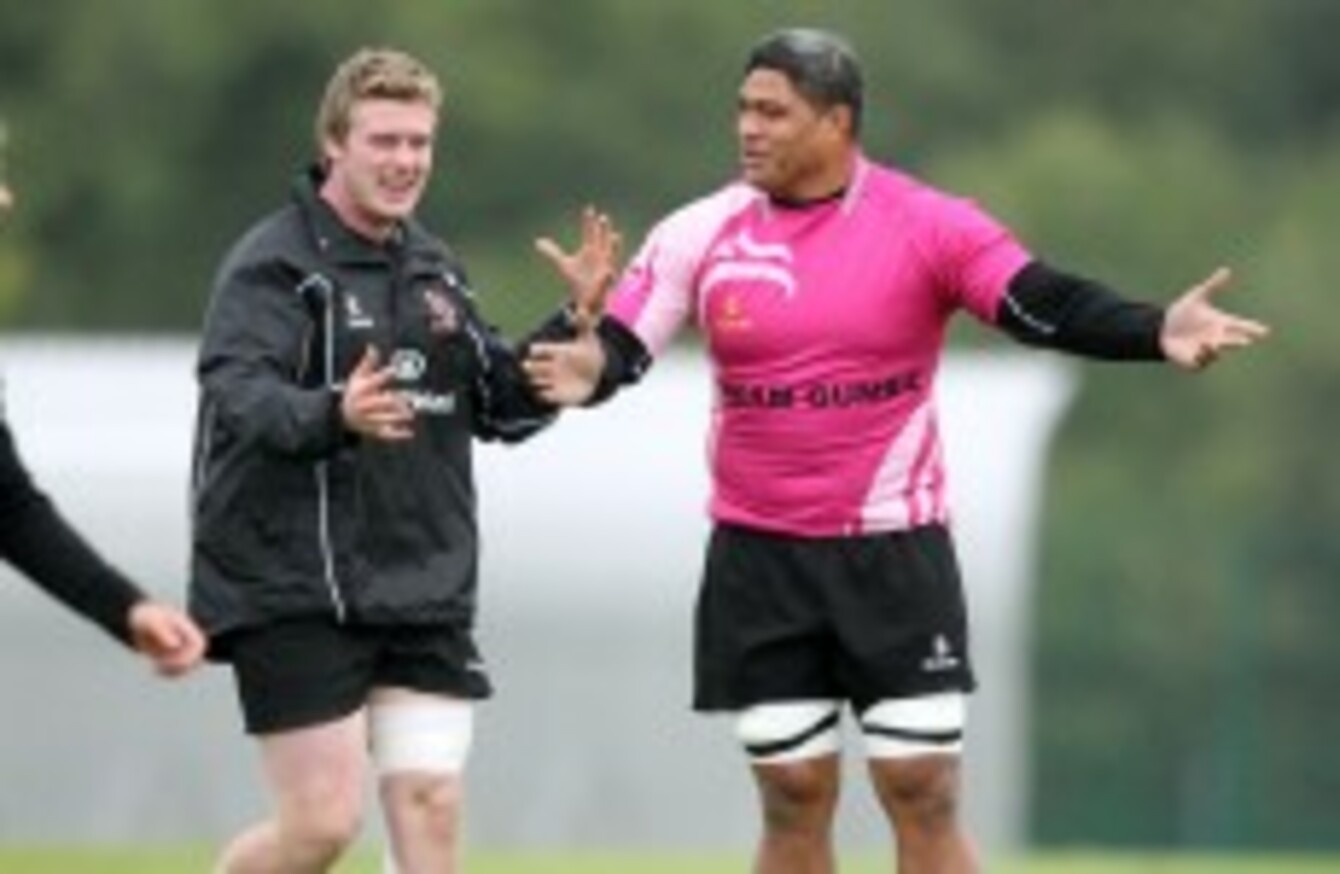 Niall Annett and Nick Williams (possibly) discuss the catch of the day.
Image: INPHO/Presseye/Darren Kidd
Niall Annett and Nick Williams (possibly) discuss the catch of the day.
Image: INPHO/Presseye/Darren Kidd
NIALL ANNETT CAN recall trips to Ravenhill, with his father, when he was 10. A dozen years on and the hooker is now firmly in the Ulster set-up and hoping to be involved in the home Heineken Cup quarter final with Saracens.
The Belfast native played in a tight Ravens win over Cornish Pirates last Friday and watched Ulster's excellent 22-19 win over Leicester with a group of teammates, in Portstewart, the following evening. "Nerve-wracking" was how he described the experience but Ulster's guts and character got them over the line.
While many of the Ulstermen have now joined up with the Ireland squad ahead of the Six Nations, Annett and the rest of his teammates have been given the week off. The 22-year-old will visit the club's training facilities at Newforge during the week but has some studying in mind too. Annett is one of 16 senior players to take part in an IRFU Level 3 coaching course.
He told TheScore.ie, "The course qualifies you to teach in schools up to first XV level. Ulster Rugby put it on in association with our IRUPA [players' union] branch. As we are often pushed for time, it is a sped-up course. I have been lucky enough to get involved and I just have to get my practicals done.
"The course helps you see rugby from a coach's perspective. It allows you to step back and think about the shape of the team and general movement. There are modules on forwards based stuff so I have enjoyed that. It has helped me, big time. We often get caught up in focusing on our own games but it is helpful to look at the game through the eyes of the coach."
Other teammates taking part in the course are senior stars such as Rory Best, Roger Wilson, John Afoa and Jared Payne. Annett believes Best is a coach-in-the-making whenever he hangs up his rugby boots. "He is a massive leader in the senior team and would make a brilliant coach. He often takes the talks with the lads and is a powerful speaker and motivator. He's someone I look up to and he could definitely do well in coaching."
Rory Best and Roger Wilson discussing coaching class, no doubt, at Ulster training. INPHO/Presseye/Darren Kidd
Annett is finding the course extremely helpful with his coaching of the Medallion [Junior Cup] team at his old school Methodist College. He captained the Methodist team, which contained Craig Gilroy and Michael Allen, that won the Schools Cup in 2009 and retains 'a strong affiliation' with the school.
Annett said, "I have been involved with the coaching team there for a couple of years and I absolutely love it. It is enjoyable and challenging. Coaching is certainly a career I would consider after my playing career finishes."
Many Ulster players are involved in coaching of schools sides and Annett's team has already fallen afoul of the Campbell College team that had teammate Rory Scholes on the sidelines. "They bet us in the Shield," recalls, "and he hasn't let me forget it."
The 15-times capped Ulster hooker is helping to prepare the schoolboys for their upcoming Medallion Shield campaign. Annett has some new coaching tricks up his sleeve but insists he will not be giving them away.
Like rugby? Follow TheScore.ie's dedicated Twitter account @rugby_ie >