The following Adam D'Arcy feature is reproduced with permission from the @IRUPA magazine.
IT WAS THE first time I'd seen him lose it. Standing on the ninth tee box at Shandon Park Golf Club on a bitterly cold Belfast morning, he astutely and confidently approached his ball in the same cool, calm and collected way he would a place kick at Ravenhill.
I stood behind embarrassed, having just pathetically trickled my drive 50 yards down the fairway, and expected his to soar over mine, looking down at it with disrespect as it did. I was shocked, and a little bit relieved at what followed.
His swing was smooth and measured, his head down, and as he connected, the follow through was strong. All which should have produced the perfect golf shot. We both looked up, expecting a fine stroke that would put him on course for an opening birdie. But it wasn't, far from it. It was horrible.
It hooked through the sky like a boomerang (this wasn't coming back though) as it woefully whistled across 2 fairways eventually resting next to the buggy of a foursome on the 13th green.
A plethora of what I could only imagine were Afrikaans expletives were released like a thunderclap from his mouth, as he baseball swung his club across his body in reaction to what only could be described as a 'shank'.
I couldn't believe it. Here was a guy, who had been in more pressurised high intensity situations than many of us will be in our lifetime, competing in World Cup and Tri Nations games where a nation's pride was on the line, and never once had lost his cool, having a Long John Daly 'Wild Thing' episode. He was human after all.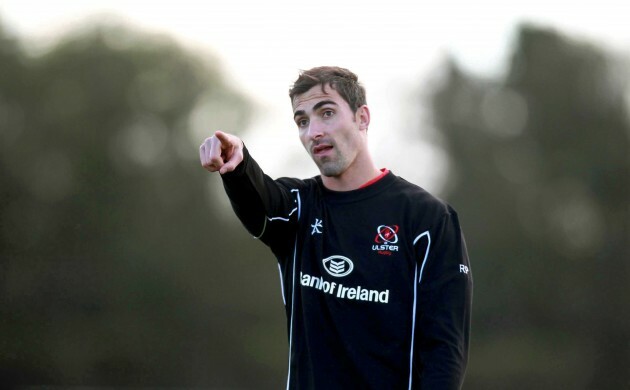 Presseye / Darren Kidd/INPHO Pienaar: Unflappable, most of the time. Presseye / Darren Kidd/INPHO / Darren Kidd/INPHO
This is not just another article about Ruan Pienaar. The 29-year-old, 74-times capped Springbok international, supremely naturally talented and influential scrum-half that many of Europe's newspapers have been lauding recently, given his recent match-winning performances for Ulster in the Heineken Cup. This is about the character behind the headlines. The ultimate professional, hard working, down to earth family man that few see, the challenges that he faced when he arrived in Belfast, his life in Ulster, and what the future holds.
I hadn't spoken to Ruan since I left Ulster last June, but when I rang him to ask him a few questions for this piece, it was like I'd seen him yesterday. His general laid-back nature and approachable character makes him so easy to talk to, and the reason he fitted so well into the squad when he first arrived in Belfast.
I remember him being quiet and reserved at first, more concerned with listening and taking everything in, but before too long he was making impacts both on and off the field, coming out of his shell to portray a clever wit and a great sense of humour. He admits to not knowing a lot about Belfast when he first arrived, and remembers that it was a huge decision for him and his family to move to the Northern Hemisphere and enter into a foreign environment.
At the time when I moved. I had only been married a couple of months, so it was a challenge convincing my wife to move to a country with a much colder climate than South Africa"
However, when he arrived in Belfast, he immediately was drawn to the benefits of living in a much smaller city than his home town of Durban in South Africa. From a lifestyle point of view, and more importantly for his family, everything that they needed was within arms distance. He commented, "Belfast is a very easy place to get to know. Everything you need is within 10 minutes drive. There are hospitals, shops, cafes, and training is close by. This was important for myself and family."
The weight of expectation from coaches, players and in particular supporters was immense. He arrived at Ulster with a CV that included Currie Cup, Tri Nations, and World Cup winners' medals, and people expected him to perform as soon as he touched down. This wouldn't have been easy given the new culture that he'd entered into. But like most things, it didn't affect him the way it might have others.
Obviously I was nervous, I wanted to perform to the best of my ability, but once I played my first couple of games, and got to know the boys, it was an easy transition."
As a fellow foreign tourist into the Ulster camp, I acknowledge how difficult it can be to move to a new country, with a new culture, and how important it is to have help from friends to help you settle in. For me, I was lucky to have Strength and Conditioning coach Kevin Geary as well as Tom and Cath Court among others, to help guide me through the first few weeks of my time, which are traditionally the most difficult, as you question whether you have made the right decision or not.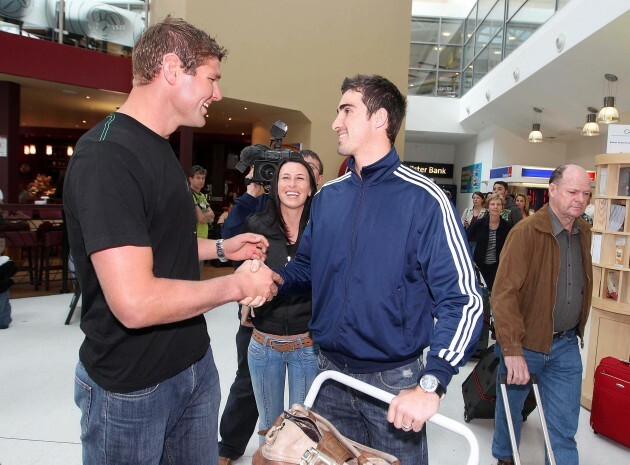 Presseye / Jonathan Porter/INPHO Johann Muller greats Pienaar at Belfast City Airport in 2010. Presseye / Jonathan Porter/INPHO / Jonathan Porter/INPHO
For Ruan, it was his fellow South African and ex Springbok teammates who provided this to him and his wife. "I was lucky to have Johann [Muller], who had been in Belfast for a few months prior to when I arrived, as well as Pedrie Wannenburg to help me settle in. David Humphreys has also been a great helping hand to me and my family and the Ulster guys are a great bunch," he said.
The help and support he received off the field was key to him performing on it, as he immediately was showing his talent with match winning drop goals in games against the Dragons and Scarlets, as well as playing a central role in Ulster's first qualification to the Heineken Cup knock-out stages in 12 years.
He has been able to maintain this exceedingly high standard, getting even better as the seasons roll out, doing it all while juggling the birth of his first child and an ongoing international career. For me, though, the work that he does away from the cameras, off the field, in the gym and on the training field, is what makes him invaluable and highly respected to and by the Ulster team.
Exclusive Six
Nations Analysis
Get Murray Kinsella's exclusive analysis of Ireland's Six Nations campaign this spring
Become a Member
TheUAFC / YouTube
He is always in the gym doing extras, always out kicking in the wind and rain on his days off, and always willing to give advice and help develop the younger generation of Irish rugby. It's what will leave an invaluable legacy long after he departs Northern Ireland shores, and something that he sees as being an important role while he is still here. He said:
I always train hard and put in the work and try to set an example by the way I play. If, and when I eventually leave, I hope that players have learnt a few things and I've been able to advise and help them with their rugby."
And for plans post rugby? Like most of us, he does have one eye on the future. "I'm disappointed that I haven't been able to finish my studies in South Africa," said Pienaar. "I certainly have a few business interests and will continue to look into them whilst still playing rugby."
Nearing the end of our phone conversation, I had one last question written down in front of me to ask Ruan. I thought long and hard before I asked him, cause I knew the answer I was going to get. I proceeded reluctantly. Does he have any regrets about making the move to Ulster?
"I have absolutely no regrets, we as rugby players are fortunate to have such a great job. I have been blessed to have been able to play for some 15 years, travel the world and play, as well as meeting great people along the way. I wouldn't change anything," he decalred. It was just as I expected.
So there we were, both knee deep in the rough searching for Ruan's golf ball that he'd shanked halfway across East Belfast. My confidence grew as he eventually found it, and lined up his second shot that couldn't have been more difficult, trees obscuring his view of the green and wind howling in from the west.
With a shortened makeshift swing, he hockey punched the ball swiftly out, passing under the trees, coming to a rest a couple of metres from the pin on the green. I shook my head, and he smiled. After that he continued to nail every drive down the centre (Just like he does at Ravenhill), on every remaining hole, convincingly beating me and sending me home where the clubs wouldn't appear for at least another six months.
Yep, he's not human after all.
@adamdarcy played 54 times for Ulster from 2010 to 2013. He is currently with English Championship side Bristol.