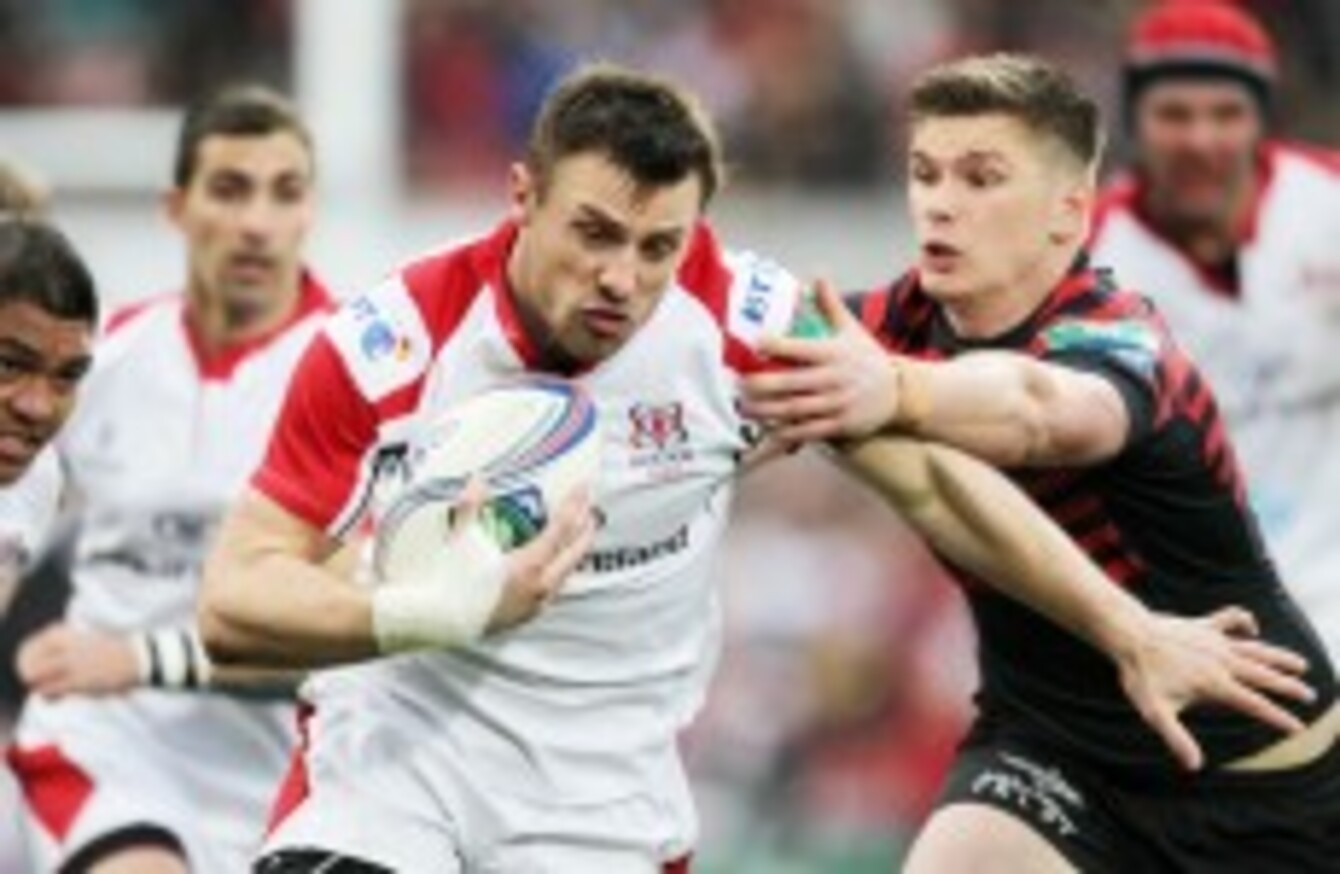 Image: Presseye/Darren Kidd/INPHO
Image: Presseye/Darren Kidd/INPHO
WHEN HE'S AT work, Mark Anscombe is a difficult man to catch in a good mood at the best of times, so in the wake of Ulster's heartbreaking 15 – 17 loss to Saracens, he looked to be retaining a little more pent up fury than usual.
Jared Payne's red card was the inevitable centre of the debate, and Anscombe did well to conceal any strong feelings which he may be feeling towards Jerome Garces.
What the Kiwi did best of all, however, was to organise his Ulster team. Seconds after the red card Sky's cameras cut to the coaching box where Anscombe sat with both director of rugby and chief executive able to look over his shoulder. The coach's head was buried focused on his laptop and perhaps a notepad too where he was tearing up his best laid plans and starting over.
"It's hard, because we had to make a decision," said Anscombe when asked about the tactical implications of losing a man from his back three.
"There was talk of dropping a loose forward off defensively, but they've got such a powerful pack and we knew the battle was going to be up there. The guys had to work extra hard."
What he settled on was moving Luke Marshall to the left wing in defensive positions. Darren Cave shifting to inside centre and the superior athleticism of Tommy Bowe asked to divide his time between the centre and fullback.
"It was just scrambling and we got found out a couple of times, but credit to them, they worked hard on D."
Of course, the coach, captain and Lions wing would have preferred not to be receiving consolation pats on the back for falling just short of what would be an incredible result. They will argue the toss over Payne's red card for a long time.
"Exactly the words I'm saying to you now," replied captain Johann Muller when asked about his fourth minute exchange with Jerome Garces.
"My feeling was that Jared never took his eyes of the ball; he didn't even see him coming until he made contact. Yes, I thought the red card was really, really harsh."
"I don't know whose decision it was (either referee or TMO). As it happened I said to him: 'please just go upstairs, put it on the big screen and have a  look at it because he never took his eyes of that ball'. He did and everybody in the stand could see the replay as well."
The Springbok added: "He said that the guy came down on his head and that automatically is a red card.
"I don't want to criticise him, that's not what I'm here to do. He made the call and we've got to live with that. I do believe that the state of the injury did have an impact on his decision.
"It's always tough for any official, but I think he did penalise the injury rather than the action of Jared. If he fell and stood up it might have been a different story."
While Muller is no stranger to being in the air as a line-out jumper, Tommy Bowe sat alongside him as a more qualified voice on claiming high balls in open play. The Ireland wing has no shortage of sympathy for Alex Goode and accepts that Payne was careless, but suggested that any player
"I think when a player goes into the air they expect to be looked after," says Bowe, "but if there is no malice – with Jared coming through I think he was genuinely looking at the ball the whole time.
"It's very difficult for those contestable balls, you're always going to have a little bit of risk there, but that's the nature of sport, that's the nature of the game and there's not much you can do about that.
"Unfortunately it looked very dangerous, it looked like a bad fall on the ground, but personally I don't see any malice in it and it's very disappointing and very frustrating for us."