Liveblog
WELCOME TO A pretty tasty opening to the second round of this season's Champions Cup, as Ulster host Clermont at Ravenhill.
Both sides won their opening game: Clermont battered Harlequins, while Ulster's victory away to Bath was decidedly more nervy.
The weather in Belfast tonight is decidedly rank – which might just suit the home side.
Follow our live coverage here, and get in touch below the line, or email gavincooney@the42.ie.
Kick-off is at 7.45pm, and confirmation of team news follows next…
Team News
Ulster
Louis Ludik comes in on the right wing to join Will Addison and Jacob Stockdale in the back three, with the remaining three changes all coming in the pack.
Eric O'Sullivan is named at loosehead in Jack McGrath's absence, partnering Rob Herring and Marty Moore in the front row, while Alan O'Connor is promoted to the second row alongside Iain Henderson, who captains the province in Belfast for the first time since being named club captain.
Sean Reidy returns to start at blindside flanker, with Jordi Murphy at openside and Marcell Coetzee at number eight.
Meanwhile Stuart McCloskey and Luke Marshall continue at midfield, while Billy Burns and John Cooney form the half-back partnership once again.
15. Will Addison
14. Louis Ludik
13. Luke Marshall
12. Stuart McCloskey
11. Jacob Stockdale
10 Billy Burns
9. John Cooney
1. Eric O'Sullivan
2. Rob Herring
3. Marty Moore
4. Alan O'Connor
5. Iain Henderson (captain)
6. Sean Reidy
7. Jordi Murphy
8. Marcell Coetzee
Replacements:
16. Adam McBurney
17. Kyle McCall
18. Tom O'Toole
19. Kieran Treadwell
20. Nick Timoney
21. David Shanahan
22. Bill Johnston
23. Craig Gilroy
Clermont
Clermont, meanwhile, have named scrum-half Morgan Parra and out-half Camille Lopez on the bench.
15. Nick Abendanon
14. Peter Betham
13. Isaiah Toeava
12. George Moala
11. Alivereti Raka
10. Jake McIntyre
9. Greig Laidlaw
1. Etienne Falgoux
2. John Ulugia
3. Rabah Slimani
4. Paul Jedrasiak
5. Sitaleki Timani
6. Peceli Yato
7. Arthur Iturria
8. Fritz Lee (captain)
Replacements:
16. Mike Tadjer
17. Loni Uhila
18. Davit Zirakashvili
19. Thibault Lanen
20. Lucas Dessaigne
21. Morgan Parra
22. Camille Lopez
23. Apisai Naqalevu
THEY PULLED A result from the fire last weekend, Ulster. Tonight, they'll have to hold Clermont's feet to it.
Read Sean Farrell's match preview here.
It's pretty wet in Belfast tonight.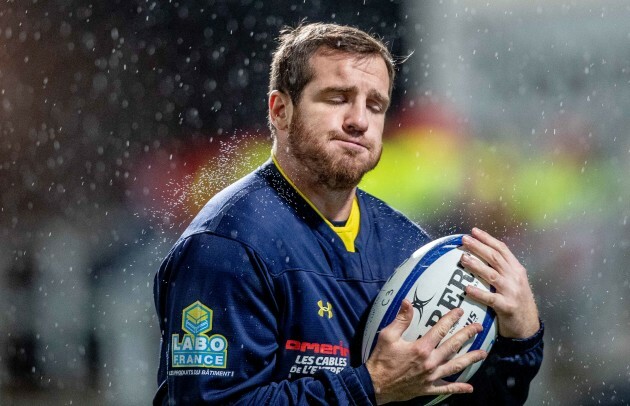 Source: Morgan Treacy/INPHO
The teams are emerging from the tunnel, and we are almost ready to go in Belfast!
Happily, the rain has stopped sluicing from the skies.
JP Doyle is in charge tonight.
Kick-off!
We're underway!
Early penalty for Ulster as Peceli Yato comes in from the side, and John Cooney has an early chance to nudge the home side into the lead…
Penalty! Ulster 3-0 Clermont
33 metres out, but no problem for Cooney.
A massive up-and-under by Billy Burns is skewed in the air by the wind and it breaks kindly for Ulster, but a knock-on spoils a potential attack.
Scrum Clermont…that then becomes a penalty as JP Doyle penalises Eric O'Sullivan.
Clermont kicked that penalty for the corner but then make a hames of the line-out: Fritz Lee knocks on as he tries to collect a clumsy line-out.
Massive roar around the Kingspan: a mega kick upfield forces Abendanon to knock on just before he is nailed in a tackle. There's a small skirmish afterwards, but nothing of any note.
Scrum Ulster.
What a break by Ulster! Burns dinks the ball over the top and it's gathered by McCloskey, who offloads to Cooney who then races for the line.
Cooney has Jordi Murphy to his left with the try line begging, but instead he cuts in and goes alone. Instead he stumbles and is tackled a few metres short of the line, and then knocks on.
The scrum is reset twice before Laidlaw boots the ball clear.
Ulster took the line-out short and went off quickly, but didn't make a lot of headway and lost possession. Clermont kick the ball downfield, and Addison responds by kicking to touch.
Clermont's line-out is better but they make their error soon after, as Jake McIntyre knocks on in trying to gather a poor Laidlaw pass.
Now it's Ulster's turn to be sloppy, as they knock-on as a result of a botched link play. Scrum Clermont.
Sniff of a chance for Clermont – Abendanon pokes a kick in behind Ludik looking for Raka, which the winger kicks further forward but over the try line. Ulster deal with it.
Cracking turnover by Coetzee in the Ulster half, and Ulster win a penalty. Cooney then kicks it to within eight metres of the try line, super kick.
Chance incoming…
Ulster secure the lineout and win a penalty immediately as Clermont are adjudged to have closed the gap in the set-piece. They maul it forward but spoil the move when a pass out to McCloskey is knocked forward.
They come back for the penalty, and Cooney kicks to to the corner again.
TRY! Ulster 8-0 (Murphy)
Ulster secure the line-out and maul it over the line with Jordi Murphy! The TMO doesn't disagree with JP Doyle, and the try is given!
Cooney kicks the conversion, and Ulster go 10-0 in front.
What a start!
Clermont really haven't started yet, and Ulster look a lot snappier in everything they do. That said, Will Addison knocks on having been fed a pass by Stockdale.
Try disallowed!
Oh blimey, Clermont cross out of nothing, but Ulster are off the hook thanks to the TMO. Abendanon kicks in behind Ludik from midfield, and Raka steams up the wing to surprise a sluggish defence.
The ball was knocked forward off his right hand before he gathered to touch down, though, and Ulster get away with it.
That's a sharp reminder of Clermont's firepower, mind.
Another great Ulster break!
Cooney box-kicks and the chase is great by Ludik, and Sean Reidy gathers. The ball is passed infield to Burns, who picks out Stockdale with an inch-perfect cross-field kick. Stockdale offloads to Marshall, who drives for the corner but is tackled and put into touch three metres in front of the line.
Clermont endure the pressure on that throw, and Laidlaw kicks clear into touch.
Clermont finally pass the ball about a bit, but Mcintyre's pass left is loose, and Arthur Iturria is bundled into touch by Ludik.
The referee adjudges that tackle to have been high as Iturria was so low to the ground – a slightly harsh call – and they escape with a penalty.
It goes up the line.
And the line-out throw is crooked and Ulster get a scrum. Good grief, Clermont haven't turned up yet.
Clermont turn over an attack down their right, and cycle through a few passes, gobbling up the ground as they go.
Raka is in oceans of space on the left, but just before they get the ball out to him, Addison shoots out of the line and nails Paul Jedrasiak.
The hit looked slightly high and Jedrasaik has to be replaced, but the TMO deemed no foul play.
Thibault Lanen comes on as the Clermont second row gingerly makes his way off.
Penalty! Ulster 10-3 Clermont (Laidlaw)
Clermont finally get off the mark. Ulster get pinged at the scrum – awarded because of the knock-on in Addison's tackle – and Laidlaw converts.
Ulster have a line-out, and secure it and begin to maul it from midfield. Then they go wide, and Jordi Murphy pops up on the left wing with a great break making about 15 metres and beating two defenders before he is tapped to the ground.
The attack is then paused as Peceli Yato seemed to have sustained a head injury. That he picked himself up off the ground soon after drew the scorn of Ravenhill.
Scrum Ulster.
Penalty! Ulster 13-3 Clermont (Cooney)
Substitute Lanen is penalised for not rolling away in the tackle, and Ulster get a penalty within kickable range.
Cooney makes no mistake from 35 metres, and -via a deflection off the post – Ulster extend their lead!
Everything is going Ulster's way now. Cooney's clearance kick from outside his 22 is inexplicably allowed go out of play by McIntyre, and it then bounces about half a metre inside the touchline before bouncing over it.
Clermont secure possession on the throw, but then knock the ball on a couple of phases later.
They have offered little or nothing so far.
Half-time: Ulster 13-3 Clermont
Clermont are not playing like even a distant cousin of the side that was so impressive against 'Quins last weekend.
Ulster, however, have been good: Cooney's kicking has been spot on, their line-out strong and they look capable of carving Clermont open from play, particularly down Stockdale's wing.
Clermont will surely rouse themselves for the second 40 – we'll be back in a few.
Clermont have been pretty hospitable opponents so far – just as they were earlier today when a car in Belfast needed a jumpstart.
🚗If there's such a thing as a good day for your car to break down in Belfast city centre...

It's when the Clermont Auvergne rugby team are on hand to help out 💪💪😂

🏉 Ulster v Clermont
📻 BBC Radio Ulster
⏰ 19.30 GMT pic.twitter.com/cJoK56igE9

— BBC SPORT NI (@BBCSPORTNI) November 22, 2019
We're back underway!
No changes on either side, so Lopez and Parra remain sitting on the Clermont bench.
The rain has intensified a bit here.
Clermont have a little too, but Addison does so well to cover in behind to collect a McIntyre kick. He gives Betham the slip with some fine footwork, and then thumps a great clearance into touch.
Turnover! George Moala gets isolated in contact and Marty Moore secures possession!
The penalty earned by Moore doesn't find touch, and Clermont ultimately exit with a Laidlaw kick.
Yato absolutely nails Addison as he kicks into touch, but the referee has no issue with the timing in spite of the stadium's howls.
The ball hit Lee on its way off, and Ulster have the throw.
Oh good grief, Clermont. They win a penalty, kick for touch but don't come within an ass' roar of finding it. Instead it drops into Addison's arms, who does find touch.
Clermont make a raft of changes: Camille Lopez is on for McIntyre, Apisai Naqalevu replaces an injured Abendanon and the whole front row has been changed too.
Clermont collect the throw but lose the ball soon after, as Murphy rips the ball clear and into Cooney's arms. Ulster attack down the right but Ludik is stopped before the line, and the move ultimately ends with McCloskey knocking on when the ball moves infield.
Better from Clermont and they win a penalty. Laidlaw, however, misses to the left and that ends his personal streak of nailing kicks. That's his first miss in 31!
Clermont have been so sloppy. The latest is Sitaleki Timani, who knocks on under little pressure. Scrum Ulster on the halfway line.
Ulster find space in midfield and send Murphy through a gap again! He offloads and Burns stabs the ball in behind, but the ball bounces the wrong side of the flag.
We come back for a Clermont scrum.
Kieran Treadwell, meanwhile, replaces Alan O'Connor for Ulster.
Marshall gets pinged for a high(ish) tackle, and Clermont kick the penalty to the corner. Is this the moment they finally get their act together?
Penalty! Ulster 13-6 Clermont (Laidlaw)
Clermont keep hold of the ball for a few phases – at last! – but don't really go anywhere, phases featuring massive tackles by Moore and the exceptional Coetzee.
We come back for an offside penalty, though, which Laidlaw kicks.
TRY! Ulster 18-6 Clermont (Cooney)
John Cooney goes it alone! He finds space down the blindside off the back of a ruck, sprints down the line, dinks the ball over Raka's head and then collects the ball to touch it down.
He can't kick the conversion from the touchline, but don't let that blemish the try.
That was Stringer-esque!
Parra, meanwhile, replaces Laidlaw for Clermont.
Clermont kick a penalty to the corner. Ulster, meanwhile, swap their props. Tom O'Toole and Adam McBurney come on.
Clermont almost get over the line, but are held a metre from the line. The recycle it wide left, but Ludik makes a cracking tackle before it can make it out to Raka.
Clermont have another penalty, and have taken the scrum…
Bill Johnston replaces Billy Burns for Ulster.
Scrum collapses, and Clermont have another penalty.
…and the scrum collapses again. And Clermont get a penalty again.
This one is followed by a chat from JP Doyle to Iain Henderson.
Big moments here for Ulster…
PENALTY TRY! Ulster 18-13 Clermont
Game on! Massive shove again from Clermont and the replacement props – O'Toole and McCall – are eaten alive once again.
Doyle points for the posts, and this game remains alive!
Strange moment. Johnston's kick in behind is poor as it is heading straight for Raka's arms…only for it to hit the ground in front of the winger and bounce over his head and out of play.
It's absolutely lashing it down now. Can Ulster hang on here?
Big moment – heavy Murphy tackle forces a knock on from Loni Uhila, and Ulster have a scrum and just five minutes to wind down.
The field position is good – on Clermont's 22.
Ulster's scrum stays solid, and they keep the ball in hand. Coetzee – who has been outstanding – absolutely floored replacement Lucas Dessaigne when barrelling through, and he has had to make way for a HIA.
With two of those five minutes successfully seen off, Ulster pack down for another scrum.
Uh-oh. Ulster concede yet another scrum penalty – that's number six. Lopez kicks for touch, and we have a grandstand finish in store!
Jordi Murphy claws the ball in the air on the line-out, and Ulster secure the ball!
Ulster into touch for another Clermont throw, from which they've won a penalty. It's still alive here…
Penalty has gone into touch, and the throw is taken as the clock ticks red. One final play for Ulster to endure.
Full-time: Ulster 18-13 Clermont
It's all over! A fully deserved win for Ulster, and by a scoreline that greatly flatters Clermont. The last play ended, fittingly, with Clermont spilling the ball forward under pressure, and Cooney gathered and kicked the ball into the stand.
Cooney was outstanding once again, along with Rob Herring, Marcel Coetzee and Jordi Murphy.
Clermont escape with a losing bonus point they scantly deserve. A super win for Ulster nonetheless.
Thanks for following – Sean Farrell will be along with the final word on the game along with the best of the reaction.
Keep an eye out for that, but it's bye from here!
Contribute to this story: