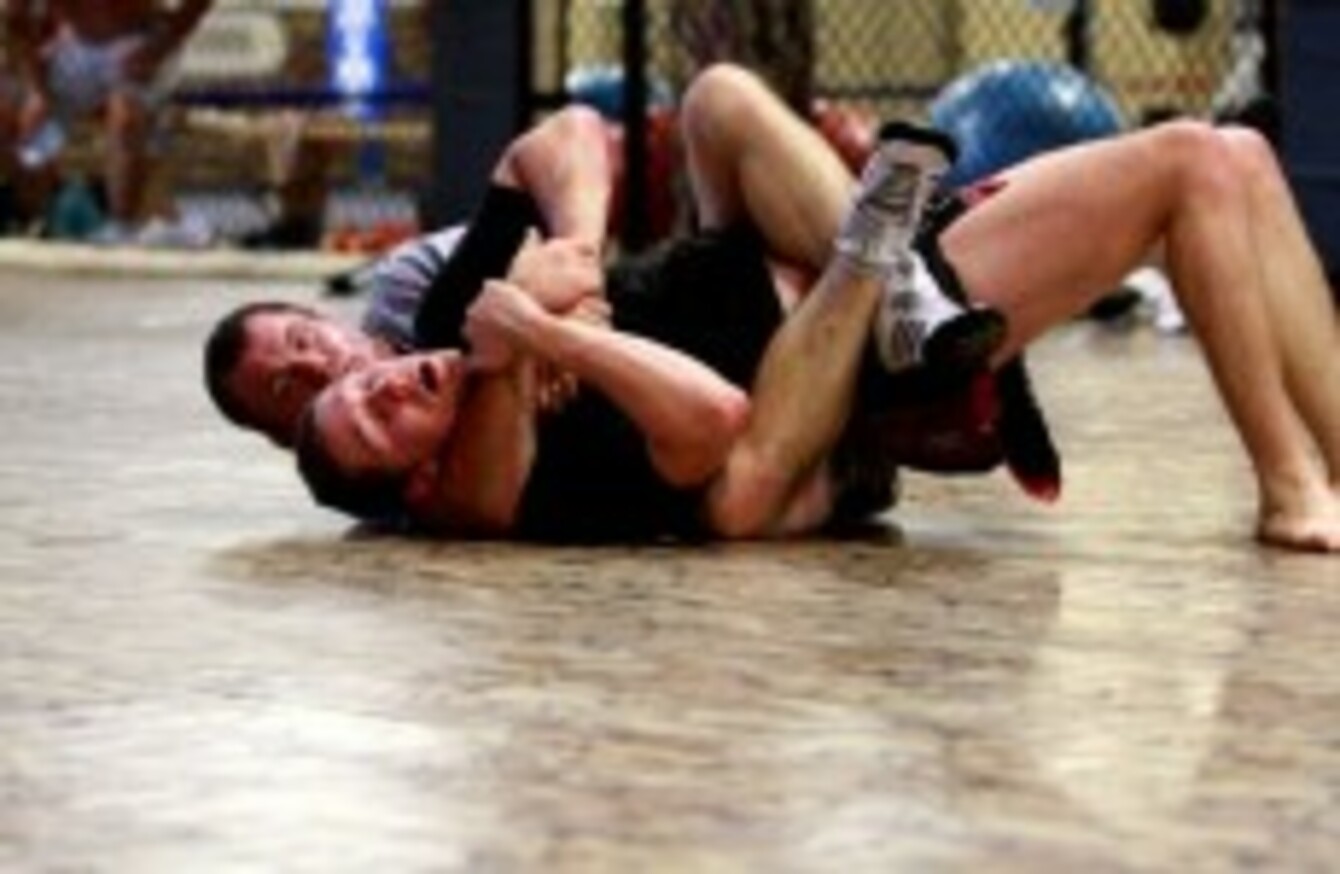 Damien 'The Rage' Rooney and Matt Hughes in action
Damien 'The Rage' Rooney and Matt Hughes in action
FOR MOST PEOPLE, the thought of stepping into a cage, and taking on an opponent who is looking to do damage to you, is a tad daunting.
That is why most of us prefer to stick to the relative safety of team games such as football or rugby.
An ever-growing number of Irish men and women, however, are turning their hand to MMA and The Score once again caught up with Damien 'The Rage' Rooney to find out what it takes to compete at the top level of this notorious sport.
It's a long, hard road
For Rooney, training for a fight can start up to 15 weeks before he is due to face his opponent. Meticulous planning goes into his training camp, with every morning and evening training session accounted for, 10 weeks out from the fight.
Each session is geared to improve a certain aspect, with technique, fitness levels and strength and conditioning the overall focal points of each work-out.
As Rooney describes his schedule, it is not hard to see the level of dedication it takes to get to the top of the sport. He remarked:
On a Monday I visit my boxing coach, working on the pads and bags to improve speed and technique then do some footwork drills. Tuesday mornings I have grappling and I usually do fitness work in the evenings but three weeks out I change that to a rest period because over-training is just as bad as no training.
UFC fighter Quinton 'Rampage' Jackson famously spoke about how he hated training and how much of a chore he found training, but Damien feels he has the exact opposite attitude, as do a lot of Irish fighters.
"In the past, I was guilty of over-training," he said. "I hated the thought of my opponent working harder thanI was, so I busted myself every day coming up to my fights.
"Of course that wasn't the best way to approach it, but it's a learning process. Through trial and error I think I have my training down the way it should be, hard when it needs to be hard, and rest when my body needs it."
The man in the mask
MMA training is cutting edge. The necessity for so much training comes from the multi-faceted nature of MMA and gone are the days were simply being a strong boxer or a submission specialist were enough to win you a fight.
See Sport
Differently
Get closer to the stories that matter with exclusive analysis, insight and debate in The42 Membership
Become a Member
"The guys I am facing are strong in every aspect, so I have to be as well. It's no good just focusing on my boxing or my ju-jitsu, I need to be better in my grappling, ju-jitsu, boxing, muay thai and have better fitness levels than them. There would be no point stepping into the cage otherwise."
To help him reach these high levels of fitness, he brings some of the equipment that fighters such as Georges St. Pierre use, such as the wearing of a training mask while running.
For those who have never seen one, it is very similar looking to a gas-mask and is used to recreate high altitude training. He said:
The training mask is just another thing I use to try and gain any sort of edge. The only way I can describe it is like running while someone is trying to smother you with a pillow. It is so hard to breath, but after you take it off, you feel like you can run a marathon.
With only one week to go to his fight, this is the time Damien feels most nervous. "I'd be lying to you if I said I don't get nervous, I do, but it's not when I'm face to face with the man I'm fighting." He added:
I find I get most anxious now. I'm not nervous about fighting, I'm nervous about the outcome of the fight. When you've put so much into it and you want it so badly it's a natural reaction I think.
*Follow Damien's progress at the weigh ins and fight next week as he takes part in Cage ContenderXIII in the King's Hall Belfast, next Saturday night.