DISGUSTING WEATHER CONDITIONS in Athlone ensured Ireland Under 20′s Six Nations opener was never going to be a brilliant spectacle, but with the green (turning brown) shirts wrestling early forward control in the game, there were plenty of impressive displays on show in the 34 – 7 win.
Jack O'Donoghue
First and foremost among the list of impressive performances was the number eight. As a member of the World Cup squad last year, the UL man will have been asked to assume a leadership role in this team and he certainly took the game to Scotland at every opportunity.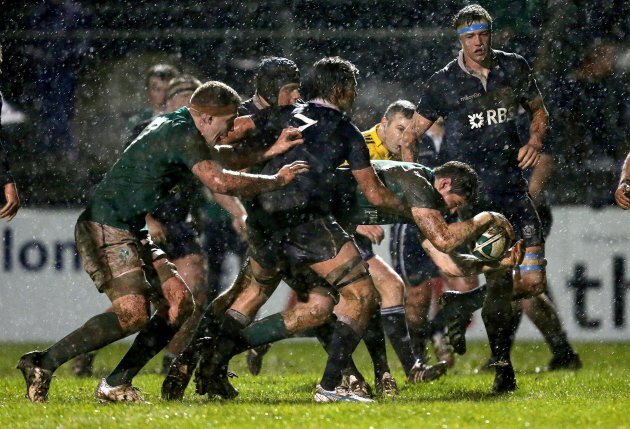 ©INPHO/James Crombie
His two tries were the evidence of his powerful carries, but the manner in which he finished off the scores spoke of a man with great intelligence on the back of the scrum. He did twist his knee in scoring his second try, so here's hoping that a bit of ice will have him fit again in no time.
Rory Burke
The platform for everything good about the Wolfpuppies tonight was laid by the completely irresistible force of the front row. All three were immense, but Burke alongside his Cork Con team-mate Max Abbott was the driving force that made the scrum so powerful it at one stage looked more like a maul.
David Busby
On a night that was far from suitable for backs, Busby's assured touches from fullback added a confidence to his side.
His low centre of gravity would have helped in that regard, but the Ulster Raven also showed a decent range of kicking and his ability to offload under pressure in these conditions will take him far.
Ross Byrne
Let's start with the downside (because there was only one); Byrne's one missed kick in the first half was a poor effort, but quickly forgotten as the number 10 continually took on the responsibility in dangerous positions, managing the conditions well with soft hands and sympathetic passing.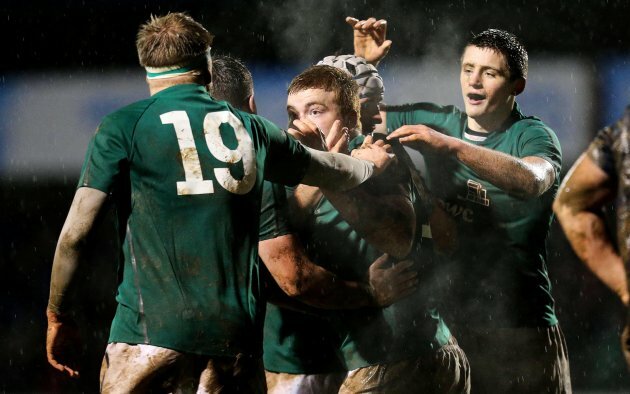 Oisin Heffernan celebrates with Joe Joyce and Ross Byrne. ©INPHO/James Crombie
A real mature performance with ball in hand – and the kick that preceded his one miss was an absolute monster.
Oisin Heffernan
Speaking of monsters… the prop's introduction gave a much needed spark to a game that was petering towards the finish. Aside from his try, Heffernan showed brilliant acceleration while carrying and will be potent weapon off the bench throughout this championship.