THE FOLLOWING PASSAGE is an extract from The Anatomy of Manchester United: A History in Ten Matches by Jonathan Wilson.
As the final whistle blew at the Delle Alpi, Juventus fans rose to their feet and applauded. They knew they had witnessed a genuinely great performance and, quite possibly, something more than that.
The age of Italian domination of European competition was, perhaps, coming to an end and with it the nature of the game was changing.
Italian football was nowhere near as negative as the stereotype might have suggested, nothing like as cautious as it had been when catenaccio reigned in the '60s and early '70s, but it was still a highly tactical pursuit.
United, in that sense, were a throwback to an earlier, rawer time, their game based on talent and an indomitable self-belief.
"There was nothing about them," Alex Ferguson said, "that I admired or valued more than their team spirit."
By the time they came from 2–0 down to record their first ever victory on Italian soil, to reach their first European Cup final for 31 years, it had reached the point when it felt as though they only started really to play when they fell behind.
Familiarity with the story has perhaps dulled just how extraordinary 1998–99 was.
Winning the league in 1993 had scratched one itch but as the decade went on and United emerged as the pre-eminent side in the country, another grew up in its place.
For Alex Ferguson to stand comparison with Matt Busby, for him properly to enter the pantheon of great managers, he had to win the Champions League. And that had proved frustratingly difficult.
That was a time when the European Cup still had the nature of a quest. In the modern age the competition can feel like a game of pass the parcel: the trophy circulating among the superclubs until the music stops.
But for Ferguson's United, the Champions League was a prize for which they had to fight for six years, for which they had to endure defeats both crushing and unfortunate. When it finally came, it was in the most extraordinary manner possible.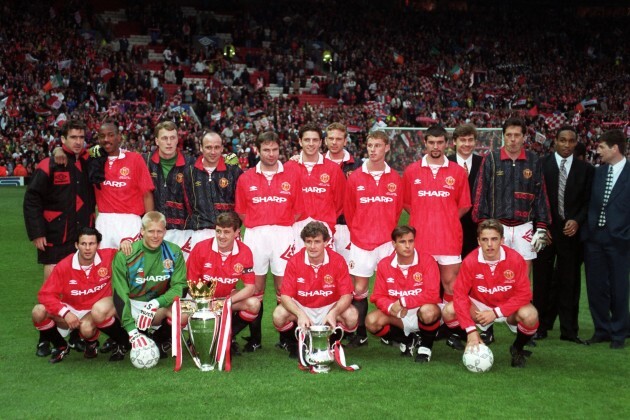 EMPICS Sport Man United's double winners pictured in 1994. EMPICS Sport
In 1983–84, Aberdeen had won the Double in Scotland but had lost to Porto in the semi-fnal of the Cup Winners' Cup.
Ferguson had sniffed a Treble before but had doubted how possible it really was. But 1998–99 was a season to end all seasons, a barely credible story of setbacks overcome, again and again and again.
What happened in Turin was merely the centrepiece, an implausible comeback rooted not merely in great character but in a performance that Ferguson described as the best by any team under his management.
The long wait for a first post-Busby league title was achieved, but there could be no standing still. In the summer of 1993, United bought Roy Keane from Nottingham Forest for an English record fee of £3.75 million.
After Cantona, it was probably the most important signing of Ferguson's time at the club. Cantona lit the flame, but it was Keane who kept it burning for more than a decade.
United knew better than most how satiation could set in after the achievement of a goal for which they'd been striving for so long, but not under Ferguson.
Before the first game of the season, he wrote six names on a piece of paper, placed it in an envelope and locked it in a desk drawer, telling his squad that he'd listed the players he feared might disappoint him and he would check it at the end of the season.
In fact, the only name he'd written down was his own, but the ploy — so derided when Brendan Rodgers later attempted it at Liverpool — seemed to work.
United lost only one of their first 29 league games of the season, a run that had them seven points clear with a game in hand by the end of February.
They were relentless, so much so that when United lost a 3–0 lead to draw at Liverpool, a furious Ferguson raged at Peter Schmeichel.
As the argument grew heated, both exchanged personal insults and, two days later, the manager called the goalkeeper into his office and told him he had to fire him.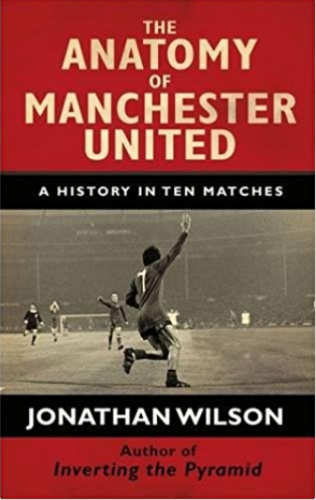 Schmeichel apologised and went to apologise to his teammates, precisely the response Ferguson had wanted. The threat of the sack quietly disappeared.
Exclusive Six
Nations Analysis
Get Murray Kinsella's exclusive analysis of Ireland's Six Nations campaign this spring
Become a Member
March 1994, though, saw a stutter. There was a defeat to Chelsea and then a run of four red cards in five games: Cantona collected two of them in the space of three days, in draws against Swindon and Arsenal, earning a five-game ban.
He'd got away with a dreadful foul on Norwich's Jeremy Goss the previous December. Jimmy Hill described the incident as 'despicable and villainous', at which Ferguson called him 'a prat'.
It was a typical response, determined never to criticise his players in public, always willing to build the sense that the world was conspiring against them.
Yet in his autobiography, Ferguson himself used the word 'despicable' of Cantona's actions.
In that, Ferguson was unapologetically hypocritical and there was perhaps a recurrence of the feeling that had grown up in the '60s of a sense of entitlement around United, as though the rules didn't quite apply to them.
In terms of the championship, it didn't matter: when Cantona returned, he scored three times in April as United went on to win the title by eight points from Blackburn, notching a record 92 points.
Only a late equaliser from Mark Hughes saved United from defeat to Oldham in the FA Cup semi-final, but they won the replay and then hammered Chelsea 4–0 in the final to win the first Double in the club's history, an achievement that has been cheapened by the regularity with which it has been achieved since but which at the time felt hugely significant.
Here was proof that United, an increasingly formidable commercial presence, were the dominant force in English football.
The Anatomy of Manchester United: A History in Ten Matches by Jonathan Wilson is published by Orion Books. More info here.
The42 has just published its first book, Behind The Lines, a collection of some of the year's best sports stories. Pick up your copy in Eason's, or order it here today (€10):