ORGANISERS OF THE 113th US Open dismissed fears on Monday that heavy rain would cause flooding severe enough to jeopardise the championship or force a switch in holes at Merion Golf Club.
Practice was called off Monday afternoon after torrential rain drenched the 6,996-yard layout where the year's second major championship is set to begin on Thursday. A spectator parking lot was closed when conditions became too swampy.
"In terms of a doomsday scenario, who knows if it's 10,000 to 1, we don't anticipate that happening where we won't get the US Open in or we will have to go to holes on the West Course," US Golf Association executive director Mike Davis said.
Thunderstorms are forecast through to Thursday in suburban Philadelphia, with a 70 percent chance of another storm for the first round.
"It's going to be very sloppy now," four-time major winner Ernie Els said. "You're not going to see a firm US Open this year, I'm sorry. I don't care if they get helicopters flying over the fairways, it's not going to dry up."
Merion's major flood risk comes at the 11th hole, where half the field will start their rounds each day due to the logistics of the course. Overflowing creek banks and puddles in fairways and bunker could cause problems there.
"Just because it's wet or there is some standing water, it doesn't mean we wouldn't be able to play," Davis said.
Davis outlined a flood plan to Golf Digest last month in which holes on the adjacent West course would be kept ready in case of flooding at the 11th and 12th holes of the East course where the Open is set to be staged.
"Twelve isn't a problem but 11 is the lowest point on the golf course where two creeks come together," Merion course superintendant Matt Shaffer said. The green has managed to stay above water, which is a good thing.
"Certainly it's saturated. (The water) comes up quickly and recedes quickly. It will dry quickly. All we need is a little bit of sunshine."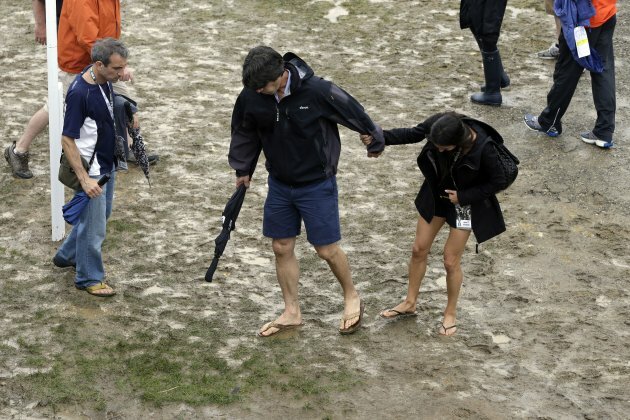 Credit: Gene J. Puskar/AP/Press Association Images
Davis declared Merion "maybe the best draining golf course I've ever seen" and said it handled 3.5 inches of rain last Friday when the remains of a tropical storm blew through the area.
"Obviously with it being a little soft it becomes a little more simple than what it was," reigning Masters champion Adam Scott said. "The ball is just going to stop where it lands. So if you're accurate you'll be fine."
Reigning British Open champion Els predicted the US Golf Association would allocate tough tee placements to keep the course from being blistered by golf's top talent.
"I can see pin placements are going to be quite tough to protect the course," Els said. "Because of conditions, I think it's not going to bare its teeth the way it should.
Now with soft conditions you don't need to use the driver as much because you can still get it in the fairway with a 3-wood or some of the par-4s with an iron. And then you have quite a short iron into the green."
But Davis vows the set-up will remain as planned for the most part.
"I don't think you are going to see us do that much differently," he said. "There isn't a lot we would do."
The final six spots in the US Open field were allocated, with Kyle Stanley of the United States booking his fourth appearance in the event by finishing in the top 60 of Monday's world rankings. He was ranked 60th.
The US Golf Association had kept six vacant spots for potential qualifiers through the rankings, so five alternates from sectional qualifying were able to claim the last berths in the field of 156.
Canada's Mike Weir, the 2003 Masters champion, was among the fortunate five along with countryman Ryan Yip, American Ryan Palmer, coming off a fourth place PGA finish Sunday at Memphis, American Harold Varner and Swede Rikard Karlberg.