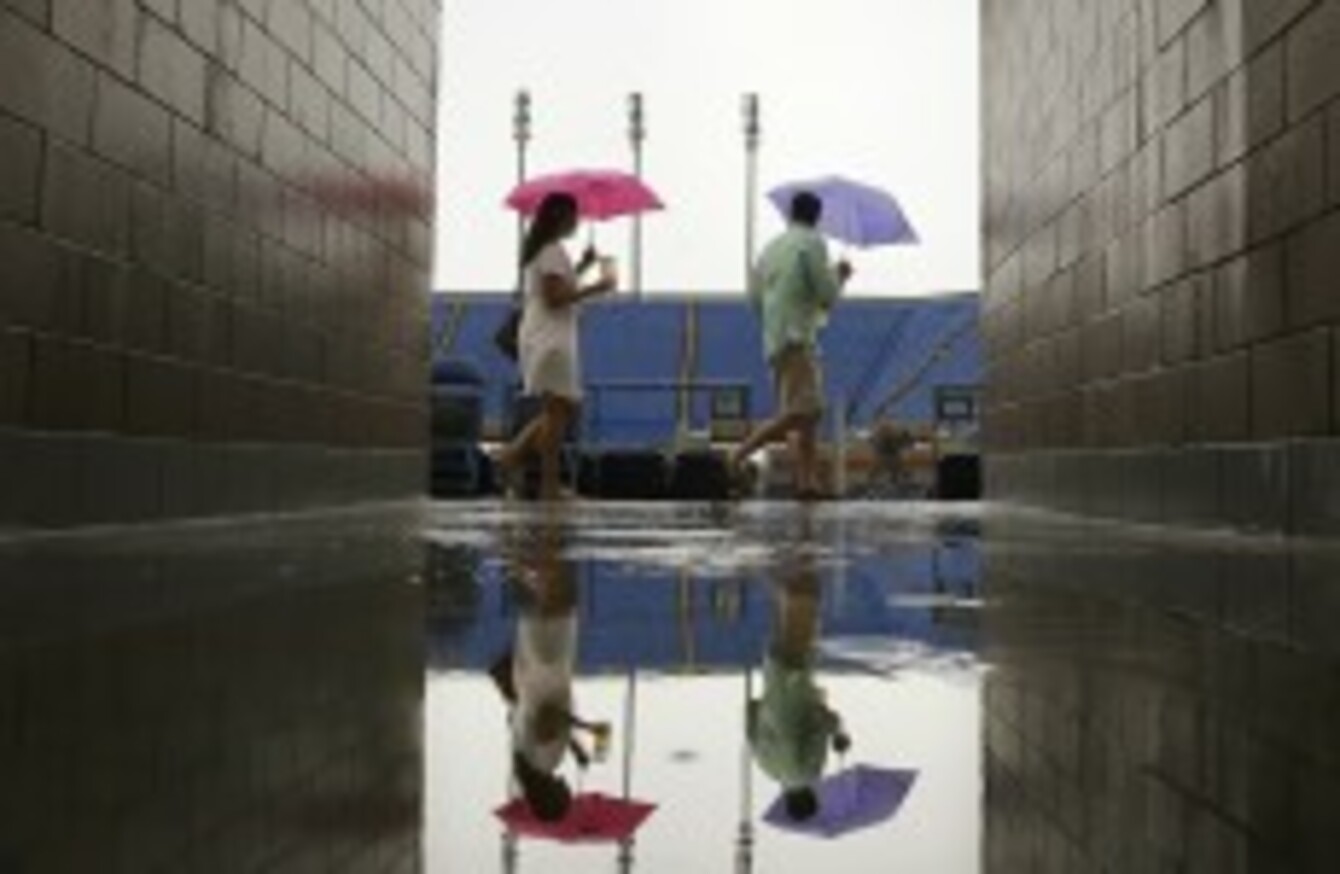 Rain, rain, go away: Spectators try to stay dry on Monday at Flushing Meadows.
Image: Mike Groll/AP/Press Association Images
Rain, rain, go away: Spectators try to stay dry on Monday at Flushing Meadows.
Image: Mike Groll/AP/Press Association Images
THE US OPEN was swamped by torrential downpours on Monday with just 90 minutes of early action taking place as the final Grand Slam tournament of the year was once again plagued by heavy rain.
Only four matches were completed before play was halted on all courts in a worrying echo of 12 months ago when rain forced the tournament to be completed on the third Monday for the fourth successive year.
Although officials were nowhere near that crisis point on Monday — when 56 matches were scheduled to be played — the rain once again reignited the debate over the need for a roof over one of the showcourts.
United States Tennis Association (USTA) chief executive Gordon Smith told reporters Sunday that there are no plans as yet to put a roof on the 23,700-capacity Arthur Ashe Stadium, but it may happen once the technology is available.
"I cannot tell you when that will be. I can't tell you what it will cost, though it will clearly be over nine figures," he said.
He insisted that despite the men's final being played on the third Monday for four years in a row, organisers still had to weigh up the win-loss ratio of having a roof.
"The amount of money we've lost by not having a roof and the amount of money we might make by adding a roof is negligible compared to the cost of adding a roof," said Smith.
The Australian Open and Wimbledon both boast covered main courts while the French Open will also have a roofed court by 2017, leaving the US Open as the odd one out.
Organisers have long argued that the size of Arthur Ashe court and the weak soil beneath rule out the building of a roof.
Last year, Rafael Nadal led a rebellion against under-pressure organisers, claiming players' safety was being put at risk in a desperate effort to make up for lost time at the rain-ravaged 2011 event.
Nadal, who went onto finish runner-up to Novak Djokovic in the Monday final, had been sent to play on courts which he claimed were dangerous.
"It's the same old story, all you ever care about is money," the Spaniard, missing through injury this year, told besieged officials.
One of the few players unconcerned about the rain was women's defending champion Samantha Stosur, who had safely clinched a 6-1, 6-1 win over Petra Martic of Croatia to make the second round before the rain came.
(c) AFP, 2012