JOSH VAN DER Flier makes it difficult to imagine that 'dark days' of injury lay-off really exist.
The flanker is relentlessly positive, ever-ready for work, eager to listen out for advice, jot it down and take the chunks that work for him.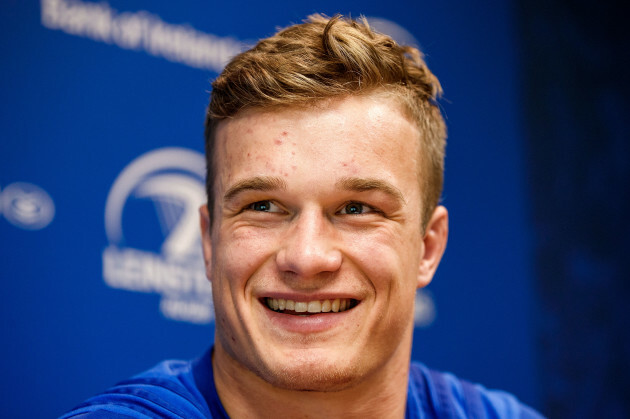 Bryan Keane / INPHO Bryan Keane / INPHO / INPHO
Those bright personality traits ensured that he was ideally-skilled to put together that crucial element sportspeople need when injury is keeping them from their job, a support network. Along with friends, family, housemates and team-mates (categories which overlap in some cases for Van der Flier), the openside fell into the company of Dublin star forward Bernard Brogan.
"We actually got surgery the same day," says the Wicklow man, who ruptured his ACL during Ireland's Six Nations win away to France. Brogan suffered his injury in a training session and so their paths crossed in Santry.
"I didn't even know that he was in. Ray Moran, who did the surgery, came in and said: 'I just did Bernard's there and you can be buddies!'
"It was cool to have someone to compare to along the way."
The comparisons ended in the summer as Van der Flier was reined in from running while Brogan ramped up to make a return to Croke Park in August. There's a hearty laugh from the 25-year-old when it's suggested he might have felt the least bit bitter over Brogan beating him in the comeback race. There are a host of considerations that make the two athletes differ, not least their age profile and the impacts they must prepare for in their respective sports.
"We have been in touch a bit seeing where we were at because we had surgery at the same time. He beat me by a month and a half; 1-0 Bernard!"
"We just texted every few weeks. We seemed to be similar enough. (We'd text each other) like: 'it's sore running but grand doing other things.'"
Dan Sheridan / INPHO Dan Sheridan / INPHO / INPHO
Van der Flier pushed his medical team's boundaries to work his way back onto the field in the time-frame he did. His try-scoring return against the Dragons came seven months after he suffered what is generally thought to be a nine-month lay-off.
He now has a full season ahead of him, complete with all the rigours demanded of an international. And with less than a year before the World Cup, Van der Flier naturally finds himself looking on the bright side of his time spent out of the firing line.
The old truism that rugby players are never really fully fit, but always carry some knock or issue doesn't apply for Van der Flier just yet.
"You might have a sore shoulder now and then, or something's bruised or even a bit sensitive.  One of my fingers used to get a bit sore – silly things like that that would never stop you playing – but I feel perfect now because you've had six or seven months of not having to tackle or do any of that sort of stuff.
"I'm feeling really good (and) the prehab stuff builds your robustness as well.
 "I lost a good bit of weight at the start. I lost a lot of muscle just from the legs not being used and that sort of thing.
"I've done about seven months of gym, three or four times a week. So I'm probably the strongest I've ever been… I'm back at around 104 kilos now, which is there or thereabouts where I was in February."
The42 is on Instagram! Tap the button below on your phone to follow us!