VERA PAUW IS determined to clear her name after allegations of misconduct made against her in a NWSL/NWSLPA report released in December 2022.
The report alleged the current Republic of Ireland women's manager made comments regarding players' weight and attempted to influence their eating habits during her time as manager of Houston Dash in 2018.
Pauw strongly denies all wrongdoing, refuting "every allegation made against me from my time at Houston Dash".
The NWSL published a statement in January naming Pauw among eight individuals whose future employment in the league is "conditional".
Asked for an update at her squad announcement press conference yesterday, the Dutch coach began: "I need to do a course… I should deliver that course.
"Elite sport in the USA has a huge problem. If I was the only coach in this situation, then you could say well who am I going to sue here? But this is a cultural problem, this is big and we need to do something about it. I'm in discussion now to see what I can do. I am 60 years of age, I'm feeling now that I am not going to spend my life in court cases, but I think what can we do to make life better for the future female coaches.
"In the meantime I have got many letters from people, players and coaches and staff who have written to me to support me, I have grown into the situation. I know where I am, there is great safety in the truth and let's do something about this together, choose the educational side instead of the fighting."
Pauw, who has been in charge of the Girls In Green since September 2019 and steered them to their first-ever major tournament in this summer's World Cup, did vow to continue attempting to clear her name.
"I will stay loud, every time somebody says it I will be loud. I am not going to, like people say, sit in a corner and let the storm get over you — be the storm. I will be absolutely honest and clear. 
"I am emotionally in a good space. I am ready for the World Cup, to go into camp in a positive way. I have my energy back, so for me, education is better than fighting but I will never let anyone say that I have done what has been written in that report, I will never let people say that I did not co-operate, I will not let go that people put lies about me, I will not let that go anymore."
In December, Pauw insisted that the Tyler Toland fallout is "a completely different issue" and explained her fears that the frozen-out midfielder would sustain an ACL injury.
"Women footballers should not be doing weight-lifting and I will keep saying it until people start to realise that and open their eyes," she said at the time.
Pauw revisited the ACL inury crisis in women's football yesterday, with Jess Ziu, Ellen Molloy, Savannah McCarthy and Aoife Colvill among those in her squad currently out with the knee ligament injury. All players sustained the setback on club duty.
Beth Mead, Vivianne Miedema and Alexia Putellas are among the world's biggest names who have also been struck down in recent months.
Pauw has strong feelings on the matter, so much so that she is currently writing a book on her programme and "how to train a player safely".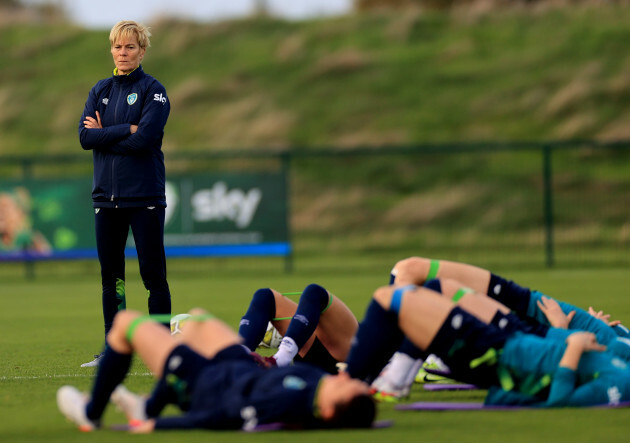 James Crombie / INPHO Pauw overseeing Ireland training last year. James Crombie / INPHO / INPHO
"I wish that people dare to look further than the boots of the players. And the pitches. That is not the cause.
"Football is not a game that you accumulate kilometres. We are getting a lot on our plate that players have to run a certain amount of kilometres because the sports scientist says so. The sports scientist should go into the analysis of the game and then come back that you need to train recovery from explosive actions and not the number of metres that a player is running. As soon as we start to do that, and that we are honest that we have to go into a different direction, the ACLs will be out of our game. And also the hamstring injuries in the men's game.
"When I was with the Netherlands, I came in and there was an epidemic of ACLs. We put in the same programme, evolved with it with the medical staff, getting it better and better and better. There were zero ACLs after that came in.
"People should not say to me that players need to run an amount of kilometres. People should ask, 'Vera how did you do that?' I have sat already with the experts that I have evolved to get this programme. I am writing a book but I don't have any time to finish it, I am planning to finish that and hopefully that might change something. People should not fight my programme but ask, 'Vera how did you do that?' Maybe we can learn from it and together we could grow in a safe environment for players."
In Ireland camp, Pauw and co. set the training load on live heart-rates, keeping players "fresh" and waiting until they are ready for the next "100% actions".
In a nutshell, it is managing load on and off the pitch, she says.
"Yeah. And choosing for a method, and it is not only women, it is also men. But ACLs are worse than hamstrings because we all seen that the hamstring is because of the number of games but no, it is because of all the weight-lifting. I can go into that but that goes a bit far."
She accepts that the S&C field would challenge her theory, but sticks by her guns.
"Yeah well, I do not interfere in the club loads, that is their responsibility. When the players are with me, it is my responsibility. And I don't compromise because I never compromise the safety of players."