Murray Kinsella reports from Murrayfield
IN THIS ERA where the cult of the coach seems to be more prevalent than ever, tomorrow's match-up between Joe Schmidt and Vern Cotter is as fascinating as any.
Back in 2007, Cotter brought Schmidt over to Clermont as his assistant coach, the pair having first coached together at Bay of Plenty in their native New Zealand in 2003 and 2004.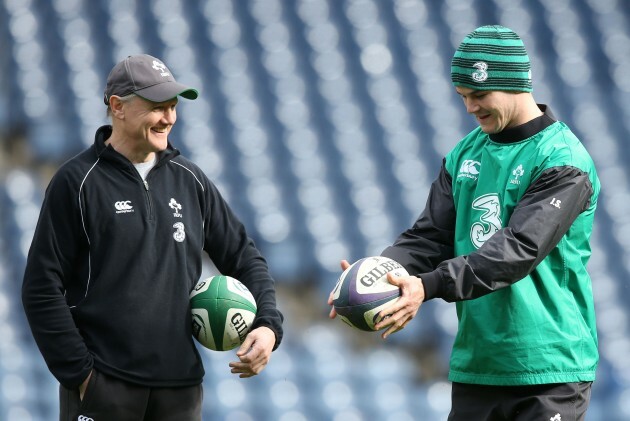 Billy Stickland / INPHO Schmidt at Murrayfield with his on-pitch general, Johnny Sexton. Billy Stickland / INPHO / INPHO
It's no coincidence that Clermont won their only Top 14 title of Cotter's reign in 2010, when Schmidt was still at the club. That said, Cotter is a coach whose reputation stands strongly on its own.
"I owe a fair bit to VC [Cotter]," says Schmidt. "I learnt a lot off him and coaching with him. I know he knows me very well and I know he's got a few things cooked up that will make life difficult or us and he's got players that are very capable of doing that."
Has the former apprentice surpassed his old master? A Six Nations success, two Heineken Cups, a Challenge Cup and a Pro12 title in the time since the pair split would suggest so.
Cotter remained at the forefront of European club rugby with Clermont consistently after Schmidt departed for Leinster in 2010, but the trophies never followed despite some electric and complete rugby.
Now the 53-year-old has an altogether different challenge in charge of Scotland, who are bottom of the Six Nations table coming into this weekend after four consecutive defeats.
And yet, you get the sense that Schmidt's point about Cotter having something 'cooked up' for Ireland might be on the money.
Clearly, Schmidt's philosophy on the game has moved forward since last working with Cotter, but even still the Scotland coach understands his former assistant better than most.
"Yeah, he obviously knows Joe very well," says Scotland assistant coach Duncan Hodge.
Cathal Noonan / INPHO Cotter in jovial form as Scotland prepare to avoid the wooden spoon. Cathal Noonan / INPHO / INPHO
"These days with analysis and playing against these players a lot, there's some solidity in what you see and continuity from game to game. Yeah, Vern's experience definitely helps in terms of he possibly knows how Joe thinks better than myself, for example."
Most intriguingly of all, a close study of both Scotland and Ireland's attack in this championship will highlight a number of similarities. The Scots are far, far looser and willing to offload, but some of the starter plays have been literally identical.
Ireland's attempted throw beyond the 15-metre line at an attacking lineout against France failed, but Scotland carried out exactly the same play successfully against England last weekend and scored a try through Mark Bennet several phases later.
After all these years, both coaches are still using a number of the plays they may have constructed together. How much would it hurt for Schmidt to watch Ireland concede from a play he himself knows intimately?
We ask Hodge if he's seen anything familiar in Ireland's attack this year, but the reply is a shrug, smile and non-answer.
They're both different in their own ways."
Indeed they are, and perhaps that explains why Ireland are in the hunt for a championship win and Scotland are threatened with the wooden spoon. Cotter's real test is more long-term than Schmidt's, he must bring about far greater changes.
To those on the outside, Schmidt seems the more pleasant character, easier company when compared with Cotter's apparent gruff and direct nature. That ignores the hard, cold edge Schmidt can bring, but there is some truth that this is a contrasting pair.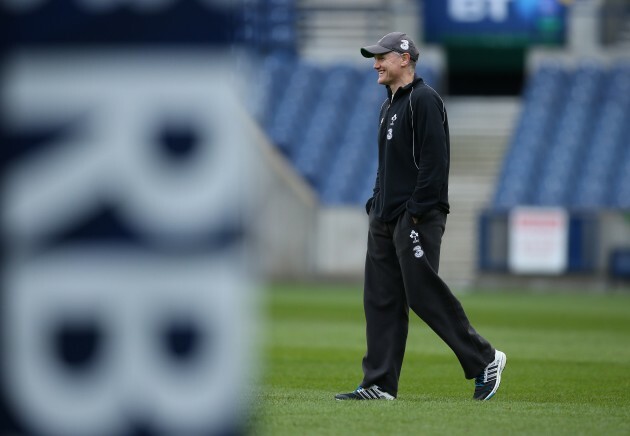 Billy Stickland / INPHO Does Schmidt have a few tricks up his sleeve for Cotter? Billy Stickland / INPHO / INPHO
"He's a straight character, he'll tell you how it is and when the reins need to be pulled in, he can do that," says Scotland back row Adam Ashe of Cotter. "He knows his stuff, he's very experienced and I've been really impressed with him.
"He's pretty technical, always stepping into training with good coaching points and at the same time, he's always managing players to make sure they're fit and firing at the right level."
Ashe also details how Cotter kept in contact with him during a recent period on the sidelines with a neck injury. As well as the technical strength, that's another characteristic of Schmidt's – ensuring injured players feel part of Ireland's journey.
These coaches are always planning ahead, moving one step beyond the present while keeping their players firmly anchored in the day-to-day. Similarities and contrasts; it couldn't be better set up.
Schmidt looks to have a better crop of players for the Murrayfield showdown tomorrow, but Cotter has a group who will be rabidly keen on avoiding another defeat.
Further down the line, what odds on Cotter and Schmidt linking up once again to rule the world with an All Blacks team? That would be quite the spectacle.