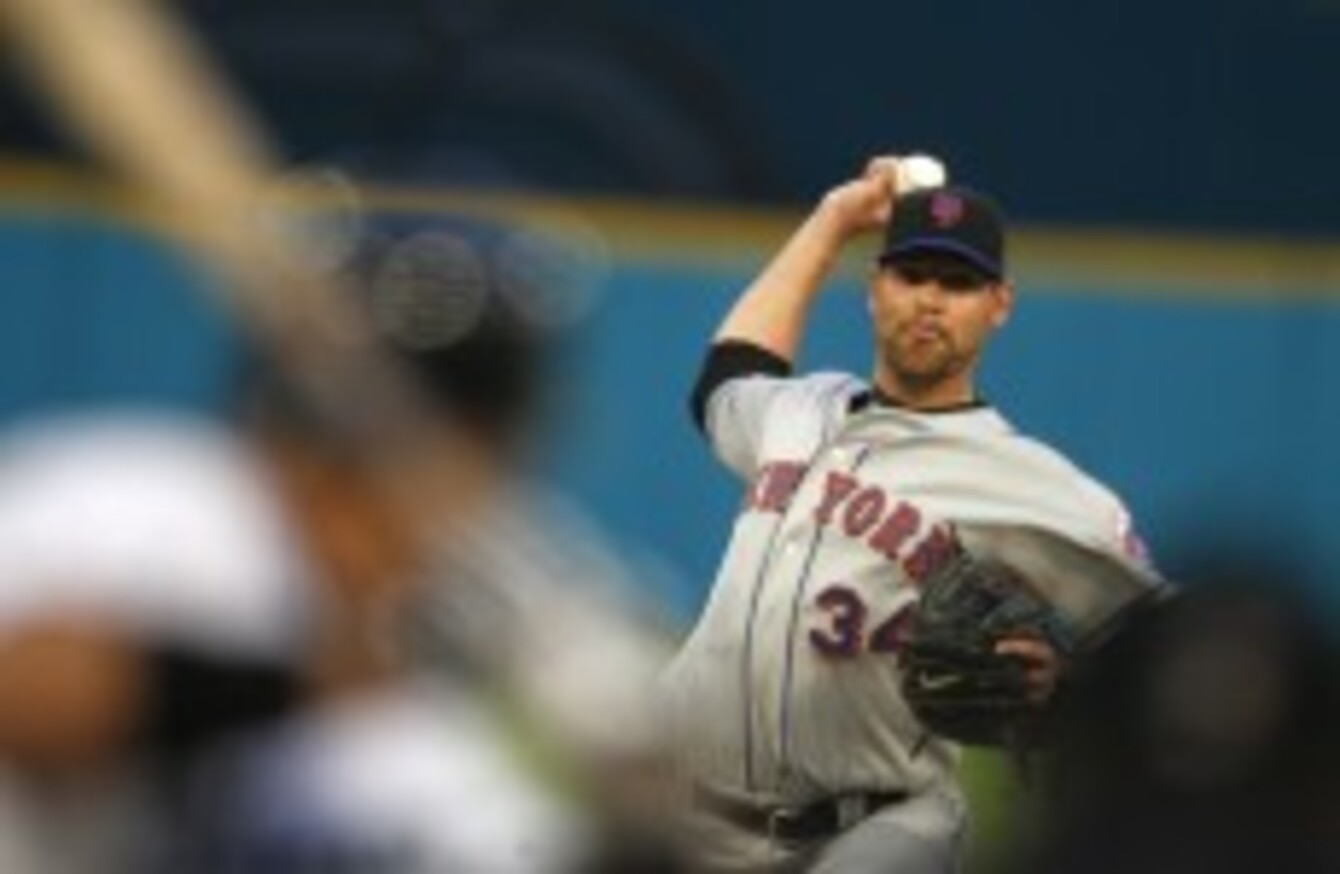 New York Mets starting pitcher Mike Pelfrey has starred in their impressive start to the season.
Image: Lynne Sladky/AP/Press Association Images
New York Mets starting pitcher Mike Pelfrey has starred in their impressive start to the season.
Image: Lynne Sladky/AP/Press Association Images
I'M BEGINNING TO submit to the power of the American announcer.
I'm still getting used to the vagaries of sports commentary but all you need to know, really, is that every team in every sport has its own announcers and these announcers have little or no interest in presenting anything resembling unbiased reportage.
And they usually sound great too. Suzyn Waldman and John Sterling, the Yankees radio announcers, offer the type of old school commentary that'd make you want to hop into a car.
Or maybe even make you regret ever having looked down on this sort of partisan journalism. How could I even dare such a thing having often had the pleasure of sharing a press box with the Evening Echo's Noel Spillane, my favourite homer of all time and the unassuming leader of the Cork Mafia.
I used to deplore one-sided analysis. And part of me still does. There's no legitimacy to Irish analysts bemoaning a Manchester United performance or focusing on the weaknesses of Chelsea or Arsenal when they're playing in Europe.
At least Ray Wilkins is English. He has an excuse, no matter how unprofessional he sounded yesterday when his team were tonked by Real Madrid.
Given all that, I really have no cause to dismiss the bronzed veterans of the airwaves over here who spend night after night trying their best not to offend the short stop or the point guard. At least they're honest about it.
After yesterday's Champions League games ended, I settled in for the vapid triple threat of Mets and Yankees baseball and a dollop of the slowly improving Knicks.
The only redeeming factor was the hammering Amar'e et al conveniently handed out to Toronto thereby leaving me with two games to keep up with: the visit of the Mets to the Philadelphia Phillies and game two of the Minnesota Twins' trip to Yankees Stadium.
Things were progressing as normal. No matter which game you were watching, this was about New York and its plan for domination.
But as I listened to Keith Hernandez, Ron Darling and Gary Cohen revel in their Mets' surprising destruction of the Phillies, I began to see the light.
After pitcher Chris Young was relieved from an impressive debut on the mound for the Mets, he was interviewed while the game was still ongoing. There was a party atmosphere and they hadn't even sealed the deal. The bitter rivals were about to be undone in their own backyard.
All that pre-season misery had been replaced by a rip-roaring start in the National League East. And what's more, "there's panic in Beantown". Cohen was reporting yet another disastrous score for the Red Sox who have started the season winless.
"Oh, oh," laughed Hernandez in response. "My dad rang me up the other day and asked me what's going on with them. I said 'I don't know, I don't cover that team'."
And therein lies the cruel beauty this country: you're either "with us or against us", you're either a contender or you're a bum. You're either the Mets or someone a lot more fortunate in life. But you're definitely not the Mets.
What are they
really like?
Rare insights on sport's biggest names from the writers who know them best. Listen to Behind the Lines podcast.
Become a Member
I'm beginning to understand.
Post script: After I'd reached this epiphany of sporting isolationism, I allowed myself a self-indulgent chuckle when Chin-lung Hu (first season in NY after four at the LA Dodgers) got to first base late in the game. "Hu's on first". Maybe it's not cool but I went straight to YouTube to dig up the famous clip. You should too.
John Riordan writes a column for the Irish Examiner. He works as a freelance journalist in New York; check out his blog here.
Read his weekly pieces  for TheScore here.