YOU CAN COD yourself all day that teams are looking further down the line and that the provincial championships mean nothing.
But Vinny Corey will tell you to your face that you are a liar. More than that, the body language of the Tyrone and Monaghan players as they clanked their way over the concrete tunnel to their dressing rooms tells us that the -old magic remains.
"Once you put the word championship before a game it means something. There is something to be won," said Corey, holder of two Anglo-Celt titles himself.
"Nobody wants to lose championship games, anyone tells you they're going easy in a championship game is telling lies.
"You saw that last week with Mayo and Roscommon. Tyrone would have felt they were going hard for it in the first half and would like to have won it."
He continues, "It's massive learning for our boys, to put in a performance like that, to beat Tyrone in Omagh, it's going to boost the confidence. We have a lot of new players, we were missing players.
"For the group to get that level of confidence, despite the setbacks we've had with injuries, boys travelling and boys retiring to beat a fancied Tyrone in their home patch is massive."
Tyrone continue to puzzle. They made little of their transition over the last couple of years but the more you investigate it, the more significant it looks. They were brilliant for spells here but in the second half they could not cope with the direct Monaghan running.
If referee Niall Cullen wasn't so lenient to hand out yellow cards for consistent fouling, they might have also found themselves a man or two down.
But the day belonged to that glorious last chance, put away by Ryan O'Toole that not only regained the lead, but left Tyrone needing a miracle of a buzzer beater.
"If he (O'Toole) had fisted it over the bar, you would have said, good decision, but he went for it, which was brilliant," said Corey.
"We did give them the licence before the game to take the risk, and I knew when he was shaping up that he was going to go for the goal, because in the first half against Mayo in Castlebar, he got one out on that right wing, and it was the exact same move.
"I thought he was going to go low and hard. I would have forgiven him for fisting it over the bar, but he took it on, and full credit to him on his championship debut. The easiest thing was to take the safe option, but he went for the goal and he got it."
The second half from Monaghan was so impressive, that the question had to be asked of Tyrone joint-manager Brian Dooher; was this physical, or a psychological issue?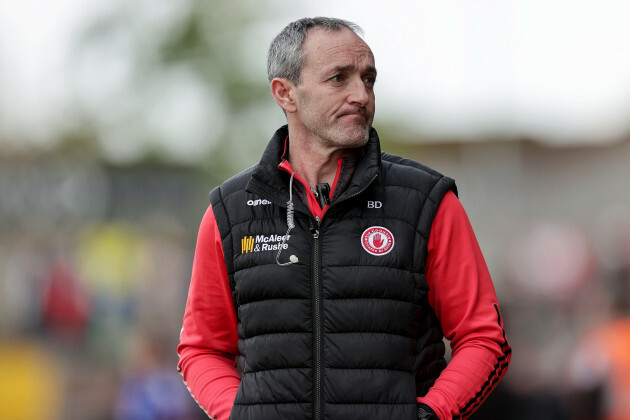 Laszlo Geczo / INPHO Brian Dooher disappointed. Laszlo Geczo / INPHO / INPHO
"I don't think it's all physical, to be honest. In the second half they were dictating the pace of the game, running hard at us, we weren't getting pressure on the runners, weren't tracking runners," he said.
"And then we were forcing ourselves into tackling in positions we shouldn't have been tackling because we were chasing all the time. Then it leaves you in a position where you're vulnerable to frees."
Still though. The real stuff starts in five weeks, no?
"Well, we have that, but we regard today as the real championship," insists Dooher.
"It's very disappointing to exit the way we did, we have a chance to reset and go again. We have three or four weeks now to knuckle down and do some hard work."