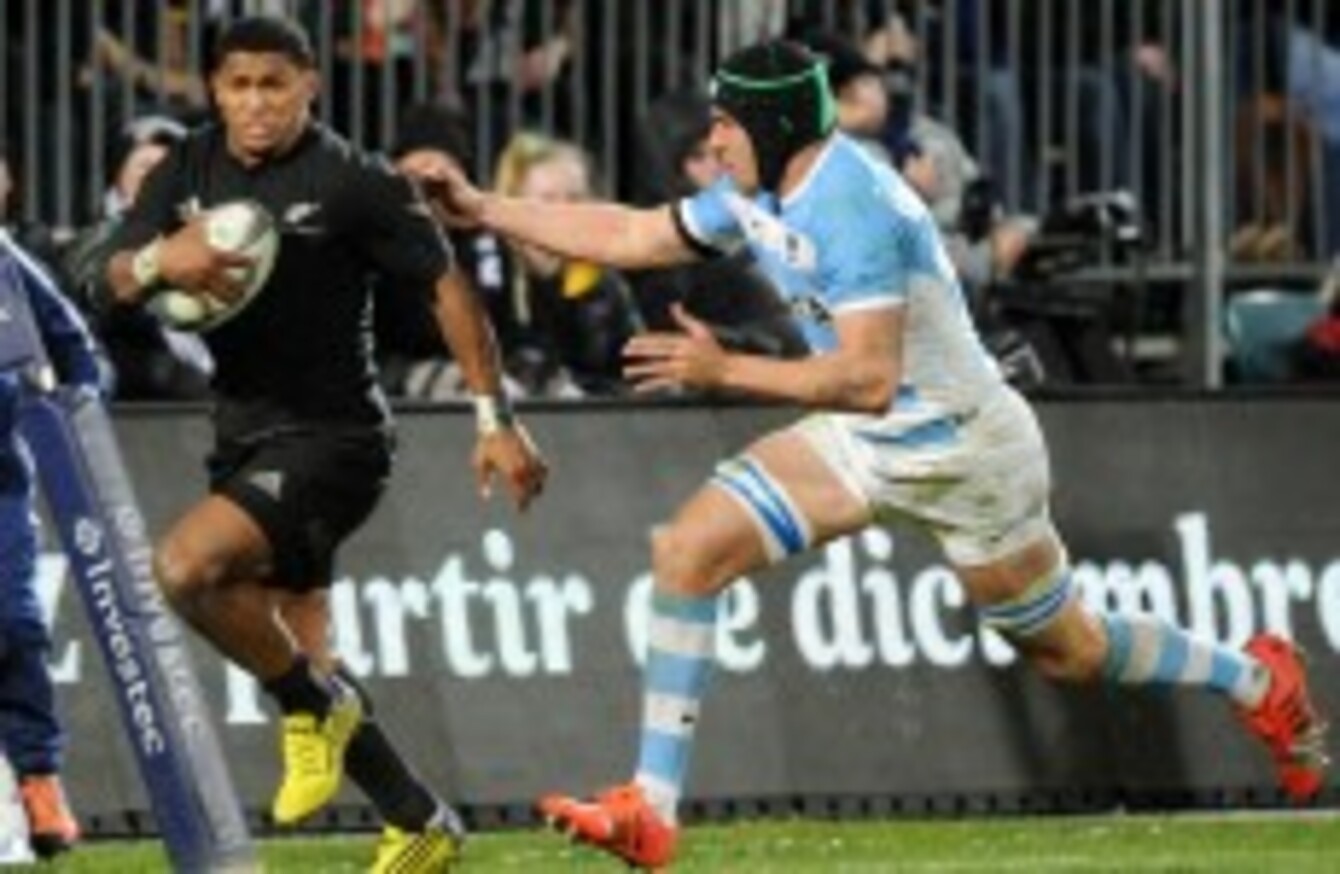 Naholo being chased by Argentina's Manuel Carizza last month.
Image: Ross Setford
Naholo being chased by Argentina's Manuel Carizza last month.
Image: Ross Setford
ALL BLACKS WING sensation Waisake Naholo has declared himself back in the running for a World Cup berth after a rapid recovery from a broken leg using traditional Fijian medicine.
The miracle cure was attributed to "a gift from God", the Fiji Times reported.
Naholo cracked a fibula during his All Blacks debut against Argentina last month, and after initial treatment in New Zealand, the Fiji-born flyer was told he would be sidelined for three months, putting him out of World Cup contention.
The 24-year-old then turned his back on Western medicine and contacted an uncle in Fiji who specialises in traditional medicine and was told to return to the Pacific island, the Times said.
"If you want to play in the Rugby World Cup, get on the plane and come here," the uncle, Isei Naiova, said he told Naholo from his home in Nadroumai village, which is renowned among indigenous communities for the healing powers of certain families.
He said he applied traditional leaves known as kawakawarau on Naholo's leg for four days and when he removed them the injury was gone.
"When I first touched his leg I could feel his bones were damaged," said Naiova, who added his family had a special gift for healing broken bones.
"I later applied traditional leaves which were removed after four days and as we took the leaves off, I noticed the injury was gone.
This healing has been performed by our forefathers and has been passed down from generation to generation. It is a gift from God."
Naiova added that he was "confident" the treatment would allow Naholo to compete at the World Cup if he is selected by the All Blacks.
Naholo, who burst into All Blacks contention this year as the top try scorer in Super rugby with 13, said he had lost his limp and started doing light training in an attempt to reclaim his jersey.
"Growing up here in the village, this was nothing new. I have seen it happen to people and even rugby players who came here and were healed," said Naholo.
The World Cup starts in England on September 18.