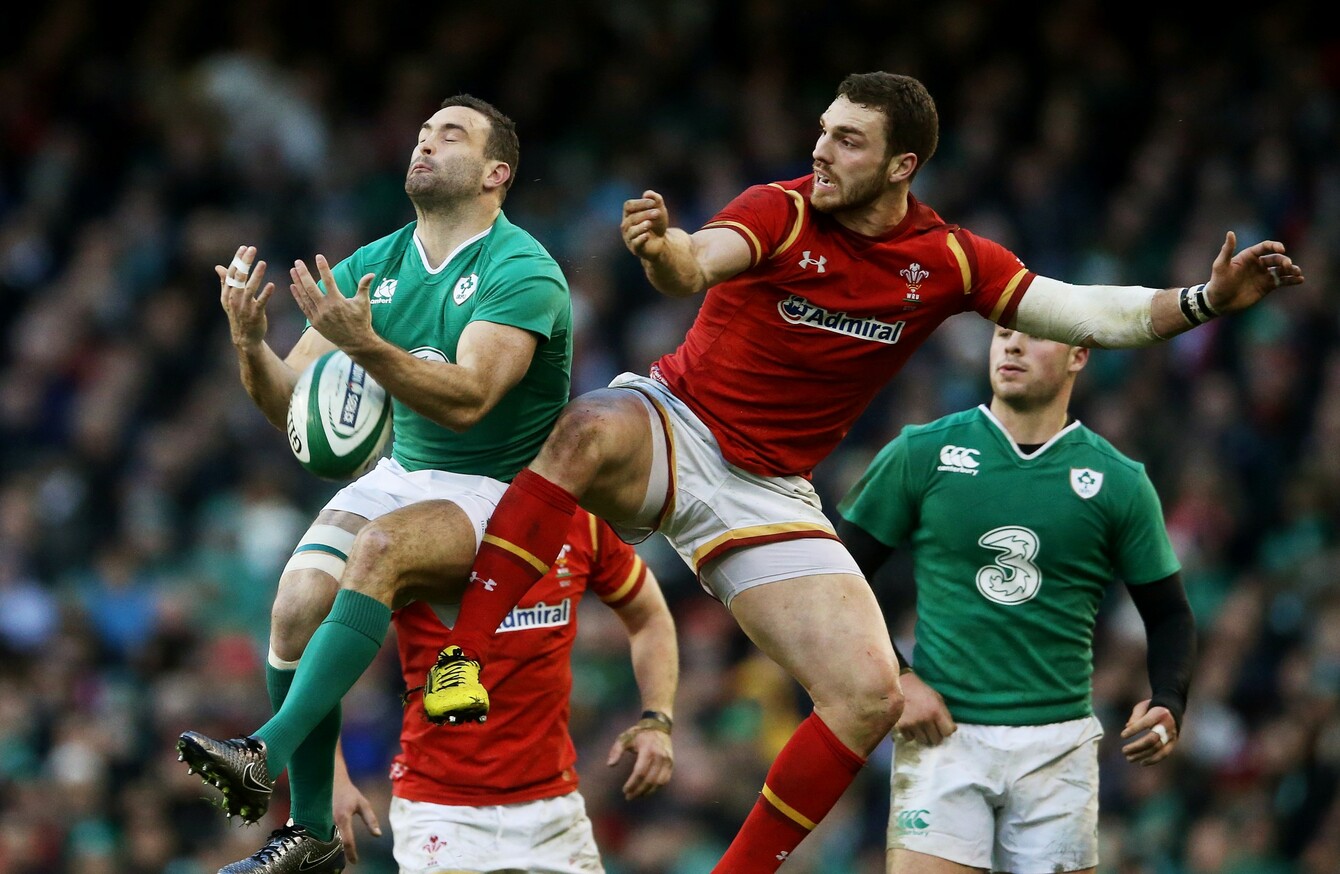 Ireland's Dave Kearney (left) and Wales' George North compete for a high ball.
Image: Brian Lawless
Ireland's Dave Kearney (left) and Wales' George North compete for a high ball.
Image: Brian Lawless
FOLLOWING YESTERDAY'S 16-16 draw, WalesOnline praised the style of rugby adopted by both Ireland and Wales.
Reporter Andy Howell wrote: "I was shocked by the amount of passes Irish play-maker Jonathan Sexton made and the willingness of Joe Schmidt's team to throw the ball around while Wales were good to their word about playing a slightly wider game.
"However, as much as either side tried, defence turned out to be the winner although handling errors cost Ireland three potential scores and Wales one.
"But the more the practice the better you'd hope they come. Keep it up lads!"
The Western Mail described the match as "gripping" and the result as "by no means a disaster" from Wales' perspective.
Journalist Chris Kirwan was impressed in particular by Ireland's start to the match, adding: "The hosts certainly started sharply and Wales would probably have taken a draw when 13 points down after half an hour and with Dan Biggar on the touchline with a strapped ankle.
"However, after getting back on level terms, there was the feel of it being a wasted opportunity. With a bit more composure and spark in the closing stages Wales would have been in with a great chance of repeating their 2008 and 2012 clean sweeps.
"Wales enjoyed plenty of possession and chances inside enemy territory yet they trailed 13-0 after half an hour against an Irish side who are notoriously hard to chase down."
Writing in The Daily Post, Andrew Baldock suggested a draw was "the fairest result," while explaining that there were plenty of positives to take from the game for the injury-hit hosts.
Ireland head coach Schmidt will take heart that his side could still perform, given the absence of nine front-line players, while Wales erased memories of a crushing 26-3 loss on their last Six Nations visit to Dublin in 2014."
The South Wales Evening Post claimed Ireland adopted an overly pessimistic outlook ahead of the game, with Mark Orders explaining:
"The way the Irish newspapers had written it up, Ireland had two chances heading into this game. Slim, and none. And Slim had left Dublin on an express train.
Former Ireland lock Neil Francis led the charge of the pessimists, saying: "This is the worst Ireland side to be named for a competitive match in over 15 years."
"Even the busker at the bottom of Grafton Street seemed to catch the mood, wading through a medley of Coldplay songs, with Fix You noticeably not among them. Perhaps he felt such a notion would be too challenging a task on this particular day.
"The gloom wasn't justified from a green perspective.
"Ireland gave it a serious shot and had in CJ Stander an immense ball-carrier, while Conor Murray had his moments at the base of the scrum."
Finally, BBC Wales called the game "nerve-wracking," and suggested Ireland possessed the greater creativity of the two sides.
Wales' dominance at the scrum was the cornerstone of their fightback, but Ireland looked more creative behind and with Stander and Jamie Heaslip outstanding in the back row, met Wales' predominantly physical challenge head-on.
"Jamie Roberts ran straight for Wales and tackled hard and often, while Simon Zebo and Sexton cut lines for Ireland, with one second half break by the fly-half the outstanding moment of the match."