Good afternoon! Here we go...
Hello everyone and welcome to The42′s live updates of Ireland's Women's Six Nations curtain-raiser with Wales.
Kick-off at Cardiff Arms Park is in just under 20 minutes' time.
Can Greg McWilliams' Ireland build upon a promising 2022, a year in which they lost to an improved Wales at the RDS? We're going to find out shortly.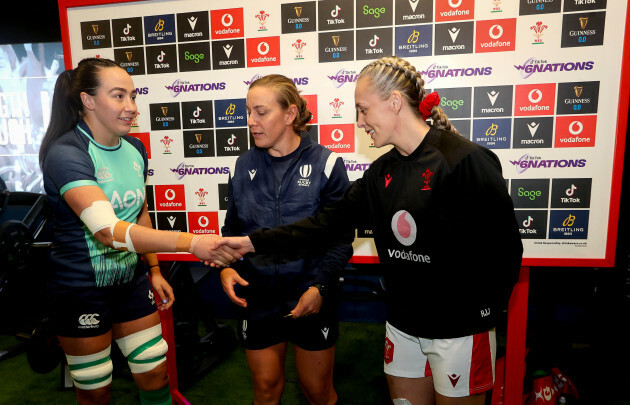 Ryan Byrne / INPHO Ireland's Nichola Fryday, referee Amber McLachlan and Hannah Jones of Wales. Ryan Byrne / INPHO / INPHO
Team News
Ireland are without their sevens stars as they prep a bid for Olympic qualification. They're also without influential figures like Edel McMahon and Stacy Flood.
McWilliams' side is the least experienced in the championship and they'll need to fire on all cylinders if they're to avenge last year's defeat to Wales, who are led by the match-winner at the RDS, Hannah Jones.
Tom Maher / INPHO Tom Maher / INPHO / INPHO
Wales: C Keight; L Neumann, H Jones (captain), K Lake, C Williams-Morris; E Snowsill, K Bevan; G Pyrs, K Jones, S Tuipulotu, A Fleming, G Crabb, G Evans, A Callender, B Lewis
Replacements: K Evans, C Thomas, C Hale, K Williams, S Harries, F Lewis, L George, H Bluck
Ireland: M Deely; A Doyle, A Dalton, E Breen, N Behan; N Cronin, M Scuffil-McCabe; S McGrath, N Jones, L Djougang, N Fryday (captain), S Monaghan, D Wall, M Og O'Leary, B Hogan.
Replacements: D Nic a Bhaird, N O'Dowd, C Haney, J Brown, G Moore, H O'Connor, D O'Brien, V Irwin.
Who do you fancy?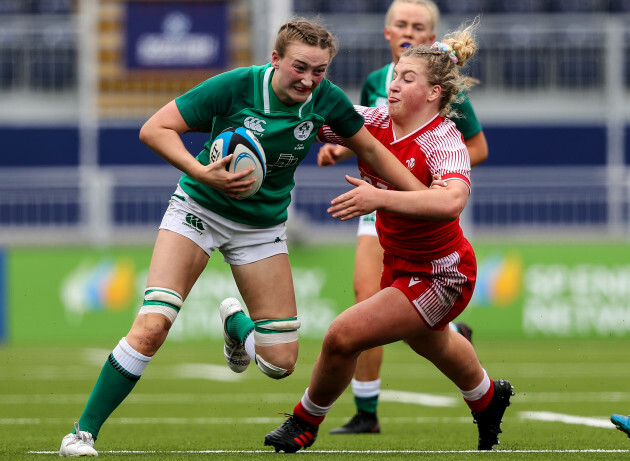 Evan Treacy / INPHO Evan Treacy / INPHO / INPHO
Can Ireland start off their 2023 campaign with what would be a brilliant win? Or will the more seasoned Wales repeat their success of last year?

World Cup quarter-finalists Wales have about 400 caps in their squad to Ireland's 130, roughly. They've doubled their number of professional contracts over the last year.
Ireland are up against it on paper — but they can play ball when they start motoring. Breakdown will be key, here: can Ireland gain sufficient ruck speed to get the ball to width, or will Wales' pack dictate this game?
Anthems have just finished, and we'll have an idea very shortly.
Here we go!
Kick-off
1′ – Wales 0-0 Ireland: Referee Amber McLachlan sounds her whistle and Nicole Cronin gets us underway in Cardiff.
2′ – Wales 0-0 Ireland: Wales' Gwenllian Pyrs bulldozes Ireland off their own ball in the Irish 22′ and the hosts transition to attack very quickly.
Carys Williams-Morris knocks on wide left — but the Welsh scrum monsters its inexperienced Irish equivalent and Wales win a penalty.
Welsh lineout deep in Irish territory.
Try Wales! Wales 5-0 Ireland
2′ – Wales 5-0 Ireland: Wales maul it over and openside Alex Callender crashes over for the opening score!
Keira Bevan's conversion from the left-hand touchline trails wide but the hosts are off to a huge start. Ireland at sixes and sevens, there.
Need to settle.
7′ – Wales 5-0 Ireland: Ireland build a few phases near midfield and win a penalty for hands in the ruck.
Wales winning the collisions but Ireland have their first real entry point, here. Rather than kick to touch, they tap and go on halfway and eventually get turned over in the maul.
Meanwhile, Wales' Gwen Crabb — their main lineout option — has gone off injured. Big blow for them.
10′ – Wales 5-0 Ireland: Wales win a penalty in the scrum, which is predictably proving a huge issue for Ireland given the inexperience in the front row.
Bevan blasts them up towards the Irish 22′.
Try for Wales! Wales 12-0 Ireland
13′ – Wales 12-0 Ireland: Wales go over again, and it's scrum-half Bevan with the snipe under the posts in the end. Weak pillar defence by Ireland but superb Welsh attack, building phase after phase until Ireland cracked.
Bevan adds the afters to her own try.
The Welsh have been absolutely brilliant so far.
15′ – Wales 12-0 Ireland: Ireland are struggling in attack. Wales slowing the ball, dominating in the tackle area, and in this instance they eventually force Cronin into an error as she throws a Hail Mary pass wide but into touch on her own 10.
19′ – Wales 12-0 Ireland: Wales almost create a third but Callender is well hit as she looks to exploit a gap on the inside option and she knocks on about 10 metres from the Irish line.
Nichola Fryday tells referee McLachlan that Wales are sealing off at the breakdown and, to be honest, she has a point. They're off their feet a lot and Ireland aren't really able to compete in defensive rucks.
This is a big scrum for Ireland on their own ball. Sam Monaghan is off for a HIA, too, and she'll be replaced for the moment by Hannah O'Connor.
21′ – Wales 12-0 Ireland: Ireland hold up okay and Enya Breen clears well to just outside her own 22′. Welsh lineout, and they go straight back to the driving maul. Well into the Irish 22′, now.
Big carry by skipper Hannah Jones, who bounces Enya Breen and gains yardage. A couple of phases later, Ireland look for a poach but Breen is pinged for not rolling away.
Wales lineout on the Irish 5′.
Try Wales! Wales 19-0 Ireland
23′ – Wales 19-0 Ireland: Look, it was inevitable, really, based on what we've seen so far. Wales roll it over for their third — I didn't quite see who dotted down in the end so I'll come back to that.
Brilliant conversion by Bevan from the right-hand side in windy conditions.
27′ – Wales 19-0 Ireland: I don't think Ireland have had possession in the Welsh half yet, which shows how capably the hosts are managing things so far.
There's a massive power deficit between these teams, and it's pretty remarkable to see how far Wales have come in just two years since they were hockeyed by Ireland on their own soil. That's actually cause for optimism in the grand scheme of things, but it's of no consolation today. This has been a tough day for Ireland so far.
31′ – Wales 19-0 Ireland: Unbelievable 50-22 by Bevan off the box kick. Welsh lineout right on the 22-metre line.
Ireland sack the maul very well this time, and a Welsh pass strays forward as they go wide right. In all honesty, it wasn't a forward pass at all, but we'll take it!
32′ – Wales 19-0 Ireland: Sam Monaghan is back on having passed her HIA. Sale's Vicky Irwin is on for the injured Méabh Deely at fullback for Ireland.
Ireland knock the ball on at the back of their own scrum after that non-forward pass by Wales. Pardon the crude language but that's an absolute balls, now.
Try Wales! Wales 26-0 Ireland
33′ – Wales 26-0 Ireland:Hannah Jones sends Nicole Cronin for chips with a hand-off and combines wonderfully on a one-two with her centre partner Kerin Lake to go under the sticks.
Bevan pops over the conversion and Wales have their bonus point.
35′ – Wales 26-0 Ireland: Brilliant charge-down by Sam Monaghan in the Welsh 22′! She's pinged as she tries to regather the ball, however, as she seemed to dive on top of the Welsh defender who just about beat her to it.
Wales go to touch and win a penalty advantage in the maul around halfway as Nichola Fryday comes in from the side. They work it brilliantly towards the Irish 22′ but play is stopped due to what looks like a knee injury to Enya Breen, who was in a prone position as play carried on around her.
36′ – Wales 26-0 Ireland: Breen is back on her feet and good to continue, thankfully. Welsh scrum on the Irish 22′, wide right.
36′ – Wales 26-0 Ireland: Ah, what a brilliant scrum by Ireland! They win a penalty off the Welsh put-in. Big celebrations, and hopefully a bit of a psychological boost, there.
Ireland claim their own lineout ball on their 10′ and, despite losing ground in their attack, they win another penalty. They tap and go from their own 22′ and a lose pass — backwards, at least — puts them under pressure… Aaand Wales win a penalty on the ground.
They're back on the Irish 5′ with a lineout.
39′ – Wales 26-0 Ireland: The Welsh lose the ball forward in the lineout but so too do Ireland in the loose soon afterwards.
Scrum Wales just outside the Irish 22′.
Half-time: Wales 26-0 Ireland
40′ – Wales 26-0 Ireland: Ireland survive another Welsh attack and take it to the break.
It was replacement Sioned Harries — who came on for the injured lineout master Gwen Crabb earlier — who got the third Welsh try, by the way.
This has been a tough afternoon so far. Let's hope Ireland can gain more of a foothold in the second half, even if it's just as a result of Wales getting a bit too comfortable.
Second half
41′ – Wales 26-0 Ireland: Ireland concede a penalty within seconds of the restart as they knock on and Sam Monaghan picks up the ball in front of her teammate. Wales kick to within about eight of the Irish line.
Deirbhile Nic a Bhaird came on on at openside for Maeve Óg O'Leary at the break.
42′ – Wales 26-0 Ireland: Wales bash it up towards the Irish line and it's the brilliant Sisilia Tuipulotu who bowls it over the line, but she loses possession as she attempts to touch it down. That was almost as bad a start to the second half as Ireland could have managed, but they get away with it.
Irish scrum on their own 5′.
Try Wales! Wales 31-0 Ireland
45′ – Wales 31-0 Ireland: Irish scrum held up well but a clearance kick doesn't find touch and Wales take it forward again from the 22′.
Deirbhile Nic a Bhaird is sin-binned for a deliberate knock-on. Wales kick to touch on the Irish 5′ and Ireland do well to stop the maul short a couple of metres short of their line.
Wales get over, however, off the next phase as Tuipulotu gets the score that she was denied moments ago. Well deserved for the loosehead.
Bevan's kick is a tough one from wide left and it trails wide.
54′ – Wales 31-0 Ireland: Dannah O'Brien is on at 10 with Nicole Cronin shuffling to scrum-half. Looks like Molly Scuffil-McCabe has moved out to the wing for Aoife Doyle.
O'Brien boots Ireland into the Welsh half and they win a penalty. This will be only their second possession in the Welsh 22′. They win their own lineout and make three or four metres off a good maul. Another penalty advantage.
When their attack breaks down, ref McLachlan takes it back for the pen and O'Brien prods Ireland to within 10. Good opportunity, this, now, for Ireland.
54′ – Wales 31-0 Ireland: Neeve Jones nails her throw again but Wales halt the Irish maul almost immediately and win a scrum. [Liveblogger sighs].
But better from Ireland; O'Brien has been impressive since she's come on.
56′ – Wales 31-0 Ireland: Wales demolish Ireland in the scrum and win a penalty. Out-half Elinor Snowsill boots them to touch, near their own 10′.
Greg McWilliams starts to empty the bench in his pack — too many subs at once to list them in a liveblog. Wales botch the lineout and it's an Irish scrum for a crooked throw.
59′ – Wales 31-0 Ireland: Ireland make some inroads down the right through Scuffil-McCabe. They sweep back left and O'Brien chips through, finding touch in the Welsh 22′.
Some nice glimpses by Ireland, there.
60′ – Wales 31-0 Ireland: Fryday is pinged again during Ireland's maul defence. Wales' lineout has been generally excellent, and the maul has been an unbelievable platform for them.
Ireland just look scattered in their efforts to stop it; and again, it all probably comes back to the power deficit. It's tough to nail your lines when you're being marched backwards.
Anyway, Wales maraud forward again into the Irish half but Ireland win a penalty on the ground near their 10′ and they go quickly. Vicky Irwin knocks on shortly afterwards, however, and here come Wales again.
62′ – Wales 31-0 Ireland: Aoife Dalton stops Wales in their tracks with a brilliant jackal turnover but, from the resulting penalty, O'Brien's booming kick doesn't quite find touch. She tried to get absolutely everything out of it and, at this stage, why not?
The Welsh backfield defender spills it forward, mind you, so Ireland have a scrum on the Welsh 22′.
63′ – Wales 31-0 Ireland: Good scrum by Ireland and, a couple of phases later, Nic a Bhaird punches a hole in the Welsh defence.
Wales force them back towards the 22′ and Enya Breen threads a beautiful kick through the Welsh defence which is shepherded into touch on the hosts' 5′.
65′ – Wales 31-0 Ireland: Hannah O'Connor has come on here for… Nicole Cronin? So Scuffil-McCabe back to scrum-half and O'Connor to the wing, possibly? We'll see how that shapes out.
Wales win their own ball and clear to the 22′. Jones pinpoint again with her dart and Ireland get serious purchase out of their attacking maul, which rolls all the way to the Welsh 5′!
Penalty advantage Ireland and they're knocking on the door, here, a couple of feet from the Welsh line. Wales come in with a steal at the breakdown and McLachlan brings it back for the penalty near the 5′.
Nic a Bhaird taps and goes. Ireland within inches. Fryday has a go! She thinks she's grounded it… McLachlan will go upstairs and have a look. On-field decision is no try.
Try Ireland! Wales 31-5 Ireland
66′ – Wales 31-5 Ireland: Try given! Just reward for Ireland's best attacking set of the game. Really good work all round, there.
Okay, the game has kind of fizzled out as a contest at this point, but it was important for Ireland to get something.
O'Brien's first conversion attempt creeps wide; she'll be disappointed with that from a fairly easy position, just right of centre.
70′ – Wales 31-5 Ireland: Ireland get a solid attacking platform inside the Welsh 10′ and their own lineout continues to be excellent — but they get turned over off first phase.
Wales, however, clear the ball out on the full, so back we go.
72′ – Wales 31-5 Ireland: Typically, just after praising Ireland's near-spotless lineout, Jones finally miscues and Wales win the scrum for a crooked throw.
74′ – Wales 31-5 Ireland: The attendance at Cardiff Arms Park, by the way, is a healthy 4,962.
74′ – Wales 31-5 Ireland: Regarding Hannah O'Connor coming on for Nicole Cronin (then at scrum-half) earlier, by the way, it was Deirbhile Nic a Bhaird (on at back row) who moved to the wing, where she began her career, with O'Connor slotting in in the back row.
75′ – Wales 31-5 Ireland: Ireland are looking to go wide, at times, when they haven't really earned the right. They're making no inroads through the middle so Wales are happy to just fan out and snuff out Ireland with ease at the edges.
Ireland win a penalty off a Welsh scrum near halfway and O'Brien lashes them into the Welsh 22′. Her boot has made some difference.
The Irish lineout goes awry again, however, and Wales clear.
Full-time: Wales 31-5 Ireland
That's all she wrote.
A chastening day for Ireland, make no mistake about it, but they can take a little bit of heart from how they hung tough in the second half, at least.
Credit to Wales, who look rightly proud of a brilliant performance and win.
This could be a long championship for Ireland, but a lot of these players just need to play high-level, competitive rugby if this team is going to develop depth at international level.
No pain, no gain. Let's just hope they can make a few more gains away to Italy and Scotland this year.