LAST UPDATE | Feb 2nd 2023, 9:54 PM
IT'S WEDNESDAY, 4 MARCH 1998 and the Ireland rugby team are stepping up preparations for Saturday's trip to France. Ireland have lost their last 13 games against the French and haven't won in Paris since 1972.
It's a daunting task, but one they've briefly pushed to their back of their minds. First they have to negotiate their way down the Shannon. The squad boarded a cruise boat in Killaloe early that morning and will spend their evening enjoying a team-bonding dinner together in a cosy Clare restaurant.
The plan has been mapped out by Warren Gatland, who will soon lead a Test team as head coach for the first time following another turbulent couple of weeks for Irish rugby.
********
"The IRFU has turned to the Connacht coach Warren Gatland to restore some credibility to Irish rugby following the resignation of Brian Ashton." – Irish Independent, 25 February 1998.  
In early February Ireland lose their opening Five Nations fixture by one point at home to Scotland. It proves to be the last game of Brian Ashton's reign, the Englishman resigning just 12 months into a six-year contract which was reported to be the most lucrative in world rugby. He's the fifth Ireland coach to hand in his badge during the 1990s.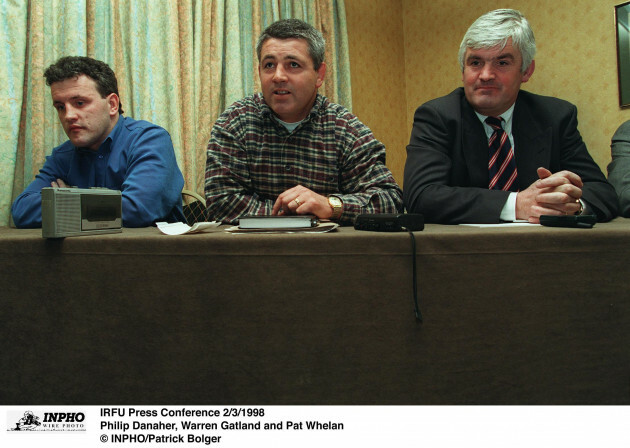 Patrick Bolger / INPHO Patrick Bolger / INPHO / INPHO
His replacement is swiftly sworn in. At 34, Warren Gatland becomes the youngest head coach Ireland have ever had. The offer is to steer Ireland through the remainder of the competition, and if all goes well, maybe even hang around a bit longer. The former All Black's first mission is to lift confidence levels among a group of players who won just two games across the 1996 and 1997 Five Nations.
Or as former Ireland prop Nick Popplewell puts it: "We were getting battered all the time. We were always brilliant in the first 40-50 minutes, and then the last 30, whether through fitness or self-belief, we just folded and that's when we used to lose matches."
"The problem for Brian Ashton was the players weren't good enough to implement what he wanted us to do," says David Humphreys, who at the time was playing his club rugby with London Irish. 
"Warren had built a very strong reputation in Connacht in terms of being pragmatic.  Having been a hooker he had a very physical and direct approach. The IRFU made a decision that they wanted to change how Brian wanted us to play and get back to what might have been perceived at that time as a more traditional Irish style of play."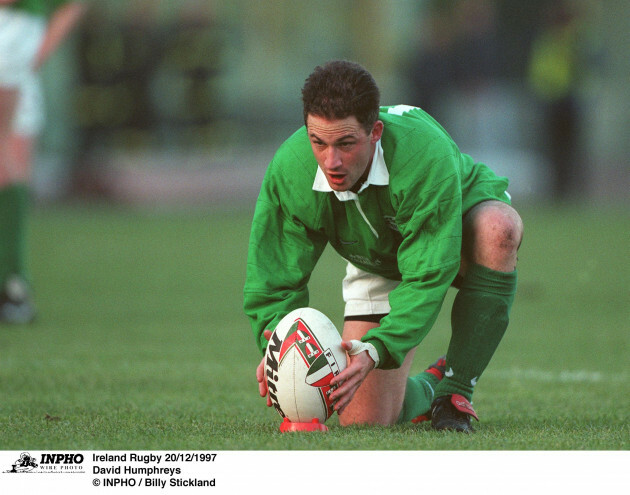 © INPHO / Billy Stickland © INPHO / Billy Stickland / Billy Stickland
Returning to a more direct gameplan was just one part of Gatland's masterplan. He was also determined to bring the group closer together and in turn, restore some pride in the shirt.
The midweek cruise around Clare is only the start.
********
"I invite the Irish public to express their goodwill by sending us messages of support that will be brought to the team's meeting room in our Paris hotel."
Over the course of just three days around 2,000 messages pour into 'The Goodwill Irish Rugby Team hotline', a special faxline set up on Gatland's request.
He has the messages stuck around the team room and allows the players come in and sift through them in their own time. Some messages have arrived from as far as the Lebanon, South Africa and Asia. Some are from cancer patients, some are from supporters struggling with disability. Reading through the notes brings some of the squad to tears. 
"I think we all took something from it," says Humphreys.
It gave you an indication of how important any Irish team is to the supporters. That was a big thing and it goes back to how Warren was able to connect with the squad, but also connect with the wider rugby public."
"It was really positive," adds Richard Wallace, who started every game in that championship on the wing. "It was about feeling a connection when you were away, it was about feeling connected with the people back home.
"When I first start started playing for Ireland we had a big losing streak, and the mood around some of the home games was very poor in terms of the interaction with the crowd. So to see such positive messages coming through for the team was pretty special.
"In the past the Ireland setup was very macho in terms of how you do things, and probably missed out on how little substitutes like that that can help improve the mental mindset before a game. That was a fundamental shift in how we prepared for games, and even how we looked at each other as teammates."
"It was the little things like that," says Popplewell. "And he came out with us whereas previous coaches wouldn't have. Previously the norm was you had someone who was 45 or 50 or more (in charge), but Gats was closer in age to a lot of us. At the time, Gats could probably have played with us."
He also immediately had their respect. Capped 17 times for New Zealand, Gatland was player/coach at Galwegians and had recently led Connacht to five wins in the European Conference Cup, including a brace of victories against Northampton and making history as the first Irish province to win a competitive fixture France.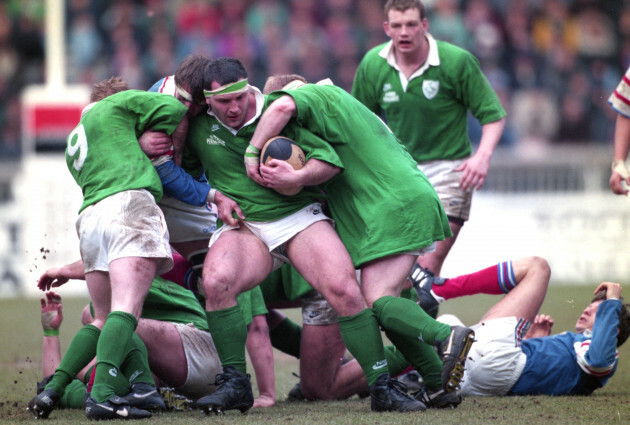 Billy Stickland / INPHO Nick Popplewell. Billy Stickland / INPHO / INPHO
"A New Zealand coach, it's like New Zealand players; you're kind of sold on the badge because they come from New Zealand," Popplewell continues.
"The New Zealand origin just gave him an automatic green card to do what he wanted really, because we were so awful at the time. There's no point mincing the words: simple as, we struggled an awful lot. We had no consistency whatsoever.
"Warren came in and was more hands-on and was more accessible to players. He would have been very much proactive and one of us, but you got the sense that he actually knew what he was talking about."
"Because he was young, because he was recently retired as a player and was coaching in Ireland, he was close to the players," says Humphreys.
"And that was very much a traditional Irish team. One of the strengths of the Irish game was that ability to bring an unbelievable physical, emotional performance, but there were often times where you could only survive for maybe 60 minutes against the very good teams. That was Warren's starting point when he came in. He re-established that and built the game plan out beyond that. 
"He set the foundations at the time for what would go on to be a very successful period for Irish rugby."
********
It all starts at the Parc des Princes, a ground that has become a graveyard for visiting Irish teams.
Jean-Claude Skrela's side are feeling good about themselves. Les Bleus opened their campaign with a 24-17 home win over England before putting 51 points on Scotland and Edinburgh.
For an Irish side still getting familiar with a new, inexperienced head coach, expectations are low. Ireland's last visit to Paris ended in a 45-10 defeat – France's biggest win in the fixture's history. There is genuine concern that this time, the visitors will break unwanted records again.
The Irish Independent: "The reality is that the public perception of this squad is one of a bunch of spiritless, overpaid and overrated exiles… We are playing the most gifted and exciting team in world rugby in their own backyard at a time when they are cock-a-hoop and we are on our knees."
The Evening Herald: "The danger is that Ireland could easily become this season's third victims of half-century scores in the competition."
Yet what the press and travelling support don't know is that this is an Irish team who have been galvanised by the new boss. The fax line idea proved a hit with the players and a return to placing more focus on the basics has restored confidence in the gameplan.
Warren Gatland: "The main goal is to gain some respect back from our opponents." 
On the day, 78,000 people turn up at the newly-opened Stade de France. The traveling Irish squad sense a potential upset.
********
"Ireland played brave, not frightened rugby. They roughed up France. It may not have been a text-book science, but by God it made us feel good about ourselves again." – The Irish Independent.
With an hour on the clock, Ireland lead 16-6 thanks to a Denis Hickie try and nine points from the boot of Eric Elwood. The visitors are on course for a famous win but then the dam breaks as France cross for two face-saving tries in the final quarter. 
Yet Ireland's performance sees the team celebrated as heroes. Raphaël Ibañez describes the game as his most difficult experience as France captain.
Wallace remembers a feeling of frustration mixed with pride. "We were being obliterated every second year in Parc des Princes but that day in Stade de France it all changed for us.
"It was really close, nip and tuck all the way to the finish. I really felt we left that game behind us. It was a game we could have won."
Patrick Bolger / INPHO The Ireland players dejected after defeat to France. Patrick Bolger / INPHO / INPHO
Gatland's Ireland revolution was underway but it would prove to be a slow one. Ireland lose their next two games against Wales and England but continue to show signs of progress as the players begin to sense they are in the early stages of a new, exciting journey. 
"Wales came to Dublin and we should have beaten them," Wallace continues.
"Then we went to England, and we were in the game but just started slipping off towards the end. We got the wooden spoon that season but it was one of those weird ones where we were actually competitive all the way through the tournament, but we just couldn't win a game."
"Warren was coming into a 10-year spell which was one of most unsuccessful periods in Irish rugby history," says Popplewell.
"There was an element of self-doubt (among the squad) because now you had a lot of players beginning to come in (and challenge senior players). There was a lot of new blood coming up and he was aided and abetted by the strengthening of all the provinces too.
"Keith Wood had been very much in and out of the squad for a few years but Warren made him his captain and the whole structure was based around Woodie. He was incredibly good and was young enough to basically take it forward.
"With other coaches there was a tendency to stick with the older group – if in doubt let's go with the tried and trusted. Then all of a sudden you have this breath of fresh air. Really when you sit back from it, there was nothing to lose. We couldn't have got any worse.
It was a matter of driving these players up, getting rid of the drift wood and you start giving the younger players a bit of air miles, chances are you can mold them they don't have the seven or eight battered years that's just gone by. They don't know what it's like to lose for maybe 10 years." 
A disappointing tour to South Africa followed that summer but the good times would eventually begin to tumble along. In 2000 Gatland would lead Ireland to a first win in Paris in 28 years and a first win against Scotland for 12 years. A year later they toppled Les Bleus in Dublin for the first time since 1983. 
Talk of title wins and Grand Slams remained some way off but Gatland had made Ireland a competitive force again. For those that slugged through the various nineties horror shows, that was more than enough.
"There are so many factors that go into being a successful coach," adds Humphreys.
"One is obviously your ability as a coach to inspire people, the ability to pick the best players, the ability to prepare them the best, but you also need a certain element of luck and you need to go to the right place at the right time. 
"I think when you look back and see the steps that Warren has taken throughout his career, they have always been very, very clever.
"Could you look back now and say in 1998 that you felt he would go on to be one of the most decorated and successful coaches in World Rugby? No, you wouldn't. But I think one of the measures of successful coaches is the players enjoy working with them, and the players enjoyed working with Warren and they played for him when they put that Ireland jersey on.
"That's the starting point for any coach who goes on to be successful." 
Get instant updates on your province on The42 app. With Laya Healthcare, official health and wellbeing partner to Leinster, Munster and Connacht Rugby.