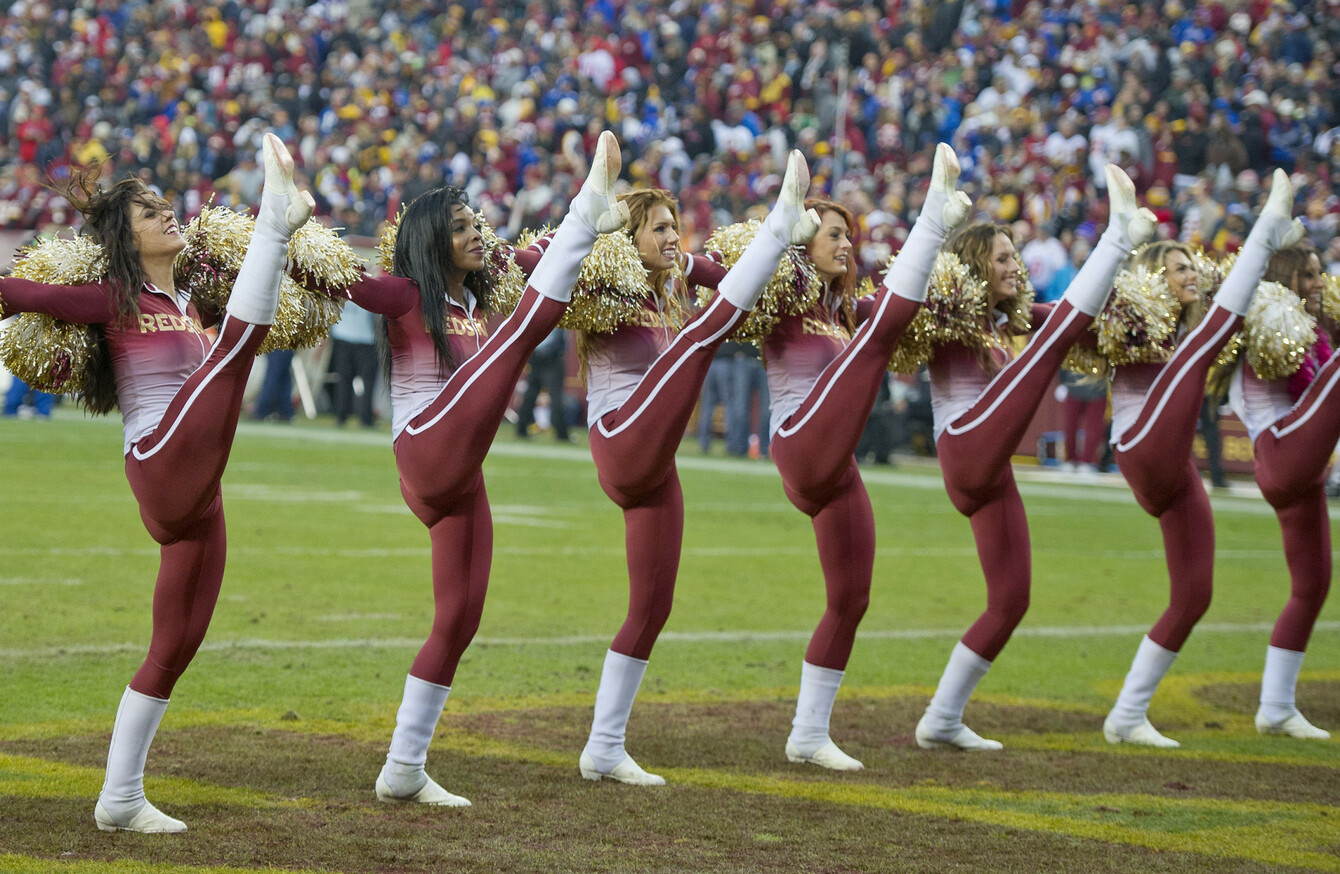 Their work on the sidelines is only part of life as a cheerleader.
Image: DPA/PA Images
Their work on the sidelines is only part of life as a cheerleader.
Image: DPA/PA Images
YOU MAY HAVE never heard of Barney Glaser and or Anselm Strauss, but you have the pair to thank for a seismic shift in our understanding of social relationships and the behaviours of groups.
Until they wrote their landmark book in the 1960s, most researchers had a fascination with proving the theories of long-dead white men such as Karl Marx rather than creating new theories of their own through the first-hand collection of evidence.
But in their book, The Discovery of Grounded Theory, our two heroes put forward the idea that research findings should be grounded in data that is collected first hand and analysed while preconceptions should be avoided.
By now, you might be wondering what this has to do with cheerleading in the NFL but Dr. Kimberly Vaughn — a Pro-Bowler and former captain of the Washington Redskins cheerleading squad — earned her PhD in Human Capital Management from Bellevue University thanks, in part, to a dissertation on Grounded Theory.
So if anyone is in position to address preconceived notions of life as a cheerleader, it's her.
"I think there are some big misconceptions at the moment, not just about the future of cheerleading, but also about all that we offer and all that we do as women both inside and outside of the cheerleading world," Vaughn told The42 this week.
"People who really know what we do, what we stand for and what we represent, and people who know us as individuals and strong, intelligent women, know the truth and that's really what I like to stick with.
"There are always going to be individuals who have their own experiences and think that everyone's must be like theirs and it's unfortunate that a few voices can bring negative attention to what we do."
One preconceived notion about life as a cheerleader that refuses to go away is that their main job is to dance at the side of the field during football games.
Vaughn says that couldn't be further from the truth.
"As well as what we do on the sidelines, our primary role is in the community and interacting with fans.
"What people might not realise is that a lot of our work would include visiting hospitals to see wounded veterans or ill children.
"We'd also participate in fan appreciation days and we even had programmes for junior dancers where we not only taught them how to dance and perform, but also taught them about the importance of self-confidence so we really get to interact with the public.
We're a real face of the team for many people so it's about much more than dancing on the sidelines."
While this community work often earned Vaughn and her team-mates praise, the now-senior program manager for a multi-national professional services and IT company says that she benefited as much as those she performed for and met.
"I cheered for eight years, and my favourite thing was going overseas. I went on over 12 tours to over 35 countries and people would always say that we touched their lives and thank us for giving them a slice of home.
"But they'd no idea how much they were changing my life on each of these trips too. It's interesting that people think of it as volunteering but, for me, the return that I got in terms of enjoyment and fulfilment from acting as an ambassador for the team was so fulfilling that it really was the reward for all the hours spent practising.
"Don't get me wrong, most cheerleaders love football and love dancing and cheering, but even making a difference in the life of one other person, whether it's a child in hospital or a member of the military overseas, is one of the main reasons that I did it."
Another misconception about the athletes who make up cheerleading squads is that it's something they've done their entire lives, starting in elementary school with the hopes of turning professional.
Not so for Vaughn.
"I grew up as a ballet dancer," she says.
"I did that for 14 years and ended it in high school. I also did a bit of jazz. I started cheerleading in high school too, cheering for a year as a freshman before I joined the school dance team.
"I did not cheer in college, I did the whole sorority bit and focused on my studies but I really missed cheering. After college, I moved back home to the Northern Virginia area.
"The team that was nearest to me there was the Washington Redskins and I ran into the woman who was the director of their cheerleading squad at the time. She had actually taught me a private lesson at my home when I was auditioning for my high school dance team.
"She said that I should consider looking at the Redskinettes — as they were called at the time. It piqued my interest because I really missed dancing so I thought 'Why Not?'
"I showed up at the first audition and there were several hundred women and I thought it was great to get through that. I made it to the second round and then in came all the veterans, all these women who really knew what they were doing, but I ended up making the team and it was outstanding. I really loved it."
While some current criticism of cheerleaders and how they're treated revolve around the issue of pay, Vaughn says she knew exactly what she was signing up for in 1998.
"One of the requirements was to either have a full-time job, or be a full-time student or stay-at-home mom.
"I had a full-time job so I worked all day, 8-10 hours, then we had roughly 3.5 hours of practice between 7-10.30pm.
"That was two to three times a week and was used to get us ready for the home games at the weekend, including the preseason.
"A lot of our external events and promotions would involve the performance of routines too, not just meet and greets or photos, and we'd have to train for them so it was really a year-round commitment," she says.
"Of course it was a challenge to fit everything in. I was also on both a USO and Armed Forces Entertainment team at the time, travelling overseas to entertain the troops and bring hospitality. That takes weeks and months out of the year to bring a bit of home overseas to our military.
"In total, I'd say I probably practised four to five times a week at 3.5 hours at a time, so it is full on.
See Sport
Differently
Get closer to the stories that matter with exclusive analysis, insight and debate in The42 Membership
Become a Member
"But you're dedicated not just to the organisation, but to the women with whom you're working with too.
It's a lot like the players on the team. If you have players missing from practice, it's hard for them to be in sync with their team-mates.
"Likewise, if we're missing practice, it's hard to get the co-ordination or the routines down.
"So you have to have a dedicated group of women who can show up and be consistent and you can rely on. There's a lot of loyalty and dedication to each other because it has to be there."
Those bonds formed while working together proved crucial to Vaughn when her husband Aaron — a US Navy Seal — died along with 29 others when his helicopter was shot down in 2011.
"There's a very diverse group of women who are involved with cheerleading. There are girls from all different backgrounds, from mothers to students, and that's what makes us such a close knit family.
"We're all there for one another, we all support each other and we all go through different things in our lives. I lost my husband in Afghanistan and the outpouring of support from these women was exactly what I needed.
They didn't just stick by me the years that I cheered, these are women that were at my wedding, were there when I had my children and when I lost my husband. They're not just my friends, they're my family.
"The alumni association for the Redskins is the largest organisation in the NFL and the national association has grown a lot in the past few years too. What we're finding is that there's so much we have in common, no matter what team we cheered for."
In response to recent scandals, many commenters have called for an end to cheerleading squads in the NFL.
But in a sport where women already play far too small a part, it's a move that feels akin to throwing the baby out with the bath water.
Instead, Vaughn hopes the future lies in focusing on what the cheerleaders do for teams off the field as much as their athletic endeavours on the sidelines.
"I hope that cheerleading lasts forever," she says.
"I personally had some of the best years of my life with the Washington Redskins. Not only because I love football and love to dance, but because I was able to be involved with the community and hopefully bring some joy to the lives of others — such as kids and veterans — who were maybe going through a hard time.
I really hope that role gets amplified in the future.
"I think it's already there now, especially for people who really understand what we do, but my hope is that in the present scrutiny of the cheerleading, it's not overlooked."
The42 is on Instagram! Tap the button below on your phone to follow us!