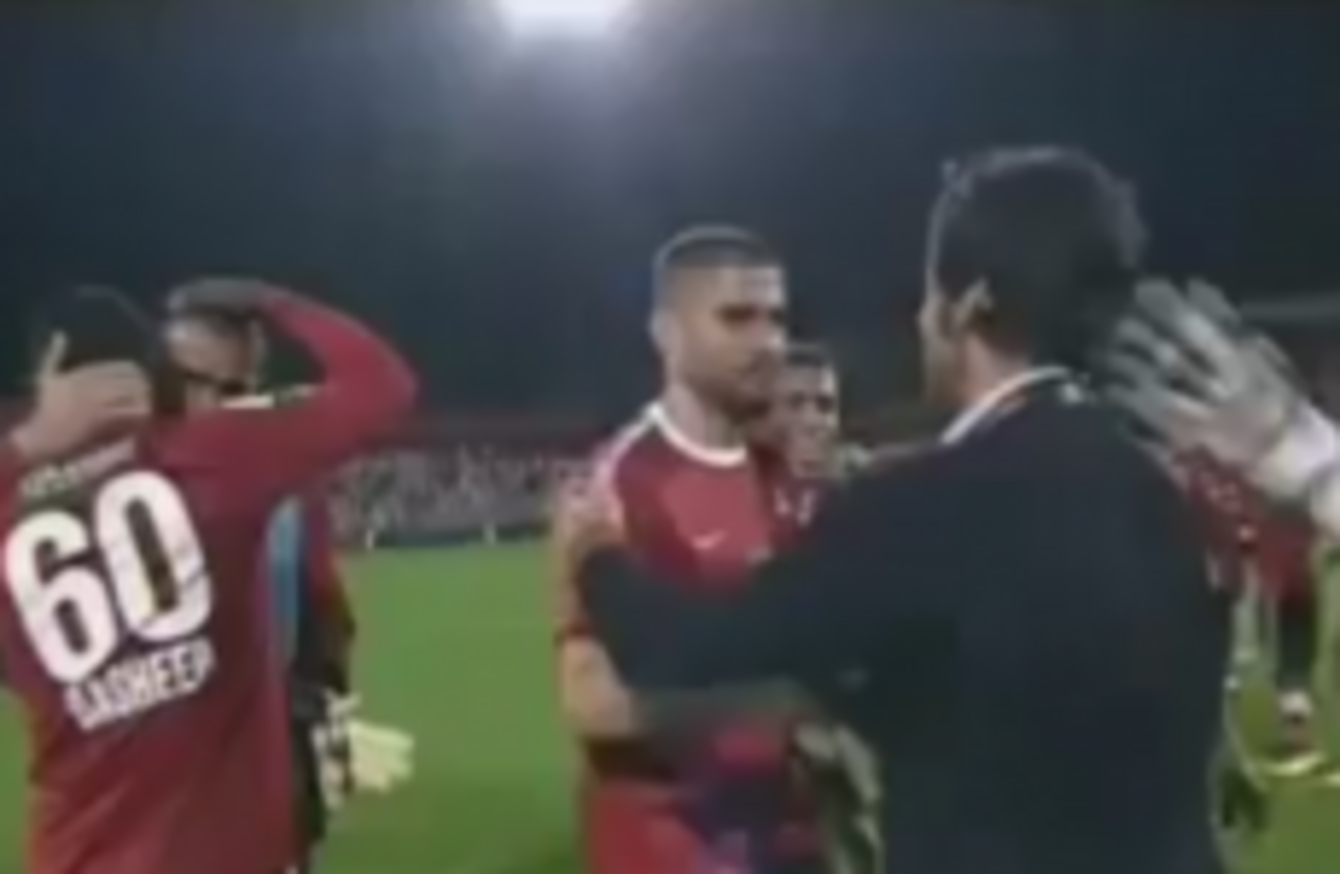 Image: YouTube screen grab
Image: YouTube screen grab
YOU KNOW HOW it is.
After a game you can be so eager to shake the hand of the opposition coach you respect so much that you inadvertently end up slapping him up-side the head.
Al Wasl keeper Majed Nasser has received a 17-match ban for doing just that to Al Ahli coach, Quique Sanchez Flores, after the Emirates Cup semi-final.
The Spanish coach was celebrating his side's victory when Nasser slapped him on the back unprovoked. It is believed Nasser was unhappy with Al Ahli's alleged play-acting in the game, which coach Diego Maradona voiced his displeasure at in the post-game press conference.
However, Nasser's actions have been widely condemned, with Al Wasl later apologising for the 'unsportsmanlike' incident.
The player has not escaped without sanction, the UAE Football Association's Disciplinary Committee imposing the lengthy ban as well as a Dh30,000 (6,200 euro) fine on Nasser on Monday night.
Al Wasl has since said it will consider an appeal for an 'excessive' suspension.

YouTube credit: livefootballscores
After the game, Al Wasl vice-chairman Sweidan Al Naboodah said on Twitter: "We apologise to Quique and the management of Al Ahli for the bad behavior of Majed Nasser, there will be a large penalty on him."
Nasser is understood to have later apologised to his team-mates, officials and fans, as well as Quique Sanchez who he met with in person.
The former Valencia and Atletico Madrid boss claimed he had never been involved in an incident like this before, and added he hoped for a long ban for the goalkeeper.
"I didn't know what happened on the field I thought it was the TV camera that bumped into me, but I saw it on the TV later," Quique Sanchez said.
"I don't know the reason why he did it because I didn't do anything to him and this is very bad for football in general. I hope he is fined for this."
"I have never faced a situation like this in my life. I didn't deserve this. I'm sure the PLC will look into fining the player. I'm not injured but I don't like this because it's not good for the game."
"I've been receiving texts from Spanish people since the match ended because these games are broadcast live on TV back in Spain and they already know about this incident."
- Additional reporting by Sean Farrell