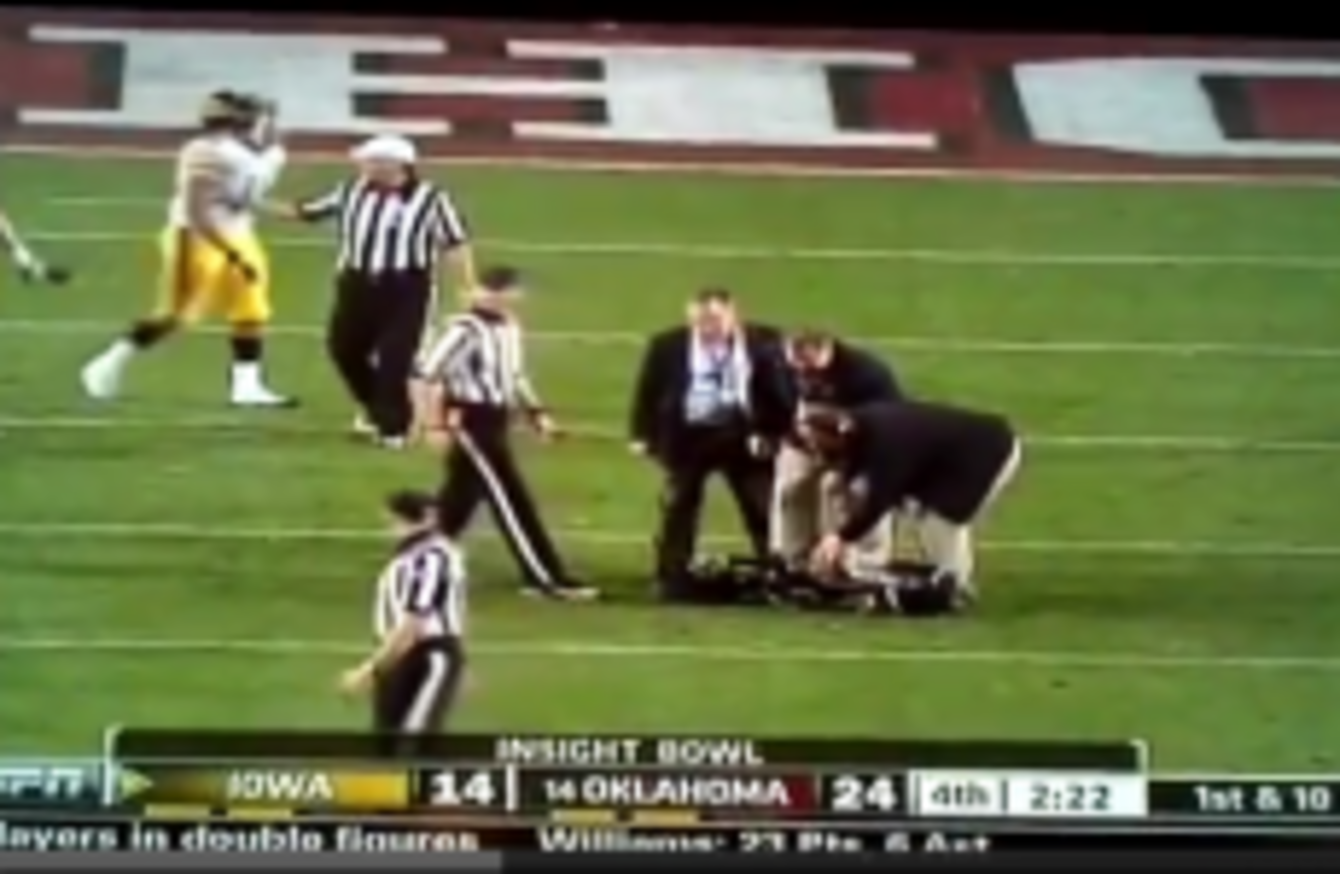 Officials had to remove the camera from the field after it fell from the stadium.
Officials had to remove the camera from the field after it fell from the stadium.
Flying cameras have been providing unique perspectives on everything from golf to college and professional football for more than a decade, becoming so commonplace that fans rarely notice the whizzing remote-controlled devices.
At the Insight Bowl on Friday night, no one could miss the overhead camera when it came crashing down to the field late in the fourth quarter, nearly taking out one of the players.
The ESPN camera narrowly missed Iowa receiver Martin McNutt Jr, who became entangled in the guide wire but wasn't hurt.
"First, I looked: 'What is it that fell from the sky?'" McNutt said after Iowa's 31-14 loss to No. 19 Oklahoma. "The next thing I know, the camera kind of scratched me a little bit. It was just pulling me and I knew I didn't want to keep going with it."
The camera at the Insight Bowl was supplied by SkyCam, a division of Winnercomm, Inc, a sports production and development company in Tulsa, Okla. According to the company's website, SkyCam is the only stabilised camera system in the world that can unobtrusively fly anywhere in a defined three-dimensional space.
The camera is 36 inches high, weighs 25 pounds and travels up to 30 mph across the guide wire, according to the company.
"We apologise for the accident," ESPN spokesman Josh Krulewitz said Saturday. "The independent company that operates SkyCam for us is in the midst of a thorough review to determine the cause of the problem. We will work with them and bowl officials to determine our future course of action. As always our primary concern will be the safety of fans and those on the field."
ESPN has consistently used the cameras for football coverage, making it a staple of "Monday Night Football." The cameras also have been used occasionally in the NBA, NHL, NASCAR, NCAA basketball, baseball and at the island-green 17th hole at the TPC Sawgrass during The Players Championship.
The cameras, despite flying over the playing field, have rarely interfered with the action.
The incident at the Insight Bowl occurred with Iowa trying to rally from a 10-point deficit in the closing minutes.
While lining up for a play near the 20-yard line at the south end of Sun Devil Stadium, two Hawkeyes had to jump out of the way when the camera fell when the wire appeared to snap with 2:22 left.
McNutt dodged the camera as it fell behind him, but became entangled in the guide wire after it thudded to the ground. McNutt suffered only a minor scratch, but the game was delayed for about five minutes as crews dragged the camera off the field and made sure the wire was out of the way.
McNutt was able to joke about the incident.
"I fell like somebody was trying to kill me on their (Oklahoma's) staff," he said. "If you are looking, I'm looking for you. No. It was lucky it didn't hit me."

YouTube credit: Mrchiken373
Additional reporting: Paul Fennessy