Tony Kelly delivers at the death
AN AFTERNOON OF high drama in Semple Stadium.
Clare won their first league title since 1978 with a smash and grab victory over Waterford, who'll be scratching their heads and wondering quite how they lost this one.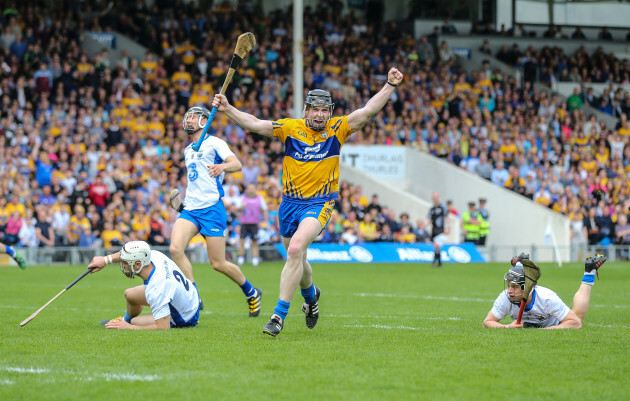 Cathal Noonan / INPHO Cathal Noonan / INPHO / INPHO
On 66 minutes in today's league final replay, the Déise appeared to have quelled Clare's mini-revival. Brian O'Halloran's point restored their three point lead late in the game. But "late" is a relative term.
Clare rattled off four straight points even later to take the lead, with two of those coming from the stick of Tony Kelly in the final 30 seconds of stoppage time. Incredibly, Clare took the lead for the first time in the game. Timing is everything in sport.
And all that against what's considered the best defence in the game.
Even the most arduous of Clare fans will admit the victory came with a large slice of fortune. Kelly's equalising score came from a hotly contested free (and there's more on that below).
Whatever about the decision by the referee, Kelly still had a huge amount of work to do on the placed ball from inside his own half.
Conor McGrath and Colin Ryan shared free-taking duties with mixed results throughout the game, but Davy Fitzgerald turned to the 2013 Hurler of the Year for the critical free in stoppage time.
It was the first time the Beallyea forward took a free in the entire game, but ice runs through the man's veins and he nailed it.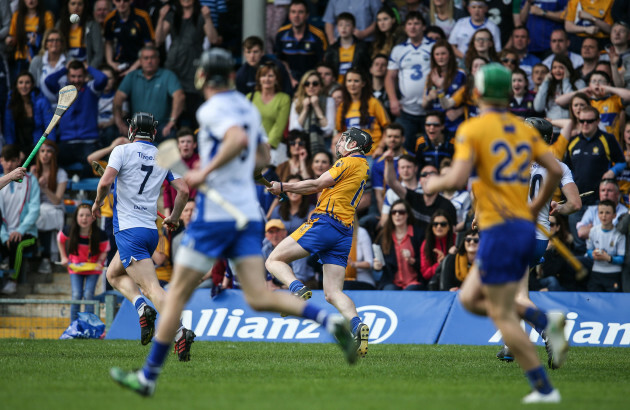 Cathal Noonan / INPHO Cathal Noonan / INPHO / INPHO
He did the same for UL in the Fitzgibbon Cup final against WIT last year. In a real pressure situation with time just about up, he stuck it over to force extra-time.
"At the very end, when the game is in the melting pot, there's only one man you'd like to actually get the ball," Fitzgerald told RTÉ Sport after today's game.
"When Tony Kelly gets it, you know you have a fair chance of it going over the bar.
"I'd say I'd have been killed if he didn't score it because I changed Colin Ryan off the free for the last one. I just felt Tony was on his game. That's why I decided to make that call.
"He's a good man to have in a pressure situation."
Kelly is better than good.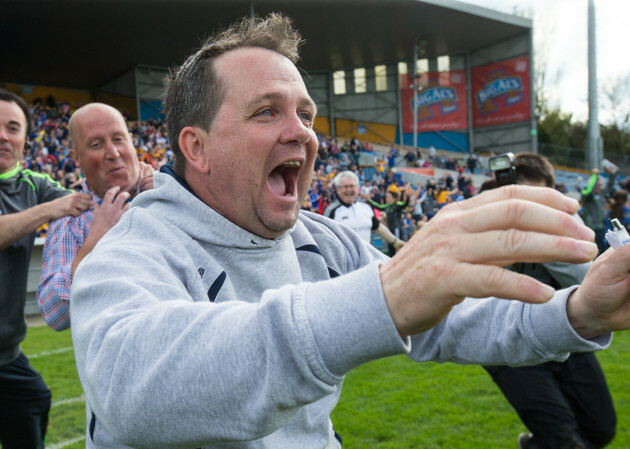 Cathal Noonan / INPHO Cathal Noonan / INPHO / INPHO
It appeared we'd be treated to another few rounds as extra-time beckoned with the teams level at 2-19 to 1-22.
Not so fast.
Perhaps it was a rush of blood to Stephen O'Keeffe's head, but the Waterford goalkeeper hurried his puck-out. On the far side of the field, it broke to Kelly.
Near the sideline, Kelly split the posts with minimal fuss. And just like that, Waterford's two in-a-row hopes were over.
It was fitting that Kelly would be Clare's match winner here. He hit 1-6 in total (1-5 from play). That includes 1-3 in a second-half where he made just eight plays.
The 22-year-old is a special player. The 90 minutes he hurled in last week's drawn game clearly brought his match fitness on leaps and bounds. After spending over two months on the sideline with an ankle ligament problem, Kelly is hitting form at the right time for Clare.
***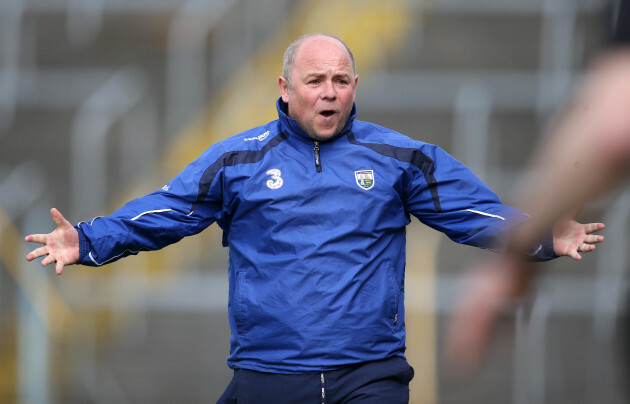 Cathal Noonan / INPHO Cathal Noonan / INPHO / INPHO
Poor refereeing call robs Waterford of victory
This game had the hallmarks of a classic right from thrown-in, but the unfortunate thing is that it'll probably be remembered for a bad refereeing decision.
Diarmuid Kirwan made the wrong call by awarding Clare a free when Jamie Barron was clearly pulled back in the third minute of stoppage-time.
Instead of giving Patrick Curran the chance to put Waterford two in front, Kelly levelled the game from the placed ball and won it 30 seconds later from O'Keeffe's puckout
The awarding of the free the wrong way was a two-point swing and Waterford didn't have the time to right that wrong.
Kirwan is human and like everyone else he slips up sometimes. He shouldn't be lambasted for it. On the other hand, he was very whistle-happy throughout the game and the game would have benefited had he let a little more go.
Only one team (Kilkenny) out of eight have managed to turn around a league final defeat and beat that same team when they met later in the championship. That statistic means a refereeing decision could have huge repercussions later in the summer.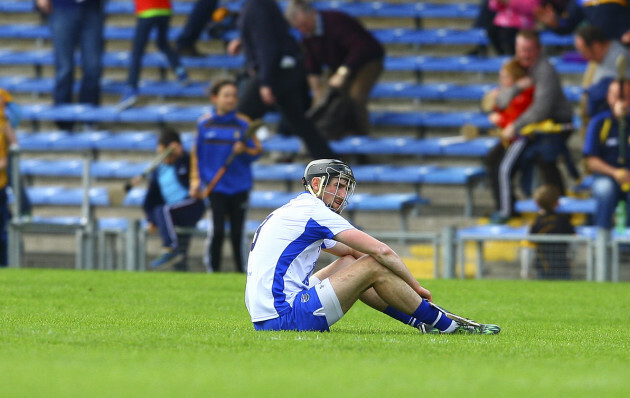 Ken Sutton / INPHO Ken Sutton / INPHO / INPHO
These teams conclude their five-week trilogy on June 5 when they meet in the Munster championship. It's certainly looks to be advantage Clare.
Waterford boss Derek McGrath showed his class after the game when he was asked about the call not to award a free to his team.
"I thought it was a mistake," he said when he was asked about it.
"I think we made plenty mistakes on the line ourselves, we make mistakes every day, all the players make mistakes and any referee is entitled to make a mistake and that's my honest opinion.
"I actually thought the free was wide on top of that which it probably wasn't but I thought it was a mistake on Diarmuid's behalf, but look that's the way the game goes."
As hard as it must have been for him, McGrath was philosophical after the game.
Waterford's fans won't be as philosophical for a while.
***
Cathal Noonan / INPHO Cathal Noonan / INPHO / INPHO
Hell hath no fury like a team scorned
Picture for a moment what it was like to sit in the Waterford dressing room after they watched Clare lift the cup. The injustice. The hurt.
Imagine the words that Derek McGrath and Dan Shanahan spoke after the game.
Championship is where it matters.
Think about how fired-up Waterford will be in four weeks when they renew acquaintances in Thurles. Losing out on a poor officiating decision is not a nice way to go out.
But this wasn't an All-Ireland final and the Déise have a chance at redemption. That's a great incentive for those players.
Refereeing decision aside, this was a game they should have won anyway. They had it won on 70 minutes in the drawn game and they had it won nearing full-time today.
They missed an opportunity to create history, to win back-to-back league titles.
McGrath will face one of his biggest tests as manager over the next couple of weeks as he tries to pick his players up in time for the third installment of this series. It's a strength of his to have the team mentally prepared for the big day and he'll need to hit the right pitch after this.
They have the talent to turn it around and beat Clare in the June encounter. But have they the mental fortitude? You sense they do.
The supporters will be down for a while but the players need to put this behind them quickly. They'll be released back to the clubs this week to play local championship and that should help matters.
Speaking of mental strength, Patrick Curran gave an excellent display of that today. He scored 1-9, despite ending up on the losing team. He had his critics last week after an off-colour day from frees, but the management back him to assume the duties when they could have switched them to Shane Bennett.
He had a fantastic day in front of the posts and deserves a lot of praise. As does Tadhg De Burca, who was immense in his role camped in front of Shane O'Donnell.
The Young Hurler of Year controlled the airwaves, although his distribution can still improve. Austin Gleeson and Shane Bennett also stood out.
***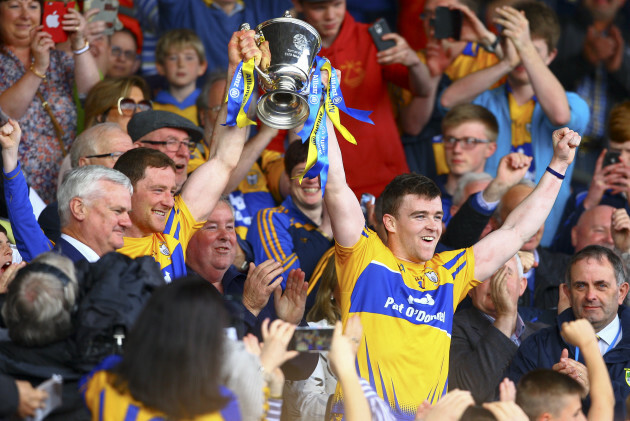 Ken Sutton / INPHO Ken Sutton / INPHO / INPHO
This Clare train won't stop
You could see by the way Fitzgerald celebrated at the final whistle, how much this win means to him and his players.
At multiple stages in this game they trailed by six points but kept fighting for every ball and held onto Waterford's coattails until striking at the death.
They responded well to adversity and that's a sign of true champions. For pulling this one out of the bag, Clare deserve a huge amount of credit.
Patrick O'Connor was skinned for Patrick Curran's goal after just 17 seconds and his misplaced pass caused Waterford's second goal. But he kept going and scored a monster point in the second-half.
For Clare to make it to June still unbeaten is a massive thing. The confidence that kind of momentum brings to a squad of players is massive.
Exclusive Six
Nations Analysis
Get Murray Kinsella's exclusive analysis of Ireland's Six Nations campaign this spring
Become a Member
After a two-year lull, there's a great sense of belief among the backroom staff and players. Crucially, they're all moving in the one direction this year. Fitzgerald visibly believes in them.
The return of John Conlon, David McInerney and Oisin O'Brien from injury would be serious additions to this team and make them a formidable outfit. McInerney (back) is far closer to a return than Conlon, who suffered ankle ligament damage and may miss the start of the championship.
O'Brien went down with back spasms in the warm-up and was taken to hospital as a precaution. No word as of yet about his condition.
***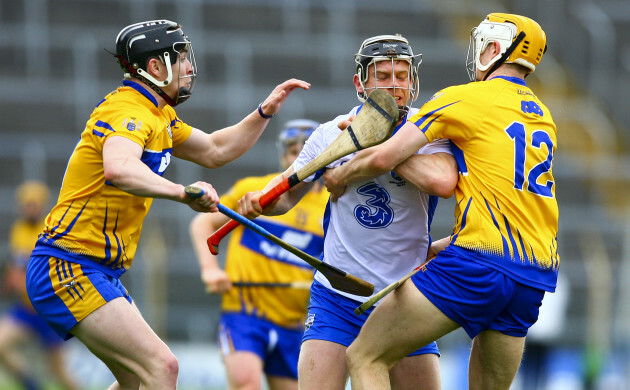 Ken Sutton / INPHO Ken Sutton / INPHO / INPHO
Reports of hurling's demise greatly exaggerated
This time last week, the questions were being asked about the direction hurling is headed. After today's league final it looks to be in a good place. And it whets the appetite for the summer, with Kilkenny, Galway, Tipperary, Waterford and Clare all harbouring realistic All-Ireland ambitions.
It will take a very good outfit to beat either of the counties on show in Thurles.
After seven days of complaining about sweepers and short hand passing, Waterford and Clare showed that defensive set-ups can still lend to an attractive game.
The spare defenders were still on show and the middle sector was predictably jammed with bodies but both sets of players executed the basic skills better and were far more accurate in front of the posts.
One disadvantage of playing three high profile televised games will mean Brian Cody, Micheál Donoghue and Michael Ryan will have plenty of footage to do video analysis on how to break down both these systems. But they'd have their homework done regardless.
On this viewing, it will take a very good side to beat either Clare of Waterford come the summer.
And just like that, the future of hurling is in safe hands once again.
***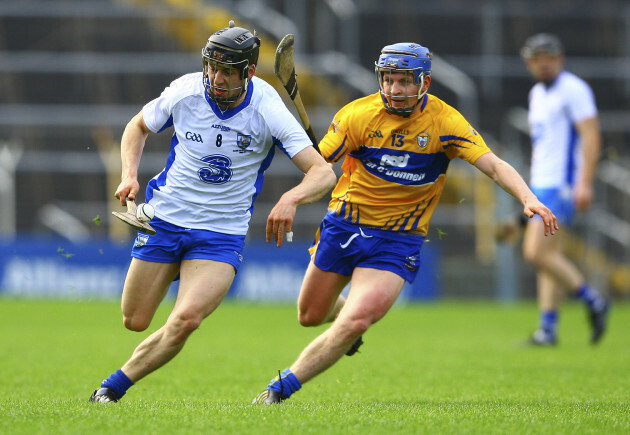 Ken Sutton / INPHO Ken Sutton / INPHO / INPHO
Brave men show incredible courage
After the final whistle here, Jamie Barron quickly left the grounds to get back in time for his grandmother's funeral.
Clare selector Louis Mulqueen had to go home to make arrangements to bury his mother, who died this week. Patrick Curran's godfather also passed away earlier this week and was laid to rest on Saturday.
Given their dedication to this game, it's easy to forget these guys are amateurs.
Those three men showed remarkable courage to show up today and take part in such an emotionally draining match.
Ar dheis Dé go raibh a n-anamacha.
The42 is on Snapchat! Tap the button below on your phone to add!