A minute's silence before today's game in memory of the late Tony Keady.
Image: Ryan Byrne/INPHO
A minute's silence before today's game in memory of the late Tony Keady.
Image: Ryan Byrne/INPHO
A MASSIVE DAY for Waterford hurling and a massive day for Derek McGrath and this group of players.
You have to give huge credit to them after this win as they finally got things right on All-Ireland semi-final day. Their system has developed so much since they started out with it and McGrath deserves great praise for sticking to that strategy.
People have criticised them for being defensive but they hit some brilliant scores today. They attack a lot from deep now and prepared to take shots from out the field. That can result in some wides – like we saw today – but their scoring rates have gone up. They play the ball cleverly through the lines and I think they're great to watch now.
Their win pits them against Galway in a really intriguing final. Waterford should be delighted going into that but the huge pity for them is the talk about the players they could now be missing. Austin Gleeson looks like he will be in a bit of bother after that first-half incident with Luke Meade.
I definitely think he is going to get cited. That's the rule whether people agree it or not and he clearly interfered with the helmet. I think he's going to be in trouble the video evidence is clear. It's really unfortunate that such a great player could miss the final.
I thought the Conor Gleeson sending-off was needless. Waterford were in control, a couple minutes left on the clock and all they had to do was close out the game. The ball was gone and striking out was not going to achieve anything. Again it's not good to see an impressive defender miss out on playing in an All-Ireland final but that looks like it will be the case.
From the start you could see that Waterford were extremely comfortable with the system they were playing. Darragh Fives produced a massive performance and ensured the team didn't miss Tadhg de Búrca.
It might sound strange but I thought Cork found it difficult in contrast to use their extra man. They're not used to playing with it. They got Mark Ellis free which is a good call as he's their centre-back. But it looked to me like defenders were switching off at times as if they thought they could rely on the cover.
You could see that with the first goal when Shane Bennett got the ball, the defence was slow to get out to him. It resulted in Mark Coleman being isolated at full-back in a position he's not comfortable in. Bennett did brilliantly, a super pass across and it was a great finish from Brick then.
At the other end Patrick Horgan was outstanding. He was the only fella Waterford couldn't handle. He did everything right, showed for the ball, took scoring opportunities that came his way, laid off at times as well such as his pass to Shane Kingston for a first-half point. I don't think he gets enough credit at times, he's an immaculate striker of the ball and showed that today.
I found it interesting that Waterford put Noel Connors on Alan Cadogan today and not Horgan who he usually marks. Connors did an exceptional job on Cadogan who Waterford must have decided was the dangerous forward after the Munster final. It seemed that Waterford decided Cadogan was the goal threat and they were happy to leave Horgan pick off points if it meant they could prevent Cadogan getting through for a goal.
Kevin Moran had a huge game in the first half as did Brick Walsh. The two experienced lads were used to stop Cork with Brick on Mark Coleman and Moran on Bill Cooper. They both got on top early. Moran was all over the field and hit some great points. Brick then stopped Coleman, who has had a brilliant year for such a young player.
I don't think Cork can have any complaints about Damien Cahalane's sending-off. Both were yellow card offences. There was no need for the first one to pull across as he seemed to be in control of the situation and then he was in trouble with the second one.
That left Cork with a major challenge and the second goal hit them hard. Christopher Joyce did really well and had a chance to clear it but once he put the ball back on his hurley, he was turned back towards his own goal.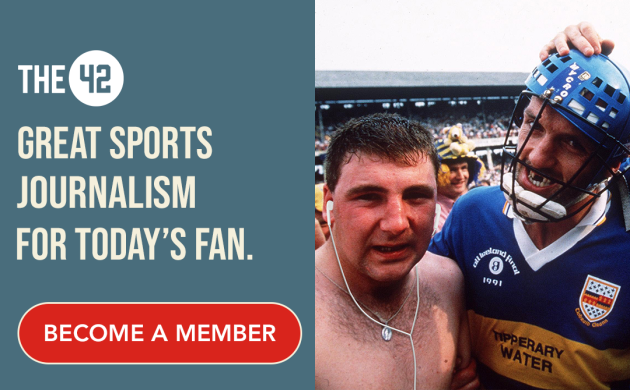 Austin Gleeson did great to turn him over and it was a brilliant ball across to Barron who finished really well. Gleeson's goal was superb. He could have tapped the ball over but he smelled blood and produced unbelievable stickwork to get through and finish.
For Cork it was a really disappointing end to a progressive year. In time when they reflect, they can be happy with how they are learning and developing. They produced really impressive wins in Munster and brought a lot of new guys into the mix.
Today showed they still have some way to go, particularly in tight situations their forwards need to work out how to cope with a very physical defence. But overall it's been a very positive year for Cork and there's some good underage prospects from the All-Ireland U17 winning team and the minor side that reached the final today with an excellent display.
Subscribe to The42 podcasts here: